Weather plays more of a factor in motocross than any other sport. Not only can rain change conditions, it can cause utter chaos and turn professional races into a game of survival. Fighting forward is simply not an option when the rain really falls. With the opening race of the 2022 FIM Motocross World Championship beckoning, one can only hope that the first round will not be hit by a substantial amount of precipitation. There will be rainfall, that much is certain, so now it is simply a question of how much there will be.
---
Words: Lewis Phillips | Lead Image: Full Spectrum
---
In the first edition of this regular feature on MX Vice, the weather for the upcoming Grand Prix is broken down to help you determine how the action is going to unfold this coming weekend. Rain is forecast for Friday, Saturday and Sunday at the Grand Prix of Great Britain. It appears to be consistent. There will be breaks in the clouds, but not for too long and not when it's really needed. Rain is not the only thing to consider either, as wind is set to batter the facility on Friday.
An amber weather warning has been issued for Winchester on Friday, with winds expected to reach 43mph at midday! That will calm down for Saturday and Sunday – wind speed will peak at around 20mph. Those with a keen memory will recall that wind caused qualifying to grind to a halt at the Grand Prix of Great Britain two years ago and actually destroyed the main feature behind the starting gate. This feature will be updated each day as the weather forecast changes.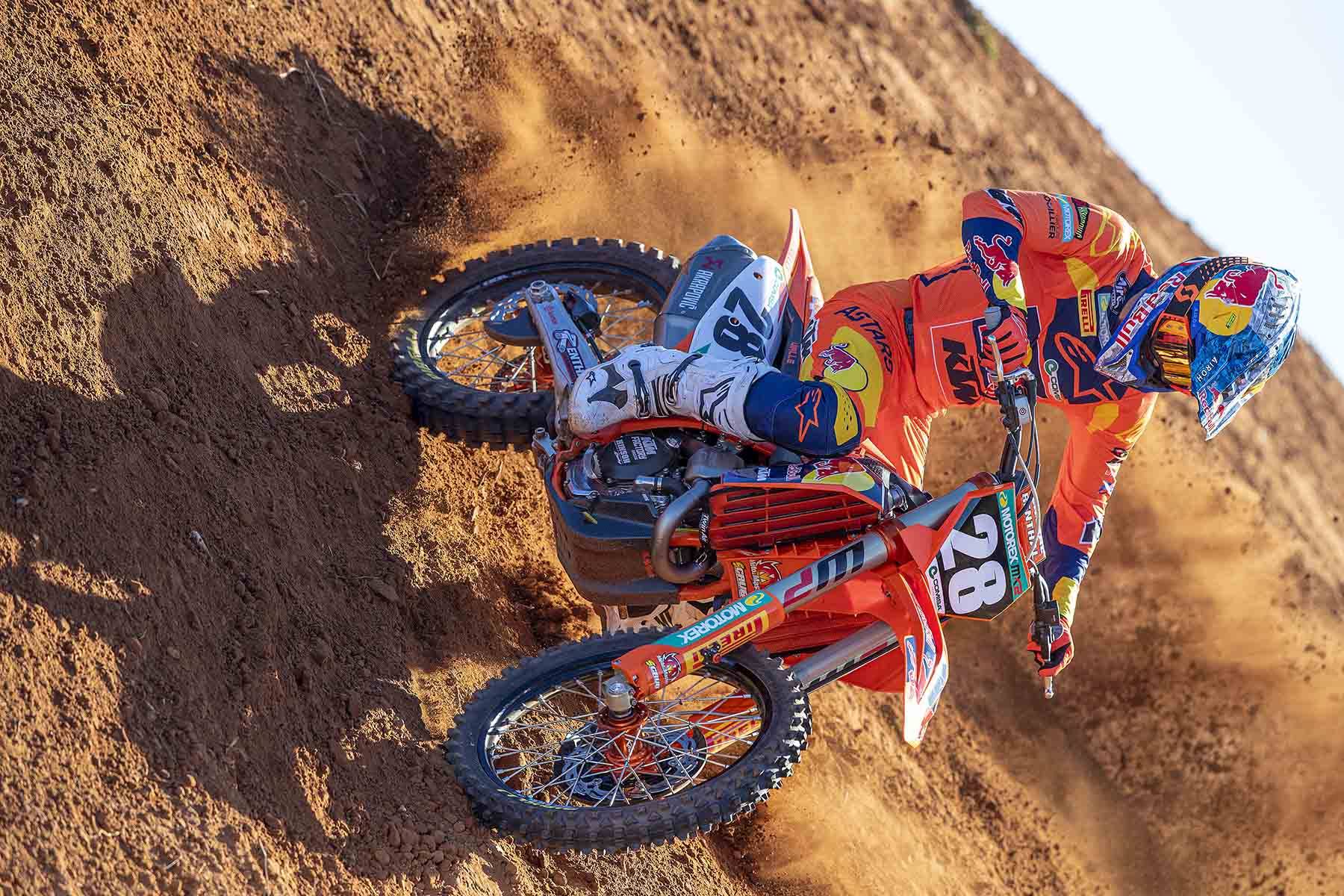 Note: Amber warning of wind. Storm Eunice may cause significant disruption due to extremely strong winds on Friday. Winds forecast to hit speeds of 43mph at midday.
| | |
| --- | --- |
| 02:00 | Light Rain (8) |
| 05:00 | Wind Rain (10) |
| 08:00 | Light Rain (9) |
| 11:00 | Partly Cloudy (9) |
| 14:00 | Partly Cloudy (8) |
| 17:00 | Partly Cloudy (6) |
| 20:00 | Partly Cloudy (4) |
| 23:00 | Clear (3) |
| | |
| --- | --- |
| 02:00 | Clear (3) |
| 05:00 | Clear (3) |
| 08:00 | Mostly Cloudy (4) |
| 11:00 | Wind Rain (7) |
| 14:00 | Wind Rain (8) |
| 17:00 | Showers (8) |
| 20:00 | Mostly Cloudy (6) |
| 23:00 | Mostly Cloudy (6) |
| | |
| --- | --- |
| 02:00 | Cloudy (7) |
| 05:00 | Showers (8) |
| 08:00 | Cloudy (9) |
| 11:00 | Light Rain (11) |
| 14:00 | Light Rain (11) |
| 17:00 | Light Rain (11) |
| 20:00 | Showers (10) |
| 23:00 | Cloudy (8) |