Viewpoint: Ken Roczen
"There is no real thinking."
Although Ken Roczen and Ryan Dungey have been rivals for a handful of years now, it is quite rare to see the pair duke it out across an entire race. San Diego was a real treat, with that in mind, as the main event came down to the final lap. The outcome was exactly the same as Anaheim 1 though, as Roczen was slightly stronger and maintained his perfect season. The Honda HRC pilot recaps his night in this Atlas Brace-powered transcript.
MX Vice: Kenny, obviously you felt the pressure of Ryan Dungey behind you there. It was a little bit of a different win to last weekend. Last week you finished up with a sixteen-second lead, but this week he was on you all the way until the end. 
Ken Roczen: Yeah. First off, thank you guys for coming out. I wish I could have jumped in my suit real quick, but I did not have enough time. It was good. It was an awesome race. I was third, I think, coming around the [first] turn. I found myself behind Ryan and kind of watched what he was doing. I got peppered by him pretty good from all the roost and stuff. I was behind him, able to make the pass past the mechanic area and just rode my own race.
I knew that it was going to be a tough one, just because the track broke down so much. I didn't want to get ahead of myself, rode conservative and tried to really hit my marks. I think I could have switched up my lines here and there but, sometimes with the track being this rough, it could be a risk. You end up taking a line that is a little bit worse. We just had to hit our marks and do all the rhythms at all times. Overall though, I'm happier with how this week turned out than last week.
Composure and patience was the name of the game throughout the day today. How important was that for you, to maintain that throughout the day, and what did you learn from it?
Absolutely. It was important to keep the focus, not get too confident and let it possibly hurt you. It was good. I wasn't too worried about not being first in qualifying practice; I'm not the greatest at putting down just one fast lap. I always look forward to racing, you know, and that is where I have the most fun at too. I was looking forward to the night show.
After you guys got the white flag, Ryan got inside of you around that sweeper. I'm sure that you knew he was there. Could you talk about what was going through your head? 
I love being up front. We were probably within a second or half a second throughout the whole twenty plus one. Honestly, there was no real thinking. It is hard to really describe what you are thinking. I feel like my mind is empty and I'm focussed on what is ahead of me. Obviously Ryan was behind me, but there is no turning around or anything like that. I want to look forward. Sometimes when you are behind somebody you can pick it up somewhere and pick out a couple of spots to make a pass.
At the same time, with the ruts being there, you can cut to the inside, but then you cannot jump the rhythm and stuff. Being up front, you cannot really protect the inside. Whereas some of the tracks that we ride, like last weekend for example, there were no ruts in the berms; you could go to the inside, make a pass, still jump the rhythms and stuff. I'm happy with tonight. I am in a good spot, took the main and it was a good race.
Coming into those last two or three laps, was there something left on the table or not? 
He was so close that I couldn't just let loose and ride around. Again, with the track being like that, you could easily try to rush it a little bit and possibly make a mistake. I couldn't do that, being up front, I pretty much had everything to lose. It was tough, but it was good. I love it.
Kenny, a little off-topic. Over the weekend it was announced that you are going to do the Motocross of Nations again for Germany. What brought that decision about? Can you talk a little bit about that?
It is pretty simple. I'm in a good position. There are no team switches or anything like that. Every year I plan on racing, but then the last few years it just didn't play out to where I was ready to go. I want everything to be on point and one hundred percent perfect, to go there to race for the win and not just go there just to go. When I came with the team, rode the bike and everything was going in a good direction I decided that I'm going to commit. That is what I want to do.
It is the first time that we have more than twenty laps in a main event. I think we did twenty-four? Did it feel different or seem different? 
Obviously before, without the time, with a short lap time we would get done a lot quicker. I like it like that. You have to ride more laps, but at least it is consistent. We are riding the same time. There is no more thinking that when the tracks get longer, "oh it is going to be a lot longer." It's just good to keep it consistent.
Interview: Press Conference | Lead Image: Sean Ogden
KEY INFO: How To Watch SMX Playoff 3 at the LA Coliseum, Schedule and Track Map
Details here.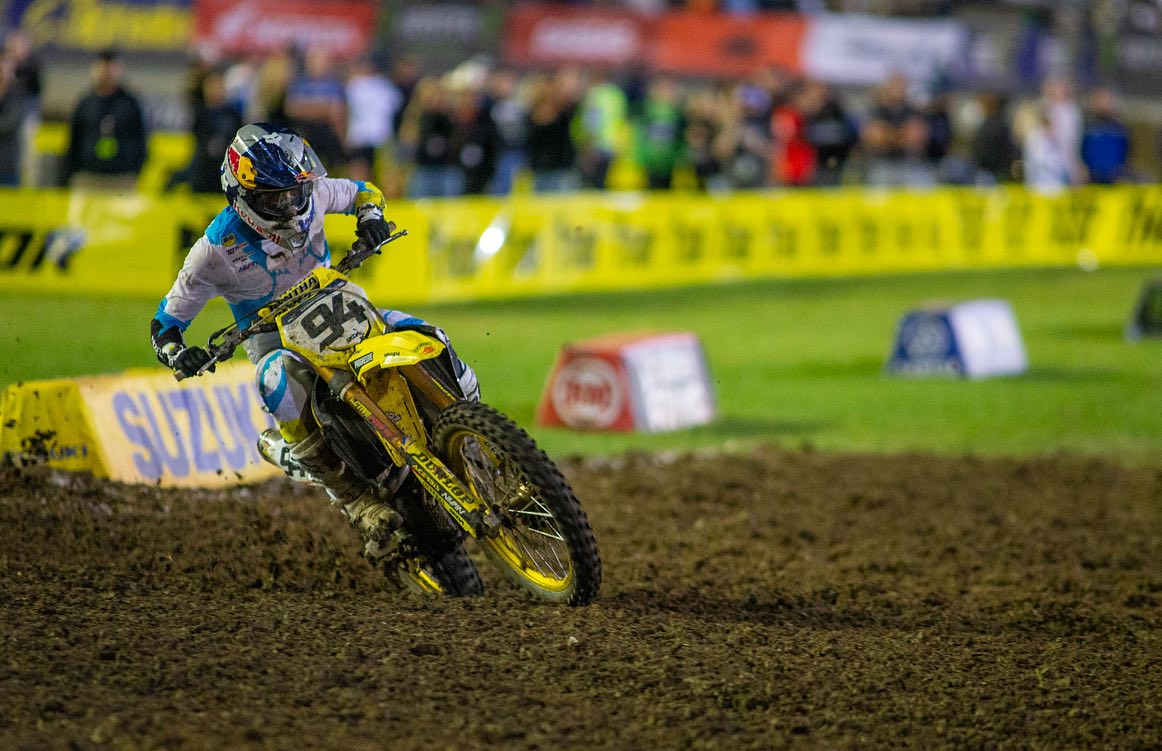 Details on how to watch SMX Playoff 3 at the LA Coliseum for both international and U.S. viewers can be found here.
International
The announcement of the SuperMotocross Video Pass for international viewers is great news for viewers outside of the U.S, with subscribers able to access Monster Energy Supercross, Pro Motocross and the season ending SuperMotocross all in the one package.
For further details on the platform keep reading, as the description underneath from the SMX website (http://www.supermotocross.tv) provides an in-depth outline of what's included.
SuperMotocross Video Pass is the official, exclusive home to stream the 2023 Monster Energy Supercross Season, the 2023 AMA Pro Motocross Season, the two newly created SuperMotocross Playoffs and Finals. Don't miss a minute of this newly developed 31 race, 10 month season package that allows fans unlimited access to view the world's best off-road motorcycle athletes compete on the world's biggest stage and all under one platform.
Below is what international fans, from any country all over the world, will get with the SuperMotocross Video Pass:
Live and on-demand access to stream the entire 17-round schedule of the Monster Energy AMA Supercross Championship, all 11 AMA Pro Motocross Championship events, plus the SuperMotocross World Championship Playoffs and Final.
All 31 rounds of the "Race Day Live" pre-show, giving fans insider access to everything happening from each 2023 race location, including qualifying, pre-race interviews and analysis, fantasy league suggestions and much more.
Race highlights from all 31 rounds.
Extra content & features like the 2023 SMX Season preview show, which will launch on January 1, 2023.
Extensive archives of previous seasons of both SX and MX.
The full season subscription is $159.99 USD (£135 roughly) for unlimited access to all that content for the 2023 season.
U.S.
BROADCAST/STREAMING SCHEDULE: NBC Sports will have exclusive live coverage of races, qualifiers and heats for the record 31 events in SuperMotocross. The main events will be presented on Peacock, NBC, USA Network, CNBC, and NBC Sports digital platforms.
Peacock will become the home of the SuperMotocross World Championship series in 2023 with live coverage of all races, qualifying, and heats from January to October. There will be 23 races live streamed exclusively on Peacock, including a SuperMotocross World Championship Playoff event. The platform also will provide on-demand replays of every race.
EVENT SCHEDULE: Here are the start times for Saturday, according to the schedule from the AMA: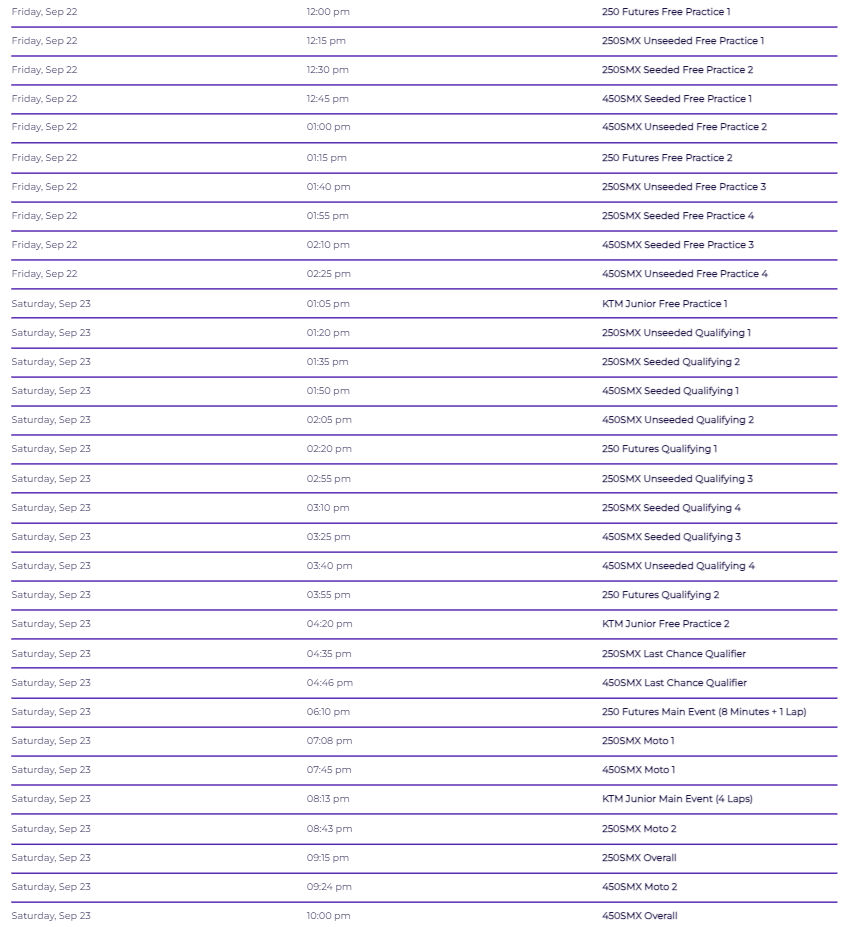 TRACK LAYOUT:
Lead Image: HEP Suzuki
Love what we do? Please read this article as we try to raise £30,000.
Between The Races Podcast: Jeff Emig
Legend shares his insights.
In the latest Between The Races podcast, legend of the sport Jeff Emig speaks to James Burfield and Ed Stratmann about his incredible racing career, MXoN, WSX, the joy he gets from commentating, business, the commitment and sacrifice needed to get to the top and much more.
The Between The Races podcast is always available to listen to on Spotify, iTunes, SoundCloud, Stitcher and Google Play. Thanks to Fly Racing, Monster Energy, Fox Racing, Parts Europe, Scott, Bell Helmets, Acerbis, AS3 Performance, Kawasaki UK, KTM UK, O'Neal and Even Strokes for supporting the show. If you would like to become a part of the show, don't hesitate to get in touch.
Lead Image: Jeff Emig/Pirelli
Love what we do? Please read this article as we try to raise £30,000.
Jett Lawrence handed written warning over Roczen incident
See here.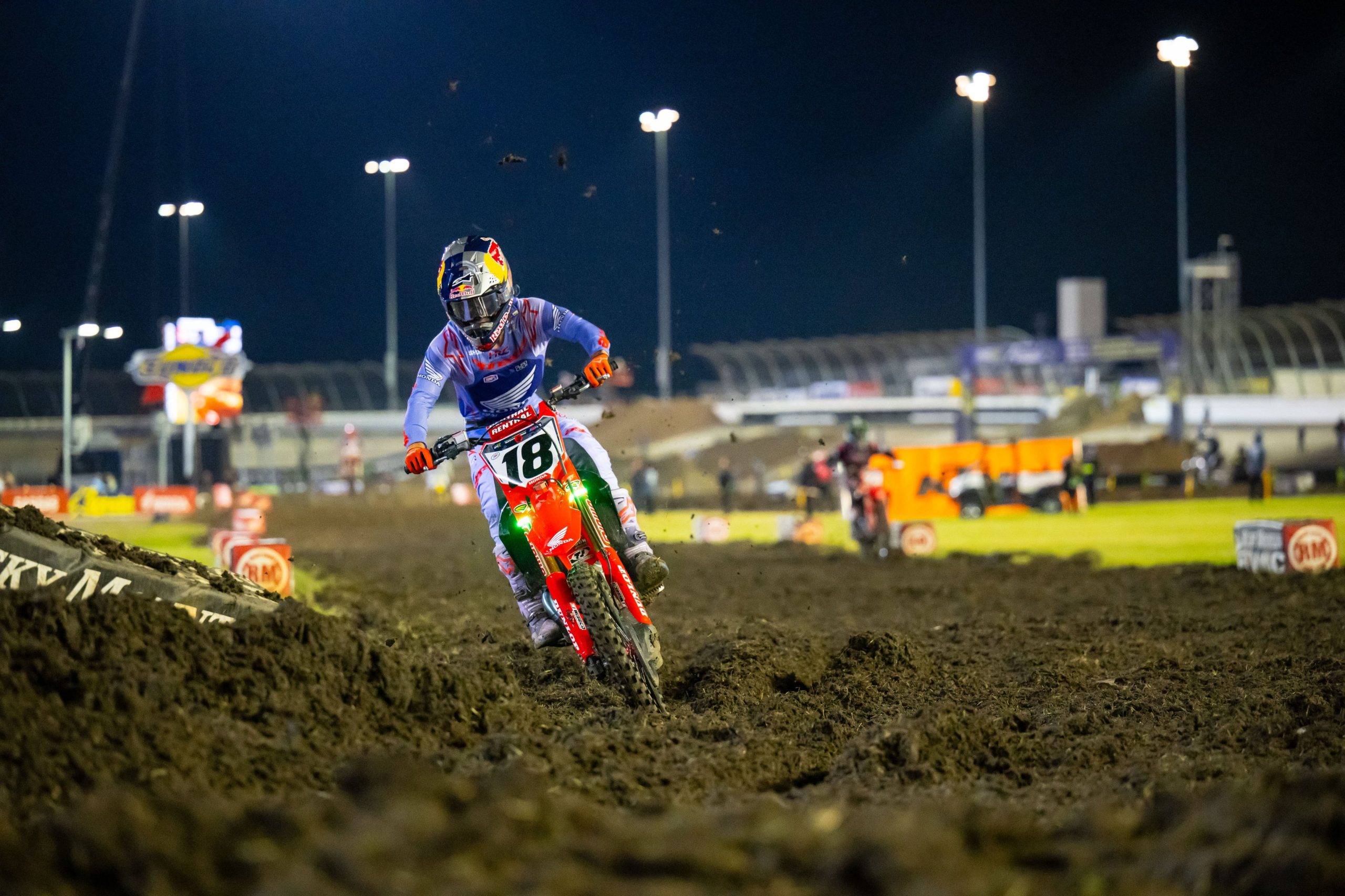 Following his decision to wave Ken Roczen by at the second SMX Playoff at Chicagoland, Jett Lawrence has officially received a written warning from the AMA. Below is the report from the AMA courtesy of Racer X.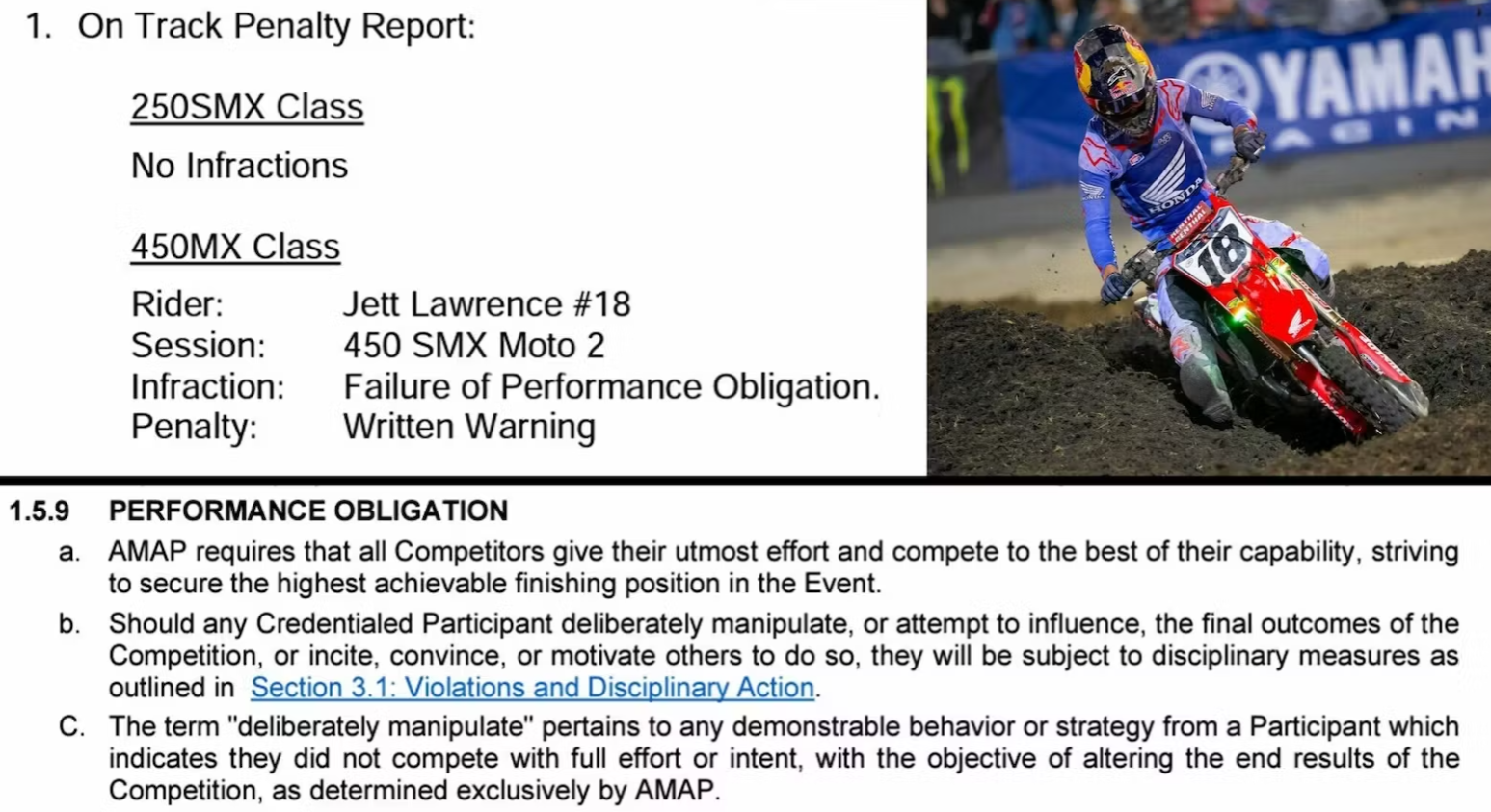 Lead Image: SMX
Love what we do? Please read this article as we try to raise £30,000.