There are some sportsmen who simply will not be denied their place in history.  Donny Schmit, RIP, is one of those riders.  And it was a happy moment when compiling this list to see that he got in here off the back of the AMA section of his career. From 1990 onwards his numbers go absolutely through the roof, but his 1980s results were enough to see him at number 41 in our 1980s list.
---
Words: Ben Rumbold | Images: Various
---
So just to give you all a little bit of house-keeping right here… this is a 1980s list, and we will be running a Top 50 Riders of the 1990s (By The Numbers) series next year, so that's when we will go through Donny's 1990s story – it was radically different!  I know that with other riders – such as Robbie Herring – we have gone through their 1990s results, but that's when they really are not going to feature in our 1990s Top 50.
There is no doubt that Donny will be well up in that list, but that feature will be written closer to the time, so for now let's concentrate on the AMA exploits of the skinny blonde kid from Minnesota who fought the West Coast machine the whole way from 1986 to 1989 in the 125cc class.
CAREER SUMMARY:
Born: January 1967
Years Professionally Raced: 9 – 1986-1994 (1986-89 – 125cc AMA, 1990-91 125cc GPs, 1992-1994 250cc GPs)
Machines Raced: Kawasaki, Suzuki, Honda, Yamaha
AMA National Wins: 3      Podiums: 14     AMA National Moto Wins: 6     Top 3 Moto Finishes: 30
GP Wins: 15        GP Podiums: 27     GP Moto Wins: 34      GP Top 3 Moto Finishes: 59
Nations Selections: 0
Championship Medals:
2 x Gold – 1990 125cc World Champion, 1992 250cc World Champion.
1 x Silver – 1988 AMA 125cc Nationals.
1 x Bronze – 1993 250cc GPs.
Winner – 1986 AMA 125cc West Region Supercross Championship.
Donny picked up the Motocross bug from his elder brother Dave, getting an XR75 from his father so he could play around on the land around the family's lake cabin. "Dad would give me 20 bucks a week – 5 for food, 5 for gas, and 10 for whatever! He taught me to appreciate things". Ten years his senior, Dave would wrap a kidney belt three times around Donny because he was so skinny, and bombing around with the older kids certainly toughened up the younger Schmit.  He even endured the nickname "Peanut" and had to use a milk crate on the start line in his early races.
There was no denying his speed however, and in his teens he got picked up by Team Green for the major youth races of the time, which bought him a ticket to the professional ranks for 1986.
One tribute paid to Schmit not long after his untimely death in 1996 was from our own Kurt Nicoll, who in his book calls him "the most determined rider I've ever known to lead on the first lap."  And this is exactly what Donny did from the off, one day after his 19th birthday in the opening round of the 125cc "Pro-Am" West Region Supercross series.  This was the famous 1986 Anaheim event that went down in history, due to the 250cc Main Event being one of the best ever between Ricky Johnson and David Bailey.  Before that famous duel, Schmit had fought past early leader Dean Matson to put his Kawasaki in front of the 125cc race.  He had moved down from Minnesota in the north of the country to race the West Region series with support from Kawasaki.  In the opening round, Schmit was overhauled by another green bike, that of Tyson Vohland, but 2nd in his first indoor event was a very good start. Donny would go on to win the third round at San Diego and take a narrow points lead from Vohland. Then he got a little closer to home with the two-night double-header in Seattle, and took 2nd behind "Wild" Willie Surratt on night one. Then he won a fantastic battle with a rider called Carroll Richardson to claim the Sunday night win!
Although his initial forays into the AMA Nationals returned some patchy results, in the stadia Donny started to show the consistency that would become a hallmark. Two 4ths and a 3rd in the last three rounds were enough to withstand the late charge of Surratt to tie up the Western Region Supercross title.  The outdoors was a tougher nut to crack, although a fighting 3rd in the second moto at the Lake Sugartree National in Virginia showed that the potential was there.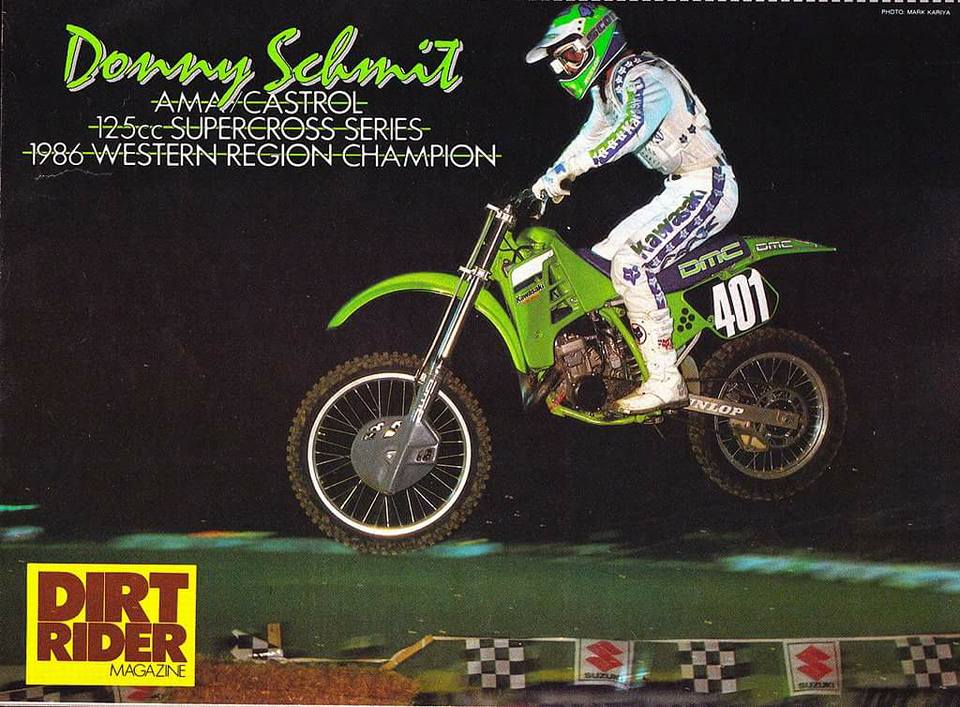 Donny was fanatical about training, and as wife Carrie says, "he never let himself have the luxury of anything that might make him a wimp in a race".  That included never turning the air conditioning on in the van after a day at the track! "Gotta get ready for those hot and humid summer races!" he would say as he kept his gear on, wound up the windows and turned the heating up!  Ever supportive to his cause, Carrie endured the heat to help her husband's belief that it would give him an advantage over his rivals.
Picked up for Suzuki in 1987 as the yellow brand aimed for sweeping both 125cc regions, Donny broke his collarbone just before the season and ruled himself out of the first three Supercross events. He returned with a solid 4th overall at the outdoor season opener in Florida, then a win at his first Supercross back – Pontiac again!  Sadly, he came up short over a double jump on the second night at Pontiac.  The resultant crash was a nasty one as he got ploughed into by Matson and several others, being pinned to the ground by another bike, and he had to admit that the title was gone.
The big crash knocked some confidence out of Schmit, but in his beloved Fox gear – they backed his efforts massively for the rest of his days in America – he got back to the top to take his fourth and final Supercross win in Tempe, Arizona.  Suzuki did ultimately sweep both 125cc series with Surratt and Ronnie Tichenor.  In the outdoor arena, Schmit was enjoying the results of his training methods and won his first National in 90+ degree heat at Anderson, South Carolina. Taking advantage of problems for reigning champ Micky Dymond, his 7-1 scoreline was enough to seal the deal ahead of Guy Cooper and George Holland.
Schmit had to wait until the end of the year to get up there again, however, as the factory Honda of Dymond romped to his second straight title. He did impress at the one-off 125cc USGP at Steel City, beating reigning World Champ Davy Strijbos to 5th in the second moto, once again in raging heat that made that year's champ John van den Berk pass out!
In the Nationals, Donny would usually have one good moto then issues in the other, but by round 11 at Troy, Ohio, he finally stitched two good races together.  With a 3rd and a 2nd he grabbed 2nd overall behind Honda-mounted Cooper.  Better was to come, and at his home-state round at Millville he grabbed the holeshot in race one and cleared off, winning by 16 seconds.  In race two his start was only matched by new champ Dymond, and as the pair tangled, Schmit's teammate Erik Kehoe snuck through.  The pair put a distance between themselves and the pack, and 2nd place was enough for Donny and his home crowd to celebrate his second overall win for the year, proving that his 7-1 at Anderson was no fluke!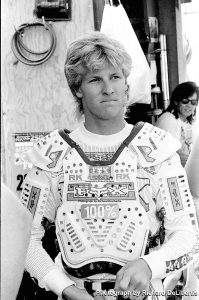 For the 1988 season Donny moved up to the 250cc class for Supercross, but with the Nationals being split through the year in the bigger classes (6 rounds for 250s, 6 for 500s), and no 500cc Suzuki available, he stayed on a 125 outdoors for their 12-round championship. He was a contender all year in the Nationals, 3rd at the opening round at Gatorback, and climbing the podium steps at 7 rounds, including another loudly-cheered win at Millville!
Once again driving his home fans wild, he survived an initial dogfight with Cooper, which ended with "Airtime" experiencing some serious "ground-time" from an over-the-bars crash through the whoops!  Schmit powered to another runaway win, 15 seconds clear by the finish.  The second moto was much tougher, however, as two crashes in the first five laps put him behind Cooper and Yamaha-mounted young guns Damon Bradshaw and Mike LaRocco.  With four laps to go, Schmit was still 5 seconds behind LaRocco, before the Indiana man hit a rock in a corner and went down! He remounted still in the lead, but Donny was on him.  He shot past and took a popular win, saying afterwards, "I'm thrashed! That had to be my best National moto ever. I had to work, but the fans were cheering me the whole way! It was great!"
That result, along with 3rd overall at the final round at Washougal, saw Schmit narrowly hold off Cooper for 2nd in the 1988 series. George Holland took the title with amazing consistency, finishing top three at every round bar one, to take Honda's 4th straight 125cc National title.
Sadly for Donny, his Supercross results didn't live up to his outdoor ones.  A best of 12th as further crashes knocked his confidence indoors put pressure on his place. It didn't help that in the absence of a 125 GP, Donny entered the 250cc USGP at Unadilla, battled with Peter Johansson and Soren Mortensen, and had a less than stellar day with 7-13 motos for 9th overall. He was eventually dropped by Suzuki despite being their best rider in any outdoor Nationals and being only 22 years old at the start of 1989!
His reaction was a far more determined one than our recently-featured Eddie Warren, who suffered the same fate with Kawasaki a year earlier, at the same age, but moved to Australia to earn a crust from racing there.  With no other offers, Donny and new wife Carrie instead bought a private Honda, a van, and focused on the outdoor Nationals with the word "REVENGE" emblazoned on his Fox race pants.
Against rising stars like LaRocco, Bradshaw, Larry Ward, Jeff Matiasevich, and factory Honda new kid Mike Kiedrowski, Team Schmit were immediately on the pace.  With a bit of help from Pro Circuit, their Honda was fast enough and Donny holeshot and hid to win race one of round two at Hangtown.  He grabbed 9 top three motos across the season and was 2nd overall at both Hangtown and Southwick. Despite driving everywhere himself across the vast continent, Donny was 4th in the championship behind the factory Honda duo Kiedrowski and Cooper, and 17-year-old Yamaha sensation Bradshaw. The highest-placed Suzuki was Erik Kehoe in 9th!
Despite being dropped from the yellow team, Schmit didn't turn his nose up when approached by Sylvain Geboers for his Team Bieffe factory squad in the 1990 World Championship, alongside his young protégé Stefan Everts.  And the rest is history!  Donny took two world titles, returned to win another National moto at Millville as a World Champion in 1990, and won more Grands Prix than any other American rider of all time.
His sudden death from Aplastic Anemia in early 1996 came just after he turned 29 years old. It was a massive shock to the Motocross world, and especially to his Minnesotan fans who mostly heard the news at the Minneapolis Supercross the night after it happened.  A silent tribute was paid and a great champion mourned.
We will cover Donny's European exploits in more depth when we publish the 1990s list next year. It is proof of his pedigree that he got into the Top 50 of the 1980s (By The Numbers) list off the back of his AMA career alone.
The Numbers
Donny's three wins came against stiff opposition in the 125 class at the end of the 1980s. Even a legend like Suzuki rider Johnny O'Mara, who was contracted to the 250 series before seeing out the rest of the season in the 125 class, couldn't get the better of the raging eighth-litre pack.  It was a hot-bed for young American talent and no doubt a production line for their ongoing run of megastars.
Donny raced for four seasons in that cauldron, a total of 48 events, although there were a few missed with injury in 1986.  Criminally he was always over-looked for a Nations place, even in his world title-winning years, and his two GP appearances in the 1980s didn't help his numbers. Either way 3 wins from 50 races is an easy calculation, so a 6 per cent win rate is high enough for 41st in our 1980s list, and a welcome addition considering what was ahead of him.
Schmit's 1980s Numbers:
GPs counted: 2 – 0 Wins
AMA Nationals: 48 – 3 Wins
Total: 50 Events, 3 Wins, Winning Percentage 6.0
Season By Season:
Year       Class                      Record                  Champ Position                Grand Prix Results
1986:     125cc AMA     11 rounds, 0 wins                      51st                       N/A
1987:     125cc AMA     12 rounds, 2 wins                        5th                       USGP 125cc – 10th Overall
1988:     125cc AMA     12 rounds, 1 win                         2nd                       USGP 250cc – 9th Overall
1989:     125cc AMA     13 rounds, 0 wins                        4th                       N/A
Our next rider… well I'm gonna wait for the backlash on this one! He certainly was a fan favourite, although he never had anything like the extreme dedication to training as Schmit did. He did win a world title, but the numbers that put him at #40 cannot be denied. Although I can guarantee that many British fans won't like it!