The MX Vice Show Episode #148 with Bobby Bruce
Listen now.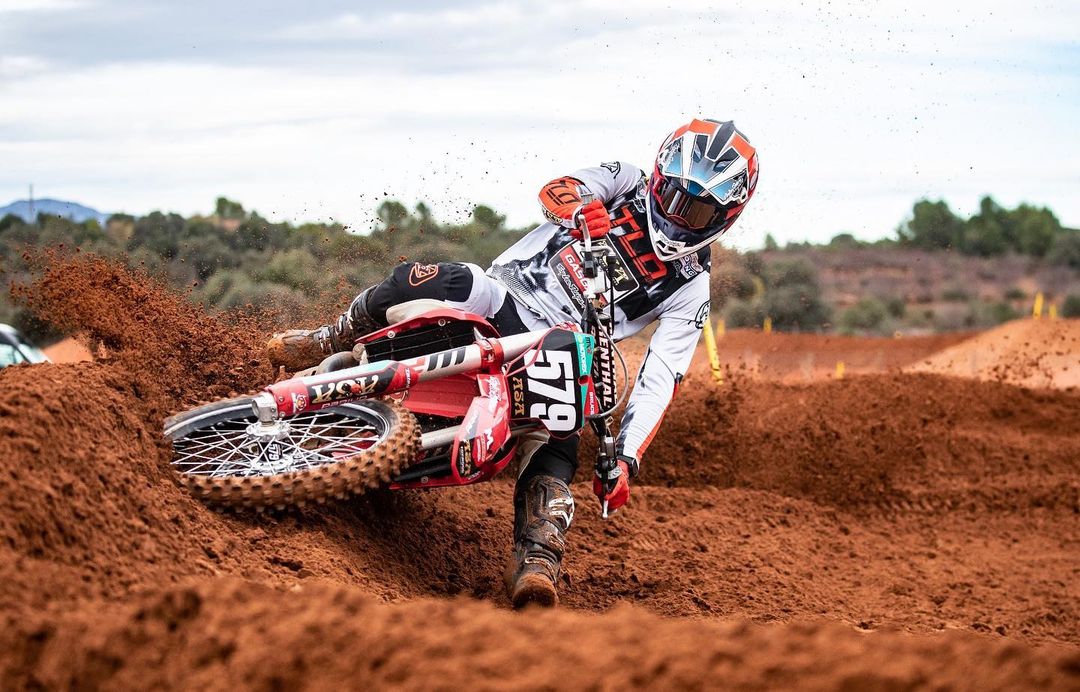 In the latest MX Vice Show, British MX2 hotshot Bobby Bruce talks to MX Vice Editor Ed Stratmann about his savage injury struggles this year, his multifaceted training program working with Brian Jorgensen, his journey to the top, the commitment, discipline and sacrifice needed to get to the highest level, his determination to succeed, idolising Ken Roczen, facing and dealing with adversity, the state of play in British motocross and much more.
The MX Vice Show is as always available to listen to on Spotify, iTunes, SoundCloud, Stitcher and Google Play. Thanks to Parts Europe, Scott, Acerbis, Fly Racing, AS3 Performance, ARMA nutrition and Even Strokes for their support of The MX Vice Show. If you would like to become a part of the show, don't hesitate to get in touch.
Lead Image: Bobby Bruce / ASA United GasGas
Love what we do? Please read this article as we try to raise £30,000.
UPDATE: 2024 British Arenacross Teams and Riders
See here.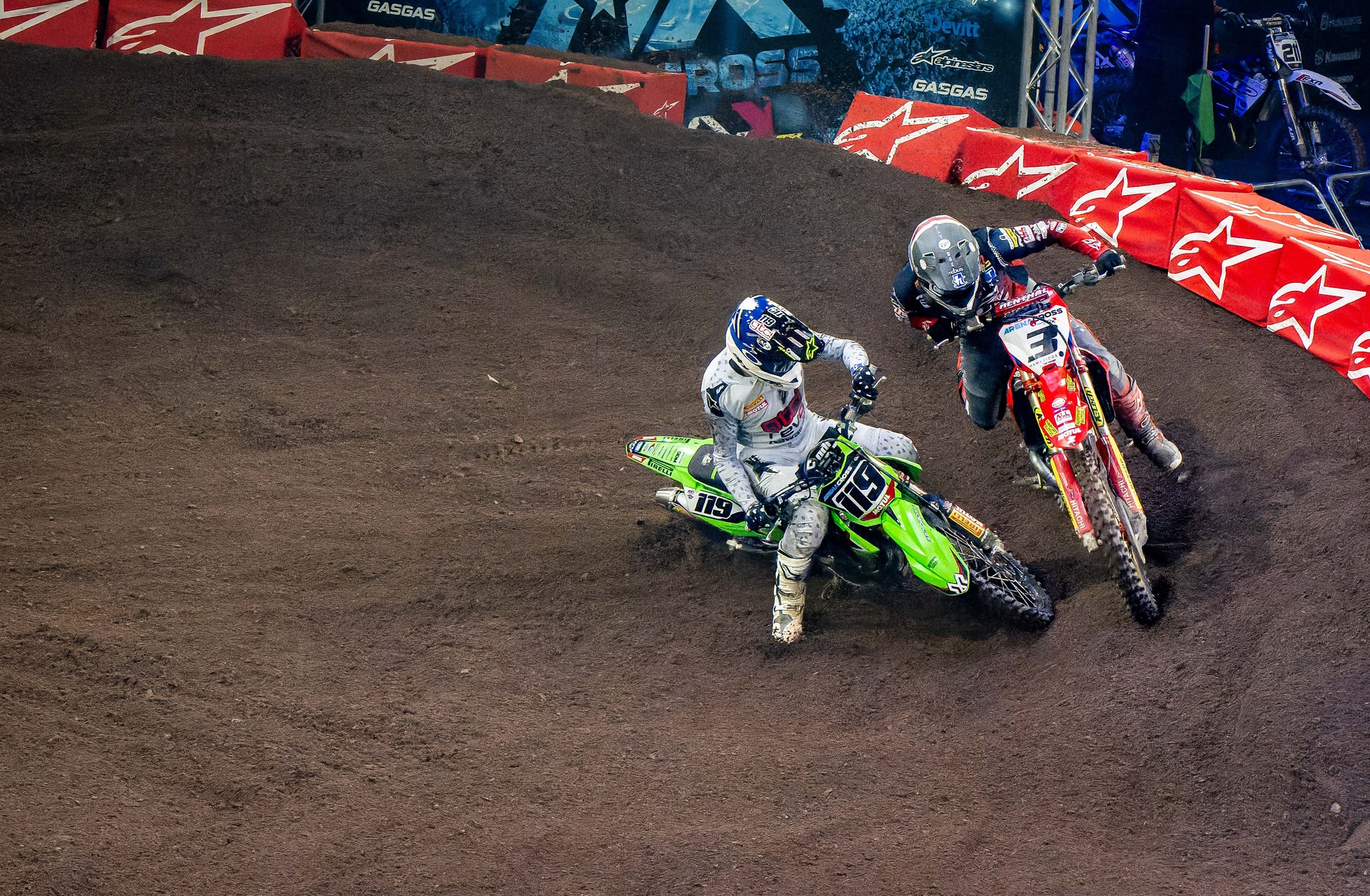 With just over a month to go until the 2024 Arenacross British Championship presented by Fix Auto bursts back into life at the AO Arena, Manchester on 6 January, we're thrilled to be able to announce the strongest line-up ever for arguably the most successful motocross championship in the UK.
---
Words: Press Release | Lead Image: UK Arenacross
---
The list just gets stronger as all classes are now full up and ready for the start gate to drop. And with record prize money topping £140k, Arenacross fans are in for a treat as the championship embarks upon its tenth incredible year of entertaining over half-million motocross fans across the UK.
Matt Bates, Arenacross Promoter said: "We're just over a month away until Arenacross fires back into life and we're now totally full up in every class; the interest to race has been the best we've ever had.
"I believe there's no better place to become a better motocross rider than behind a start gate and racing; the skills needed to race Arenacross can only help you do this, so it's so pleasing to see so many younger riders following the path of riders like Tommy Searle and Conrad Mewse."
Updated Arenacross Riders & Teams
FUS March Geartec Racing
Harri Kulas
Elliott Banks Browne
Jake Preston
Dirt Store Kawasaki
Tommy Searle
Mel Pocock
Stark Future
Jack Brunell
Thomas Do
Eddie Jay Wade
Crendon TRU7 Honda Racing
Conrad Mewse
Jake Nicholls
Mark McCann 64 Youtube Channel
Dylan Woodcock
Adam Chatfield
SC Sport Homes Husqvarna
John Adamson
Charley Putnam
S Briggs 10 Central Honda
Ashley Greedy
Matt Bayliss
AJP Racing Suzuki
Ben Clayton
Jayden Ashwell
Team Geartec Norman Watt Racing
Luke Burton
James Mackrel
SR75 Suzuki Racing
Jake Shipton
TBA
Armor Vision Racing
Nev Bradshaw
TBA
Love what we do? Please read this article as we try to raise £30,000.
Chambers was ready to quit British Motocross until the NPC was launched.

Chambers Racing in for NPC
We are pleased to announce that one of the most passionate and respected team owners in the UK has signed his entire team up for the NPC (Nora Pro Championship). Tim Chambers has been a staple in British Motocross for decades and his enthusiasm inspires others. Tim has a large team of riders who he will be supporting once more in 2024 but his focus in MX1 will be Dan Thornhill. In MX2 Time has a number of riders including: Sam Nunn, Alfie Jones, Glenn McCormick, Ben Franklin, Henry Siddiqui.
Dan Thornhill has raced in the EMX Open class previously, so is no stranger to racing against European riders and some of their best tracks. Sam Nunn, Alfie Jones, recent Irish MXoN team member Glenn McCormick,
The Chambers team will contest all six rounds in 2024, with all six riders getting a taste of European action once more, without having to spend €6000 for entry. The championship will offer teams an affordable way to race in Europe over the coming years whilst racing some of the best tracks in the UK.
Clinton Putnam – Series Manager
It's great to have Tim on board for 2024. We share a passion for all things British Motocross and I can relate to his enthusiasm in supporting the next generation. The series will offer teams like Tim and mine a real opportunity to get maximum exposure for our partners with the media platform it offers. When speaking to sponsors for 2024 they are all focused on the same thing, how can their brand and products be given as much exposure as possible.
Tim Chambers – Chambers Racing Team Owner
Without this Championship I was ready to quit the British motocross scene. I've invested so much time and money into British riders and the Championships over the last 40 years and was ready to jump ship and do Dutch, German and European rounds of MXGP's. Nobody was enjoying the British scene, the tracks are the same week in and week out, racing is spread out over vast timetables and people lose interest. So we're now looking forward to fast flowing meetings on good tracks, with good prize money for the competitors. Bring on the NPC. Thanks to Clinton and all the team.
Has British Motocross turned a corner?
Read now.

British Motocross is a subject I'm very passionate about. It's the sole reason MX Vice was created back in 2011. At that time there were a few magazines out there, but not many websites. One defining moment for me was seeing Gordon Crockard sit exhausted in a small setup in Denver at the 2010 Motocross of Nations. Ireland had done their usual B final shenanigans, where Crockard finished second to Martin Davalos, Martin Barr third and Stuart Edmonds fifth in a very hot Denver. It took a colossal effort by them, but most notably by Crockard, who was a little older than the young guns of Barr and Edmonds on the team. Watching from afar I could see that Gordon didn't leave anything on the track on Sunday September 26th, he was spent.
---
Words: James Burfield | Lead Image: Supplied
---
I'd never spoken to Gordon before but I felt I needed to go over and speak to him because the amount of respect I had for him that weekend and the Irish team was on another level. The MXDN has a way of bringing out the passion from the fans just as much as the riders and I was totally wrapped up in it as a fan. The best I could offer was 'that was an amazing effort' that probably didn't mean much at the time (Crockard finished 15th overall in MX Open). He smiled, was super polite and talked to me for five minutes before getting changed.
The next day we were in a shopping mall in Denver, I just bought a coffee for myself, my wife and godson, and lo and behold Gordon was sitting down in the mall. He looked up and said "hey how are you?" So I sat down with Gordon, my godson and we spoke about the previous day, what it took for him to achieve what he did that weekend in the heat and altitude of Denver.
When I got back the next few weeks I scoured the internet and magazines and the little that was covered I felt didn't give the team and Gordon justice. I had been going to the MXDN since 2006 and tried to get to as many GPs as possible from 2006 to 2010, and after buying a bike back in 2005, my bug was firmly back.
Although I have regressed about why I'm passionate about British Motocross I feel like I need to add some context to how I got there. I approached DBR back in 2010 about MX Vice being a possible motocross website to Sean Lawless, as DBR then didn't do much online. As you would have figured I was turned down, for good reason. I was just a fan, although I had masses of digital knowledge, it didn't mean anything to the motocross world back then. Whenever I picked up my monthly copies of MotoMag and DBR the stories were tailored around the stars of the sport. I wanted to hear about the journeymen, the riders that work in the week and the epic stories about making it to the line against the best in Britain.
At that time in the UK, Ashley Wilde, Jake Millward, Alan Keet, Adam Sterry, Luke Norris, Lewis Tombs, Josh Waterman, Ross Rutherford, Matthew Moffat, Ross Hill, Rob Davidson, Jordan Divall and Ross Keyworth were among some of the riders that wouldn't get any coverage. No one was telling their stories or interviewing them. That's when I knew MX Vice was needed.
For those that have been on this journey with MX Vice you will know the ins and outs of my love affair with British Motocross. So much has happened in those twelve years. I have seen two ACU chairmen come and go, helped form a championship called the MX Nationals, ran two race teams and spent hundreds of thousands on this sport I love. What I have realised in those twelve years is you have to have tough skin, because if you are going to have an opinion that is not shared by people who have a financial interest, then they will go to whatever level they need to go to to protect that interest. So when I started to ask questions that everyone wanted to know the answers to, you were tarnished with being disruptive and toxic.
The UK is a small community of the same people and if you fuck around in their playground you find out, as pressure is applied to business not to work with you. I have been on this constant journey with British motocross, going round in circles.
The opportunity to go to MXGP in 2015 was a breath of fresh air for MX Vice and myself. We felt welcomed and they appreciated the impact we made online and through our social channels, even when our opinion differed we didn't get alienated, or advertising pulled from us due to pressure.
Weirdly they welcomed the challenge to be better, in fact they were open to hearing if we saw any opportunities to help them improve. This freaked us out for a while and part of us thought, "what's the catch?" Going to MXGP felt like we moved from primary school to university and skipped secondary with the way people accepted and worked with us. That credit goes down to David Luongo who came in with new ideas and Samanta Gelli who understood our potential from day one.
When you look back to 2008 to 2014 and see the amount of GP riders that were regulars in the British Championship, maybe we were spoiled? Maybe it skewed our vision, but it just wasn't just us, GP riders and fans were interested in the British scene. What has happened since that time is that the Dutch, German, French, Italian and Spanish championships have evolved, their federations have invested and been very successful with their programs.
Again this has not helped with the perception when looking at British Motocross. Since 2014 I feel there has been glimpses of effort, but in comparison we have become complacent. When you are complacent then other people will see an opportunity, just like MX Vice did with MotoMag and DBR in 2011. Those two juggernauts at the time possibly looked and laughed at the thought of someone like MX Vice passing them.
I want those days back when you were excited to see riders like Arnaud Tonus, Zach Osborne and Christophe Pourcel in MX2 and Matiss Karro, Kevin Strijbos, Shaun Simpson, Stephen Sword, Marc de Reuver in MX1 and you would travel the length of the UK on a Sunday not to miss a round.
Yes we have had COVID, Brexit and now we are in a recession, it's a difficult time for everyone. The British championship is doing its best given the resources they have along with the MX Nationals. Tracks are charging in the region of £15,000 – £20,000, and gone are the days of volunteer marshalls. The cost to run a national event is around £30,000 to £40,000 per round. Add in to this the industry is spending less on events and marketing to promote their products, services and business, and you can recognise the struggle.
Both championships are run under the ACU, who are the leading federation in the UK, and that won't possibly change in our lifetime. So as much as people want to moan about what they are not doing, then remember they are not going anywhere either. As the federation for both championships, they are always going to be the target for those people who feel disenfranchised with how the sport is going and it doesn't help when people perceive other countries are progressing and new organisations like Nora92 are investing back into the sport with an incredible youth program and reduced licence and riding fees.
I believe that the ACU have recognised that things need to change and have understood that the licence fee subscribers are the life force behind their business. The appointment of Tim Lightfoot as chair of the ACU has been a positive one, someone who seems to truly understand that a united British motocross is beneficial to the ACU.
There are some great people within UK motocross who all believe that they know what it needs and when they are not listened to they then decide to adopt the mantra of I'll just go and do it myself. Tim Lightfoot has the biggest job in motocross right now, and everything to play for.
With the right foresight and understanding what is required from key stakeholders that are jaded he could unite the British motocross scene, skyrocket ACU licences and drive the industry forward. A lot of pressure for one person, but if he can unite the rest of the ACU behind him, then things will change. So a glimmer of hope has happened for the ACU and the national championship, but there will be many who would have heard this all before.
But the hook that got me engaged with British motocross once more was when I heard of the possibility of a new Championship being started for 2024, but with two rounds being run in Europe. As an outsider looking in I would one hundred percent be that guy to say, "Jesus yet another championship" – just what the UK needs. That would have been the general sentiment towards someone starting another championship in the UK. So I needed to know more to understand if this would be a success or not.
Clinton Putnam is the guy who is looking to challenge British motocross to be better, to set a new bar in the hope it will shake it up and take it forward. Clinton was behind the very successful GT Cup and came onboard the MX National series supporting with tracks, infrastructure and vehicles. The same guy who has been behind the explosion of quality new motocross tracks in the UK over the past two years, something that the UK is in dire need of. I spoke to Clinton initially to understand more about the series and what his approach to media would be and see if I could help in any way. His vision is to offer a championship that feels like a GP when you arrive, an emphasis on the pros, along with world class tracks for them to ride on.
A few months ago this was made even more impressive by the fact that Clinton would be running with or without support from the industry, luckily for Clinton there are people, businesses and brands that also share and welcome that vision.
For the past eighteen months I have stayed out of the UK scene thanks to having COVID for five months, which kicked my ass, and then focussing on MXGP to fulfil our contracts. With Arenacross offering £140,000, NPC £98,700, MX Nationals and the British Championship there is finally some good money for pros to earn in 2024 when the economy is struggling! So is this the wind of change that we needed?
Since the new Nora Pro Championship (NPC) was announced it seems to have lifted the industry, federations have upped their game, other championships have got a second wind and the purse strings are a little looser from brands and manufacturers. Who knows where British motocross will be by the end of 2024?
We could be looking back five years from now saying where we would be without Clinton Putnam starting the NPC, and it being a driving force for not only the UK and six rounds in the UK and six rounds in Europe.
One thing is for sure, British motocross is a lot like the political landscape. There is a lot of talk about requiring people to work together, but it will always be difficult when egos and money get in the way of progress. Hawkstone International and VMXDN Foxhills have shown that if the product is what people want then they will support it, the challenge is to offer that level six times a year, not just the once.
Strap in because we have a lot to look forward to over the next thirty six months.
Love what we do? Please read this article as we try to raise £30,000.