Results: Atlanta SX
All here.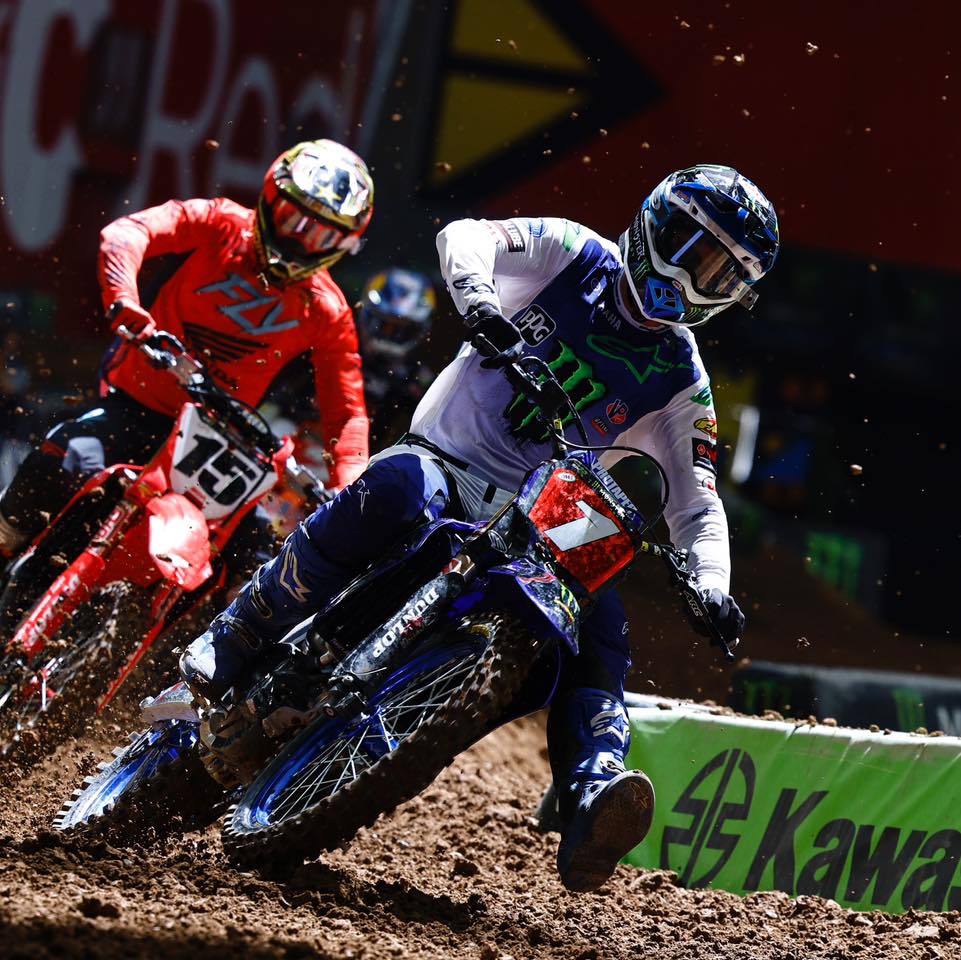 2023 Monster Energy AMA Supercross is back! The racing at Atlanta has commenced and the results are flying through at quite a rate. Keep up with everything that is going on in the different sessions in both 450SX and 250SX from Atlanta by checking this page.
This page will have all of the results from Atlanta. The results are posted in an easy-to-view fashion, with the latest results at the very top of the page. If you do not immediately see the most recent results, hit the refresh button in the top-right corner and then the issue should be rectified.
450SX Main Event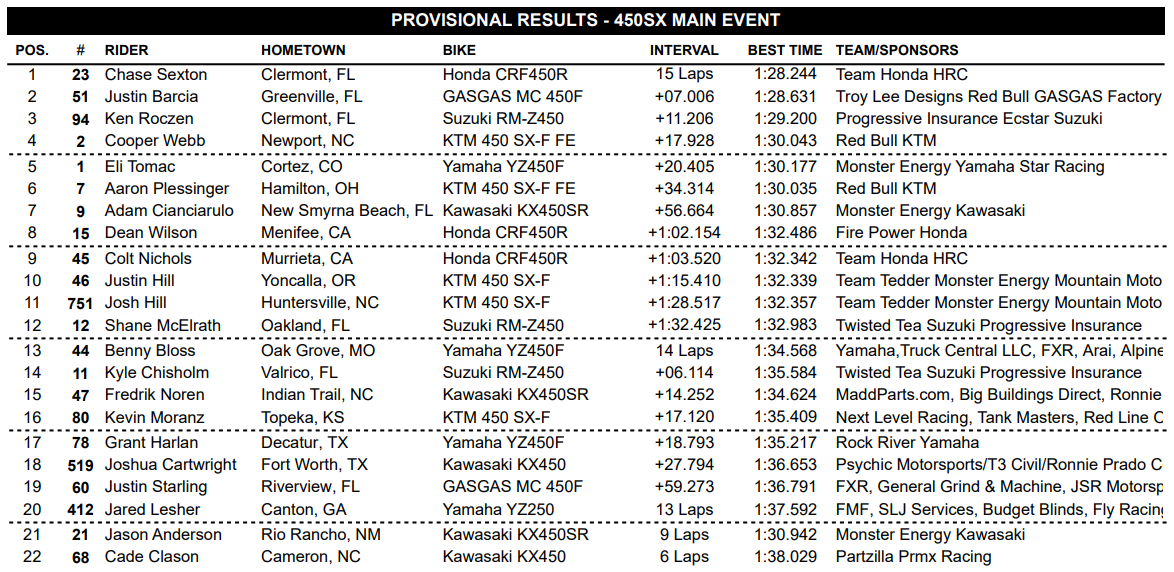 250SX Main Event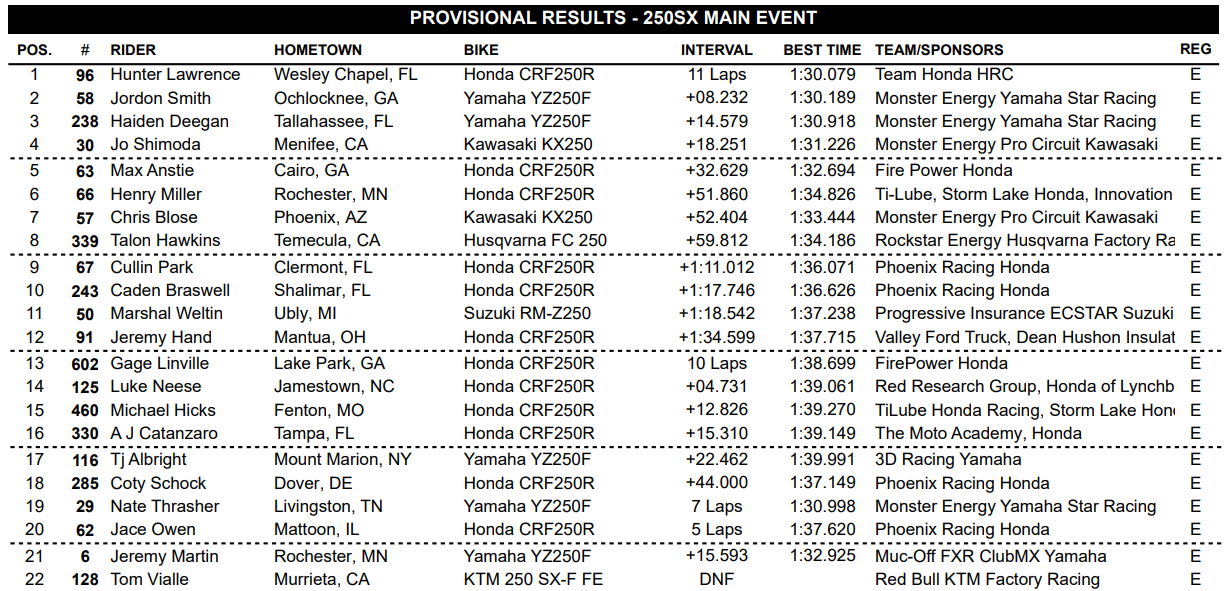 450SX LCQ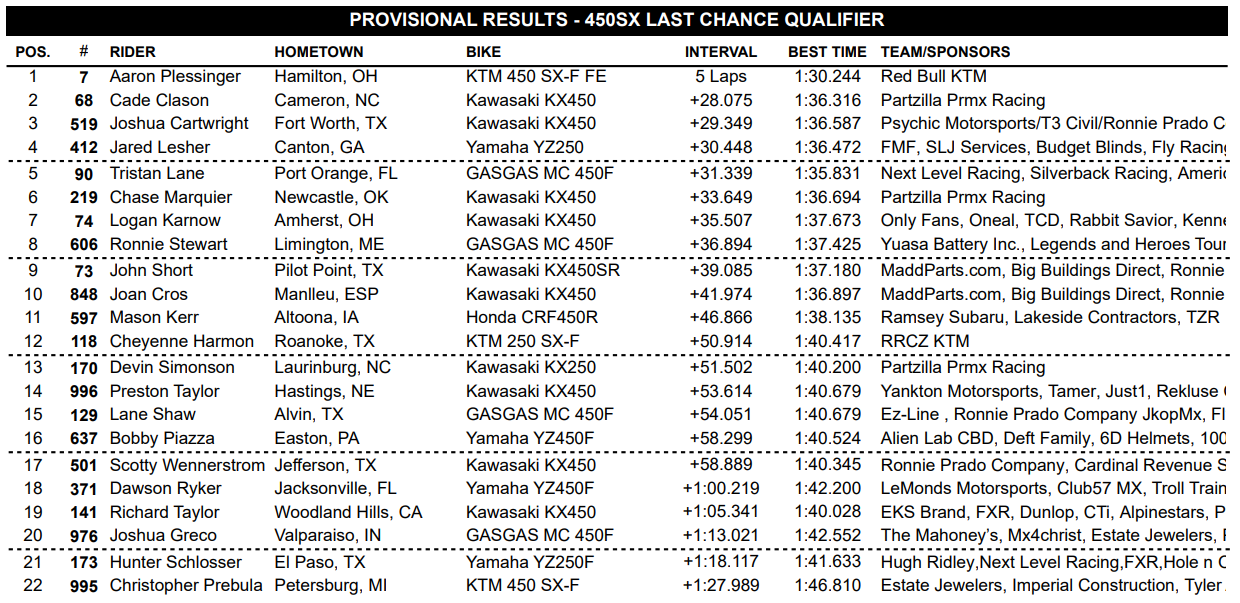 250SX LCQ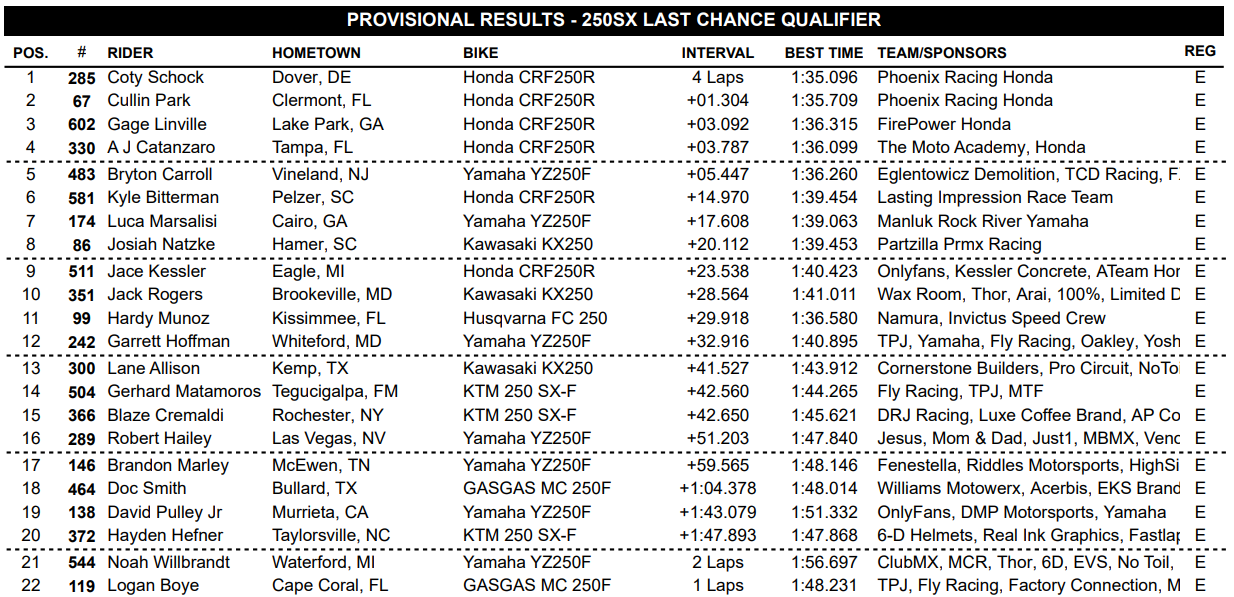 450SX Heat Two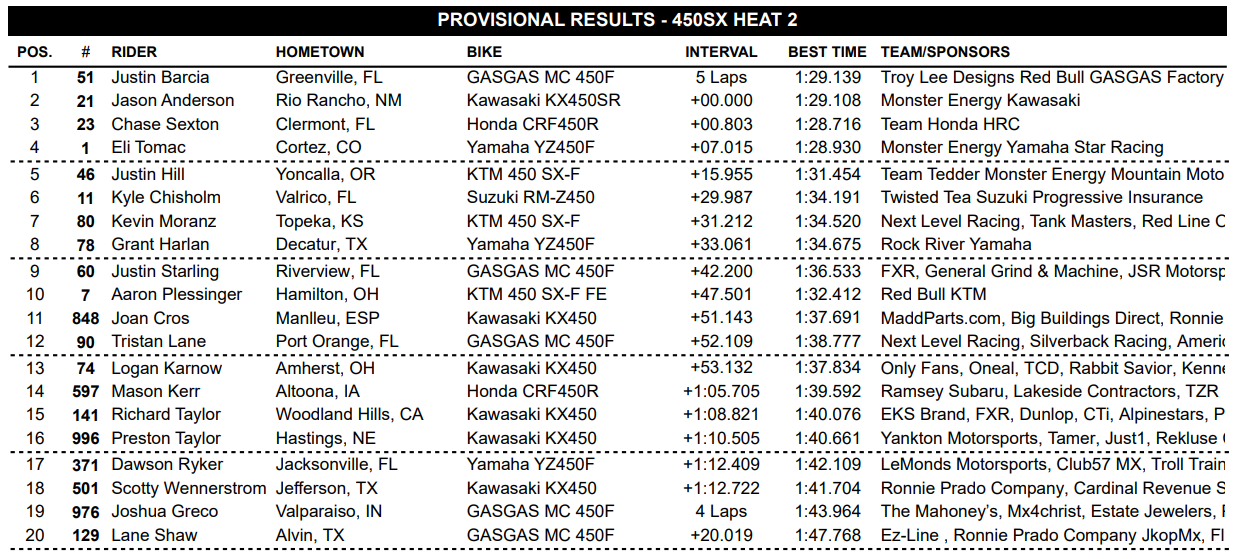 450SX Heat One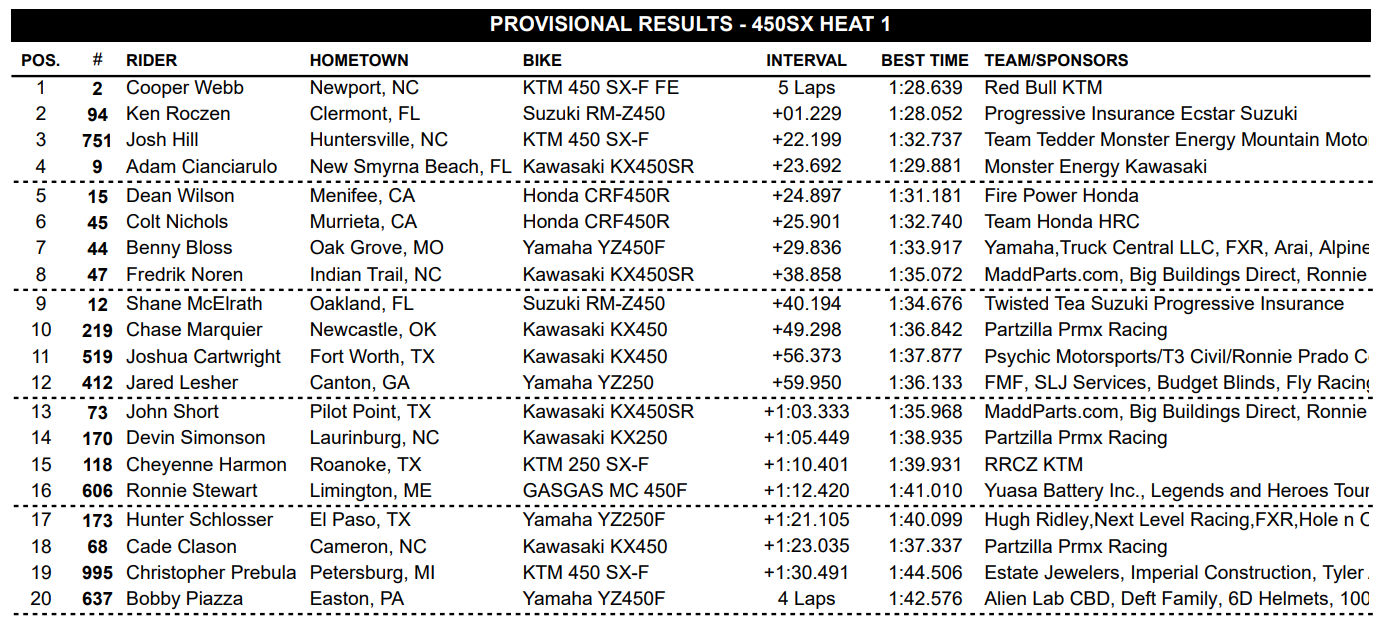 250SX Heat Two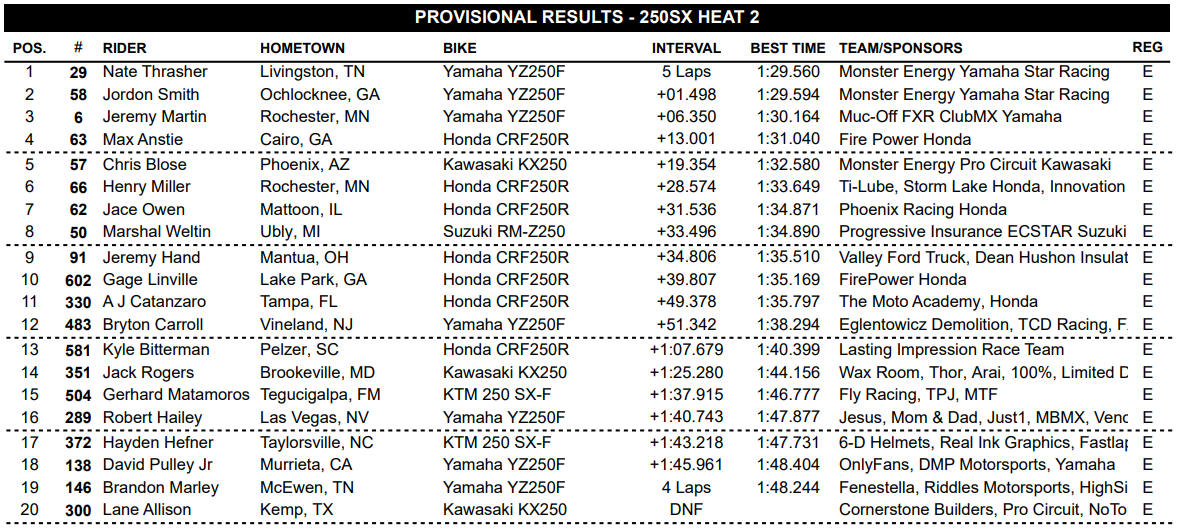 250SX Heat One
Lead Image: Feld
Love what we do? Please read this article as we try to raise £30,000.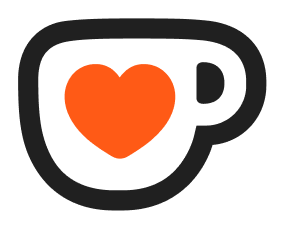 Support MX Vice on Ko-fi
Ryder DiFrancesco joins Troy Lee Designs/Red Bull/GASGAS Factory Racing
Ryder DiFrancesco joins Troy Lee Designs/Red Bull/GASGAS Factory Racing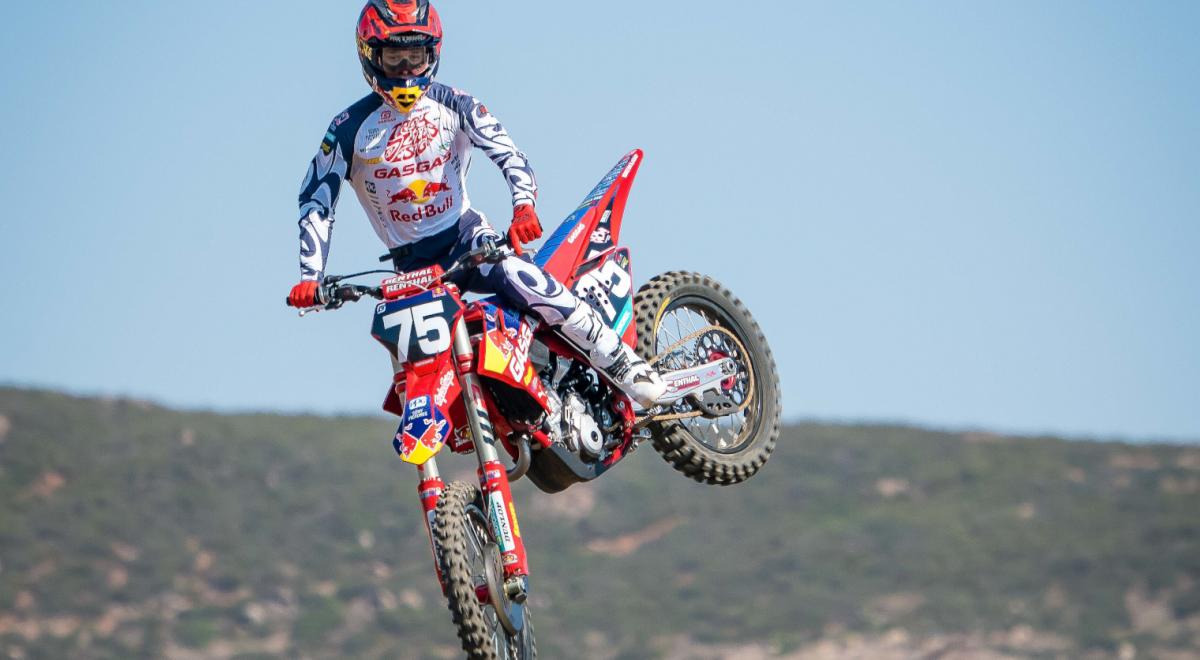 Troy Lee Designs/Red Bull/GASGAS Factory Racing has signed Ryder DiFrancesco for the 2024 SuperMotocross World Championship (SMX) season, spanning the AMA Supercross and Pro Motocross Championships, as well as the high-profile SMX Finals series.
Ryder D is GASGAS-bound for 2024 onboard the MC 250F Factory Edition
Troy Lee Designs/Red Bull/GASGAS Factory Racing lands talented teenage prospect
2024 season will mark DiFrancesco's first in 250SX regional division
Still just 18 years of age, Ryder D is regarded as one of the sport's finest young talents in U.S. competition, emerging from a highly-decorated amateur career into the professional ranks this year with immediate promise and a share of encouraging results.
The 2024 season will see DiFrancesco line up for his rookie 250SX campaign – the specific region yet to be determined – when the gates drop on Supercross early next year, in addition to his second term of lining up outdoors in 250MX, and the SMX post-season.
Max Lee, Troy Lee Designs/Red Bull/GASGAS Factory Racing Team Manager: "We're super-excited to have Ryder DiFrancesco join the team for the 2024 racing season. He has a lot of talent and a good work ethic, so I think he's a great fit for the group and the GASGAS brand!"
After beginning this year in Supercross Futures, Ryder went on to contest the entire Pro Motocross Championship, achieving four top 10 overall results in 11 rounds, and a season-best of sixth at Ironman Raceway's final round, which earned him 10th place in the standings.
DiFrancesco continued that form at SMX Playoff 1 in Charlotte, where he finished fourth overall, and would eventually race to 12th position in the 250SMX Championship. Now, the opportunity to GET ON THE GAS arrives, and the teenager is eager to take on fresh challenges in a new environment, equipped with the razor-sharp MC 250F Factory Edition.
Ryder DiFrancesco: "I am very excited to make the transition to the Troy Lee Designs/Red Bull/GASGAS Factory Racing Team for my first full professional season! I'm ready for new challenges and learning a new bike, which is the exciting part of what's ahead together."
Pro Circuit Kawasaki Announces 2024 Line Up
Levi Kitchen and Maximus Vohland join Pro Circuit Kawasaki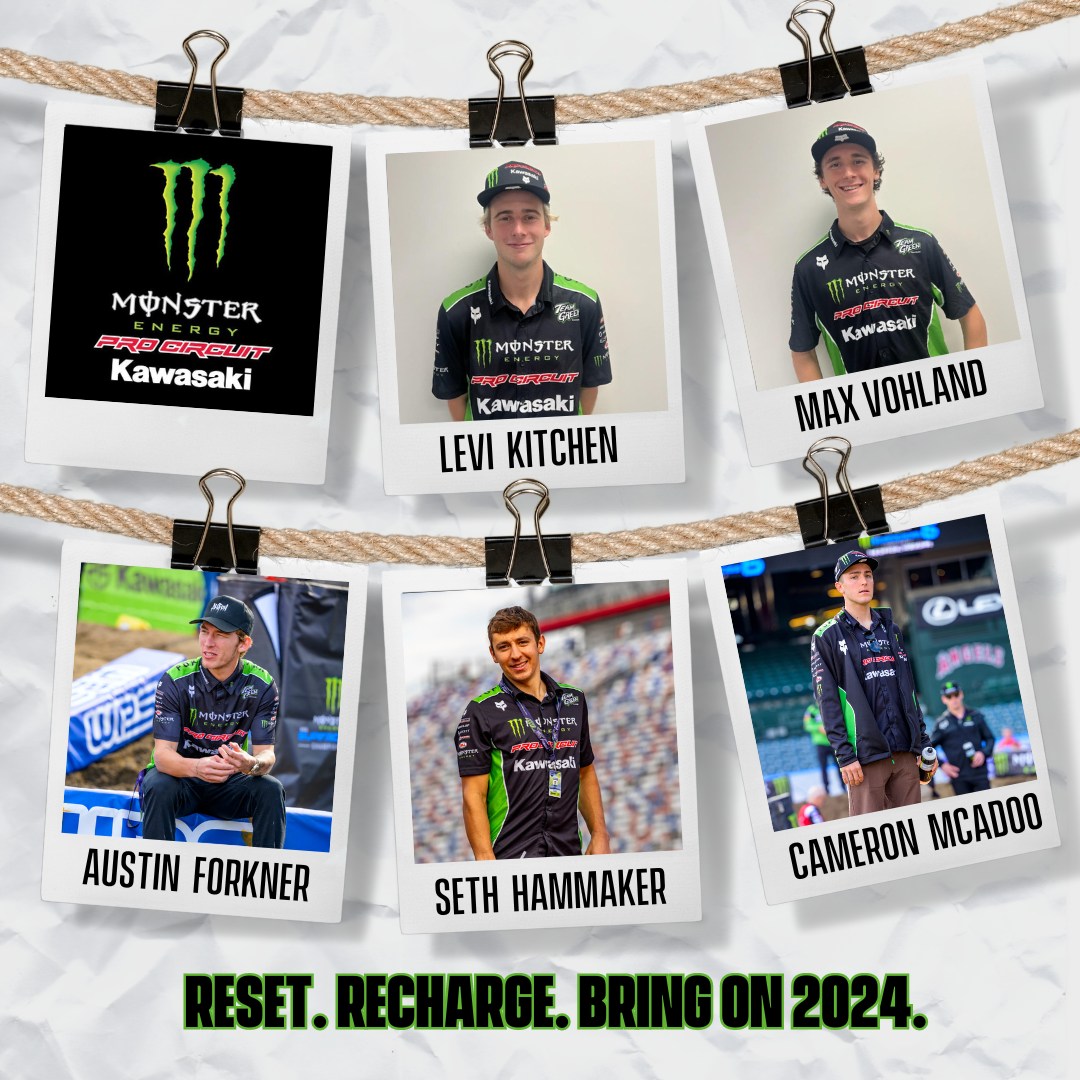 Monster Energy Kawasaki will continue with its two title favorites in the 450 class aboard the all-new 2024 KX 450. Adam Cianciarulo will compete for his fifth year alongside 2018 Monster Energy Supercross Champion and 2022 Supercross runner-up Jason Anderson. In the 250 Class, Monster Energy/Pro Circuit/Kawasaki is set to lineup with established race winners, Austin Forkner, Cameron McAdoo, and Seth Hammaker, while also welcoming the championship contenders Levi Kitchen and Maximus Vohland.
Cianciarulo will line up with Monster Energy Kawasaki in 2024 to continue his notable 19-year partnership with Kawasaki as he enters his fifth year of 450 Class racing. The No. 9 graduated through the Kawasaki Team Green program on his way to the 2019 AMA Pro Motocross 250 Championship, 2020 Pro Motocross Rookie of the Year, and 21 combined professional SMX wins. After completing the entire 2023 season injury-free, Cianciarulo is set to capitalize on a full off-season of preparation riding the new 2024 KX 450 with the team to be in prime form for his 2024 Championship efforts.
Anderson and his KX 450SR proved to be a strong duo throughout the 2023 Monster Energy Supercross Championship, earning seven Top-5 finishes. After injury at Round 15 of Supercross, Anderson carried his success into the Pro Motocross Championship, where he claimed four Top-5 finishes and two overall podiums. Looking forward to the Monster Energy Supercross Championship, Pro Motocross Championship and SuperMotocross World Championship in 2024, Anderson aims to continue his fight for premier class supremacy.
Supported by an astonishing 31 years of professional racing success, the Monster Energy/Pro Circuit/Kawasaki race team will contest the 2024 SuperMotocross World Championship with a new lineup. The team who has achieved an unmatched 294 combined SMX wins, and 31 total championships, Monster Energy/Pro Circuit/Kawasaki, is gearing up for more victories with Forkner, McAdoo, Hammaker, Kitchen and Vohland.
Entering his ninth year with Monster Energy/Pro Circuit/Kawasaki, Forkner's impressive 13 victories position him as a top contender for the championship in 2024. This seasoned 250 Class rider is primed to clinch his inaugural professional championship.
McAdoo earned his 17th Monster Energy Supercross podium in 2023 before an injury after Round 5 sidelined him the remainder of the 2023 season. The Iowa native aims to return stronger than ever and build upon his success with a full championship campaign in the year ahead.
As Hammaker lines up for his fourth year in the professional circuit, his supercross Main Event win and his five podium finishes attest to his readiness to contend for the championship throughout the season.
New to the team, Kitchen and Vohland look to infuse their skill, determination and passion into the Monster Energy/Pro Circuit/Kawasaki lineup for the 2024 season. These rising stars in the motocross realm are determined to achieve even more remarkable results in the upcoming year. A combined track record that includes Kitchen's outstanding eight podium finishes and a main event victory, alongside Vohland's impressive 10 Top-5 finishes, positions them as premier contenders in the class.
Monster Energy Kawasaki and Monster Energy/Pro Circuit/Kawasaki will host a full roster of proven Team Green contenders for the 2023 AMA SuperMotocross World Championship. Both Ryder Difrancesco and Jett Reynolds depart the team after being longtime Team Green riders.
Between The Races Podcast: Mick Sinclair
Honest and engaging chat.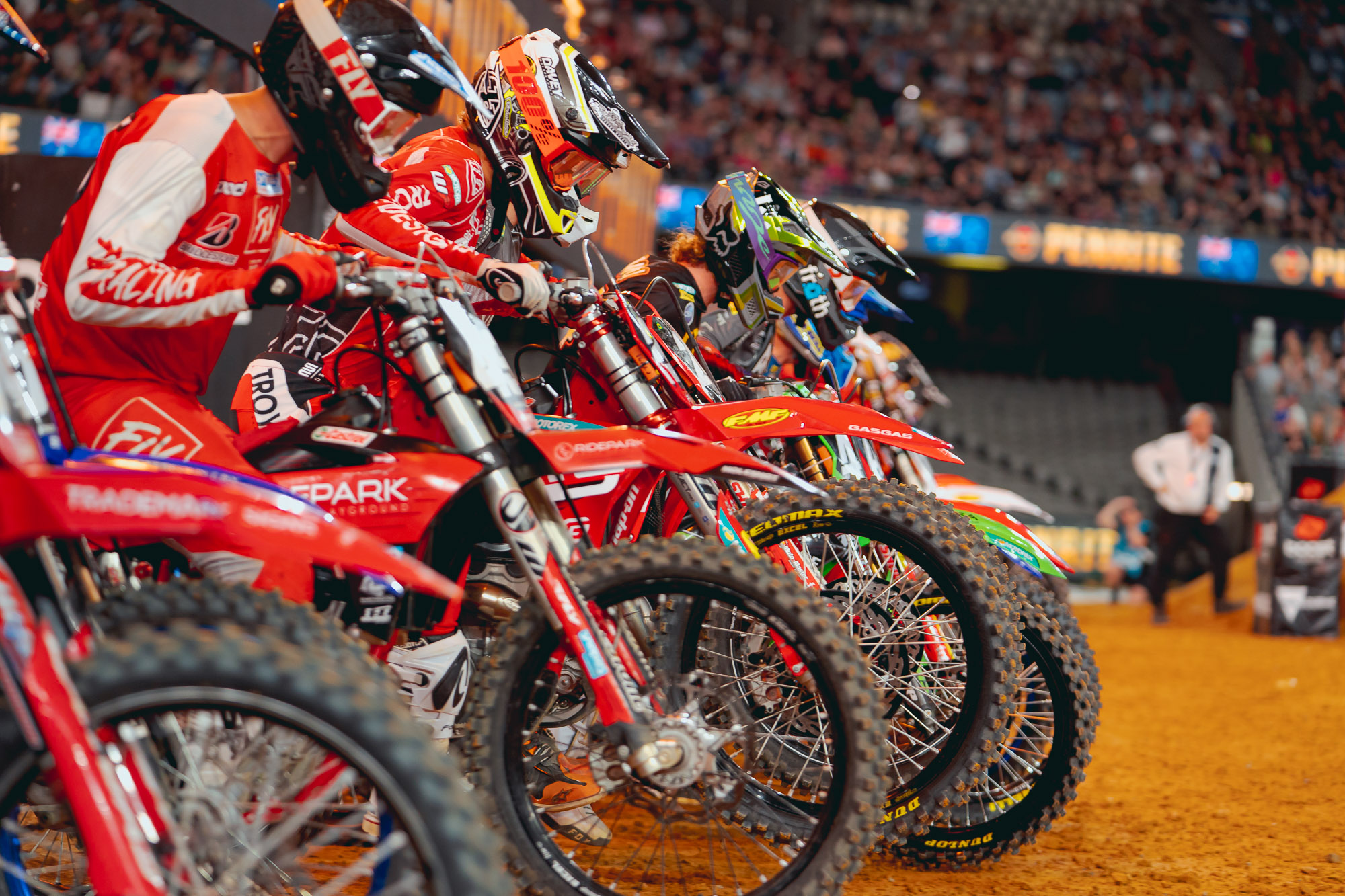 In the latest Between The Races podcast, Mick Sinclair, who's one of the key driving forces behind the upcoming Australian Supercross Championships, talks to MX Vice Editor Ed Stratmann about the 2023 series, the exciting new initiatives being introduced such as the Privateer Support Program, the CR22 85cc Cup and the TV package, the Lawrence brothers, his journey in the sport, the state of play in Aussie moto, WSX, Adam Bailey and much more.
The Between The Races podcast is always available to listen to on Spotify, iTunes, SoundCloud, Stitcher and Google Play. Thanks to Fly Racing, Monster Energy, Fox Racing, Parts Europe, Scott, Bell Helmets, Acerbis, AS3 Performance, Kawasaki UK, KTM UK, O'Neal and Even Strokes for supporting the show. If you would like to become a part of the show, don't hesitate to get in touch.
Lead Image: Australian Supercross
Love what we do? Please read this article as we try to raise £30,000.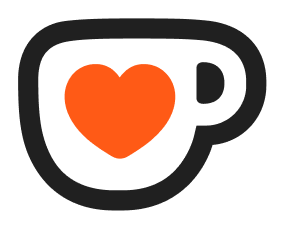 Support MX Vice on Ko-fi