2022 Lucas Oil Pro Motocross begins on Saturday, provisional entry lists released.
Fox Raceway I in Southern California will host the opening round of the 2022 Lucas Oil Pro Motocross series this coming weekend. With an influx of wildcard riders, who have either come out of retirement or travelled overseas, the twelve-round series promises to be one of the most exciting in recent memory. The provisional entries for the 450MX and 250MX classes, which can be viewed below, certainly outline just how much depth there is.
---
Words: Lewis Phillips | Lead Image: Align Media
---
It is only Tuesday and therefore names could continue to be added to the lists. Joey Savatgy has not been included at this time, for instance, and is expected to race on Saturday, even though he has had limited time on the bike since returning from his knee injury. Max Anstie is not going to make it to round one, even though he has inked a deal with a new team. '34' will appear in Pro Motocross around the halfway mark.
| | |
| --- | --- |
| 1 | Dylan Ferrandis |
| 3 | Eli Tomac |
| 5 | Ryan Dungey |
| 7 | Aaron Plessinger |
| 12 | Shane McElrath |
| 21 | Jason Anderson |
| 23 | Chase Sexton |
| 26 | Alex Martin |
| 28 | Christian Craig |
| 35 | Garrett Marchbanks |
| 41 | Brandon Hartranft |
| 51 | Justin Barcia |
| 58 | Ryan Surratt |
| 61 | Fredrik Noren |
| 65 | Grant Harlan |
| 73 | Benny Bloss |
| 84 | Scott Meshey |
| 88 | Jacob Runkles |
| 93 | Tyler Stepek |
| 94 | Ken Roczen |
| 97 | Jerry Robin |
| 141 | Richard Taylor |
| 145 | Travis Smith |
| 149 | Chad Heishman |
| 165 | Jorge Rubalcava |
| 168 | Cale Kuchnicki |
| 169 | Dylan Kappeler |
| 170 | Keylan Meston |
| 171 | Josh Mosiman |
| 178 | Clayton Tucker |
| 204 | Kyle Greeson |
| 212 | Daniel Ramirez |
| 216 | Devin Harriman |
| 222 | Antonio Cairoli |
| 240 | Bryce Stewart |
| 266 | Brett Greenley |
| 267 | Robert Nalezny |
| 284 | Dennis Stapleton |
| 285 | Marshal Weltin |
| 290 | Jaocim Clemin |
| 291 | Corey Kirkland |
| 292 | Kolton Dean |
| 319 | Devon Bates |
| 323 | Josh Gilbert |
| 326 | Rafael Chao |
| 366 | Blaze Cremaldi |
| 371 | Dawson Ryker |
| 420 | Jackson Gray |
| 450 | Brad Burkhart |
| 454 | Layton Smail |
| 458 | Brent Burkhart |
| 466 | Jake Mohnike |
| 474 | Alfie Smith |
| 515 | Tyler Medaglia |
| 516 | Yeissen Rubalcava |
| 565 | Dominic DeSimone |
| 577 | Felix Lopez |
| 591 | Charlie Putnam |
| 600 | Connor Olson |
| 610 | Nicolas Gonzales |
| 639 | Ryder Steffy |
| 641 | Tommy Flora |
| 645 | Colby Copp |
| 647 | Matthew Hubert |
| 651 | Jeremy Kowalsky |
| 700 | Kyle Krell |
| 711 | Tristan Lane |
| 737 | Zach Butkiewicz |
| 746 | Trevor Schmidt |
| 767 | Mason Wharton |
| 770 | Doug Manhire |
| 776 | Seamus Sullivan |
| 815 | Colton Eigenmann |
| 821 | Jeffrey Gorman |
| 830 | Ezra Lewis |
| 928 | Bryce Hammond |
| 958 | Matthew Carter |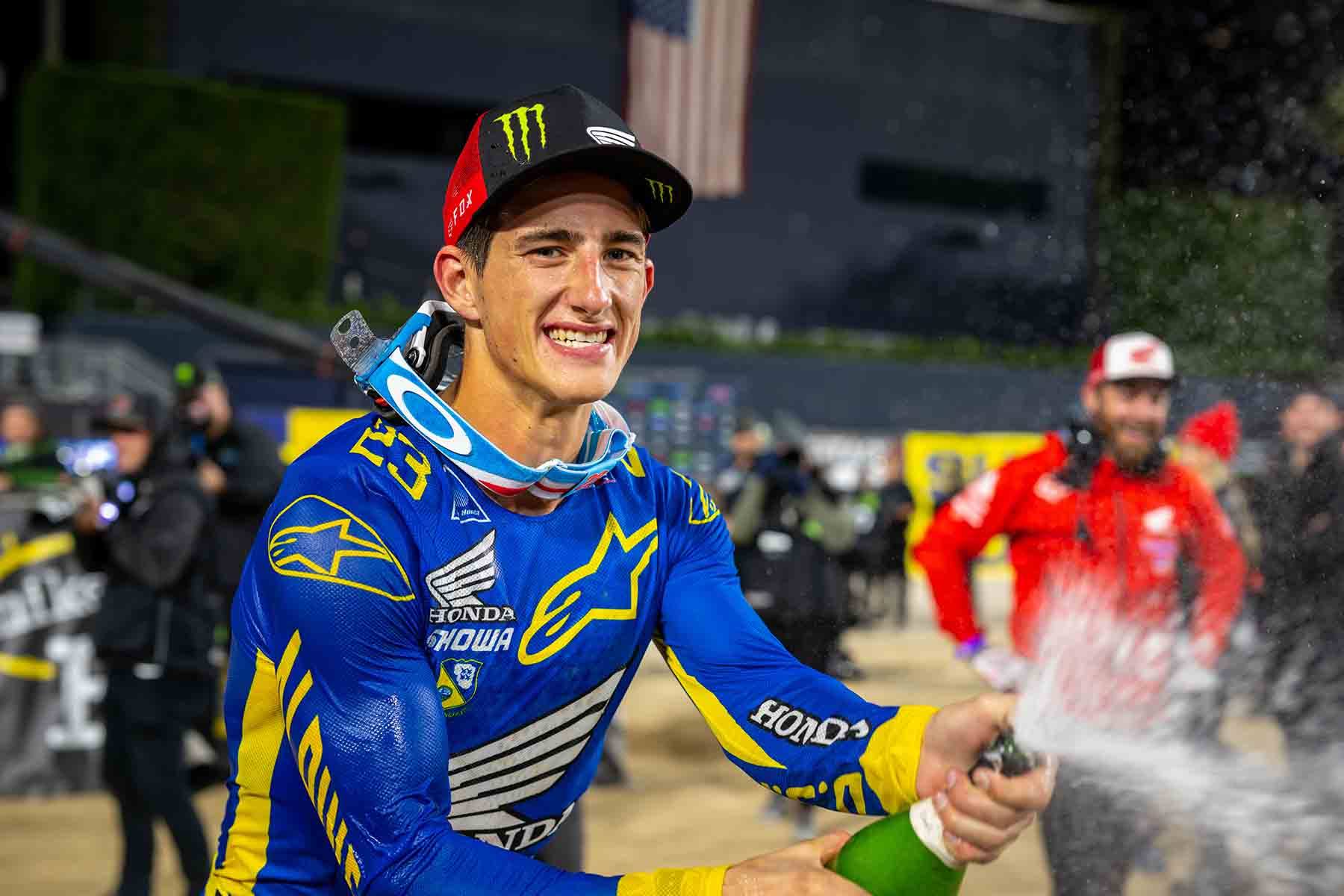 | | |
| --- | --- |
| 1 | Jett Lawrence |
| 24 | RJ Hampshire |
| 29 | Michael Mosiman |
| 30 | Jo Shimoda |
| 31 | Jalek Swoll |
| 32 | Justin Cooper |
| 33 | Austin Forkner |
| 36 | Max Vohland |
| 38 | Joshua Varize |
| 40 | Dilan Schwartz |
| 45 | Pierce Brown |
| 47 | Seth Hammaker |
| 48 | Cameron McAdoo |
| 49 | Nate Thrasher |
| 50 | Stilez Robertson |
| 59 | Levi Kitchen |
| 91 | Brandon Scharer |
| 96 | Hunter Lawrence |
| 101 | Dylan Walsh |
| 113 | Braden Spangle |
| 119 | Logan Boye |
| 124 | Jett Reynolds |
| 159 | Tyson Johnson |
| 162 | Maxwell Sanford |
| 174 | Luca Marsalisi |
| 182 | Mason Olson |
| 192 | Jack Chambers |
| 194 | Lance Kobusch |
| 197 | Collin Davis |
| 211 | Jason Fichera |
| 224 | Casey Carmichael |
| 225 | Brett Stralo |
| 242 | Garrett Hoffman |
| 243 | Hardy Munoz |
| 270 | Bryson Noble |
| 286 | Brandon Sussman |
| 318 | Seth Crotty |
| 329 | Matt LeBlanc |
| 331 | Derek Drake |
| 337 | Slade Smith |
| 341 | Evan Haimowitz |
| 354 | Jason Lutton |
| 376 | Thomas Welch |
| 411 | Nicholas Romano |
| 430 | William Crete |
| 444 | Romain Pape |
| 492 | Nicholas Neys |
| 533 | Josiah Natzke |
| 538 | Addison Emory |
| 544 | Noah Wilbrandt |
| 592 | Max Schwarte |
| 604 | Max Miller |
| 670 | Gavin Brough |
| 791 | Matt Thomas |
| 847 | Florian Miot |
| 901 | Brayden Lessler |
| 914 | Geran Stapleton |
| 924 | Gage Hulsey |
| 934 | Brian Medeiros |
| 943 | Noah Viney |
| 995 | Chris Prebula |