Prize Fund: World Supercross
Massive prize fund confirmed.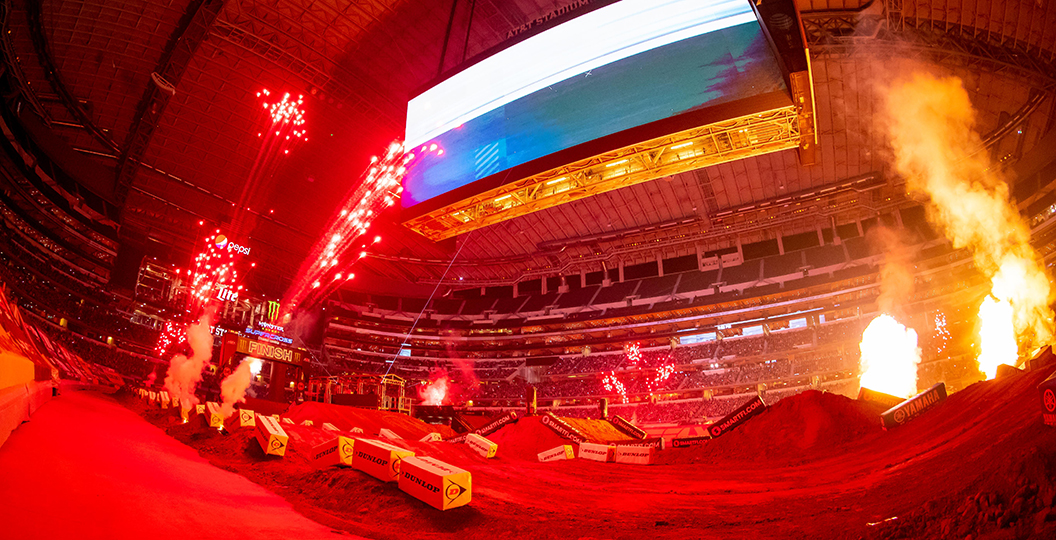 Queensland, Australia (1 March, 2022) – SX Global, the Australian company that recently earned the exclusive rights to manage and promote the FIM Supercross World Championship, today unveiled plans for the comprehensive global championship series. Featuring an independent team ownership model, unprecedented financial support for teams and riders, expanded opportunities for global and local sponsors and innovations to elevate the broadcast and in-stadium experience; the FIM Supercross World Championship represents the most progressive and ambitious platform to elevate the sport and expand its appeal across the world.
The series will feature a highly exclusive structure, with only 10 team licenses available to independent owners, and an unparalleled level of financial support for teams, including seed funding for every team entering the series, appearance fees at every event, and logistics and freight support throughout the series. In total, more than $50 million has been designated specifically for team and rider support over five years. In addition, the independent ownership model opens the door for significant sponsorship opportunities on global and local event levels.
The global series will feature the richest prize purses in the sport's history, with a total of $250,000 up for grabs at each event. The FIM Supercross World Championship will follow the established two-class format, with each team fielding four riders – two in the WSX (450cc) class, and two in the SX2 (250cc) class. Furthermore, every event will allow for two wildcard entries in each class, providing opportunities for local riders and sponsor-driven exemptions to round out the 22-rider field. SX Global also plans to deliver an elevated experience for fans, through unique race formats, broadcast innovations, and in-stadium attractions that elevate the overall entertainment experience.
Plans for the global championship series were underscored today by the news of Mubadala Capital's investment in SX Global, bringing an unprecedented level of financial support and development resources on behalf of the FIM Supercross World Championship. Mubadala Capital, the asset management arm of Mubadala Investment Company, a sovereign investor with $243 billion in assets under management, brings a wealth of experience in funding the development of global business and sports ventures.
"There is a massive fanbase and untapped demand for supercross outside the United States and backed by the financial support and significant resource of Mubadala Capital, we intend to feed that, bringing the sport to new regions through the most exciting and lucrative world championship series in the history of the sport," said Tony Cochrane, president of SX Global. "We have created an entirely new model for supercross: one that emphasises expanded financial support and opportunities for riders and teams, expanded opportunities for sponsorship and an elevated experience for fans."
The FIM Supercross World Championship will take place annually, in the second half of the year. With plans for five events from September through November, 2022 will serve as a 'pilot' season, allowing the series to establish itself and build momentum. 2023, and subsequent years, will see the series expand annually between June and November.
While professional supercross has seen success in the United States for decades, there has yet to be a definitive global series to lay claim to a true FIM-sanctioned world championship. Highly-successful events are held throughout Europe and Australia every year, normally around September–December. However, these events are not currently linked by any official FIM 'championship' status, and this remains a significant untapped opportunity for the sport's ongoing credibility and evolution, as well as a significant opportunity for riders and teams to expand their influence and financial prospects.
"Over the years, there have been various attempts to build a true world championship series for supercross, but none of them have succeeded, due to deficiencies in funding and resource, lack of global and regional relationships and a variety of other factors,"said Adam Bailey, managing director, Motorsport, for SX Global. "Our team possess the necessary supercross and international event background, relationships and expertise, and the funding to make this world championship a reality."
SX Global brings a team of highly qualified motorsports and entertainment executives, armed with the experience to successfully deliver a series of this magnitude. SX Global President, Tony Cochrane, spearheaded the development and success of V8 Supercars, an Australian-based auto racing series that became one of Australia's most successful motorsports, eventually expanding with events in Shanghai, the United States, Bahrain, Abu Dhabi and New Zealand. In addition, proven supercross event veterans Adam Bailey and Ryan Sanderson have been the driving force behind Australia's highest-profile supercross offering, the AUS-X open. The duo has promoted five years of consecutive sold out AUS-X Open events in Sydney (2015-2018) and Melbourne (2019), along with successful events in Auckland, New Zealand in 2018 and 2019.
"Our entire careers have been driven by a passion for motorsport and entertainment, and our motivations are as pure as they come: to continue to evolve and elevate our sport and its incredible athletes to new levels of global relevance and success," said Ryan Sanderson, managing director, Commercial, for SX Global. "Our aim is to take the amazing sport of supercross global and reveal its greatness to millions of new fans all over the world."
The MX Vice SMX Show Episode #32 – Paris SX Review and WSX Preview
Listen now.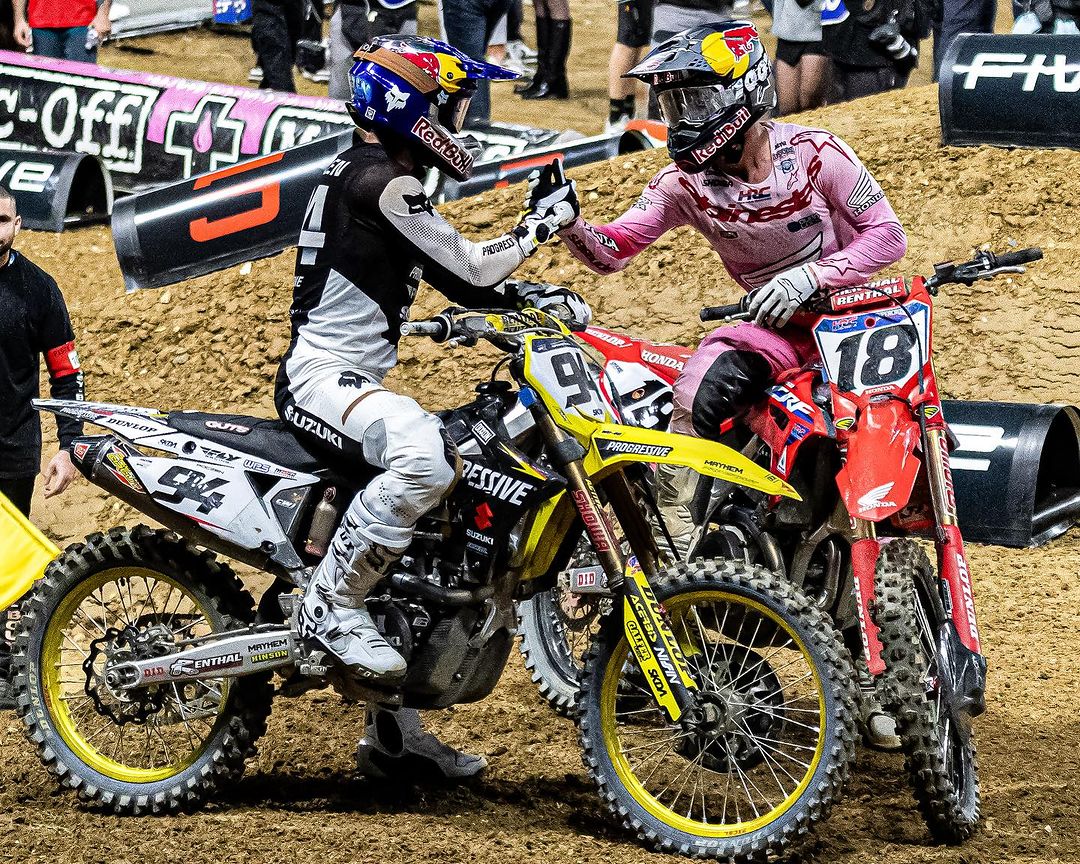 The MX Vice SMX Show returns with Brad Wheeler and Ed Stratmann, as they review Paris Supercross, plus chat about WSX, Prado potentially racing AMA Supercross and more.
The MX Vice SMX Show podcast is always available to listen to on Spotify, iTunes, SoundCloud, Stitcher and Google Play. Thanks to Fly Racing, Monster Energy, Fox Racing, Parts Europe, Scott, Bell Helmets, Acerbis, AS3 Performance, Kawasaki UK, KTM UK, O'Neal and Even Strokes for supporting the show. If you would like to become a part of the show, don't hesitate to get in touch.
Lead Image: Dimi DG (@dimi_dg70 on Instagram)
Love what we do? Please read this article as we try to raise £30,000.
Results: Paris Supercross 2023
See here.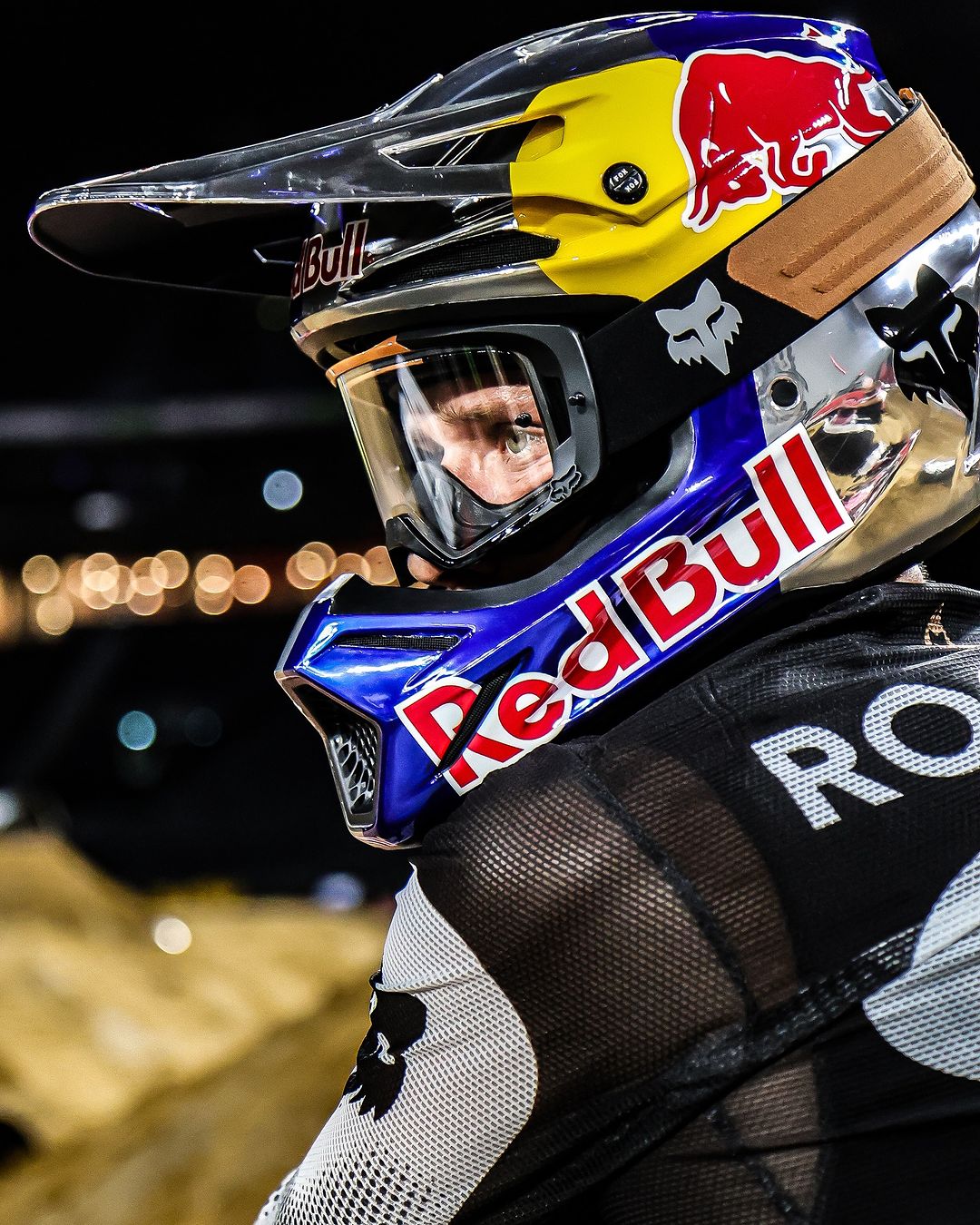 The annual Paris Supercross is underway at the La Defense Arena. This edition of the event promises to be full of excitement as usual with the likes of Ken Roczen, Cooper Webb, Jett Lawrence, Hunter Lawrence, Tom Vialle, Jo Shimoda and Justin Brayton headlining the show. Dimi DG (@dimi_dg70 on Instagram)
Results will be added to this page throughout the weekend. Check back regularly for the latest from the SX1 and SX2 classes.
Sunday
SX1
SX1 Overall

SX1 Race 3

SX1 Race 2

SX1 Race 1

SX2
SX2 Overall

SX2 Race 3

SX2 Race 2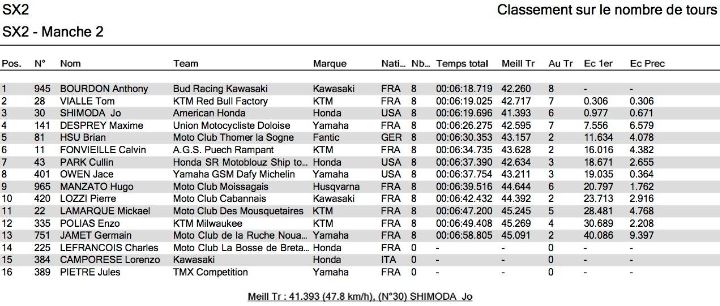 SX2 Race 1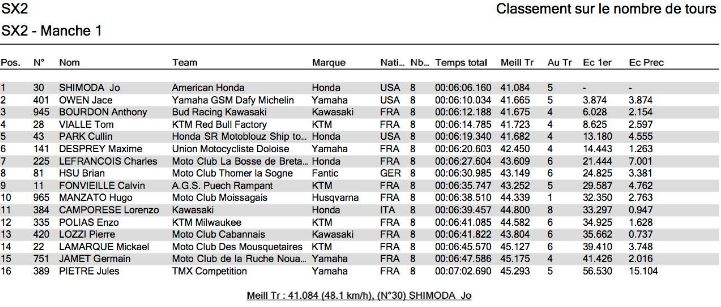 Saturday
SX1
SX1 Saturday Overall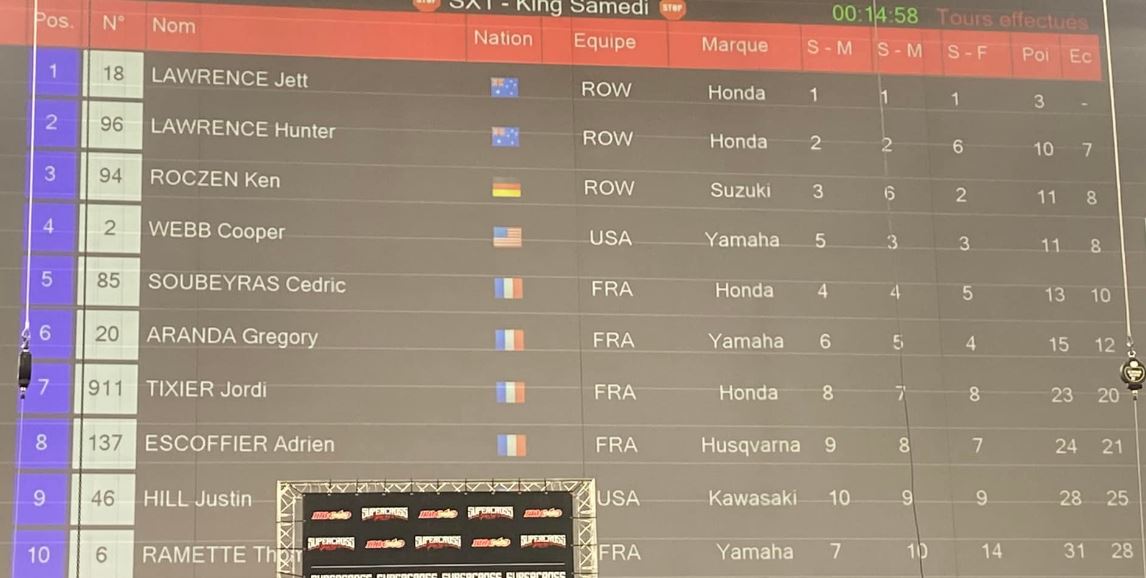 SX1 Race 3

SX1 Race 2

SX1 Race 1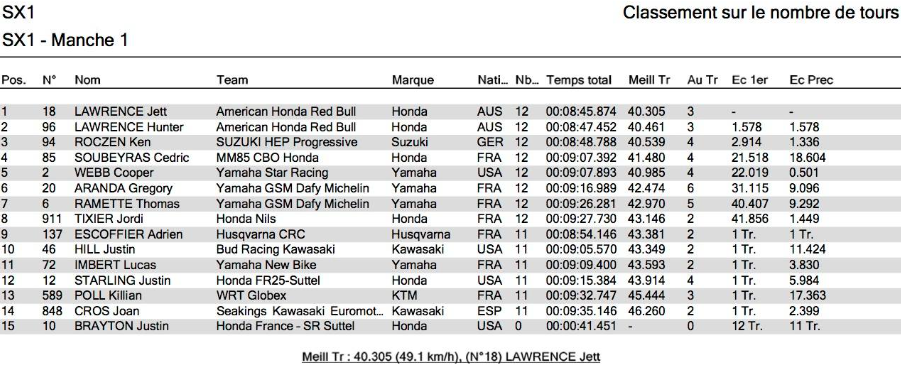 SX2
SX2 Saturday Overall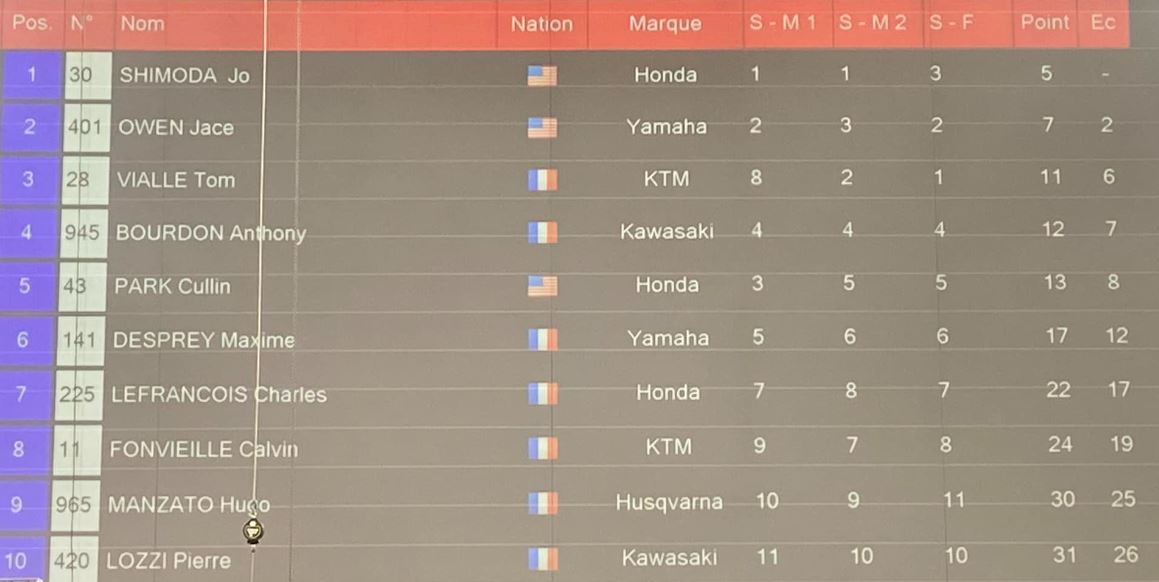 SX2 Race 3

SX2 Race 2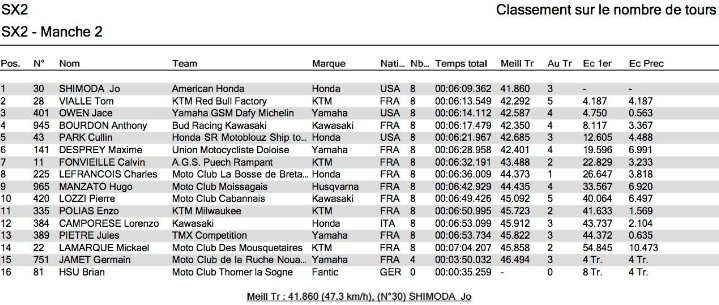 SX2 Race 1
Love what we do? Please read this article as we try to raise £30,000.
Entry List, How to Watch & Track Map: 2023 Paris Supercross
See now.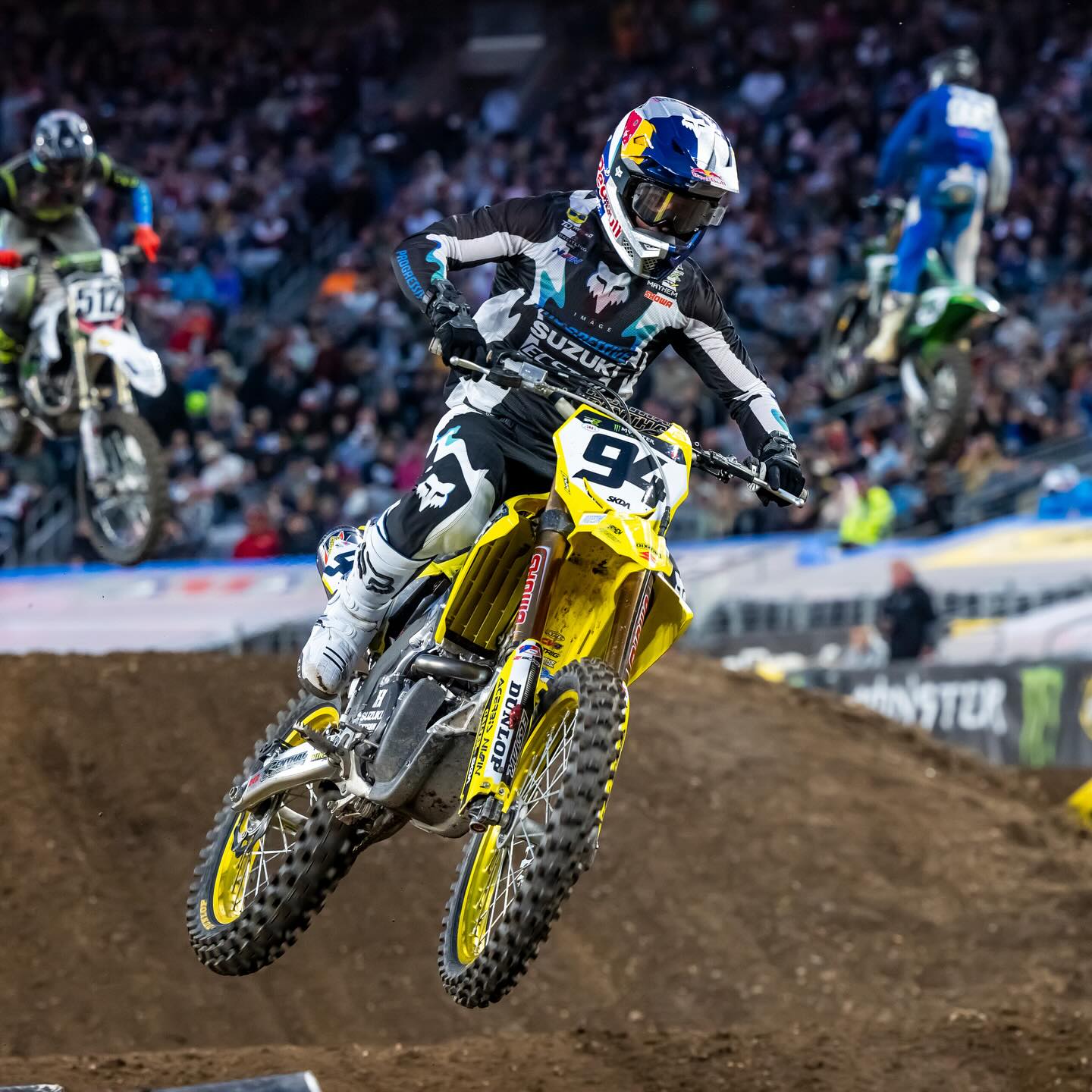 Check out the stacked entry list, how to watch and the track map for the 2023 Paris Supercross.
Entry Lists
SX1 CATEGORY
#2 Cooper WEBB (USA – Yamaha Star Racing)
#6 Thomas RAMETTE (F – Yamaha GSM Dafy Michelin)
#10 Justin BRAYTON (USA – Honda France – SR Suttel)
#18 Jett LAWRENCE (AUS – American Honda Red Bull)
#20 Grégory ARANDA (F – Yamaha GSM Dafy Michelin)
#46 Justin HILL (USA – Bud Racing Kawasaki)
#12 Justin STARLING (USA – Honda FR25-Suttel)
#72 Lucas IMBERT (F – Yamaha New Bike)
#85 Cédric SOUBEYRAS (F – MM85 CBO Honda)
#94 Ken ROCZEN (GER – SUZUKI HEP Progressive)
#96 Hunter LAWRENCE (AUS – American Honda Red Bull)
#137 Adrien ESCOFFIER (F – Husqvarna CRC)
#727 Boris MAILLARD (F – Suzuki Johannes-Bikes)
#848 Joan CROS (SP – Seakings Kawasaki Euromoto85)
#911 Jordi TIXIER (F – Honda Nils)
#589 Killian POLL (F – KTM) replacement
SX2 CATEGORY SX TOUR CHAMPIONSHIP
#11 Calvin FONVIELLE (F – KTM TMV)
#22 Mickaël LAMARQUE (F – KTM)
#42 Josh VARIZE (USA – Stark Varg) wild card
#81 Brian HSU (D-Yamaha)
#141 Maxime DESPREY (F – Yamaha GSM Dafy Michelin)
#225 Charles LEFRANCOIS (F – Honda SR Motoblouz Ship to Cycle)
#236 Anthony GROSJEAN (F – Kawasaki)
#388 Andrea BONIFACIO (F – Husqvarna) #
420 Pierre LOZZI (F-Kawasaki)
#505 Dorian KOCH (F- KTM)
#751 Germain JAMET (F – Yamaha)
#773 Thomas DO (F – Stark Varg) wild card
#938 Maxence MORA (F – Kawasaki)
#965 Hugo MANZATO (F – Husqvarna)
SX2 INTER CATEGORY
#28 Tom VIALLE (F – KTM Red Bull Factory)
#30 Jo SHIMODA (USA – American Honda)
#43 Cullin PARK (USA – Honda SR Motoblouz Ship to Cycle)
#389 Jules PIETRE (F-Yamaha)
#401 Jace OWEN (USA – Yamaha GSM Dafy Michelin)
#335 Enzo POLIAS (F – KTM Milwaukee)
#945 Anthony BOURDON (F – Bud Racing Kawasaki)
+ 8 SX Tour riders
FMX CATEGORY
Tyler BEREMAN (USA – Team Red Bull)
Julien VANSTIPPEN (Belgium – Team Monster Energy)
Luc ACKERMAN (Germany – Team Red Bull)
Nicolas TEXIER (France)
How to Watch
The race will be broadcast live on www.MXGP-TV.com (for France and French language speaking, will be live on www.automoto-lachaine.fr
Track Map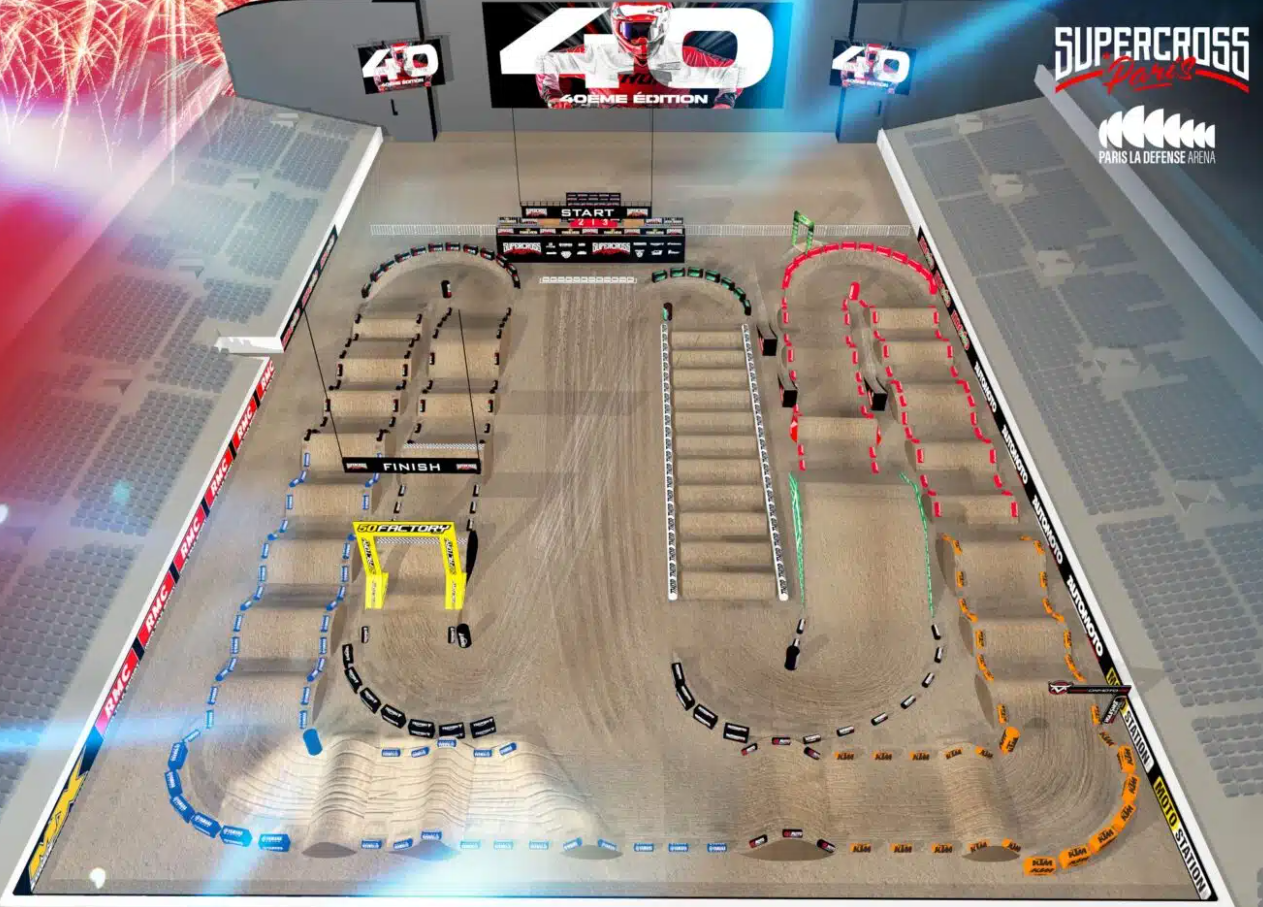 Lead Image: Paris Supercross
Love what we do? Please read this article as we try to raise £30,000.