2022 Monster Energy Supercross continues in San Diego, Southern California, on Saturday, as the third round of the current season will be run in the relatively new confines of Petco Park. Provisional entry lists for round three can be viewed in full below. There are a handful of points to note as another race weekend beckons – a handful of riders have changed their status this week. There is no hiding from the fact that the 450SX category is going to be a litter deeper than it was in Oakland, making it tougher for those who are on the bubble.
Justin Brayton missed Oakland, after testing positive for COVID-19 in the twenty-four hours prior to race day. Brayton has already confirmed that he will be lining up in San Diego.
Mitchell Oldenburg did not get hit by COVID-19, but his two children did and he skipped Oakland to focus on their health. Oldenburg will join his teammate, Brayton, in San Diego.
Joey Savatgy tore his ACL on Tuesday, January 11, but he is planning on racing through the injury. This is a fluid situation, as things can change quickly with injuries such as this.
Mitchell Falk has dealt with a bulging disc in his back for some time and, unfortunately, the ailment continues to get worse. Falk is currently evaluating his future as a professional.
Jalek Swoll suffered a concussion at Anaheim 1 and was not in a position to race last weekend. Swoll has resumed riding in the week and will return to action on Saturday night.
| | |
| --- | --- |
| 1 | Cooper Webb |
| 3 | Eli Tomac |
| 7 | Aaron Plessinger |
| 9 | Adam Cianciarulo |
| 10 | Justin Brayton |
| 11 | Kyle Chisholm |
| 12 | Shane McElrath |
| 14 | Dylan Ferrandis |
| 15 | Dean Wilson |
| 17 | Joey Savatgy |
| 19 | Justin Bogle |
| 21 | Jason Anderson |
| 23 | Chase Sexton |
| 25 | Marvin Musquin |
| 26 | Alex Martin |
| 27 | Malcolm Stewart |
| 34 | Max Anstie |
| 41 | Brandon Hartranft |
| 51 | Justin Barcia |
| 54 | Mitchell Oldenburg |
| 57 | Kevin Moranz |
| 61 | Fredrik Noren |
| 78 | Cade Clason |
| 87 | Alex Ray |
| 94 | Ken Roczen |
| 95 | Justin Starling |
| 99 | RJ Wageman |
| 114 | Nick Schmidt |
| 145 | Travis Smith |
| 200 | Ryan Breece |
| 204 | Kyle Greeson |
| 282 | Theodore Pauli |
| 360 | Aaron Siminoe |
| 421 | Vann Martin |
| 447 | Deven Raper |
| 501 | Scotty Wennerstrom |
| 509 | Alexander Nagy |
| 512 | Austin Cozadd |
| 542 | JB Buller |
| 597 | Mason Kerr |
| 722 | Adam Enticknap |
| 751 | Josh Hill |
| 837 | Bryson Gardner |
| 848 | Joan Cros |
| 976 | Josh Greco |
| 981 | Austin Politelli |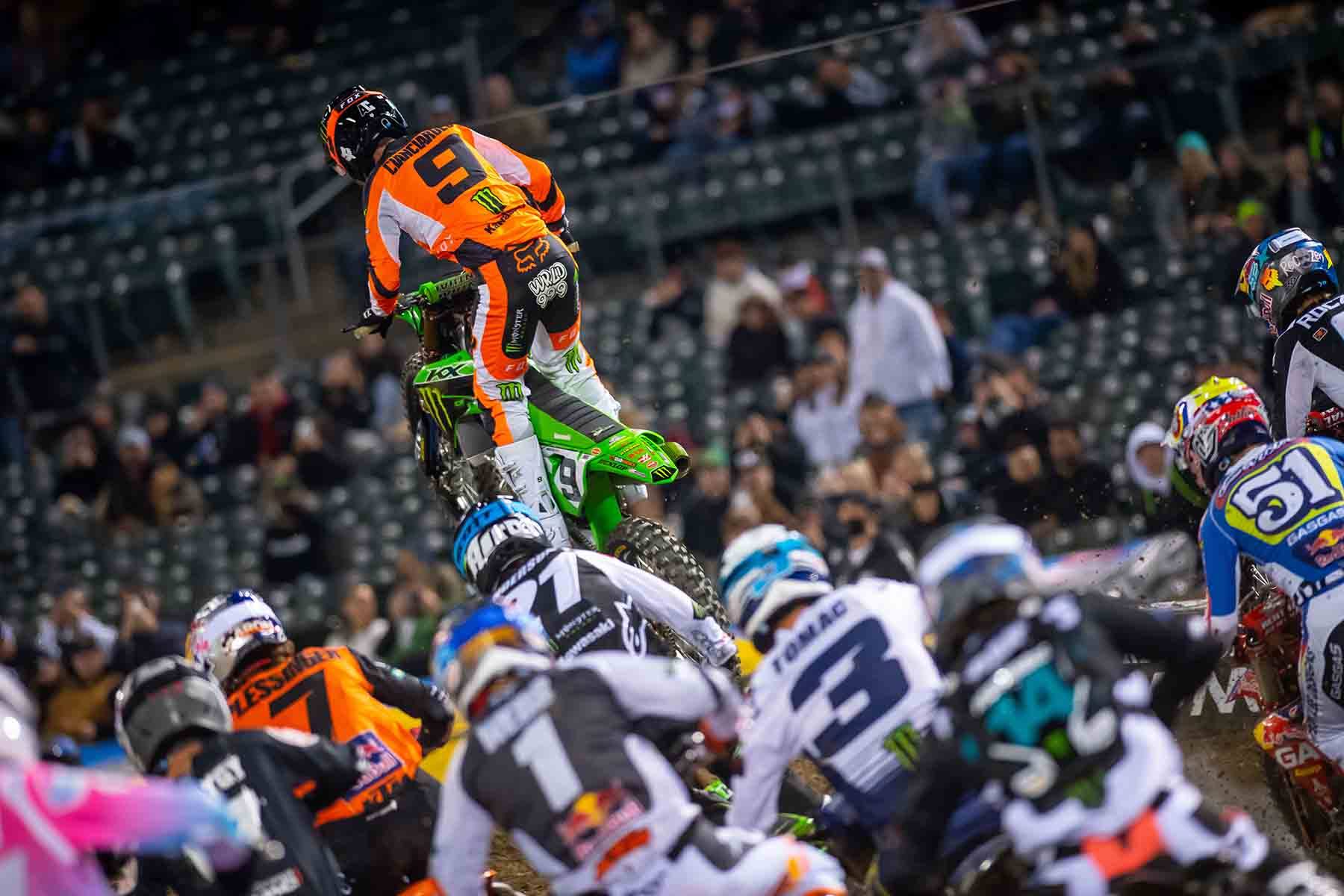 | | |
| --- | --- |
| 28 | Christian Craig |
| 29 | Michael Mosiman |
| 30 | Jo Shimoda |
| 31 | Jalek Swoll |
| 35 | Garrett Marchbanks |
| 40 | Dilan Schwartz |
| 43 | Carson Mumford |
| 47 | Seth Hammaker |
| 49 | Nate Thrasher |
| 55 | Justin Rodbell |
| 58 | Ryan Surratt |
| 60 | Thomas Do |
| 62 | Vince Friese |
| 64 | Mitchell Harrison |
| 66 | Chris Blose |
| 67 | Logan Karnow |
| 69 | Robbie Wageman |
| 74 | Derek Kelley |
| 79 | Hunter Schlosser |
| 96 | Hunter Lawrence |
| 97 | Jerry Robin |
| 98 | Dominique Thury |
| 101 | Dylan Walsh |
| 117 | Nicholas Nisbet |
| 118 | Cheyenne Harmon |
| 120 | Todd Bannister |
| 121 | Chris Howell |
| 138 | David Pulley |
| 141 | Richard Taylor |
| 158 | Tre Fierro |
| 161 | Cole Thompson |
| 162 | Maxwell Sanford |
| 167 | Jesse Flock |
| 181 | Wyatt Lyonsmith |
| 208 | Logan Leitzel |
| 216 | Devin Harriman |
| 246 | Chance Blackburn |
| 260 | Dylan Woodcock |
| 277 | Kordel Caro |
| 364 | Chad Saultz |
| 388 | Brandon Ray |
| 432 | Kaeden Amerine |
| 503 | McClellan Hile |
| 538 | Addison Emory |
| 645 | Colby Copp |
| 726 | Gared Steinke |
| 755 | Jack Brunell |
| 910 | Carson Brown |
| 914 | Geran Stapleton |
| 995 | Christopher Prebula |
| 996 | Preston Taylor |