Provisional entry lists for the upcoming Grand Prix of Patagonia-Argentina have been released! Many riders are not travelling to South America, because of the significant costs that are involved. To offer a more realistic picture of what the Grand Prix will look like, we reached out to all of the teams and riders to see who is actually going to be there. Those entry lists can be viewed in full below, as well as some MX Vice notes to consider. The third stop of the 2022 FIM Motocross World Championship takes place on March 19/20.
---
Words: Lewis Phillips | Lead Image: Ray Archer
---
Jeffrey Herlings is listed, but reports suggest that he will not be racing at round three. You never quite know with Herlings, of course, but it does seem highly unlikely that he would be racing so soon.
Riley Racing Yamaha duo, Brent Van Doninck and Tim Edberg, are listed in MXGP and MX2 respectively, but will not be making the trip to the depths of Argentina, because of the costs involved.
Gebben Yamaha will not be making the trip with Calvin Vlaanderen and Arminas Jasikonis, again because of the costs. The Dutch team will take advantage of the break to improve the YZ450F.
Jeremy Van Horebeek was angered on social media, when confirming that he would not be making the trip with Beta due to costs. That rules Alessandro Lupino out of the MXGP class as well.
Thibault Benistant has been recovering from a torn ACL and had Argentina pegged as a potential location for his return. Instead, he is going to start his campaign at the Grand Prix of Portugal in April.
Ship To Cycle Honda SR Motoblouz will be travelling to Argentina, but only with Stephen Rubini. Emil Weckman and Benoit Paturel will not compete, despite what the entry lists would lead one to believe.
| | |
| --- | --- |
| 1 | Jeffrey Herlings |
| 10 | Calvin Vlaanderen |
| 14 | Jed Beaton |
| 16 | Benoit Paturel |
| 19 | Thomas Olsen |
| 29 | Henry Jacobi |
| 32 | Brent Van Doninck |
| 41 | Pauls Jonass |
| 43 | Mitch Evans |
| 61 | Jorge Prado |
| 70 | Ruben Fernandez |
| 76 | Sergio Villaronga |
| 77 | Alessandro Lupino |
| 85 | Agustin Carrasco |
| 89 | Jeremy Van Horebeek |
| 91 | Jeremy Seewer |
| 94 | Javier Vasquez |
| 102 | Ivan Galvan |
| 112 | Francisco Cabarcos |
| 117 | Pablo Galletta |
| 120 | Marco Trossero |
| 144 | Nicolas Rolando |
| 157 | Diego Soria |
| 179 | Joaquin Poli |
| 183 | Lorenzo Locurcio |
| 189 | Brian Bogers |
| 196 | Agustin Poli |
| 243 | Tim Gajser |
| 259 | Glenn Coldenhoff |
| 303 | Alberto Forato |
| 494 | Flavio Sastre |
| 707 | Victor Arco |
| 833 | Lautaro Toro |
| 911 | Jordi Tixier |
| 919 | Ben Watson |
| 959 | Maxime Renaux |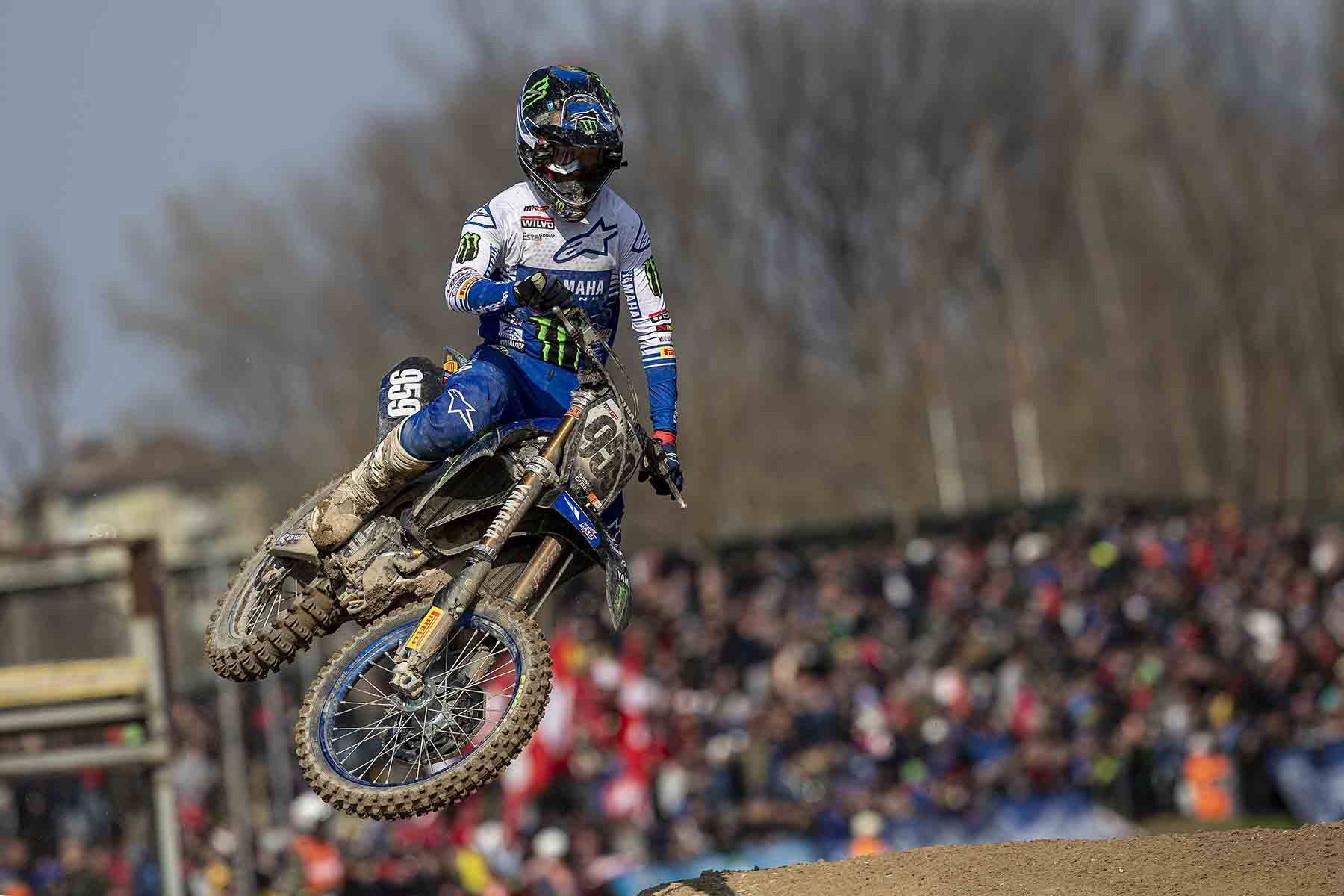 | | |
| --- | --- |
| 11 | Mikkel Haarup |
| 22 | Gianluca Facchetti |
| 24 | Kevin Horgmo |
| 26 | Tim Edberg |
| 28 | Tom Vialle |
| 38 | Stephen Rubini |
| 39 | Roan van de Moosdijk |
| 74 | Kay de Wolf |
| 80 | Andrea Adamo |
| 81 | Fermin Ciccimarra |
| 93 | Jago Geerts |
| 101 | Mattia Guadagnini |
| 104 | Jeremy Sydow |
| 124 | Pablo Pascual |
| 125 | Emil Weckman |
| 133 | Luciano Righi |
| 198 | Thibault Benistant |
| 224 | Jakub Teresak |
| 300 | Noah Ludwig |
| 426 | Conrad Mewse |
| 427 | Hakon Fredriksen |
| 432 | Thomas Rivarola |
| 516 | Simon Langenfelder |
| 517 | Isak Gifting |