Now that the Coenen brothers have secured seats for the 2023 FIM Motocross World Championship, all of the factory teams are set for the new term. It has not been a thrilling off-season – most riders were working through multi-year deals and had no need to negotiate. There have been changes behind the scenes though and this is your guide to what the factory teams are going to look like when the gates fall at round one. 131 days to go until the Grand Prix of Patagonia-Argentina!
---
Words: Lewis Phillips | Lead Image: Bavo Swijgers
---
Red Bull KTM Factory Racing
Jeffrey Herlings: Jeffrey Herlings continues his relationship with Red Bull KTM Factory Racing in what is the final year of his contract. Although he will look the same, wearing Alpinestars gear and an Airoh helmet, it is going to be a very different term for him. Dirk Gruebel, who has been alongside Herlings for 97 of his 99 Grand Prix wins, will not be at the races nor will Ruben Teralumen, the man who has been involved in every aspect of his programme since his professional debut.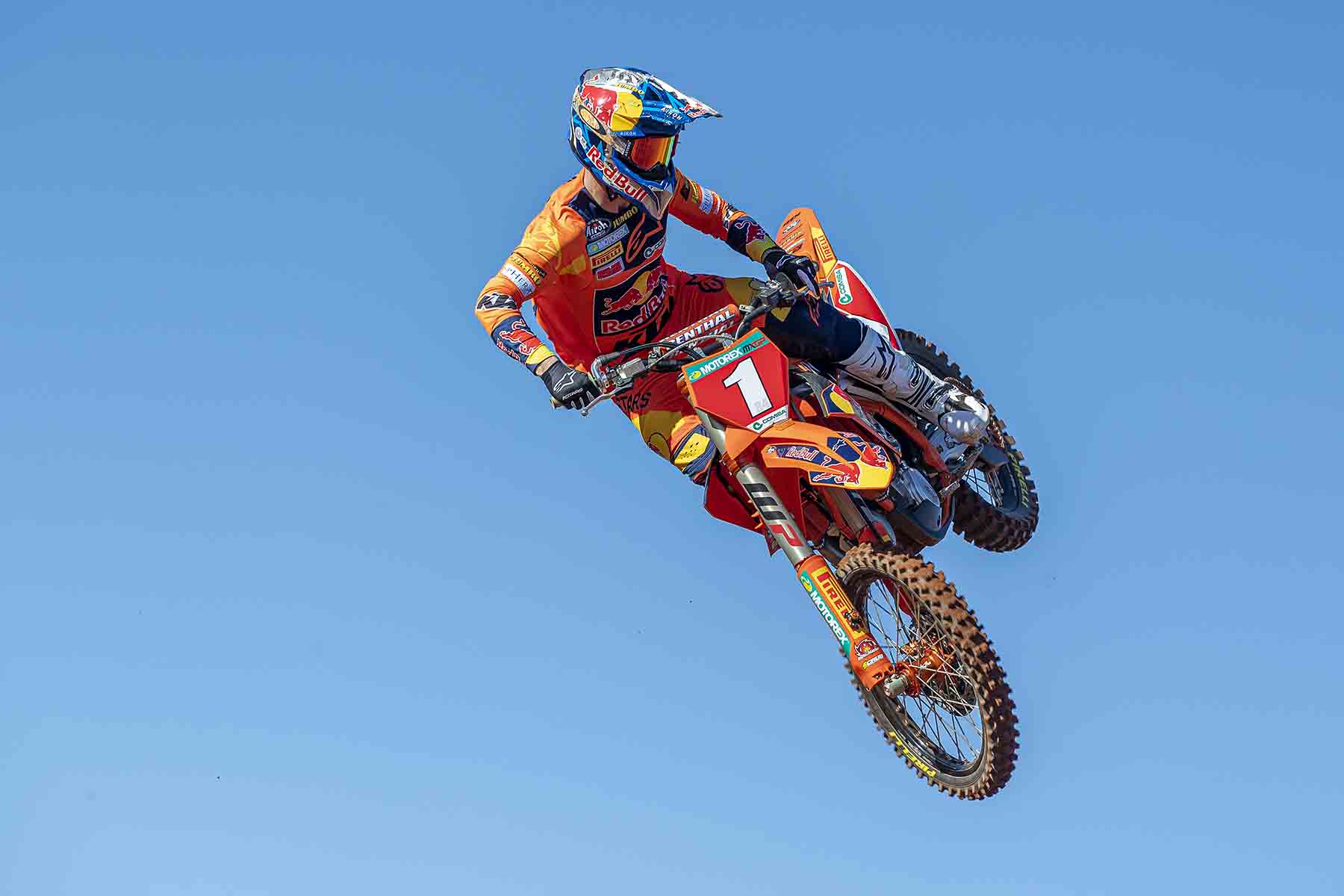 Andrea Adamo: Andrea Adamo, who previously rode for the SM Action Yuasa Battery GASGAS team, makes the step into a full-factory effort for the first time. The deal that Adamo has signed was done back in March, so he began working with Joel Smets (the trainer for KTM AG's factory teams) immediately and was handed a full-factory engine at the end of May. Adamo was so immersed into Red Bull KTM Factory Racing that he was going to team dinners after the races.
Liam Everts: There was debate about whether Liam Everts would be promoted to the Red Bull KTM Factory Racing team, but his future was determined at the Grand Prix of Germany in the middle of June. Competing at DIGA Procross KTM, he was racing the factory bike from last year and thus this will be his first experience on the new generation of 'orange' bikes. Everts, like his teammates, has already switched across to Alpinestars gear. The Alpinestars contract with Red Bull KTM Factory Racing features quite a significant number.
Sacha Coenen: Red Bull KTM Factory Racing was set with the three aforementioned stars, but KTM AG had to do something with the Coenen brothers. The two brothers were under contract with Austria, hence why they were put on DIGA Procross KTM for the new season. That team folded, due to personal circumstances, and a scramble to place them somewhere started. All in all, the whole thing worked out quite well for the Coenen duo.
Nestaan Husqvarna Factory Racing
Kay de Wolf: Similar to Jeffrey Herlings, coincidentally, Kay de Wolf will look the same next term (Fox gear with a Bell helmet) yet his programme will be quite different. Ruben Teralumen will be glued to de Wolf's side and have a hand in every aspect of his life. The man who was critical to Herlings' success should make quite the impact here and help '74' fight for a world title, which is expected of him by most. Working on his pace on hard-pack tracks is the priority.
Roan van de Moosdijk: Absolutely nothing is changing for Roan van de Moosdijk. '39' is going into year two aboard the FC 250 and will continue to work closely with Rasmus Jorgensen, the team manager at Nestaan Husqvarna Factory Racing. This is going to be his final term in the MX2 class and thus there is going to be a lot on his mind. First and foremost though, staying healthy must be the priority, as he has barely raced over the last two seasons (fourteen Grands Prix out of a possible thirty-six).
Lucas Coenen: Again, much like the Red Bull KTM Factory Racing squad, Nestaan Husqvarna Factory Racing was set to go racing with just two MX2 riders. Coenen raced a Husqvarna in EMX250 for BT Racing this year – staying 'white' and graduating to the factory effort makes so much sense for the kid who seems ready to make a dent on the top five in MX2. Coenen moves out of Thor gear and an Alpinestars helmet to fulfil the team contracts that are in place at Nestaan.
Monster Energy Yamaha Factory MXGP
Jeremy Seewer: Monster Energy Yamaha Factory MXGP will look no different to how it did this year, but a slight change will be made to the Jeremy Seewer wing. Luigi 'Cippa' Rossini, who has been his mechanic for four years now, has moved over to F&H Kawasaki Racing Team and will fill the spot of head mechanic. Paul Conway will return to the FIM Motocross World Championship and wrench for Seewer, so there is going to be a familiar face next to the '91' machine.
Maxime Renaux: Maxime Renaux is in the exact same spot as Jeremy Seewer. There will be one change to his programme ahead of the season, that being that he will have a new wrench. Valentin Touchet, who has worked with Shaun Simpson and Gautier Paulin in the past, has exited the Grand Prix series. Renaux worked with Touchet for one term. It remains to be seen who his new mechanic will be, but Ray Hansmeyer is going to continue as his practice mechanic.
Glenn Coldenhoff: There are no changes foreseen for Glenn Coldenhoff. Everything should be exactly as it was, except for the fact that he is expecting the birth of his first child! This is a brilliant opportunity to note that the only rider under contract with Monster Energy Yamaha Factory MXGP for 2024 is Jago Geerts. It is going to be a thrilling transfer season, as multiple manufacturers are expected to chase Seewer and Renaux. Let the best team win!
Monster Energy Yamaha Factory MX2
Jago Geerts: Although it was rumoured that Red Bull KTM Factory Racing chased his signature, Jago Geerts signed a two-year deal with Yamaha Factory Racing in August. The KTM theories change depending on who you talk to, but Geerts' agent was rather vocal about their being intense negotiations. The timelines do not add up though. Anyway, '93' can finish his final season in the MX2 division and take comfort in the fact that his 450F contract is already in place for 2024.
Thibault Benistant: Thibault Benistant remains at Monster Energy Yamaha Factory MX2 for a third season. Benistant is essentially being groomed to challenge for the MX2 crown once Geerts moves on, but it is likely that he will be in contention this season. There was some talk about the outfit changing gear brands, but Troy Lee Designs will be sticking around by all accounts. Monster Energy Yamaha Factory MX2 riders are able to do their own goggle deals, but that is about it.
Rick Elzinga: Rick Elzinga eventually landed at Monster Energy Yamaha Factory MX2. It is thought that there was a clause in his deal, which said that if he won the EMX250 title then he would land on the factory team. It looked like he would end up on a satellite squad for a while there. Elzinga has essentially followed in the footsteps of his teammate, Benistant, who also graduated from Hutten Metaal Yamaha.
Red Bull GASGAS Factory Racing
Jorge Prado: Jorge Prado leads the Red Bull GASGAS Factory Racing team into battle for the second year in succession and will now be working beneath the tutelage of Davide De Carli, who has assumed the position of team manager for the first time. Claudio De Carli is effectively the Roger DeCoster of Europe now, in that new role of Motocross Race Director. Returning to the subject at hand: This is the final year on Prado's deal and therefore his future movements are going to be a hot topic.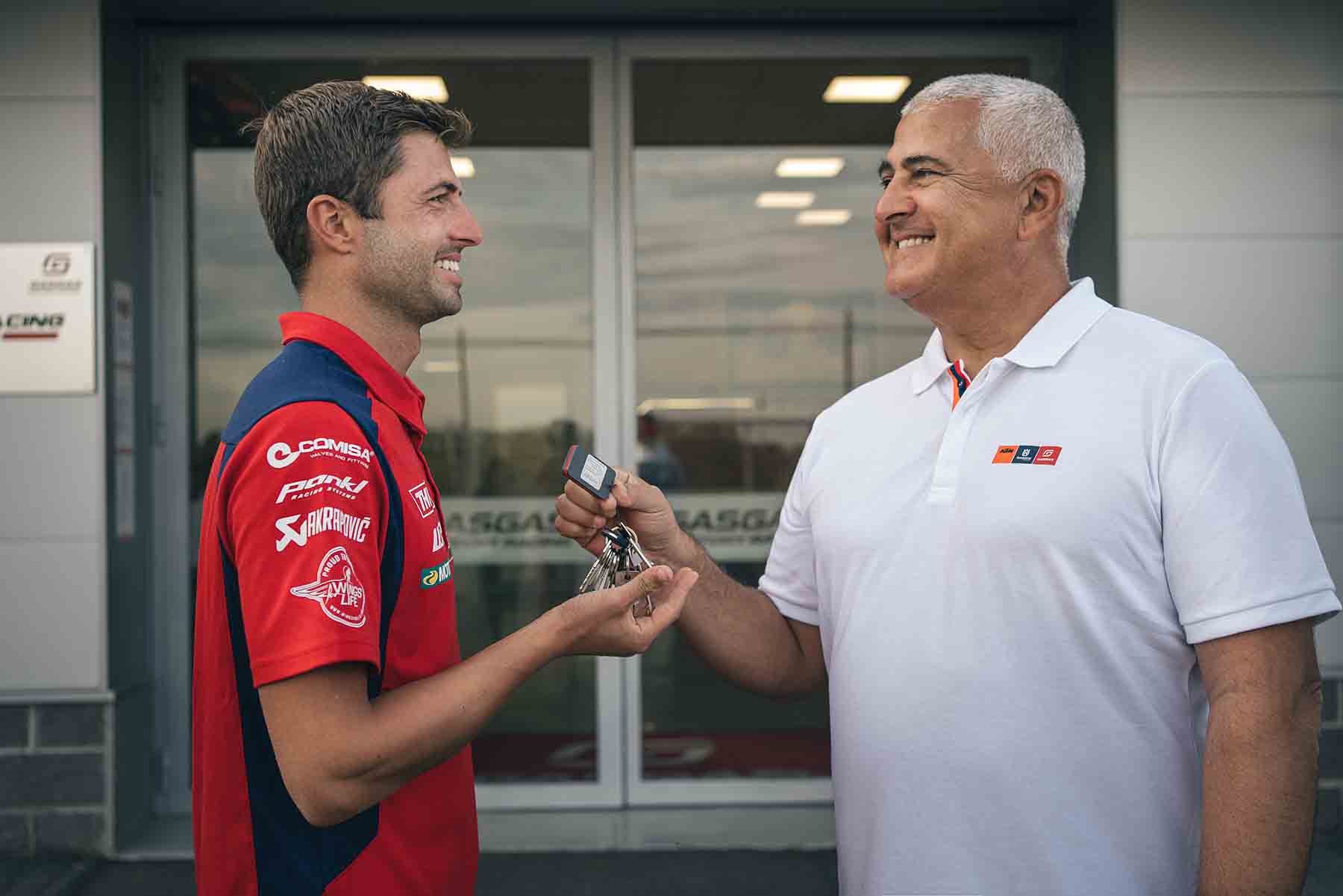 Mattia Guadagnini: Remember that Mattia Guadagnini stepped into the premier class halfway through the previous term and therefore this will be his first full season as an MC 450F pilot. Guadagnini is locked in for gear via the team deals with Airoh helmets, Thor and Sidi boots. '101' can do his own goggle deal and seems to be sticking with Progrip, although other brands were sniffing around him. Guadagnini's contract is set to expire at the end of the current year too.
Simon Langenfelder: Put Simon Langenfelder down as another star who will look exactly the same in 2023!
Kawasaki Racing Team MXGP
Romain Febvre: Entering the final part of his two-year deal, not much is going to change for Romain Febvre over the next twelve months. The current contract that he has is rumoured to be quite lucrative – it will be interesting to see if he renews before the 2024 FIM Motocross World Championship. Kevin Strijbos worked with both KRT riders this term, but is set to focus on Febvre from now on (Febvre asked for that after seeing Strijbos' invaluable input in year one).
Mitch Evans: Mitch Evans joins Kawasaki after four years on 'red' (one at 114 Motorsports and three at the official HRC team) and has changed his look to satisfy the plethora of gear deals that are in place. Evans has signed a one-year deal with the team and thus there is pressure to perform, but he has constructed a tight-knit crew that consists of his brother. KYB will be attached to his machine, on instruction from the Japanese, so he will be on something very different to Romain Febvre, as well as the factory riders in the USA.
Tim Gajser: There are no notable changes for Tim Gajser as that 2023 FIM Motocross World Championship beckons. Gajser has so much stability at Team HRC and that seemingly works. Truthfully, the only significant change that he has encountered since entering the elite Honda squad was when he started working with a new mechanic at the beginning of this year and even that did not disrupt his momentum! Stability is a very underrated asset for these riders.
Ruben Fernandez: Graduating to Team HRC is a significant step for Ruben Fernandez, but it will not be too much of a change for him. Fernandez had a full-factory machine that was maintained by HRC this year – he just operated out of the 114 Motorsports tent. There will be some additional pressure, now that his factory status is clear for all to see, but he has a multi-year contract and that will ease his nerves somewhat. Honda will not be engaging in silly season in twelve months.