Kevin Horgmo re-signs at F&H Kawasaki Racing Team, final year in MX2 class approaches.
In a move that does not surprise anyone at all, F&H Kawasaki Racing Team has retained the services of Kevin Horgmo for the 2023 FIM Motocross World Championship. Horgmo has thrived under the guidance of Marc De Reuver and, with a full winter to make additional steps forward, will hope for more when the new season begins. The rumours swirling around the paddock suggest that F&H will have two riders in MX2 next year, rather than just one in each class. The official communication from Kawasaki Motors Europe is below.
---
Words: Press Release | Lead Image: Ray Archer
---
The F&H Kawasaki Racing Team is delighted to announce that they have agreed terms with Kevin Horgmo to continue their successful partnership next year, his final season in the FIM MX2 World Championship.
The Norwegian joined team F&H last winter to represent Kawasaki in the MX2 world championship and is currently fourth in the series standings after the first fourteen. Kevin and the team have enjoyed a successful cooperation from day one and their efforts have already been rewarded with several holeshots, a Grand Prix podium and consistent top placings as Kevin has finished top ten in no less than twenty-two of the twenty-six motos, fourteen times in the top-five. Working closely with Marc De Reuver as trainer and the entire F&H team staff, Kevin is one of the most enthusiastic riders in the class and has already shown great potential despite his limited Grand Prix experience as he was still racing the European Championship last year. With four rounds remaining this season, the Norwegian rider will have more opportunities to gain experience and potentially further podiums to end the season on a high note before starting the preparation for 2023.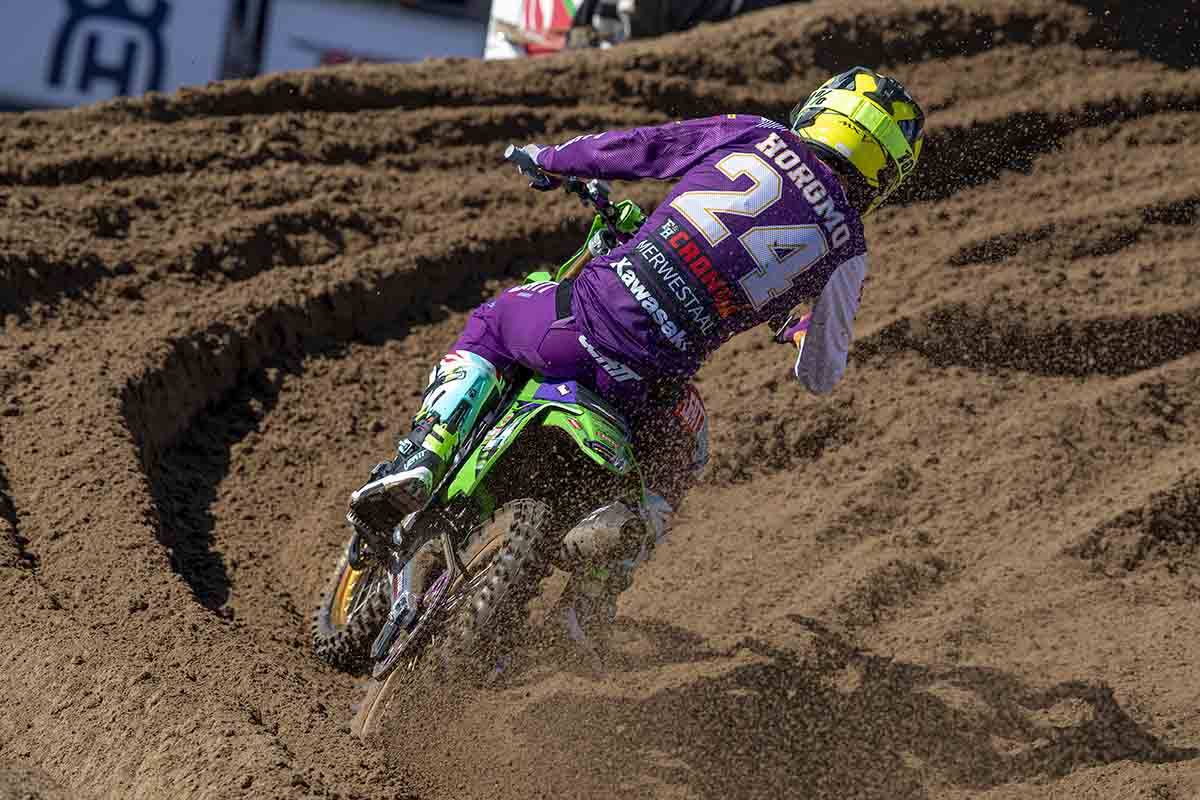 Kevin Horgmo: "This season has been a big step for me, as I have climbed into the top ranks of the MX2 class; I couldn't have done that without the support of the team and I'm really grateful for the opportunity they have given me this season to show my true potential. I'm delighted to extend my contract with F&H Kawasaki for another year. Last winter was very short due to the coronavirus, so what we have achieved together this season is incredible. I'm looking forward to a full off-season on my bike with Marc and the entire team to make further advances in 2023."
Nathalie Fase (F&H Kawasaki Team Manager): "So far we can look back on a great first MX2 season together with Kevin; we have enjoyed many successes, including podiums, laps led, holeshots and many top-five finishes. We currently occupy fourth place in the world championship, which is great. We look forward to our extended partnership with Kevin into the 2023 season, which will also be his final year in MX2. We are confident that we will be able to make further big steps together this winter and make a serious bid for the world title together next year. That is the ultimate goal! All the ingredients are in place and that's what we go for."
Steve Guttridge (Kawasaki Motors Europe Race Planning Manager): "It's great news that Kevin will continue with our F&H Kawasaki Racing Team, moving into his final season in the MX2 World Championship with everything in place to challenge for the title. The way he has gelled with the KX250 and immediately displaying such good results at the highest level of competition is testament to the overall potential of the bike and, noting that for 2023 we again have an upgraded new KX250 model, I'm sure the combination of our bike together with Kevin's undeniable talent will result in even more podium successes next season."