TEAM NEWS: 3-Flo Madison Crescent Yamaha bLU cRU Report
New Youth Yamaha Team report on their first round results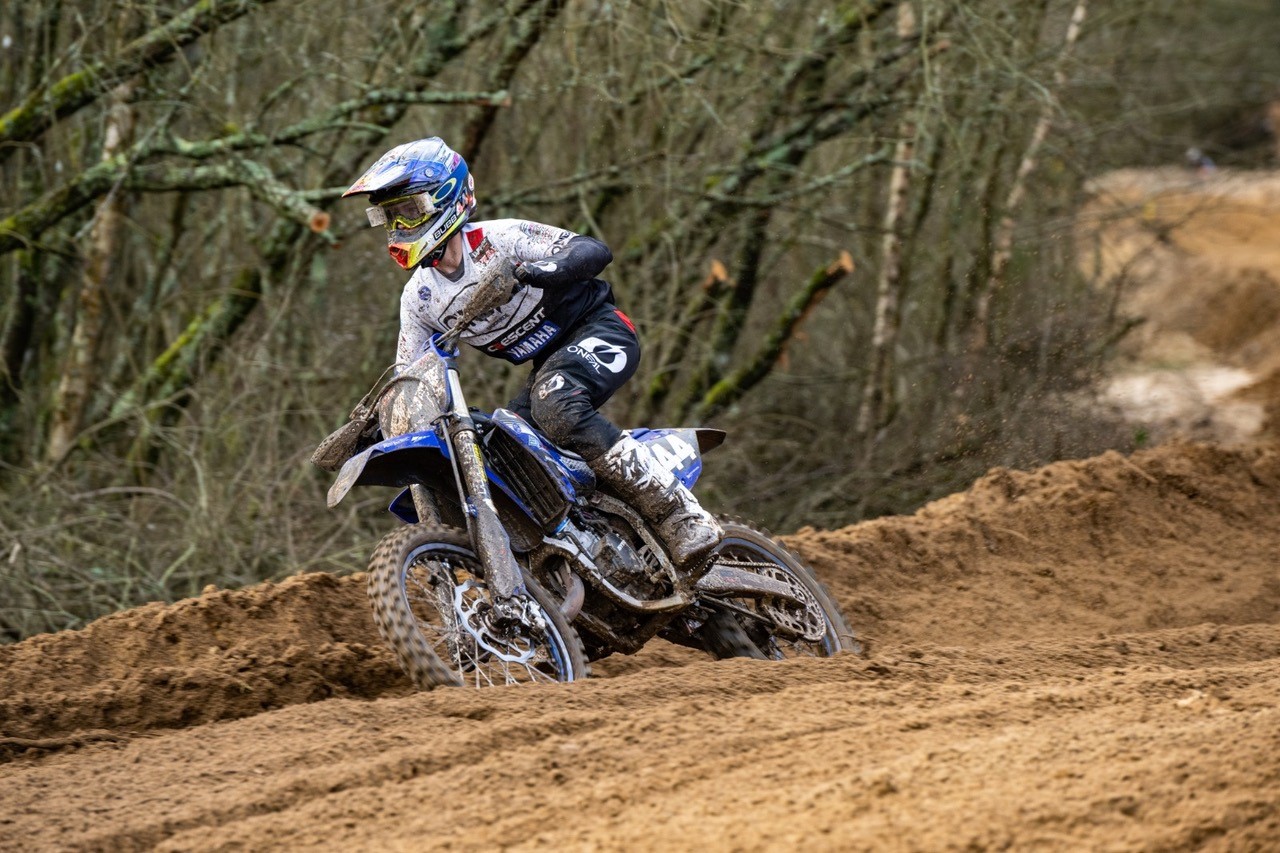 It was finally time for the all new 3 Flo Madison Crescent Yamaha bLU cRU team to go racing this past weekend. After all the excitement and hard work of forming the new motocross team, who are representing Yamaha U.K as the official bLU cRU Youth team, everyone in the squad was buzzing to get their British championship campaign underway.
Words: Press Release | Images: ESMX Photography
Added to that buzz was the fact the Revo ACU British Championship were debuting a brand new circuit at Oakhanger in Hampshire. The circuit has been built on M.O.D land and the deep sand conditions and tree lined circuit gives it a real 'Dutch MX' style feel to it. Unfortunately it wasn't as good as it could've been due to a week of bad weather with snow, sleet and rain hampering the preparations for both the Revo British championship and also the Michelin MX Nationals (who were due to run the week before but had to postpone).
With the small wheeled 85cc and 65cc class not joining the series until round six, it was up to team racers Hudson Roper (YZ250F) and Ollie Bubb (YZ125) to represent the team while Arthur Moore (YZ85) and Tommy Wood (YZ65) sit the series out until later in the year. In extremely tough conditions for all racers both lads gave their all on their debut and it was a mixed bag of results.
For Ollie it was a great start. Not only was it his racing debut for the team and on his YZ125, but also his first national race in the 125cc class after moving up from big wheeled 85cc. He rode solid and consistent and relatively mistake free to bag a 5-5 result card over the two motos, bringing him home in fifth overall on the day. Hudson however had a tough day at the office and really struggled to find any rhythm around what soon become a brutal track. He suffered with that dreaded nemesis 'arm pump' all day and just rode tight and nowhere near his best or what he's capable of and grew increasingly frustrated. He finished the day 11th Overall with a 12th in race one and an improved 9th in moto two.
Ollie Bubb – #44 – YZ125
"I'm happy with today. I wasn't sure what to expect and where I'd finish in the results really. Jeff and I had spoken several times before this first race and we didn't really put any expectation on it. He reminded me it was my first ever national race in the 125 class and to just go out and enjoy it and that's what I did. It was fun, but really tough. That's probably one of the toughest tracks I've ever ridden and I'm feeling it now but I'm happy and feel good about my results and riding and getting my year off to a good start. My YZ125 was so good out of the gate and didn't miss a beat all day out there and I'm getting used to it more every time I ride. It's a good start and I'm now looking forward to the rest of the season even more."
Results
Moto 1 – 5th
Moto 2 – 5th
Overall – 5th
Hudson Roper – #36 – YZ250F
"I'm frustrated and disappointed and that's being polite, I could call it far worse than that! I just couldn't get into it and struggled all day. I felt like a different rider to how I've felt all off season with my training and riding and that's what really hurts. I tried my hardest but it just didn't click and I rode tense all day and got arm pump which made it even worse. It's not how I wanted to start my season at all but as the team have already said, it's a long season and we're just starting out. We'll have good and bad days, it's just that I've started on a bad one which is hard to take right now. We're back here next week so I've got that opportunity to turn it around and get the MX Nationals championship off to a better start."
Results
Moto 1 – 12th
Moto 2 – 9th
Overall – 11th
Jeff Perrett – Team Principle 
"Well, first off, it's so good to be back at the races but even more so with the debut for the team and myself in our new colours. It was a proud moment for me to see the lads out there after all the work we've put in getting this off the ground in what was a short off season for us and it feels good to be back to where I started and representing Yamaha. A bitter-sweet day really. I'm happy for Ollie and how he rode on his debut in the class and for the team. He looked smooth and consistent and his starts were really good, the bike was ripping out of the gate. So he's got a solid base to build the rest of his championship on. It was almost the polar opposite for Hudson though and it was a tough watch because we've all seen how well he's been riding since he swung his leg over the YZ250F. We knew he's capable of better and so does he, but we'll just have to take this one on the chin and get him more relaxed for the future races. I can't put it down to anything other than first race nerves and maybe just wanting it too much and trying too hard and on a track like that out there it's going to amplify. Overall though I'm happy with how it went and to get the first race out of the way, like I said, it's just cool to be back racing and doing what we all love.
Arthur (Moore) has also had a pretty good weekend. He was racing his first outdoor race of the year at a regional race at FatCat and got third overall, so that's a good warm up ready for the opening round of the Michelin MX Nationals here next week. We're looking forward to having him with us for that, just a shame we have to wait until June to get Tommy (Wood) involved and as all together as a team. A quick shout out to Lee Webber, Harri Kullas and the Cab Screens Crescent Yamaha team for doing the business and going 1-1 in MX1 on the new YZ450, gotta love that. Well done fellas, great stuff. Hopefully they can repeat that at the MX Nationals and we can better our results, either way I know we'll be giving it our best and it's great to working working together with Yamaha and the guys at Crescent. Thanks to all of our incredible partners for making it possible, myself, the parents and all the lads really appreciate it."
Inside Moto Show – Episode 2 with Jamie Buckingham
Jamie Buckingham from Leatt, talks us through his action packed 4 years.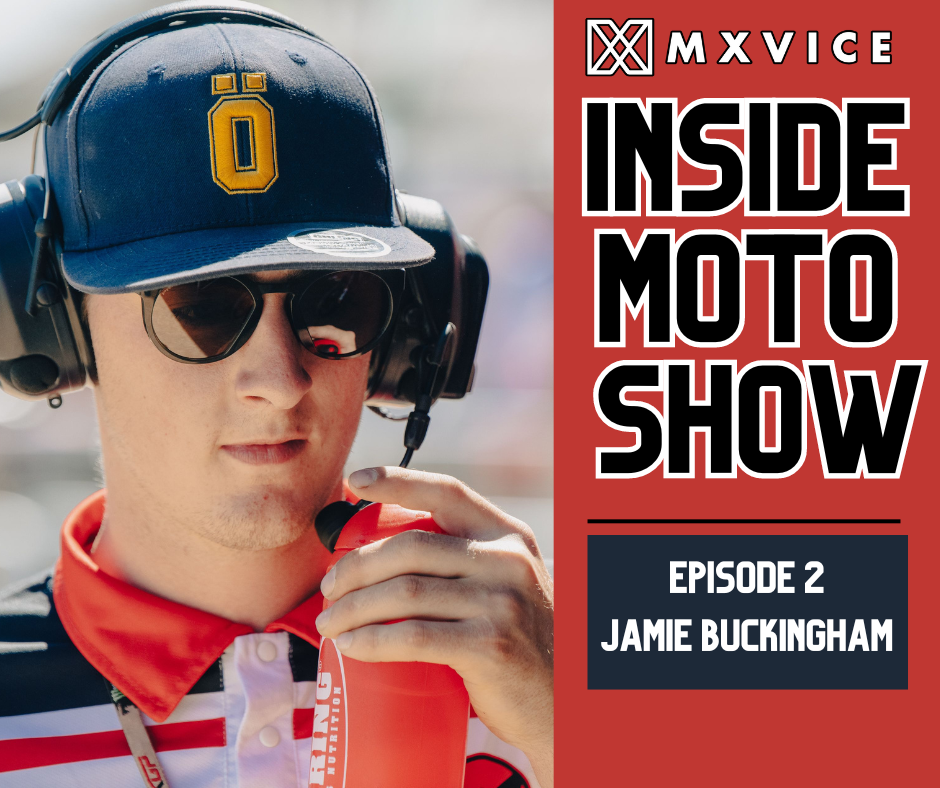 The Inside Moto Show returns this week with a popular figure in the MXGP pits. Jamie Buckingham talks us through his fast-tracked accent to working with Leatt in their marketing and athlete division. From helping out friends for free at Enduro GP to helping organise and maintain MXGP riders with the JWR Race team, it's been an action-packed four years, and we break it down in 60 minutes.
If you are wondering how to break into the Motocross and Motorcycle Industry, there are some fantastic examples from Jamie on making opportunities happen.
Entry Lists: AX Fest
See here.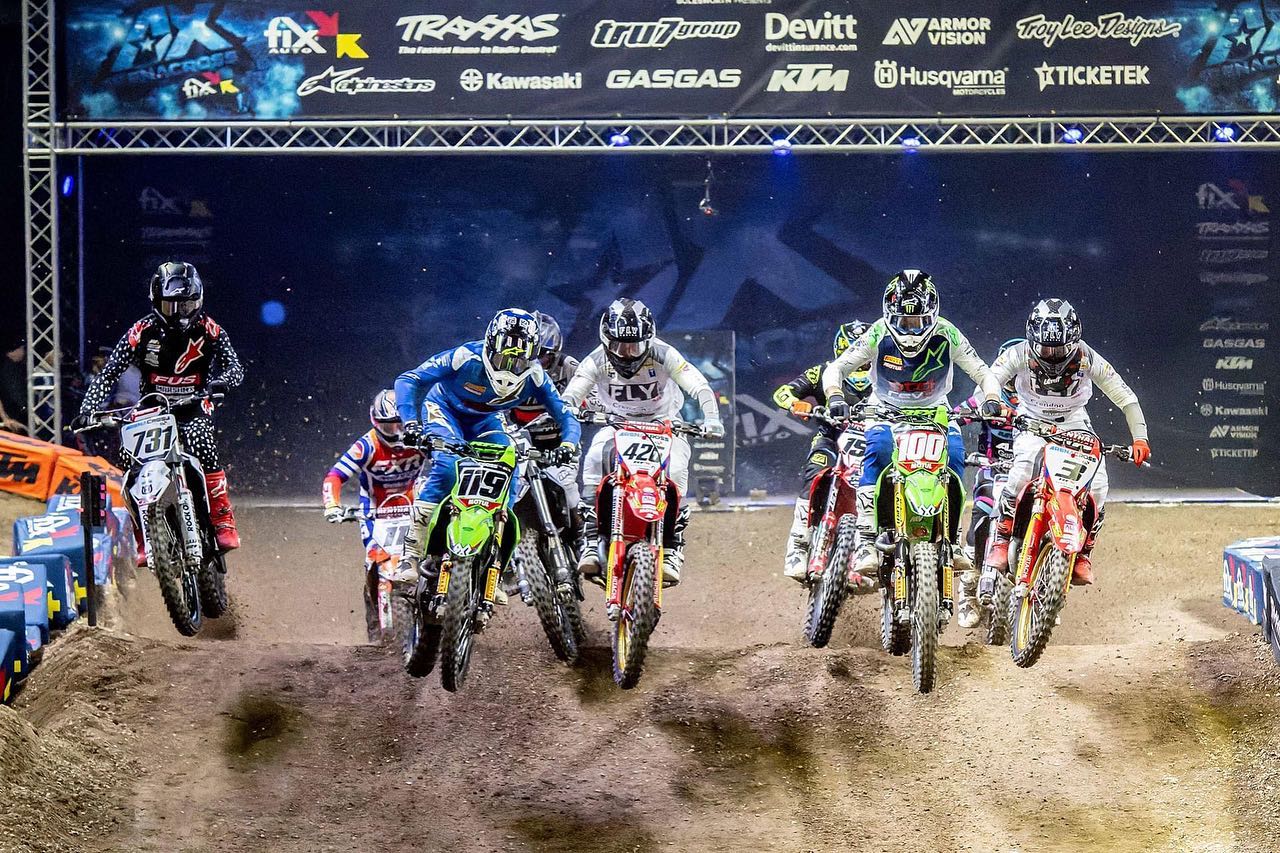 Check out who's on the entry lists for the AX Fest this weekend, as the likes of Tommy Searle, Conrad Mewse, Arnaud Tonus on a Stark, Adam Sterry, Billy Bolt and Jonny Walker will be in action.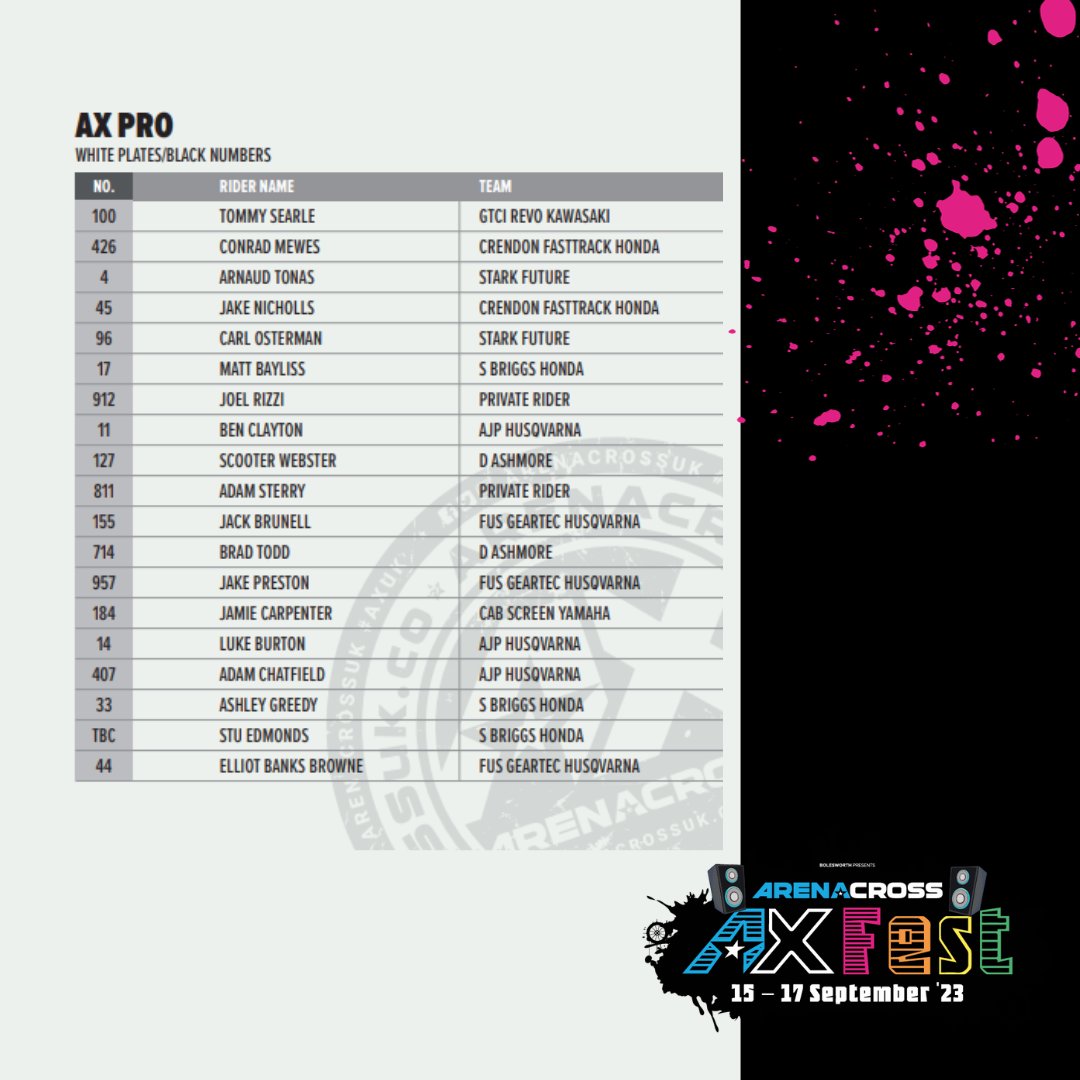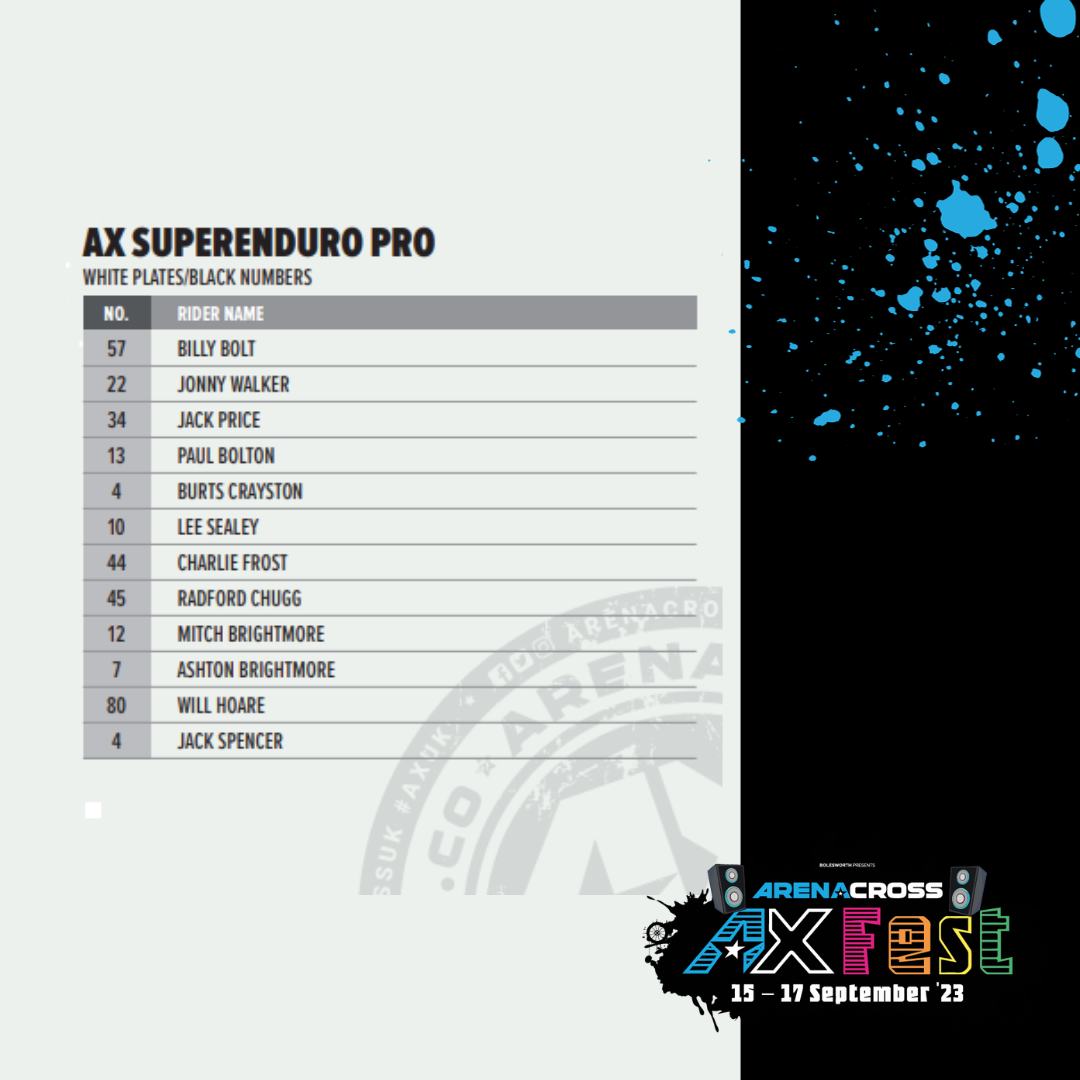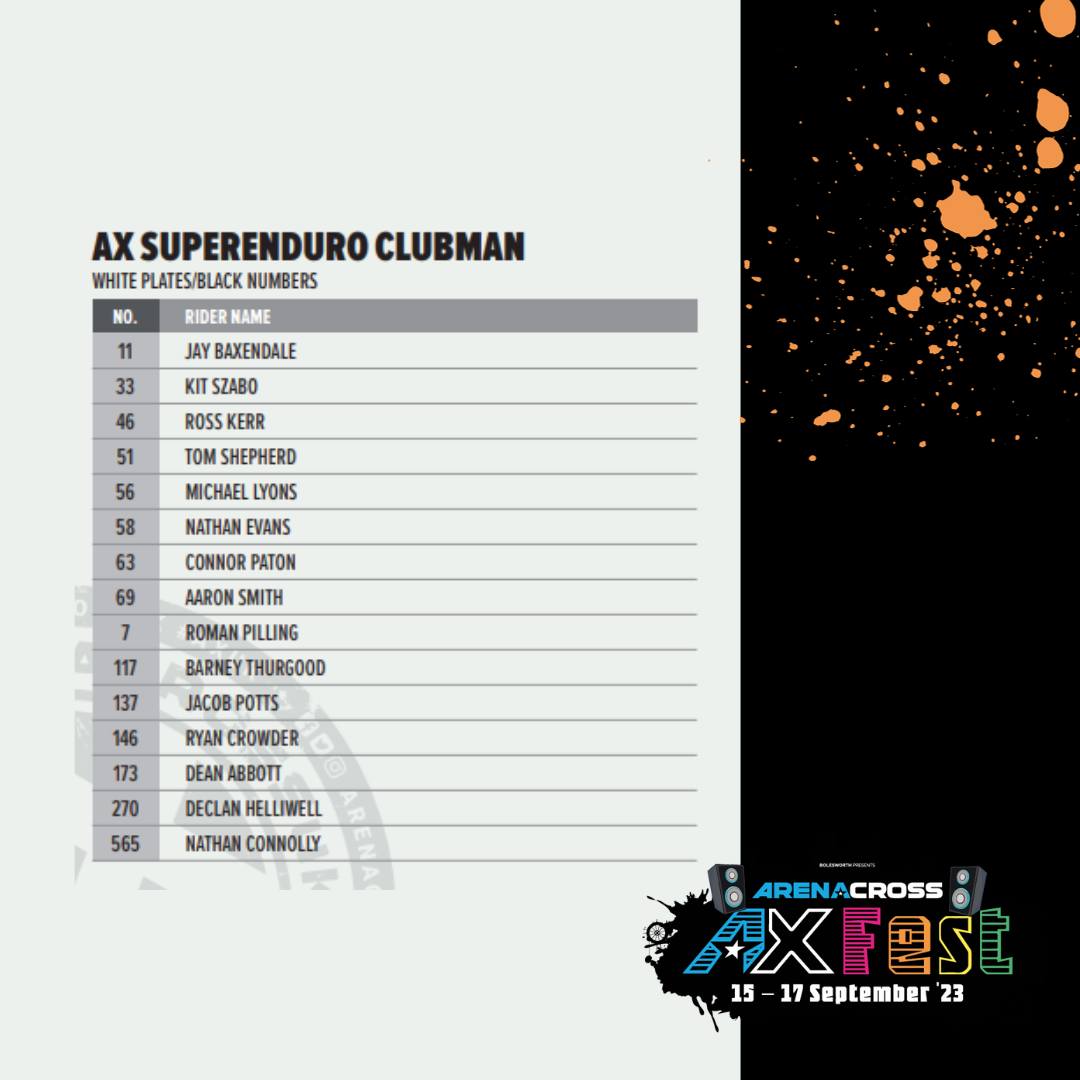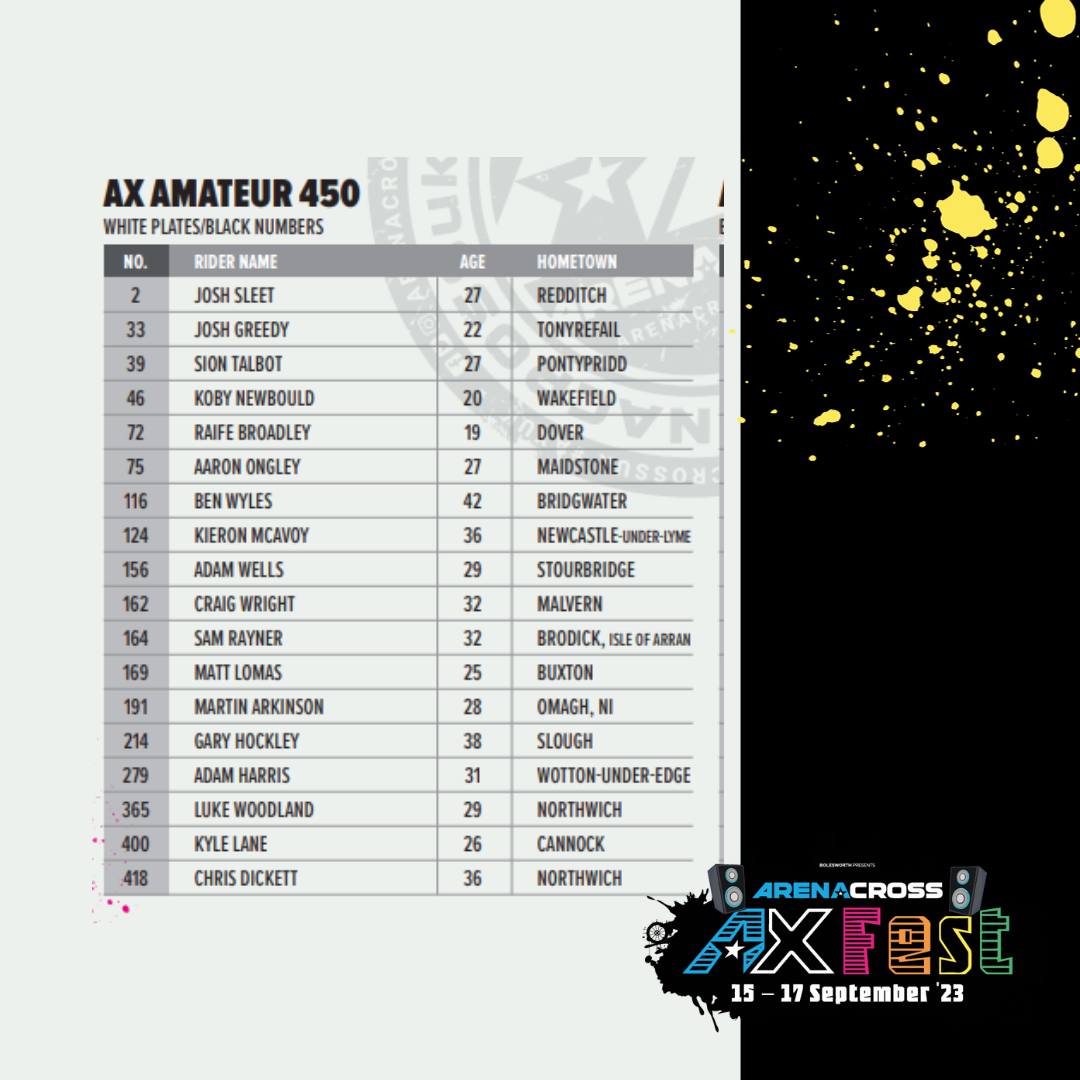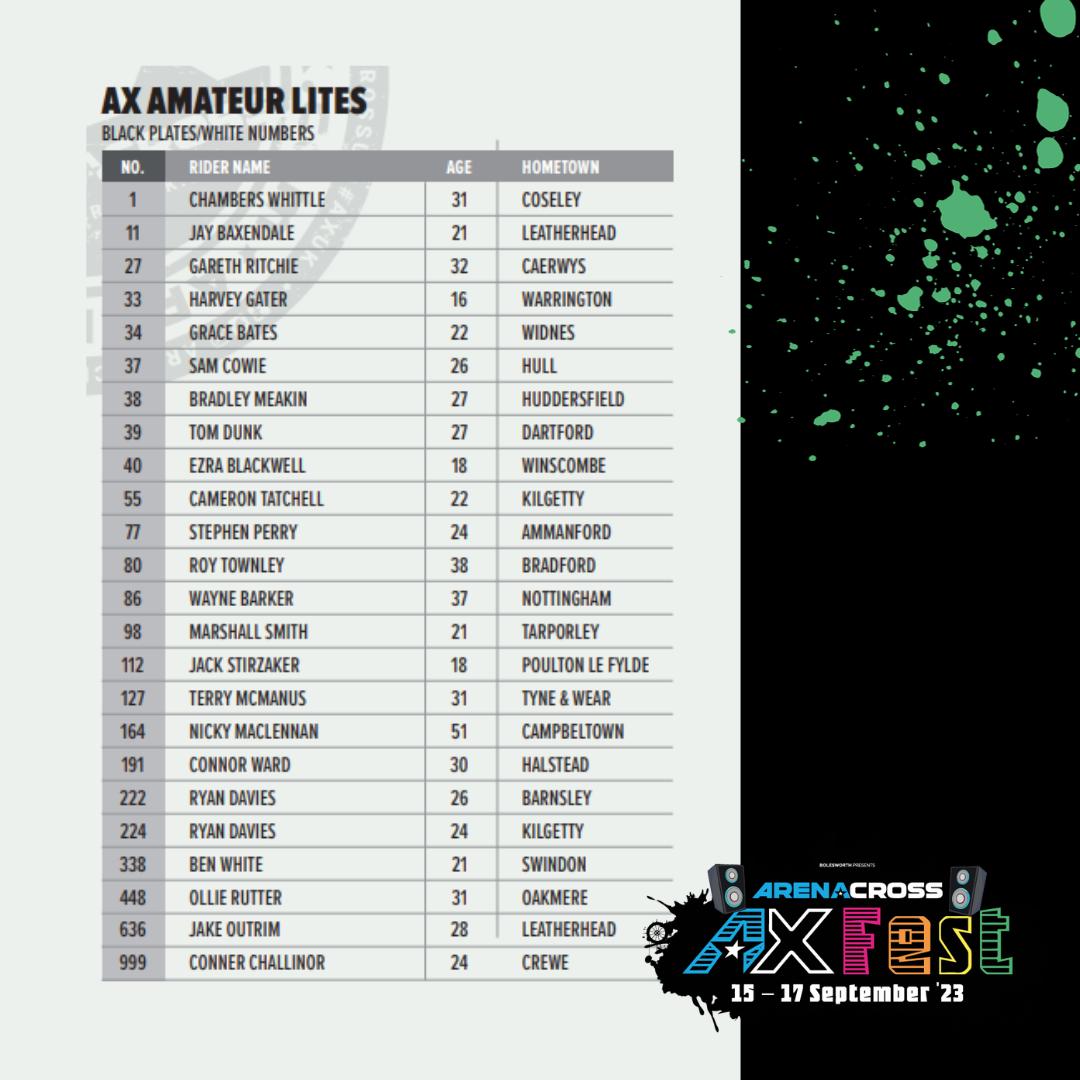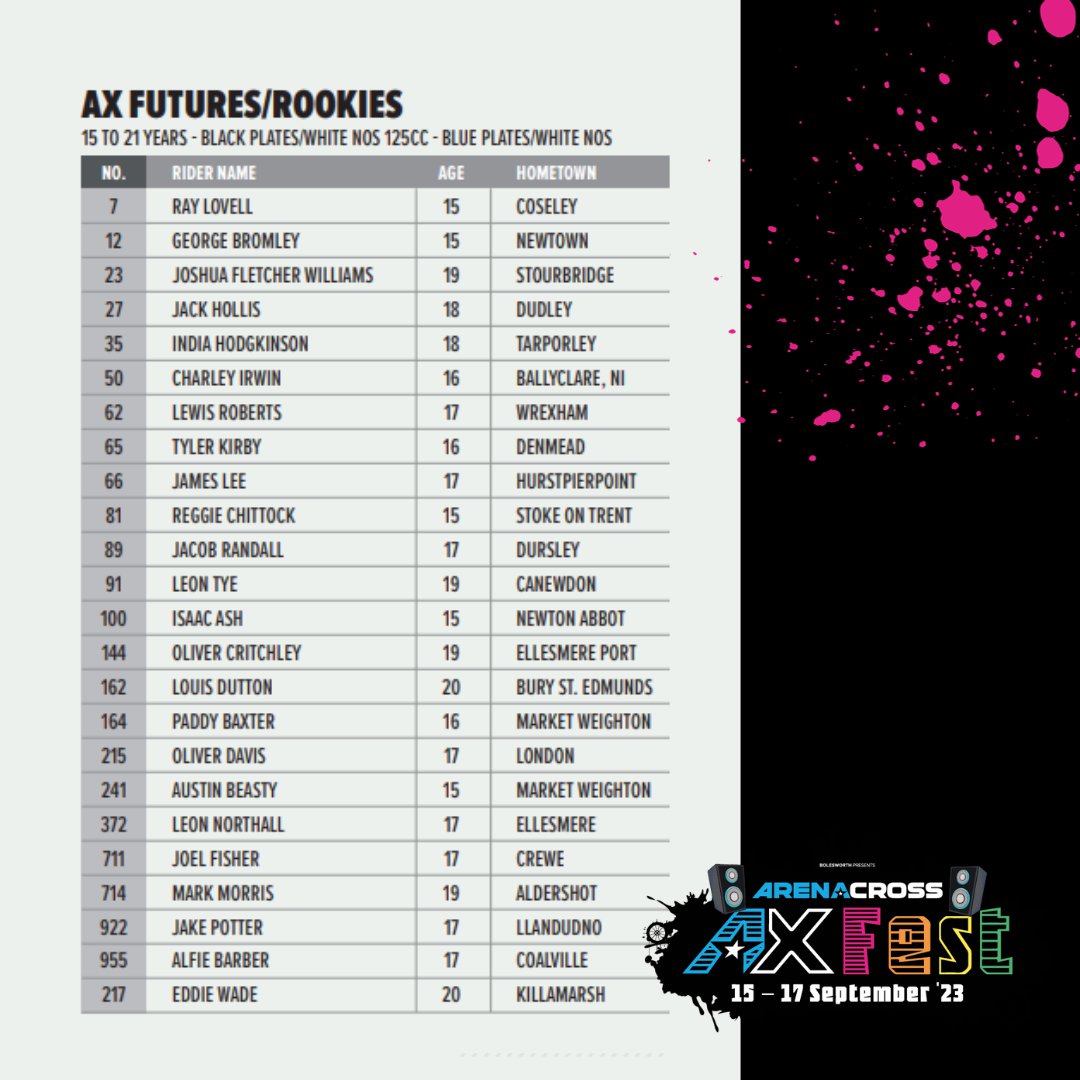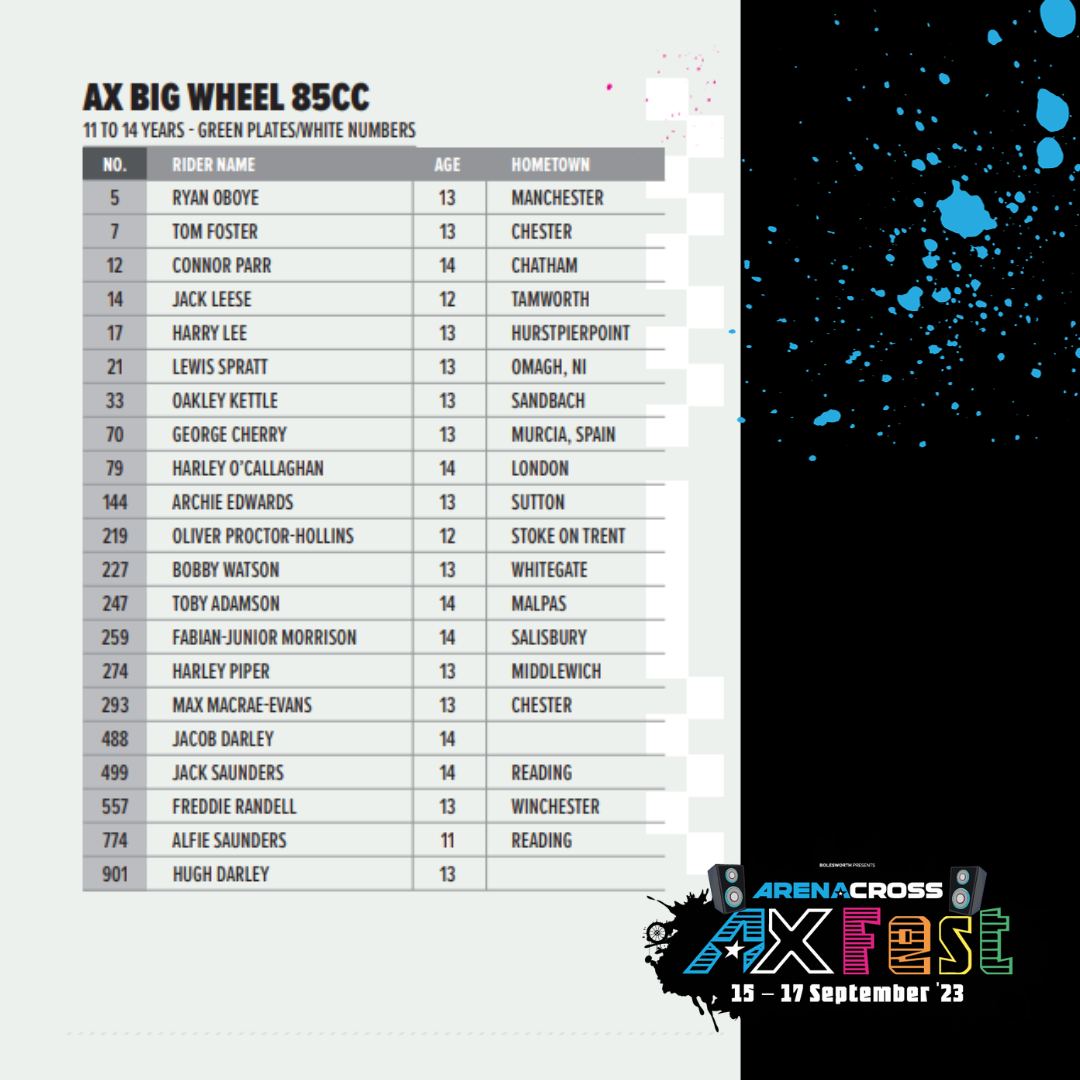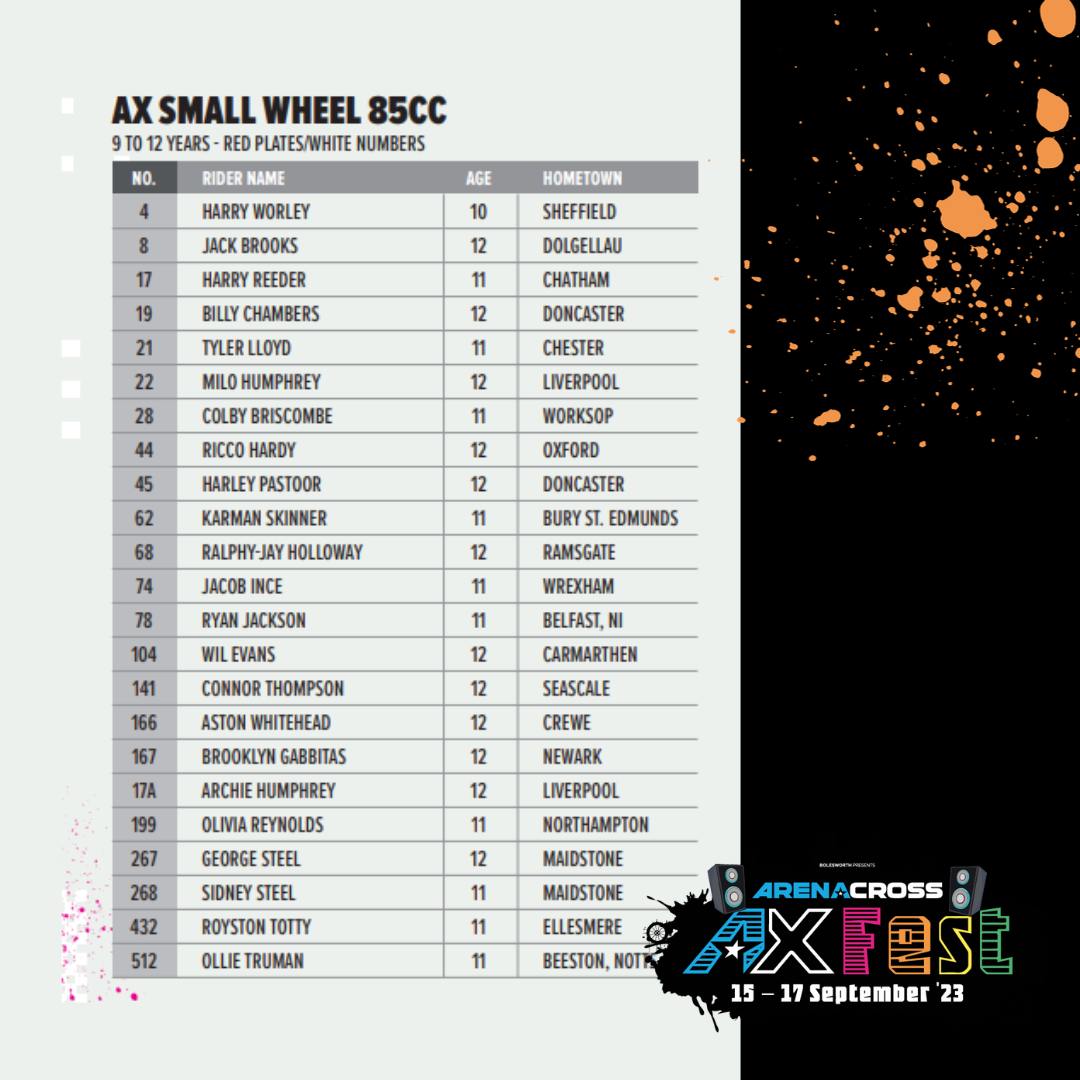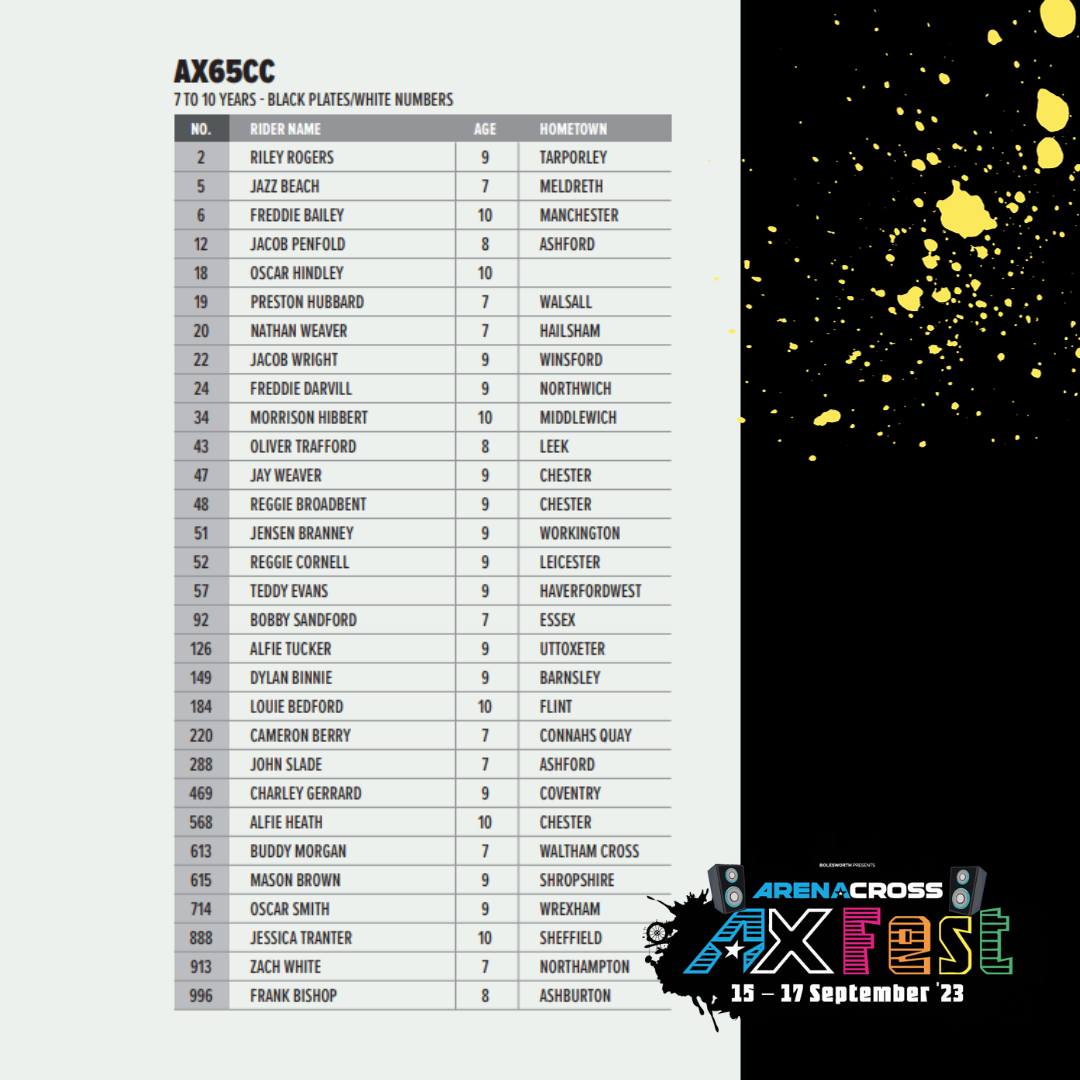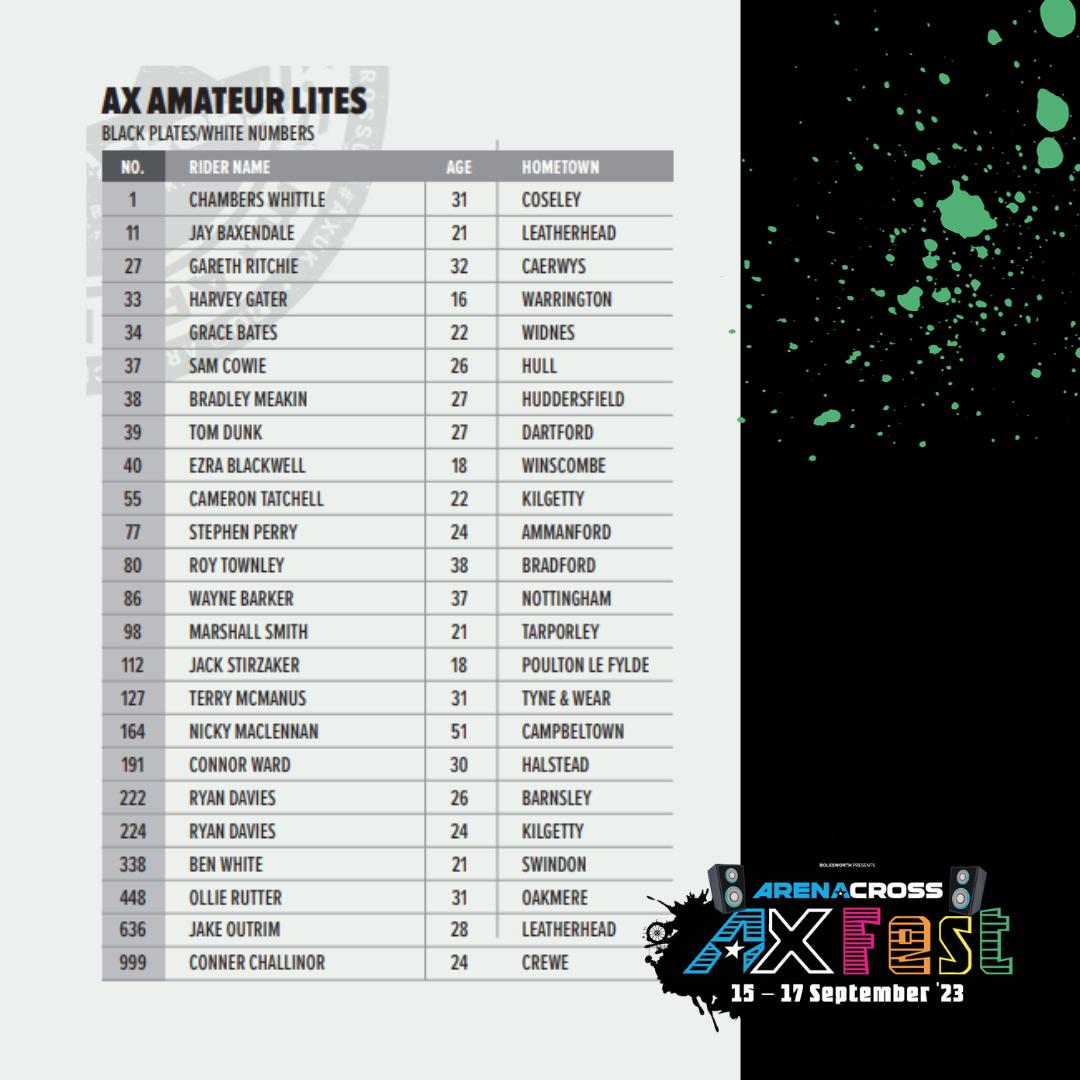 Lead Image: AX Fest
Love what we do? Please read this article as we try to raise £30,000.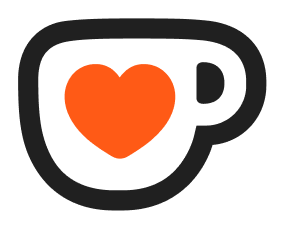 Support MX Vice on Ko-fi
The MX Vice Show Episode #143 with Isak Gifting
Listen now.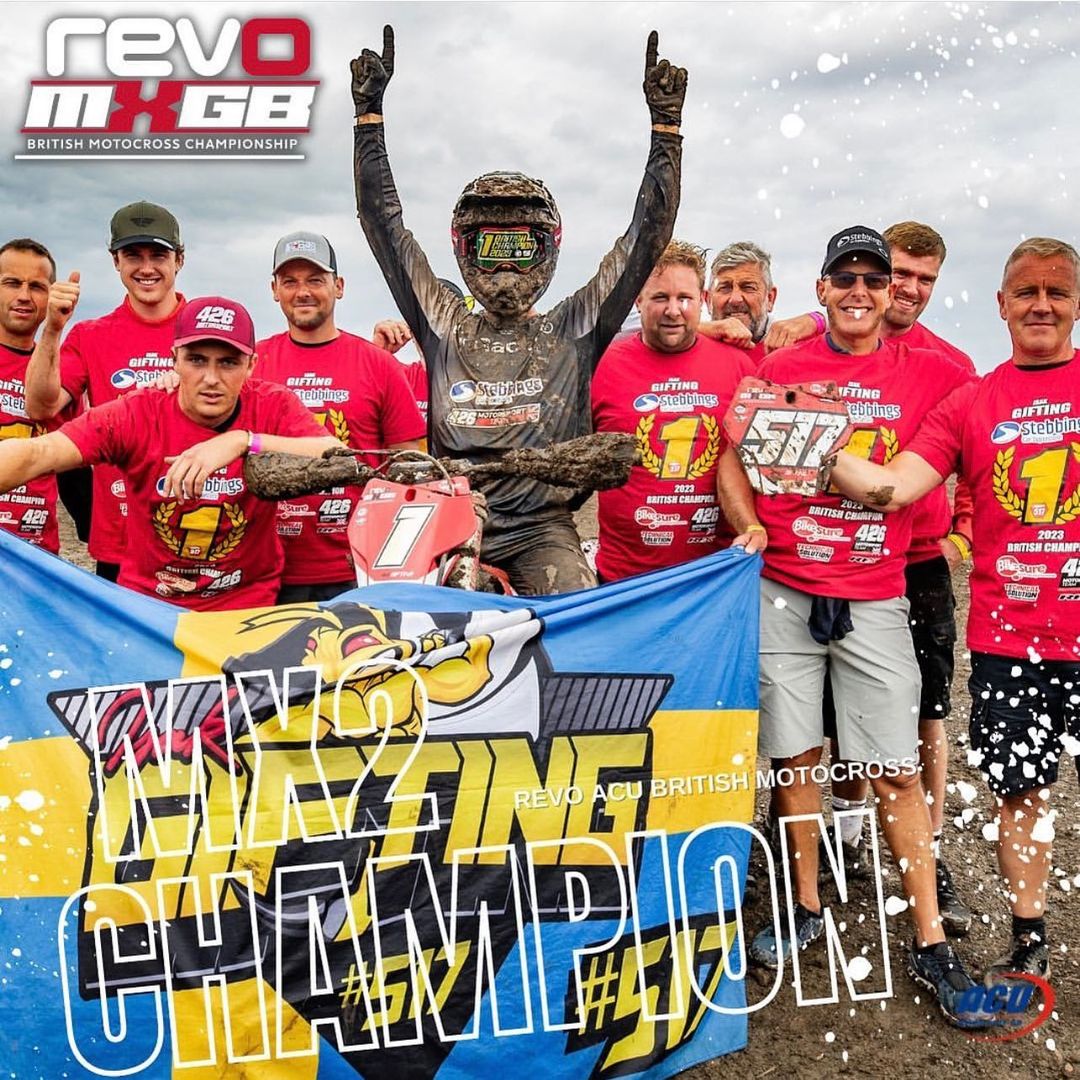 In the latest MX Vice Show, Swedish MX2 maestro Isak Gifting talks to Ed Stratmann about winning the British Championship, his challenging season so far, living in Paris, racing MX2 and the British, the state of play in Swedish motocross, his amazing program and much more.
The MX Vice Show is as always available to listen to on Spotify, iTunes, SoundCloud, Stitcher and Google Play. Thanks to Parts Europe, Scott, Acerbis, Fly Racing, AS3 Performance, ARMA nutrition and Even Strokes for their support of The MX Vice Show. If you would like to become a part of the show, don't hesitate to get in touch.
Lead Image: Revo ACU British MX Championship/Isak Gifting
Love what we do? Please read this article as we try to raise £30,000.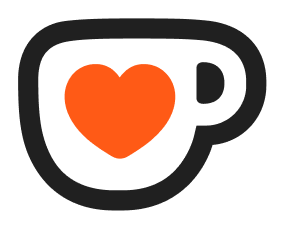 Support MX Vice on Ko-fi