Interview: Thibault Benistant
French star on his superb home victory.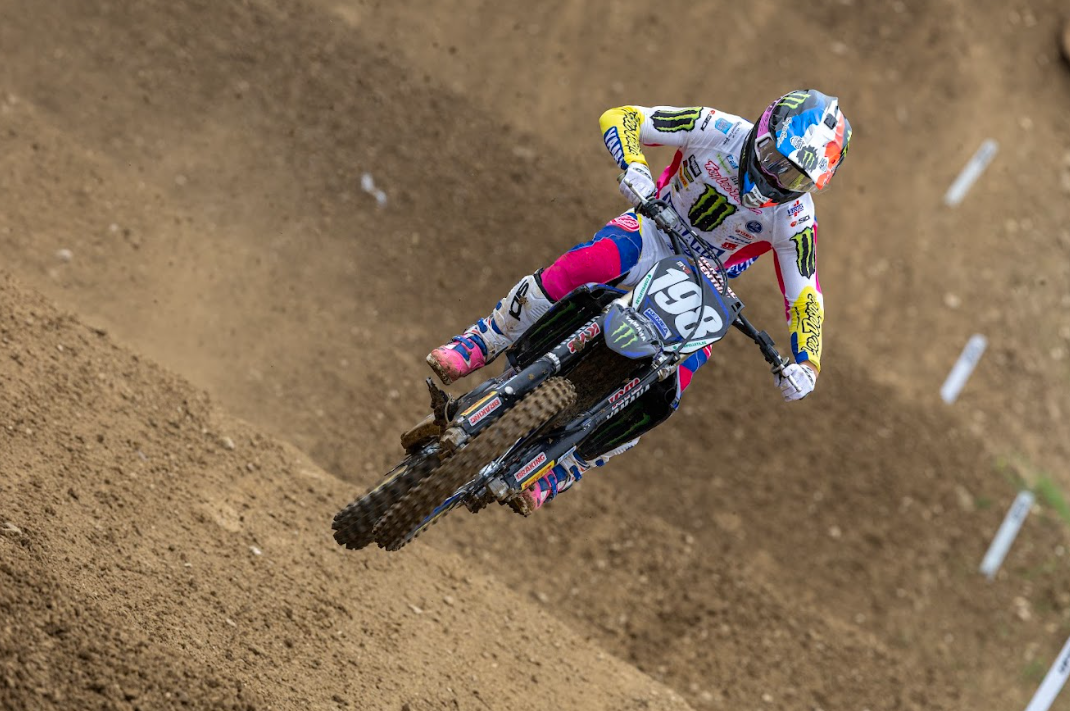 Fresh from producing a masterclass to reign triumphant in MX2 on home soil, Monster Energy Yamaha Factory star Thibault Benistant caught up with MX Vice's James Burfield to share his thoughts on a brilliant weekend.
This interview was also released as an MX Vice post-race podcast, presented by Acerbis.
MX Vice: Thibault, great performance today. How did it feel to do that in front of the home crowd?
TB: Yeah, actually it was a good weekend, I felt good from the first lap on the track. I felt at one with the bike. I just tried to give everything to make the fans happy and to make myself happy so we can play the anthem at the end of the day. It was my goal before to come here with a minimum of a podium. But yeah, I got my first home GP victory so it was really nice and I appreciated it a lot actually.
MXV: How good did it feel when you saw all the flags in the crowd and the people cheering?
TB; Yeah great, that's for sure. It's crazy. I mean, I think in all the countries that we go to in MXGP you never see this much of a crowd for the home riders. I mean, they are just so much and all in. So yeah, it's just crazy and I want to thank them a lot.
MXV: Did the throttle twist a little bit more when you went past the crowd?
TB: Yeah, but in one way, you can't go too hard with the track. For sure, it helped a bit to feel good, go fast and to push until the end.
MXV: Now with Jago possibly going to be missing for a minimum of five weeks, which is going to be possibly three GPs, this is a great opportunity for you to stamp your authority on the championship.
TB: I shouldn't say great, because yeah, we are speaking about a rider who was leading and is now injured for his last year in MX2. But for sure it makes the championship like a second brief. It's really bad for him. But actually our sport lends itself to this, as we are playing so much with the limit. It can happen to everyone whenever in the season. So yeah, it's unlucky for him.
MXV: That's the thing, motocross is tough in that you're consistently on the limit, but you also have to remember that it can quickly bite you. The tracks are very tough and the ruts were very deep today so it was very tricky to be fast, but also to be consistent and stay safe.
TB: Yeah, that's for sure, it's not easy to go fast and to be clean at that speed. I had a really sketchy moment also in the second moto, where I thought I would crash big time. I just went through a Monster board. But luckily it was fixed really hard so I just turned on it with the shoulder. But I thought I was going to pass through it. It happened really fast. Just a small moment, you don't know exactly what to do, you lose the front and it's done.
MXV: I was watching Lucas Coenen in the second race, he was in the lead about seven seconds ahead of you. And just leading up to the step up, he jumped, and his back wheel nearly went out of the track. So literally everywhere around the track, everybody was on the limit, those things are going to happen.
TB: Yeah, I believe that at this level, to win you have to sometimes get out of your comfort zone and sometimes it's quite sketchy. We saw it a few times, I think much more on Saturday because the track was more bumpy. But I mean, even today, I had a sketchy one. We have to stay so focused because the season is really long. And we spend so much time on the bike that we can't go on the bike being not at a minimum of 90%.
MXV: I know you don't want to talk about the championship too much, because obviously there's a long way to go, but the qualifying races are becoming even more important now. So do you feel like you need extra concentration on a Saturday to try and get as many points as possible?
TB: Yeah for sure. I mean, I don't like to think too much about the championship too early. I just take it race by race and I try to give my best always. I try to win and then later we will count the points. For sure the qualifying race puts a lot of more points and it's more difficult to be consistent for three races. So yeah, it's really important and you have to be on it always.
MXV: With Latvia and Teutschenthal coming up – two different tracks – one sand and one hardpack. Do you have a favourite or are you okay with both tracks?
TB: Actually, I'm okay with both tracks. I've been winning a few rounds there in the EMX250 a few years ago. And I won my first GP in Teutschenthal so I like both and I'm really happy to be there.
MXV: Thanks for your time and good luck for the rest of the season.
Lead Image: Ray Archer
Love what we do? Please read this article as we try to raise £30,000.
Interview: Ky Woods
Great chat with the Aussie rising star.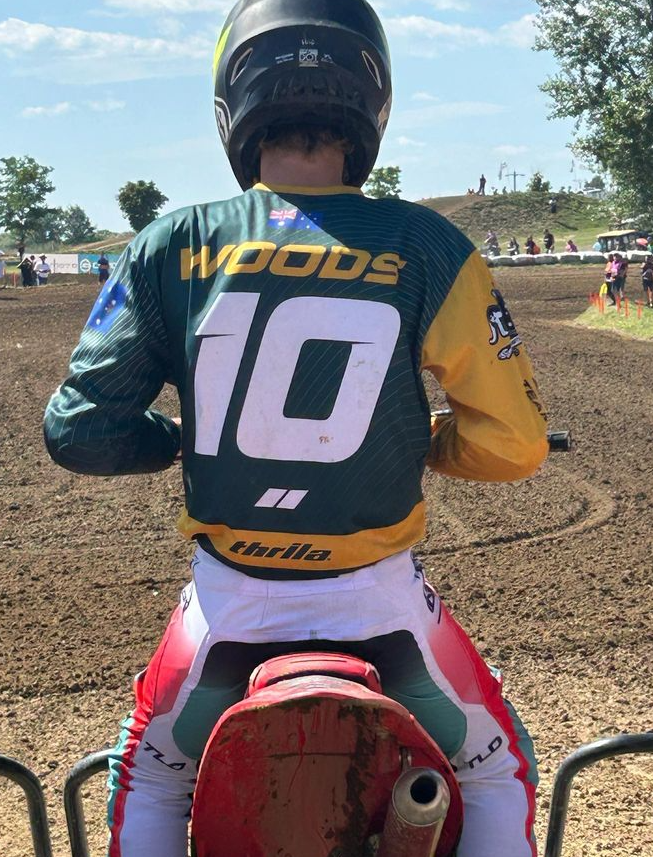 Young Aussie sensation Ky Woods spoke to MX Vice Editor Ed Stratmann about his impressive efforts at the recent FIM 2023 Junior Motocross World Championship despite the results not matching his speed, what he learned from the experience, his aims for the future, the high level of the Pro MX MX3 class in Australia and much more.
MX Vice: Talk us through your weekend, your speed and riding was excellent even though the results weren't due to issues in each race?
Ky Woods: My weekend at the World Championships was amazing. The whole vibe was sick and just loved the experience with all the boys, we just had such a great time. My weekend started off amazing, I went P2 in free practice. My speed was great in the morning. The track was pretty flat and a little bit muddy. So yeah, I had a ball, and getting that P2 in practice, I was really surprised. It's so sick watching these boys on TV and just to see that I'm up there with them was just incredible. So P2 in free practice and then went out in qualifying a few hours later and went P5 in my group. I think, all in all, I had P9 gate pick for the first moto.
Then race one started on the Sunday so we did practice and qualifying on Saturday and then I started race one on Sunday morning. The nerves were definitely coming into play, but I was pretty confident with myself and my speed. And knew what I had to do for that race.
Race one I actually got a terrible jump off the gate, but I think my gate was a big advantage as well because I was really tight into the corner. So, I managed to tuck in tight under all the boys and come out like P5. I moved my way into P3 pretty quickly and Jake (Cannon) was in front of me in P2 and I was feeling pretty confident. Then three quarters through the first lap, my fuel cap came off and fuel was pouring all over me, and my bike was just stuttering really bad so I had to pull off. The reason why this happened was just a little mistake by my dad, as after the sight lap I had to put fuel in a bottle and fuel my bike up back to the top after my sight lap because my bike wouldn't have made 25 plus two. So yeah, dad forgot to put the fuel cap back on fully and it came off three quarters into the first lap. So yeah, I'm super bummed about that.
But, yeah, I was definitely feeling a bit more refreshed than the other boys going into the second moto. For the second moto, I was still P9 gate pick and I went into the race feeling angry. I wanted to prove my point and get my name out there a little bit because I knew race one just wasn't good enough. So, I got a really bad jump again, but I managed to do the same thing as in race one and tuck under everyone and come out P8, I think. And Janis and Mathis, the two fastest boys in the class, were one and two off the start. They tried to put a gap on everyone and I saw them running away slowly so I tried to get into P3 as fast as I could. And I did that exactly. I was trying to latch onto the back of Mathis, and I was catching him a little bit, but just wasn't good enough in the end.
25 minutes plus two in 38 degrees heat and I was wearing this massive, massive turtle suit looking thing – I looked like a hockey player out there. In this massive suit with shoulder pads, elbow pads and everything, it just made the heat 10 times worse. There was like two laps to go and I was running third the whole time and I had Jake and a lot of the factory boys come, and yeah, I collapsed on the last lap.
I collapsed on the last lap and I tried to get back up and could barely see and hear, and I just felt like my health was really bad. I'd never been so cooked before in my life. The heat really got to me and I just couldn't finish the race. There was one lap to go and I was really bummed, but I knew I put everything into that race and I feel like I did myself proud, but obviously the results didn't show. But man, my speed was good and I was just so happy with how I rode. I didn't know what to expect coming into the weekend, but I felt like it was just as good as the win for me because, yeah, just been having a tough year and I really got to show everyone and a lot of the teams how good my speed is – and that was really good.
MXV: Must have been a great confidence boost mixing it in the top three and proving you can match it with those fast EMX riders?
KW: I learned a lot over there, I just noticed how they handled the situation. In the race, the two boys (Reisulis and Valin), once they got the holeshot for just the first 10 minutes they just dipped – like they just tried to push as hard as they could to get away from the rest of the pack. And they did just that – they got out to a pretty decent lead. They were probably about five or 10 seconds in front of me in the first 10 minutes. So yeah, they were crazy quick them boys, their first 10 minutes was just raw speed and then they managed the race from there, and kept the gap so if anyone got close to them at the end they sprinted a little bit more. But yeah, I learned a lot from them so that's a good thing.
MXV: How happy are you to be heading home and what were the key things you learned from the weekend?
KW: Yeah, I'm a little bit happy to be going home. I wish I could have stayed for a little longer. But I had to come back for the Australian titles. But there in Europe it's just a lot better. The bike was just incredibly fast and just the events are a lot bigger over there. Everyone's screaming and there's music pumping so loud and just the whole vibe is 10 times better there. I just loved going there. I want to go back there soon and hopefully ride a 125 or a 250, but yeah, I just loved it there.
MXV: How strong is the Aussie MX3 class – it's obviously a high level that allowed Jake Cannon and you to mix it on the world stage?
KW: Yeah the MX3 riders in Australia, we've got a pretty good chance (when we go to Europe). We have a lot of potential riders that could go over and be the next best thing. But yeah, I feel like it's a completely different thing over there with the pressure and how big it is to see if we can handle it or not. And yeah, well, I went over to just do one job. I didn't focus on anything else but to race so it's just such a massive event. I feel like a lot of the MX3 boys definitely have a lot of potential.
MXV: What are your plans for the rest of 2023?
KW: My plans for the rest of the year is I think I'm just going to do the last Pro MX rounds in the MX3 category at QMP and Coolum. I really like QMP, I've been out there once and seemed to gel with the track pretty well. I've had a pretty rough mid-part of my year, but I feel like I've been turning it up a little bit lately. So, I feel like we can go into QMP feeling good and I think I'm ready to go. I need to get back on my 250 in Queensland and we start training on that again because I've just been training on the 125 a lot lately. Going to get back on the 250, do a lot of motos and just start grinding on that thing.
I might do a little bit of supercross – first time doing it so we'll see how we go. Yeah, I don't know about supercross really, but yeah, I'm excited. I'm definitely excited to start training for supercross.
MXV: Anyone you'd like to thank in particular?
KW: I would just like to thank my dad, my mum and my sister, and all the people that donated to me and my GoFundMe I made before I went to Romania. I think we managed to raise about 16 grand and that definitely helped me a lot. I feel like I definitely didn't get the results in Romania, but I showed a lot of people that I've definitely got the speed, especially for the future if I want to go back there that I have the speed and I showed everyone what I've got. So, I'd just like to thank all the people that got me to Romania, It just means the world to me. And thank you to all my sponsors in GasGas Australia, Troy Lee Designs, Motorex, Dunlop, ODI, Rival Ink, Funnel Web Filter, Sutto's Powersports, Josh Robinson, MPE and 00 Elite Training. I just can't thank everyone enough, it just means the world to me.
MXV :Thanks for taking the time to talk and all the best for the future.
Lead Image: Ky Woods
Love what we do? Please read this article as we try to raise £30,000.
Interview: Alberto Forato
Charismatic Italian shares his thoughts.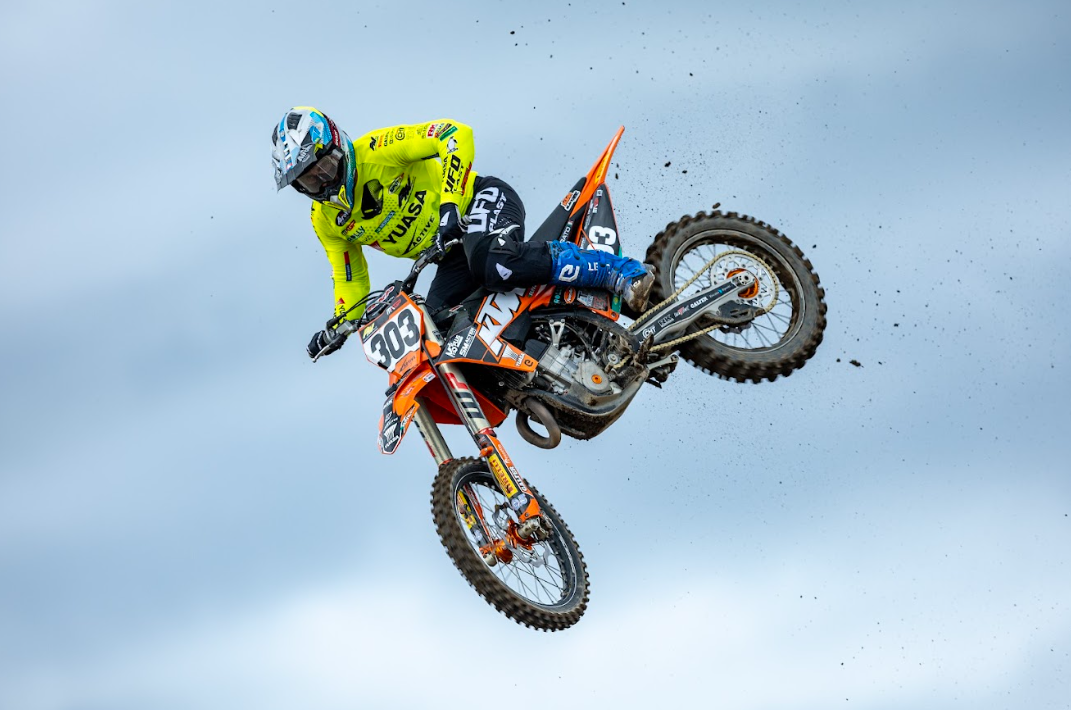 Currently sitting eighth in the MXGP standings and enjoying a brilliant season aboard his SM Action KTM, Alberto Forato's impressively continued along his steady upward trajectory.
Having claimed 11th in the championship last term despite suffering a broken leg at the midway point, the charismatic Italian has been nothing short of impressive with his speed, fitness and consistency particularly catching the eye in his quest to reach the podium.
Regularly beating and holding his own with the factory riders, which has included some especially engaging duels with Jeffrey Herlings, it's been so fun to watch the burly Forato in 2023.
A brilliant figure to have in the paddock, with his fantastic sense of humour and likeable personality accompanying his crafty riding nicely, the fact he's picked up 13 top eight moto finishes (with a best of fifth), eight top 10 overalls, five top six results in the qualifying races (including a third in France) and banked three top threes in timed practice underlines his quality.
MX Vice Editor Ed Stratmann caught up with the hard working #303, who receives some support from KTM in the form of parts such as suspension, to get his thoughts on a forgettable round in Lombok, where sickness ruined his weekend even though he valiantly rode through the illness to claim eighth overall.
Question: Talk us through your weekend, it looked like a tough one as you were sick? How difficult was it with the heat and struggling for energy?
Alberto Forato: For sure, it was really, really, really tough. It was not normal, as I struggled a lot being sick. And then I had really no energy especially with the conditions being really hot and the sickness. When I closed my eyes, my head was spinning and I was almost like losing my balance and stuff so it was really, really tough. But luckily, I got through it and came home safe.
Q: When did you get sick ahead of the race in Lombok and are you feeling better now?
AF: I got sick in between the races, especially on the Friday before Lombok. And like I was just saying before 'all good this time overseas, I'm good. I feel good and I have no sickness from food and stuff'. And then in the night at 3am, I woke up and started being sick. Now I'm getting better. I'm still not fully good, but we're getting better.
Q: What did you think of the track at Lombok?
AF: I actually did not like the track. I mean the layout was nice, it was good with some jumps and some technical stuff, but the dirt man was insane. I don't know why or how with fresh dirt, they could make such a rock hard and sketchy track like that. It was crazy, so sketchy and hot – was not the kind of dirt that I like.
Q: How was the tourist stuff while you were in Indonesia and how were the fans there?
AF: It was good also the tourist stuff, but we didn't have so much time as we're there to race. I mean we went to visit some places – I went to see some waterfalls and then to the zoo. And yeah, it was good, but you know we're here to race so I always focus on that to be on top. The fans were crazy, the people were sending so much love and cheering for us. For sure, for them it is a really big event.
Q: How happy are you to be heading home?
AF: This is a really good question. I'm really, really so happy to be back home. Two weeks there was a lot.
Q: What are your plans to prepare for Loket – recover, some riding and relax?
AF: Yeah I will recover. I will go riding today (Friday) and riding up until the race? And yeah, for sure recover as much as possible and get back in shape to go for it in Loket.
Lead Image: Ray Archer
Love what we do? Please read this article as we try to raise £30,000.
Interview: Lucas Coenen
Young star speaks after a tough weekend in Lombok dealing with illness.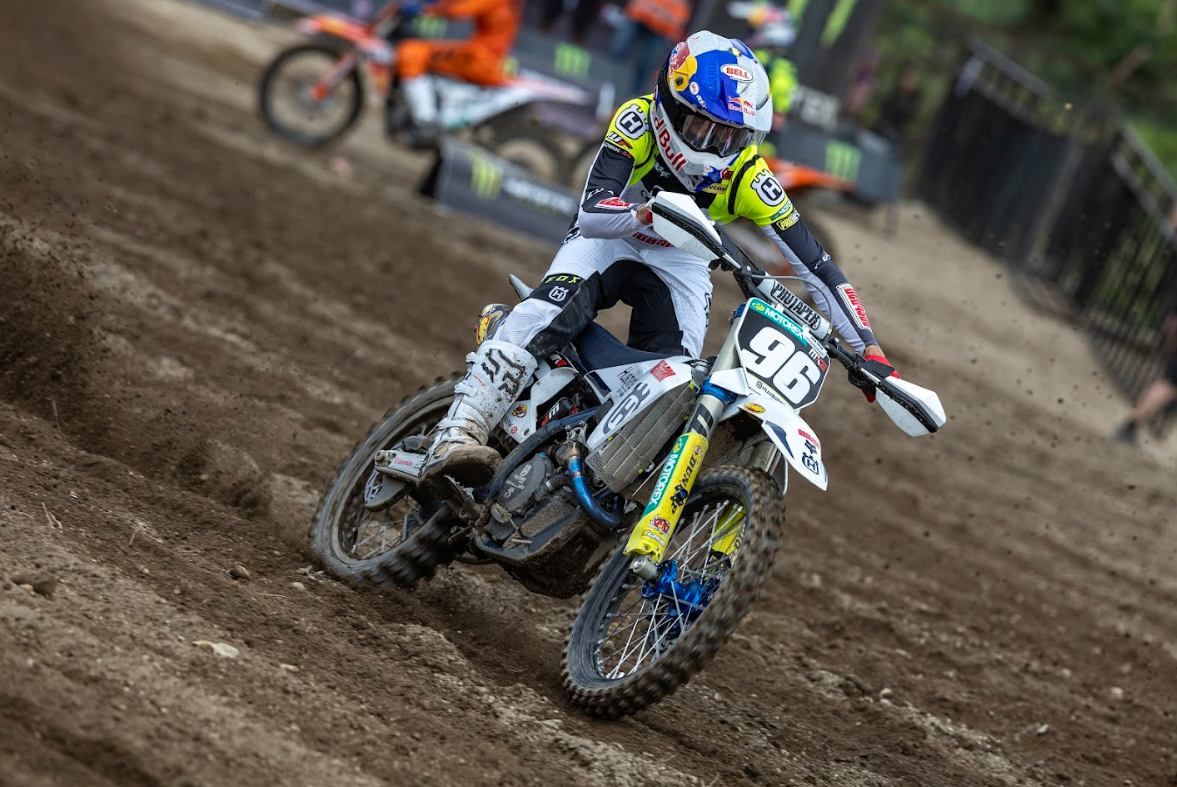 Although 16-year-old MX2 star Lucas Coenen couldn't replicate his remarkable showing at Sumbawa, where he claimed his first overall victory in fine style due to getting sick in the lead-up to Lombok, he battled on valiantly in the testing conditions to go 7-5 for seventh overall.
The Nestaan Husqvarna sensation spoke with MX Vice Editor Ed Stratmann afterwards to share his thoughts on a tough weekend.
Question: Talk us through your weekend, it looked like a tough one as you were sick? How hard was it with the heat and probably having no energy?
Lucas Coenen: Yeah, for sure, Lombok was a really difficult weekend, I got sick around Thursday and this didn't help me for the weekend at all. So Saturday was really difficult with the qualifying race and the temperature also because I didn't do so many laps, as after 10 minutes all my energy was gone – so I was in survival mode. And Sunday, in the first moto I tried to hang in there with all I had, but the energy was lost after 15 minutes so I finished in P7.
Then in the second moto, I got off to a not so bad start and tried to hang on and had some good battles. But yeah, it was also difficult with the heat in the second, but got to battle with those guys and finished P5. This was not so bad, but I didn't feel good at all so now Loket is next. 
Q: When did you get sick ahead of the race in Lombok and are you feeling better now?
LC: Yeah, I got sick overnight between Wednesday and Thursday. And now I'm still not 100% yet, but I will get 100% for sure for Loket.
Q: What did you think of the track at Lombok?
LC: I struggled a lot with the track also because I was sick. But it was not an easy track for sure, it is a track a bit like Argentina. It had really soft parts and there were no lines so it's difficult to keep a good flow. I think I need to improve a bit on these tracks.
Q: How was the tourist stuff while you were in Indonesia and how were the fans there?
LC: Yeah, it was okay, but I could say it was a long one. The first week was okay and then the second week was really long because, yeah, I missed being home with the dog and everything. Yes, Sumbawa was not so bad, then Lombok began to be quite long and for sure when you get sick, it gets long as hell. And yeah, the fans were quite happy that we made a race there so it was nice to go there. But two weeks was a bit long, but that's the plan. So yeah, the fans were very good and now we're back home.
Q: How happy are you to be heading home?
LC: Yeah, it's really good to be back home. It was not so good food and you no needed to watch out for so many things like the water, the showering and everything. I'm happy to be back home.
Q: What are your plans to prepare for Loket – recover, some riding and relax?
LC: Yeah, the plans are to do some training like always, and training physically and everything to get back in shape as best as possible to be ready for Loket.
Lead Image: Ray Archer
Love what we do? Please read this article as we try to raise £30,000.