Danny LaPorte tells a tale of the funny side to the late Georges Jobe.
Words: Ben Rumbold / Danny LaPorte | Images: Jack Burnicle
Whilst researching my Top 50 Riders of the 80s (By The Numbers) articles, I had a reply from the fantastic 1982 250cc World Champion, and 1979 125cc AMA National Champion, Danny LaPorte.  He had already given me some great tales of his own career and been thoroughly brilliant about it, which you will see when we get to his Top 50 entry in a few months' time.
The story from Danny was too good to just crowbar into any other article, so it's here as a little bonus for MX Vice followers. This takes place in 1982, deep in the Cold War, with Ronald Reagan as US President, and Leonid Brezhnev the leader of what was then the Soviet Union.  Kishinev itself is now in the small nation of Moldova, between Romania and Ukraine and just north of the Black Sea. It's a 30-hour drive from the UK, and riders used to carry bags full of the different currencies needed to see them through the various countries en route.  Some even took a few bits and pieces to sell over there…
For the Motocross context, this happens just before the 9th round of the 1982 250cc World Championship, which LaPorte led by 6 points over Georges Jobe prior to the USSR Grand Prix at Kishinev, with just three rounds to go after that event.  Danny would go on to beat Jobe to the championship by just 13 points, before Jobe reversed the order in 1983.
So here is a tale of the hyper-competitive Belgian that shows a side many of us never saw or even heard of, in Danny's own words…
"The best story [about Georges], in 1982 Russia was still pretty hardcore. We were in Kishinev, staying at a tourist hotel, designed to keep all visitors to Russia accounted for. You literally had a person on each floor making sure of monitoring the visitors, you probably know that better than I do [my uncle Neil Hudson has told me similar tales of Russian military observation].
"You couldn't leave the premises, so I went outside to see what was happening with my mechanics and all the other teams that were there. Well, they were all there! It was like a giant paddock [in the hotel car park]. Anyway down in the corner of the parking area I saw one of many soldiers that was there keeping an eye on everyone. We kind of communicated, and finally I asked him if I could buy his belt because it had a Hammer and Sickle [buckle – this was the Soviet emblem as shown on the USSR flag]. I thought it would be a good souvenir lol.. [Yes, Danny LaPorte uses the acronym 'lol', just when I thought he was perfect. Never mind…].
"The soldier of course said no, then I showed him a hundred-dollar bill, and his eyes lit up! He told me to meet him later, on the edge of the parking area. He showed up with a bag and he gave me his entire uniform!!!  So first thing I do, I saw Georges and showed him. Immediately he said 'You have to wear it tonight to the party'.
"In Russia for this big event they had a full sit-down dinner organized by the government, with all the local military higher-ups, dignitaries etc, at least 300 people. I said to Georges 'I can't do that, I'm American and if they saw me with that uniform I would be headed to the Gulag [the dreaded concentration camps where political prisoners were literally worked to death]!'  He didn't hesitate and said, 'Let me have it, I'll wear it!'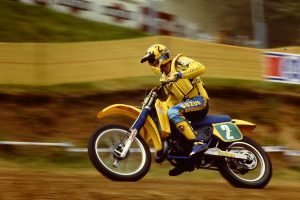 Georges Jobe gives the 250cc Suzuki some gas at Beuern in West Germany, 1983.
"I said 'OK, but don't tell them where you got it from.' I will never forget Georges walking down the stairs to the entrance of the party. Military people all around and there's Georges, arms swinging in the Russian marching fashion lol!!  I was stood watching this laughing like crazy, Georges had the balls to do that knowing how insulting it was to be imitating them.
"He gets to the bottom and military personnel run to him, to get him to take the clothes off and the first thing they said was 'Where did you get this uniform?!' Georges looks around the room and points right at me!!!!!!!
"They confiscate the suit. I get taken aside and asked a dozen questions. I bullsh*t my way out of this, by saying it's a tradition in America to proudly have a Russian uniform, it's respect! lol…
"The General responsible [for the hotel] that tried to find out which soldier sold me the uniform ends up sitting at the same table for dinner. We talked all night and I had to have a shot of vodka to clear things up!  I ended up trading him some JT hats for the Russian Belt, and he got it for me!!
"Georges got me good! I was sh*tting myself thinking I wasn't going to make it to the GP the next day.
"The Grand Prix itself was maybe the best race of my career!! We traded motos, I won the first moto, Georges won the second, and I won the overall by a few seconds [GP points ties were decided by overall time back then].  We were wheel to wheel for 2 x 45 minutes + 2, you could have thrown a blanket over us.  One thing I felt was that I could race with Georges that close, touching the entire time, but never felt like he was going to take me out deliberately or by accident. He was that good!
"Without Georges my championship wouldn't have meant nearly as much! RIP my friend…"
And many thanks Danny for that amazing story. You absolute legend.