Commentator's Eye // Nora92 British Cup Report
Full report from a hectic weekend at Marshfield Moto Parc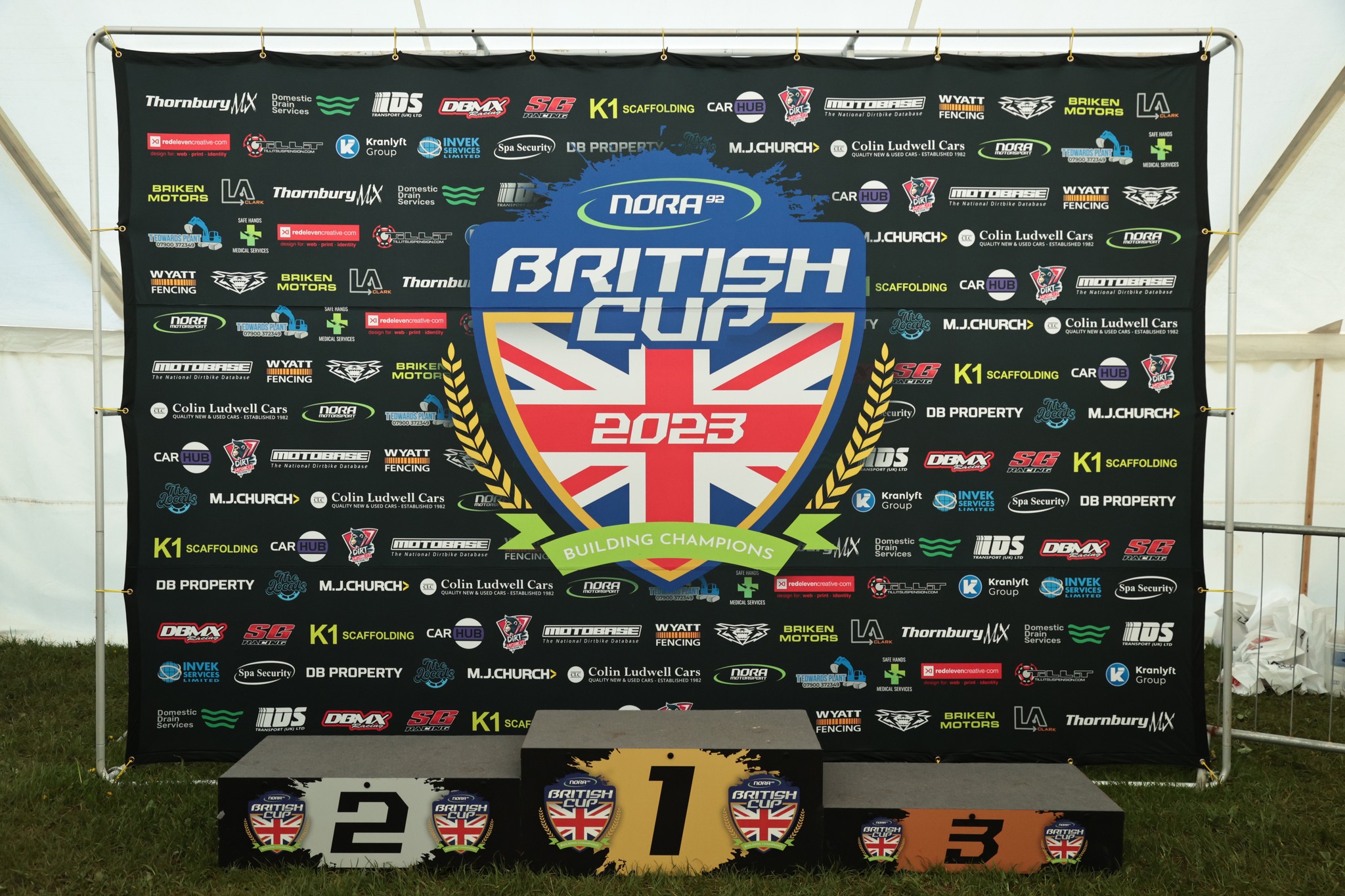 The Nora92 organisation ran their fantastic two-day British Cup event for the second year running at Marshfield Moto Parc, thanks to the kind permission of the Church family and in association with Thornbury MX Events, on the May Day Bank Holiday weekend Sunday 30th April & Monday 1st May.
Words: Ben Rumbold | Images: Summers Photography
An increased entry from the previous year saw some great racing across nine classes on a circuit that had been prepared beautifully and withstood a few showers over the weekend without any issue, leaving it mostly dry and even under some sunshine on the Monday afternoon.
The Elite Adult A Class sponsored by Domestic Drain Services brought some high quality riders to the Marshfield circuit, with reigning champ from 2022 Ashley Greedy there with his brother Josh, the previous year's runner-up Bradley Wheeler back amongst them on the Phoenix Tools Even Strokes Kawasaki, with Harry Bradley and Josh Canton also in the mix, although Canton was on a Day License so not counting for the points. Talented Youth graduates Domonic Newbury and Shaun Mahoney brought their 250 KTMs into the fray to join previous top 6 men Jacob Bowden and John Mackenzie on the DBMX Honda.
The big boys hit the track first in each block, and whilst Canton was fastest in the Sunday morning Qualification that set the gate picks for the whole weekend, it was 250 flyer Alfie Calvert who gained the SG Racing Holeshot award given out in the first race. Wheeler was swiftly past Calvert, who plummeted quickly down the order with a mistake on the opening lap, and Newbury gave chase, briefly taking the lead before toppling over in a rut and handing it back to Wheeler, who had in turn got passed by Harry Bradley! Wheeler, who has only recently become a father again, this time to twins, was feeling the effects of the sleep deprivation and got re-passed by Newbury, who attacked Harry but couldn't get past, so it finished with a Harry Bradley win, from Newbury and Wheeler. Canton had suffered a poor start and had to work forward from about 10th off the line to grab 4th from Bowden on the final lap.
Wheeler holeshot the second moto, but Ashley Greedy got past quickly, then Canton who had got a much better start. The elder Greedy followed the same pattern in every race on both days, getting up the front and then falling rapidly backwards with some unknown problem.  Canton capitalised and stormed off to an easy win, whilst Wheeler fell prey to Harry Bradley for 2nd, and the charging two-stroke Fantic of Mark Young then took 3rd with two laps to go. Newbury, Bowden, and a slow-starting Tyron Cleaver disputed the positions further back, with Bowden being passed by the other two in the final lap, leaving him 7th behind Newbury in 5th and the charging Cleaver in 6th.
On Monday, first-year pro Ben Mustoe came to play on the ASA United GASGAS, along with former AMCA Champion Luke Dean on the 125cc Fantic! As with Canton their places didn't count for points, and although Mustoe struggled off the gate with his 250F, he soon showed his pace by moving through into 3rd, then 2nd at half-distance as Cleaver pulled a stunning holeshot and cleared off at the front! Wheeler held station as both Greedy brothers dropped down the order from the top 6, Mark Young again moved forward but got passed late on by Harry Bradley and Luke Dean.
Mustoe relentlessly closed on Cleaver and took the chequered flag, but Cleaver took the points for 1st ahead of Wheeler, Bradley, Young, and a slow-starting Newbury.
Ash Greedy again led early in the final moto but dropped massively on lap two, with Wheeler again starting well, this time just ahead of Cleaver. Mustoe was not far behind despite only relying on 250 power, and scorched into the lead on lap three, never to be caught again. Yamaha rider Aaron Patstone briefly got past Cleaver while Canton had a strangely quiet race. Harry Bradley needed to make moves to secure the overall win but they weren't coming, and he ultimately finished where he started, back in 8th place on-track. A charging Luke Dean worked through for a great second on-track, but Wheeler knew he wasn't in the points picture and collected the 1st place points ahead of Newbury, who made a last-lap pass on Cleaver to secure 3rd overall for the weekend! Harry Bradley took 2nd overall behind "Daddy Cool" Wheeler, the Nora92 British Cup Champion for 2023!
The Adult B Class Sponsored by T Edwards Plant came down to a great fight between fastest Qualifier James Bemrose on the Husqvarna 4-stroke, and KTM 2-stroke man Danny Webster. Webster led from nearly start to finish, quickly passing the SG Racing Holeshot winner Ashley Smith, whilst Day License holder Adam hardy stayed 2nd all race behind Webster, until the last lap when Bemrose overtook to finish just 2.7 seconds down on Webster. Alan Pearce, also on a Day License so not counting for points, finished 4th ahead of the Fantic of Josh Denscombe, with Riley Saunders riding well on a 150cc two-stroke KTM.
Race two saw a good win for Suzuki-mounted former top AMCA man Pearce, taking the win with ease from Hardy, but the crucial moves for the overall happened behind them with Webster the 1st points scorer, then Bemrose pulling another last lap pass, this time on Denscombe, for 2nd. Saunders again charged through the pack to finish 3rd on points ahead of Danny's brother, Guitar.
Pearce didn't race on Monday and Race 3 was a nervous affair between Bemrose and Danny Webster, with the KTM leading the whole way right up into the last lap, and Bemrose yet again pulled a stunning late move on a tight cambered left-hander to grab the win with half a lap to go! This made it "Winner Takes All" for the final moto!  Hardy was a distant 3rd ahead of Denscombe, who fought from way back to pick off fast-starting Jake Thompson, as did Aiden Woodman with a last-lap pass for 5th!
Webster got away well in the final deciding moto, but Hardy took the lead on the second lap and battled back-and-forth with Bemrose in the second half, the two pulling away from Danny who stayed in 3rd. Bemrose eventually outlasted Hardy to claim a 12 second win, and with it the overall verdict!  Henry Smith was a good 4th ahead of Denscombe and Tristan James.  The top five overall in Adult B Sponsored By T Edwards Plant were Bemrose, Danny Webster, Denscombe, Henry Smith, and Aiden Woodman.
The Ladies Cup Sponsored by DB Property, and the Adult C Class Sponsored by Invek, raced together for the whole weekend, and top British lady racer Kathryn Booth completely swept all four races on the Ansatech KTM, even grabbing the SG Racing Holeshot Award in race one and until she caught lapped riders barely had to use the roll-offs all weekend. Grace Packman and Nadiya Jones were similarly consistent, claiming 2nd & 3rd respectively in each race, although Jones made it tough for herself in race three with a first corner crash, after which she did brilliantly well to still claim 3rd at the flag.  Hollie Roberts was also 4th in the Ladies class each time out, and Louise Powell took 5th overall with some good starts and consistent riding.
The leading Adult C riders, Chris Johnson, Jack Clarke, and David Parker, finished 1-2-3 in each moto apart from the last one, when Johnson got a better start and battled with Nadiya Jones at the front, leaving Liam Williams on his Enduro-Spec KTM to take 3rd ahead of an almighty scrap for 3rd which went the way of Clarke, leaving Parker to salvage 4th despite great racing from Marc Evelyn on the #91 Jeremy Seewer replica Yamaha, and a YZ125 ridden by Callum Smith. Smith was 4th overall ahead of Evelyn, who edged out Kawasaki man Jason Smith on the last race tie-breaker.
The Youth class sponsored by Domestic Drain Services saw 13 to 17 year-olds pitted together on either 250 4-strokes or 125 2-strokes. Jak Taylor on the WM Tatchell Husqvarna completely dominated the first three motos, each time ahead of the MGMX KTM of Freddie Gardiner, but the last moto saw Taylor come to a stop at the end of the wave section whilst in a commanding lead again! This let Gardiner in for the last moto and the overall win, with Ollie Bubb on the 3Flo Madison Crescent Yamaha claiming 2nd in that one and the overall after two 3rds and a 4th.  Shane Jones rode well for 3rd overall ahead of Jack Dando and Lewis Bethell, with Charlie Hucklebridge riding consistently for a good 6th overall.
The BW85s Sponsored by Kranlyft were dominated by the MGMX KTM of Charlie Richmond. One of the top riders of his age group in the UK won all four motos, each time with Husqvarna rider Harley Prickett in 2nd spot despite having to pass several people to get there in a couple of the motos. Riley Small battled well to claim 3rd overall ahead of Maison Jones and George Clarke, with Leah Jones in 6th. A special mention has to be made for Reagan Rogers, who scored no points in race one but took 3rd in each of Monday's races, battling with Prickett and Small.
The SW85s Sponsored by L A Clarke saw an intriguing scrap between first race winner Jack Leese, Jenson Severn, and Olly Walters. They finished in that order in race one, but Walters stormed past Leese in race two and then out-paced him in both of Monday's races, clinching the overall win in fine style. Leese was 2nd in each of the last three motos, always ahead of Severn who took 3rd overall behind Jack. Jamie Thorpe was 4th in the forst three races but had to come right from the back of the pack in the final race, which he did to finish 5th and keep 4th overall. 5th overall was the consistent Ryan Jackson, and William Evans was top five all weekend except for the opening moto when a zero score meant he finished 14th overall.
The 65cc Class Sponsored by Tillit Suspension had Arenacross Champion Casey Lister light up the SG Racing Holeshot Award in race one, but issues with his power valve saw him struggle up the many steep climbs of Marshfield Moto Parc and it was all he could do to limp home in 9th. Arthur King took the race one win ahead of fine rides from Teddy Merriman and Elliott Shawyer, as Nixon Coppins suffered a big crash which dislodged his seat as well as his rear mudguard, but he still salvaged 12th position!
As expected, Lister dominated the last three races, and with King suffering a fall from 2nd in race three, it let Casey in for the overall win despite Arthur's spirited recovery to 7th in that moto, which helped him towards 2nd overall. Coppins took 2nd in race two, but was beaten to that spot by Jett Gardiner, who also claimed 2nd in race four to grab 3rd overall by a point from Merriman. Coppins had to settle for 5th overall ahead of the consistent Shawyer.
In the Auto Class by Wulfsport, Mason Foreman was unstoppable all weekend, with only Cohen Llewellyn beating him into the first corner on a couple of occasions. Mason took all four race wins, followed home each time by Blake Marks Bracey. Sam McEvoy was 3rd in the first three motos but dropped it in the final moto, still recovering well to 4th to secure the third spot on the podium. Max Korszewski took home the 4th place overall trophy with William King 5th ahead of Llewellyn, who won the drag race with McEvoy for 3rd in the final moto of the weekend.
With a disco on the Sunday night and a great atmosphere throughout the weekend, the Nora92 British Cup looks to expand to a three-round series next year which should make for some more fantastic racing.
VMXdN Foxhill 2023: 10 ways to maximise your experience  
Check your event guide here!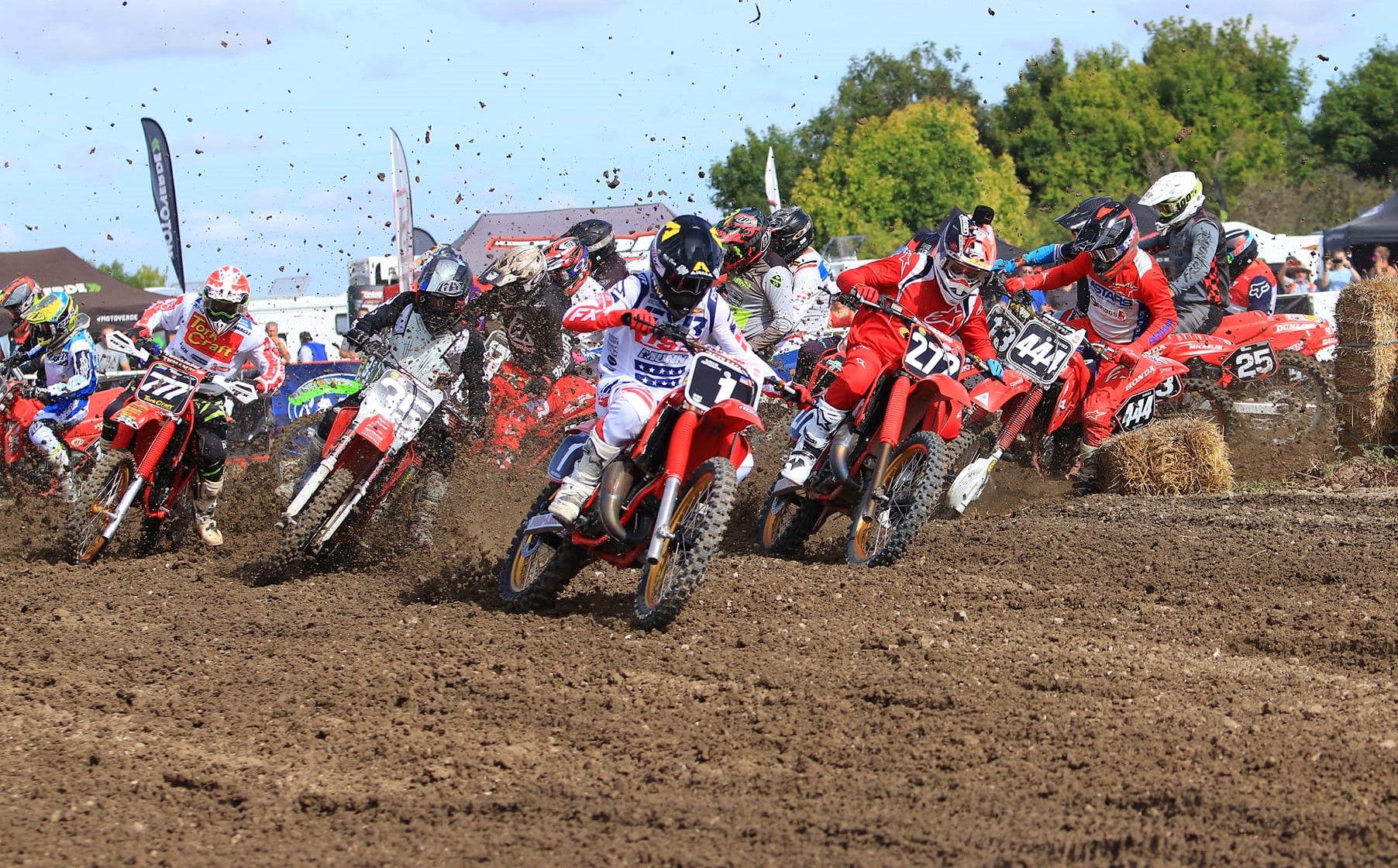 The VMXdN Foxhill crew have sent us a nice guide to the event that, speaking personally, I can't wait for. I'll add one more to the list though – check out the Livestream on YouTube, for free, when you get home to see if I've name-checked you in the commentary!
---
Words: Press Release | Featured Image: Steve Milner

---
VMXdN Foxhill is one of the most exhilarating events for motocross enthusiasts, and at long last, it's time to gear up and plan for an unforgettable experience. Whether you're a participant or a spectator, here are ten ways to maximise VMXdN Foxhill 2023.
Plan head, check out the VMXdN Foxhill website to get all your VMXdN Foxhill info. Check out the weather forecast and pack accordingly. Don't forget your sun cream – fingers crossed that you'll get to use it!
Grab your Programme to ensure you know who is lining up and representing your nation. It's also packed with great interviews, including how VMXdN Foxhill was born. (BEN – And the Crossword! ;-))
Walk the track. If you have never walked Foxhill before, it's an experience you will never forget – those hills are steeper than they look (However, there is no access to the track whilst machinery is working on it).
Meander through the paddock and take advantage of the opportunity to get up close to vintage motocross two strokes that have been loving restored for the event, start up conversations, and learn about the history of these iconic machines.
Capture the Moments: Bring your camera or smartphone to document the thrilling moments and create lasting memories. VMXdN 2023 will undoubtedly provide ample photo and video opportunities, from high-flying jumps to nail-biting finishes, selfies with your MX heroes and two-stroke p*rn galore.
Explore the Trade Village:
Browse through the trade village and discover a wide range of motocross related products, including vintage gear, accessories, and memorabilia. Support the traders and find some unique treasures to take home.
Grab your Merch. Whether it's an Ando VMXdN t-shirt or a hero cap you know you want, make sure you head to the merch stand located in A paddock to grab your memorabilia before it sells out!
Have you got a Sharpie? You will want one! Whether you want to get your programme autographed or even your leg (remember the guy last year who had RV sign his leg on Sunday and then had it tattooed Monday morning?)
What time? There is so much going on all weekend, so make sure you know what's happening, when and where. Here are a few things you won't want to miss.
Thursday – Show'N'Shine, Motovision Show
Friday – Yamaha reveal, Pulp MX Show, Live band
Saturday – Pulp MX Show, rider Interviews and Live band
Embrace the Thrill of the Race:
Relish the heart-pounding action on the track. Observe the riders' skill, technique, and passion as they navigate the iconic Foxhill circuit, not forgetting they're all on twenty + year old two strokes.
VMXdN Foxhill 2023 promises to be a remarkable event for all motocross enthusiasts. By immersing yourself in the atmosphere, connecting with fellow fans, and enjoying the race, you can create an unforgettable experience that will keep you buzzing with excitement long after the event ends.
Online ticket sales close at 10 pm on Wednesday, August 23rd. Tickets are available at the gate, subject to availability.
Please visit the website for further details and FAQs
www.vmxdnfoxhill.com
I:@vmxdnfoxhill
F:VMXDN Foxhill
British news: 2023 Michelin MX Nationals to finish at Hawkstone
Round five to be the last of the year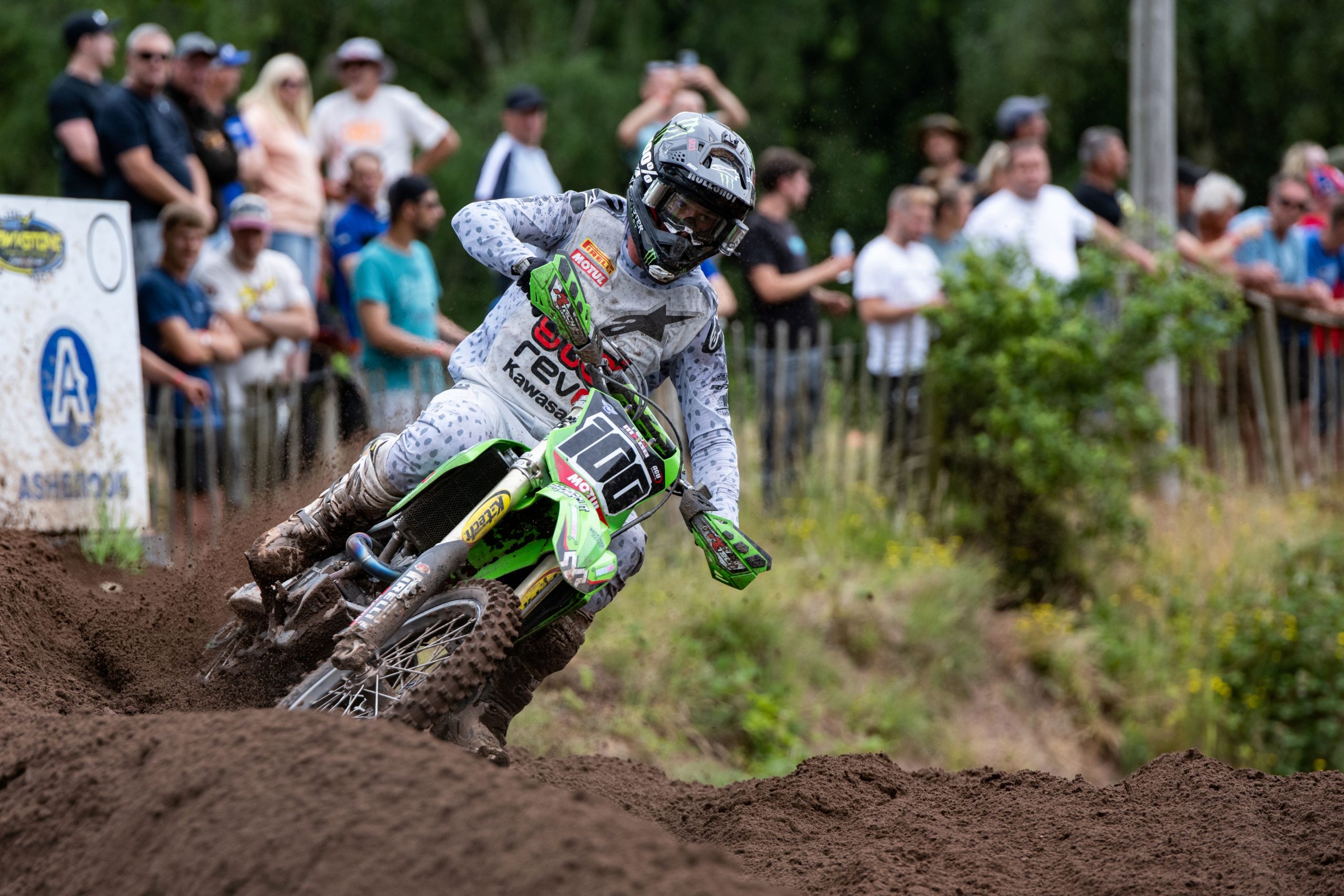 The Michelin MX Nationals series for this season will be concluded at the next round, the fifth one, at Hawkstone Park on the 2nd & 3rd of September.
---
Words: Ben Rumbold & Press Release | Image: GTCI Revo Kawasaki / Elliot Spencer

---
This means that GTCI Revo Kawasaki's Billy Askew is already the champion in the Fly Futures MXY2 class, after an unbeaten 14-moto run he lies 102 points ahead of his closest challenger, meaning that he can't be caught even if he misses Hawkstone entirely!  The Pro Championships are close, with Conrad Mewse enjoying a 10-point lead  in the Leatt Pro MX1 class over his teammate at Crendon Fastrack Honda, Josh Gilbert.
In the Apico Pro MX2 category, five riders are covered by just 14 points! So it's a real showdown between Charlie Cole of Blades Bikes Kawasaki, Jamie Wainwright of WPH/SBE/Pure/Redline KTM, Carlton Husband of Phoenix Tools/Even Strokes Kawasaki, Joe Brooks of GRT Impact KTM, and Calum Mitchell of Lexa MX.
Outside of the racing, however, the press release from the Michelin MX Nationals crew does raise some question marks over the future of the series at the end of its tenth year.  The Revo ACU British Championships also lost a round with the cancellation of Canada Heights this year, making for a very scribbled British calendar!
We will watch this space for further developments, but here is the full story from the team themselves:
Round Five will be the last round of the 2023 Michelin MX Nationals Championship.
The MX Nationals team regrets announcing that the final round of the 2023 championship will be round five at Hawkstone Park on September 2nd and 3rd. Originally planned as a six-round championship, unforeseen challenges arising from the persistent British weather, the closure of secure tracks mid-season, and a heavily packed MX calendar during September and October have necessitated calling the championship to an end at round five.
As a result, the upcoming round five at Hawkstone Park on September 2nd & 3rd will now serve as the final round of the 2023 Championship.
"While we understand the disappointment this news may bring, we firmly believe that it is the right decision for MX Nationals, Pro teams and riders in mind. With the dwindling registered riders' entries and the increased number of wildcards each round, it is becoming increasingly difficult to sustain the series, and it questions what the future of the championship and British Motocross looks like. We would like to express our heartfelt gratitude to all the participants, teams, sponsors, and fans who have shown unwavering support and enthusiasm for the Michelin MX Nationals series over ten years."
Neil Irwin – MX Nationals Director, continued, "Your dedication and encouragement have been instrumental in driving the championship's success over the years. However, now is the time for change, and we look forward to doing something new in the future. This is the end of MX Nationals Championship as you know it."
Paul Irwin – Race Director, added, "We invite you all to join us at Hawkstone as we celebrate the victories and the end of the season in style. The final round promises to be a thrilling event where the best of the best will showcase their skills and compete for the coveted championship titles. Let us come together to honour the riders' accomplishments and witness the crowning of the 2023 MX Nationals champions."
Michelin MX Nationals Rd 4, Cusses Gorse – Race Report
All the news from the Cusses swansong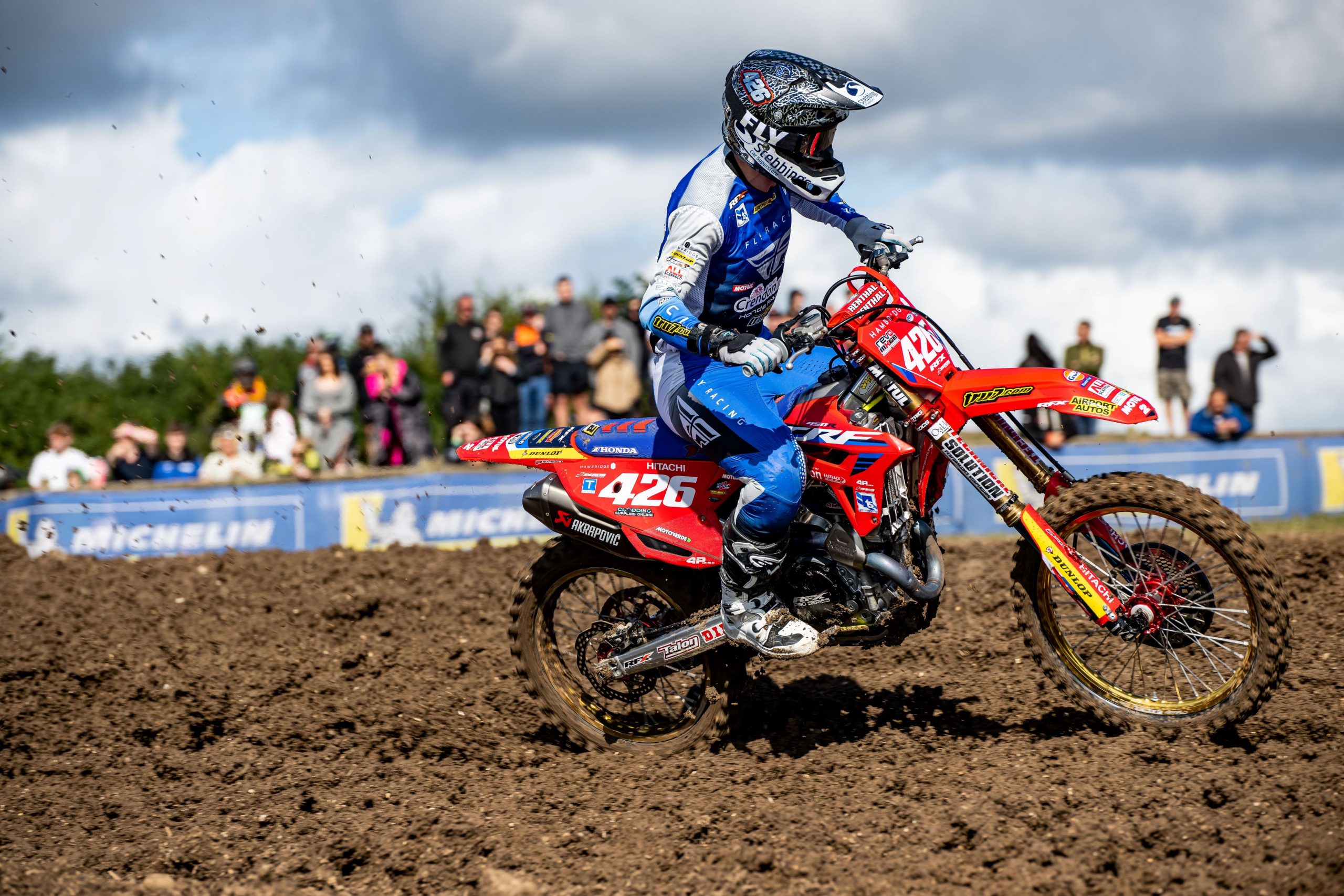 Despite the changeable weather that tested the Michelin MX Nationals powered by Milwaukee team to the maximum last weekend, round four of the prestigious series went to the soon-to-be-closed Cusses Gorse, just up the road from Stonehenge.
---
Words: Press Release / Dick Law / Ben Rumbold | Featured Image: Michelin MX Nationals

---
It started to rain in the early hours of Saturday morning and didn't stop. One block of racing was run instead of the usual two on Saturday, hoping that Sunday's drier forecast was correct. As the riders, officials, family, and friends woke up on day two of the event, the sun was out, and the overnight wind had dried the track to put it into ideal racing condition.
The Crendon Fastrack Honda riders topped the Leatt Pro MX1 podium once again as Conrad Mewse took both race wins from teammate Josh Gilbert with Harri Kullas once again having to settle for third on his Cab Screens Crescent Yamaha.
Dylan Walsh, now riding a KTM sponsored by M. Smith Electrical, won both Apico Pro MX2 races from Jorgen-Matthias Talviku (SC Sporthomes Husqvarna), and Joe Brooks had his first national podium appearance on his GRT Impact KTM in third.
Gilbert got the holeshot at the start of the first combined Pro MX1 and MX2 from Mewse and Kullas, with Tommy Searle (GTCI Revo Kawasaki) fourth and Brooks, the first of the MX2s in fifth place.
For the first half of the race, Mewse stayed with his teammate Gilbert eyeing up any chance of slipping past for the lead. And on lap six, after Gilbert made a small mistake whilst struggling with a front brake issue, he was through and into the lead and, eventually, the race win.  Mewse was suffering a little after a big crash in mid-week practice but he gritted his teeth to deliver the result.
Kullas slipped by Gilbert for second three laps later, relegating the Cornishman to third place at the finish flag. Searle spent the entire race in a distant fourth place, while Tristan Purdon (Gabriel SS24 KTM) came from eleventh at the start to fifth place.
Joel Rizzi (Honda) became the leading MX2 rider after passing Brooks on lap two. Still, a fast-moving Walsh passed both of them on his way to fifth on the track only to be relegated two places by MX1 riders as first Purdon powered past him, then Tom Grimshaw (Chambers Gas Gas) slipped by on his way to a sixth-place finish. With Rizzi on his tail, Walsh eventually crossed the finish line in seventh on the track, but he was the first MX2 rider.
Talviku did things the hard way as he gated nineteenth and had to fight past many of the 450s to finish in eleventh place in the race but third MX2.
Once again, it was the same three riders in the lead at the start of race two. Gilbert repeated the holeshot from Mewse and Kullas, with Grimshaw and Purdon heading up the rest. Walsh was proving that he was adapting well to the KTM, in eighth place and was the first MX2 rider.
As the riders disappeared around the second lap, Rizzi limped back into the work area with the front brake caliper hanging off his machine, ending his day and any chance of the overall win.
Searle got caught up in one of the deep ruts and went down. He got going again in twelfth place and finished his race in fifth.
On lap four, Mewse powered past an unsuspecting Gilbert around the outside of the second corner, into the lead, and powered on to his second race win. Gilbert hung onto second for second overall, with Kullas spending all race in third place for third overall. After passing Grimshaw on lap one, Purdon was fourth, with Searle knocking Grimshaw down another place with three laps to go.
Mewse now leads the Leatt MX1 Pro series by ten poitns over Gilbert, with Kullas now 17 points further back. And they head next to Hawkstone Park, one of Conrad's favourite circuits where he went 1-1 in the Revo series in June!
As for the MX2s, Walsh had an uneventful race and crossed the finish line seventh in the race, but first MX2 rider. If Talviku had a challenging first race, his second was even more difficult. He crashed on the opening lap and came around past timing in twenty-sixth place but crashed again and dropped down to twenty-eighth. He went almost unobserved in the twelve remaining laps to finish eighth on the track but second MX2 for second overall.
In contrast, Brooks had an easier second race as he had a great start and rounded the first turn in eighth place. After being passed by two 450s, he maintained ninth place with only Talviku passing him with a couple of laps to go for tenth in the race, but third MX2 for third overall.
The main championship contenders for the MX2 class had torrid weekends all around. Charlie Cole (Blades Bikes Kawasaki) made the best of it, despite a dislodged silencer making him the loudest man on track in race one, with 9-6 finishes giving him an eight-point lead from previous leader Jamie Wainwright (WPH/SBE/Pure/Redline KTM). Neither Wainwright or Phoenix Tools/Even Strokes Kawasaki runner Carlton Husband scored higher than 12th all day, and remain a point apart in the standings. Joe Brokks' amazing weekend saw him suddenly into the picture, just 11 off the lead and three ahead of Calum Mitchell on the Lexa Husqvarna.  It leaves the top five covered by 14 points going to Hawkstone Park.
With a third place and two wins, James Dodd (FUS Marsh MX Husqvarna) won the RFX Expert MX1 event from race one winner Aaron Patstone (Brenron Gas Gas) with Richard Bird (Allmoto Megabikes Yamaha) third.
With three race wins from three starts, Ashley Greedy (Darjen Contractors Gas Gas) won the RFX Experts MX2s from teammate Mathew Bayliss who chased Greedy over the finish line two out of three times. Ben Mustoe (ASA United Gas Gas) was third, just four points behind Bayliss.
Josh Greedy (Darjen Contractors Kawasaki), with a second place and two race wins, won the Motoverde Amateur MX1s from race one winner Sean Wainwright (Fasteddy Racing Honda) with Luke Mellows (LM Kitchens Honda) third.
Raife Broadley (723 Race Bikes Fantic) was unbeaten in the Motoverde Amateur MX2s by winning all his races. Series leader Ben Clark (Rock Oil Husqvarna) took third on each occasion for the runner-up overall with Dan Brough (Rutzz.co.uk Yamaha) second in race one and Irish visitor Niall Cregan racing Broadley hard but losing out in both motos on Sunday. Jake Curtis-Stevens (Kawasaki) was third overall, with Brough just missing out on a podium position by two points.
It was tight at the top of the Worx Clubman MX1s as six riders finished within eight points of each other. Adam Paxton (Honda) took the overall win by four points as both Danny Webster (Husqvarna) and Billy Saunders (WMS Commercials Honda) finished on the same points in second and third. Tallon Aspden (LA Groundworks KTM) was fourth, just a single point off the podium but keeping his series red plate, with Drew Lane (Lanes Construction Gas Gas) finishing just one point behind him. Luke Oldfield (KTM) was two points further back.
It was a similar story in the Spiral GFX Clubman MX2s, with Aaron Framingham (Fabrican KTM) taking the win by just four points from Matt Tolley (426 Motorsport KTM) and Max Flint (Planet Moto KTM), who were both on the same points.
Billy Askew (GTCI Revo Kawasaki) continued his winning ways by winning all three Fly Racing MXY2 races and has remained unbeaten in this championship so far this year. Bayliss Utting (Trell Contractors Honda) was second, with Harrison Greenough (KTM) third on his 250F debut as Finley Evans (GRT Impact KTM) missed out on a podium position by a single point.
Reece Jones (SJP Moto KTM) won all three of the Fly Racing MXY125 races from Luke Grundy (KTM) and Wesley McGavin (KTM).
A rear wheel issue for Josh Vail (SJP Moto Husqvarna) robbed him of the overall in the Syntol Lubricants Big Wheel 85 class as with a third, a second and a win, Jamie Keith (MBR X&P KTM) snatched the victory away. Vail won the other two races, but rear wheel problems in race one on Sunday cost him dearly. Charlie Richmond (K&A Construction KTM) was third.
Of the small number of Syntol Lubricants Small Wheel 85s taking part, Joel Winstanley-Dawson (Techsource KTM) took the overall win with a couple of wins and a second place from race three winner Lucas Lee (Husqvarna) and Caiden Brand (Husqvarna).
The next round will be at the legendary Hawkstone Park in Shropshire on the 2nd and 3rd of September.
Top ten overall
Leatt Pro MX1:
1 Conrad Mewse (Crendon Fastrack Honda) 25 + 25 = 50
2 Josh Gilbert (Crendon Fastrack Honda) 20 + 22 = 42
3 Harri Kullas (Cab Screens Crescent Yamaha) 22 + 20 = 42
4 Tristan Purdon (Gabriel SS24 KTM) 16 + 18 = 34
5 Tommy Searle (GTCI Revo Kawasaki) 18 + 16 = 34
6 Tom Grimshaw (Chambers Gas Gas) 15 + 15 = 30
7 Jason Meara (JM10 Moto-cycle Honda) 14 + 13 = 27
8 Martin Barr (Apico Husqvarna) 10 + 14 = 24
9 Stuart Edmonds (S Biggs Commercials Honda) 11 + 12 = 23
10 Charlie Putnam (SC Sporthomes Husqvarna)) 9 + 11 = 20
Apico Pro MX2:
1 Dylan Walsh (KTM) 25 + 25 = 50
2 Jorgen-Matthias Talviku (SC Sporthomes Husqvarna) 20 + 22 = 42
3 Joe Brooks (GRT Impact KTM) 16 + 20 = 36
4 Charlie Hayman (Tru7 Honda) 14 + 18 = 32
5 Dylan Woodcock (Verde Shiloh KTM) 18 + 14 = 32
6 Taylor Hammel (Gabriel SS24 KTM) 15 + 16 = 31
7 Charlie Cole (Blade Bikes Kawasaki) 12 + 15 = 27
8 Ollie Colmer (Talk Templant KTM) 13 + 12 = 25
9 Glen McCormick (Chambers Gas Gas) 11 + 13 = 24
10 Joel Rizzi (Honda) 22 + 0 = 22
RFX Expert MX1:
1 James Dodd (FUS Marsh MX Husqvarna) 20 + 25 + 25 = 70
2 Aaron Patstone (Brenron Gas Gas) 25 + 18 + 18 = 61
3 Richard Bird (Allmoto Megabikes Yamaha) 18 + 20 + 16 = 54
4 Sion Talbot (KTM) 14 + 16 + 20 = 50
5 Josh Canton (Concept CCF KTM) 16 + 14 + 15 = 45
6 Corrie Southwood (Langmead Kawasaki) 22 + 0 + 22 = 44
7 Harry Bradley (JB Tuning Kawasaki) 15 + 15 + 14 = 44
8 Josh Taylor (Honda) 13 + 22 + 0 = 35
9 Aidan Bruce (Shirlaws Motorcycles KTM) 0 + 13 + 13 = 26
RFX Expert MX2:
1 Ashley Greedy (Darjen Contractors Gas Gas) 25 + 25 + 25 = 75
2 Mathew Bayliss (Darjen Contractors Gas Gas) 22 + 20 + 22 = 64
3 Ben Mustoe (ASA United Gas Gas) 18 + 22 + 20 = 60
4 Josh Coleman (Holeshot MX LRSMX KTM) 15 + 18 + 18 = 51
5 Henry Siddiqui (Apico Husqvarna) 13 + 15 + 15 = 43
6 Tyler Westcott (HJA MC, Planet Moto) 12 + 14 + 16 = 42
7 Tyla Hooley (723 Race Bikes Fantic) 14 + 11 + 13 = 38
8 Callum Murfitt (Southside MMX KTM) 7 + 13 + 14 = 34
9 John Meara (Honda) 20 + 12 + 0 = 32
10 Charlie Hamlet (Kawasaki) 10 + 9 + 12 = 31
Motoverde Amateur MX1:
1 Josh Greedy (Darjen Contractors Kawasaki) 22 + 25 + 25 = 75
2 Sean Wainwright (Fasteddy Racing Honda) 25 + 22 + 22 = 69
3 Luke Mellows (LM Kitchens Honda) 20 + 16 + 20 = 56
4 Joshua McCorkell (McCorkell Racing Husqvarna) 18 + 20 + 18 = 56
5 Brad Thornhill (LMC Plant KTM) 14 + 18 + 13 = 45
6 Callum Gordon (MX Revive Gas Gas) 10 + 15 + 16 = 41
7 Ryan Osborn (Evotech KTM) 11 + 14 + 15 = 40
8 Lewis Taylor (Van Care, Teebee MC KTM) 16 + 7 + 14 = 37
9 David Rushton (KTM) 15 + 10 + 9 = 34
10 Henry Partridge (Concept Racing Yamaha) 13 + 11 + 7 = 31
Motoverde Amateur MX2:
1 Raife Broadley (723 Race Bikes Fantic) 25 + 25 + 25 = 75
2 Ben Clark (Rock Oil Husqvarna) 20 + 20 + 20 = 60
3 Jake Curtis-Stevens (Kawasaki) 14 + 15 + 18 = 47
4 Dan Brough (Rutzz.co.uk Yamaha) 22 + 9 + 14 = 45
5 Niall Cregan (Husqvarna) 0 + 22 + 22 = 44
6 Jonathan Rodrick-Evans (KTM) 15 + 12 + 13 = 40
7 Leon Ongley (723 Fantic) 16 + 11 + 12 = 39
8 Tommi Davis (KTM) 8 + 16 + 11 = 35
9 Shaun Springer (Multitek Gas Gas) 0 + 18 + 16 = 34
10 Ryan Adair (KTM) 18 + 4 + 10 = 32
Worx Sports Insurance Clubman MX1:
1 Adam Paxton (Honda) 22 + 14 + 25 = 61
2 Danny Webster (Husqvarna) 16 + 25 + 16 = 57
3 Billy Saunders (WMS Commercials Honda) 25 + 18 + 14 = 57
4 Tallon Aspden (LA Groundwork KTM) 14 + 20 + 22 = 56
5 Drew Lane (Lanes Construction Gas Gas) 20 + 15 + 20 = 55
6 Luke Oldfield (KTM) 18 + 22 + 12 = 53
7 Thomas White (T White Window Cleaning KTM) 15 + 9 + 9 = 33
8 Darren Manning-Coe (Fabrican KTM) 3 + 11 + 18 = 32
9 Josh Young (KTM) 0 + 16 + 10 = 26
10 Daniel Chapman (KTM) 0 + 10 + 15 = 25
Spiral Clubman MX2:
1 Aaron Framingham (Fabrican Racing KTM) 18 + 25 + 18 = 61
2 Matt Tolley (426 Motorsport KTM) 25 + 9 + 25 = 59
3 Max Flint (Planet Moto KTM) 15 + 22 + 22 = 59
4 Matthew Pocock (MGP Steel KTM) 13 + 14 + 14 = 41
5 Bradley Johnstone (Moto Connection Kawasaki) 10 + 13 + 15 = 38
6 Alex Hamer (KTM) 5 + 15 + 16 = 36
7 Toby Lightbown (Bell RFX KTM) 12 + 10 + 11 = 33
8 Max Fletcher (Mumzie Kawasaki) 16 + 12 + 2 = 30
9 Charlie West (Tim Feeney KTM) 1 + 7 + 20 = 28
10 Matthew Fuller (KTM) 11 + 8 + 8 = 27
Fly MXY2:
1 Billy Askew (GTCI Revo Kawasaki) 25 + 25 + 25 = 75
2 Bayliss Utting (Trell Contractors Honda) 15 + 22 + 22 = 59
3 Harrison Greenough (KTM) 20 + 18 + 16 = 54
4 Finlay Evans (GRT Impact KTM) 18 + 20 + 15 = 53
5 Mackenzie Marshall (DK Offroad Yamaha) 16 + 10 + 20 = 46
6 Jak Taylor (Lexa MX Husqvarna) 12 + 11 + 18 = 41
7 Kayde Rayns (Scott Motorsport Yamaha) 11 + 13 + 14 = 38
8 Sid Putnam (SC Sporthomes Husqvarna) 13 + 14 + 10 = 37
9 Louis Vincent (RHS MC Honda) 22 + 12 + 0 = 34
10 Fin Wilson (Husqvarna) 0 + 16 + 13 = 29
Fly MXY125:
1 Reece Jones (SJP Moto KTM) 25 + 25 + 25 = 75
2 Luke Grundy (KTM) 22 + 20 + 22 = 64
3 Westley McGavin (KTM) 11 + 22 + 20 = 53
4 Jack Meara (Honda) 20 + 16 + 15 = 51
5 Chester Hyde (Matt Pope MC Gas Gas) 12 + 18 + 18 = 48
6 Ollie Bubb (3 Flo Yamaha) 16 + 15 + 16 = 47
7 Jack Brearey (NBE Racing Husqvarna) 18 + 14 + 12 = 44
8 Cody Spacagna (Trevor Pope KTM) 15 + 13 + 14 = 42
9 Wyatt McGegor (KTM) 14 + 12 + 13 = 39
10 Travis Laughton (KTM) 13 + 11 + 11 = 35
Syntol Big Wheel 85:
1 Jamie Keith (MBR X&P KTM) 20 + 25 + 22 = 67
2 Josh Vail (SJP Moto Husqvarna) 25 + 14 + 25 = 64
3 Charlie Richmond (K&A Construction KTM) 22 + 22 + 18 = 62
4 Finlay Pickering (Mr T's Racing KTM) 12 + 20 + 15 = 47
5 Blake Ward-Clarke (GRT Impact KTM) 18 + 15 + 12 = 45
6 Harry Lee (GRT Impact KTM) 15 + 16 + 13 = 44
7 Alfie Geddes-Green (Matt Pope MC Gas Gas) 13 + 11 + 16 = 40
8 Austin Beasty (Custom MX Husqvarna) 14 + 13 + 11 = 38
9 Zane Stephens (Store 114 Gas Gas) 11 + 12 + 14 = 37
10 Hayden Statt (Manchester MC KTM) 16 + 0 + 20 = 36
Syntol Small Wheel 85:
1 Joel Winstanley-Dawson (Techsource Racing KTM) 25 + 25 + 22 = 72
2 Lucas Lee (Husqvarna) 22 + 22 + 25 = 69
3 Caiden Brand (Husqvarna) 18 + 20 + 20 = 58
4 Chad Prince (SC Sporthomes Husqvarna) 20 + 18 + 18 = 56