Farleigh World Vets Film – Reed, Emig, Pingree all shot in Hi8
90's Moto at it's best.
MX Vice got down to the recent Faeligh World Vets, which was awesome. We thought filming with a Sony Hi8 25-year-old camera would be cool to celebrate some legendary riders! Fraser Byrne came up with the idea to shoot the video in Hi8 to get that 90's feel. So many riders turned up for the weekend it was such a chilled-out, and cool event that we'll be coming back for next year.
Chad Reed, David Pingree, Kurt Nicoll, Jeff Emig, James Dobb, Mike Brown were there and ripped around the awesome Farleigh circuit. Check out the video, it's something different and we'll have some interviews and funny clips up next.

FLASHBACK // 1993 British 500cc GP, Hawkstone Park
MX Vice looks back thirty years to the 1993 500cc series opener.
MX Vice runs regular "… Years Ago" posts on social media as little reminders of Motocross' great history and the riders that helped to shape it.  In the case of Hawkstone Park 1993, which saw something of a new era dawning for the big-bike class in the World Championship, our legendary snapper Jack Burnicle just had too many awesome photos to condense into a small post.  So here is Jack's gallery from that historic day with a few notes on how it all played out.
Words: Ben Rumbold | Images: Jack Burnicle
1993 saw two major changes to the Motocross World Championships for the 500cc class, which had been the primary focus for most manufacturers a decade before, but became less important with dwindling sales for the half-litre monsters. So much so that this season was the last for the class in the USA, being reduced to just a four-round Championship and won by Kawasaki's Mike LaRocco.
The first major change was the 250cc class was now defined as the "Blue Riband" Premier class, with financial incentives increased to match that status. The second was that four-stroke machines were allowed an increase in capacity to a maximum of 650cc. The first change had seen an exodus of the entire top three from 1992. Champion Georges Jobe had retired, with four-time runner-up Kurt Nicoll unwilling to push for another title in the 500s after being so narrowly denied at the final round. He was joined by Bronze-medallist Billy Liles in tackling the 250cc class for 1993, leaving the 500s somewhat lacking in star quality as well as in factory support.
So it was time for new stars to shine. Younger twenty-somethings Joel Smets, the highest-ranked rider left with the #4 plate, Johan Boonen wearing #6, and Marcus Hansson from Sweden were massive big-bike fans and up for the challenge. Veterans Jacky Martens, Dirk Geukens, and Jorgen Nilsson were ready to step up, as were British challengers Jared Smith, Brian Wheeler, Jeremy Whatley, and of course three-time World Champ Dave Thorpe, convinced that he still had what it took to challenge for the crown.
The second change was to truly be the lifeline for the class to last for the further decade that it did after the AMA version was cut. Four-strokes had made small incursions with Walter Bartolini on a Husaberg in 1991 and Jacky Martens' factory Husqvarna in 1992. Martens was back on the bigger version of the snorting Husky, and Smets joined him on the four-banger after being smitten with the Vertemati brothers' revised Husaberg in a mid-season test the previous year.  Between them they formed the prologue to the true four-stroke revolution that was to come.
Most of the other riders were on privately-funded Hondas, Kawasakis, and KTMs. The Austrian factory had gone into liquidation at the end of 1991 despite finishing 2nd in all World Championship classes that year. Nicoll had again finished 2nd on what was left of the factory effort in 1992, but there was nothing apart from a sweet 250 for Trampas Parker in terms of KTM support for 1993.
There was also another wild-card in action at Hawkstone, in the shape of one of those 1991 runner-ups, Mike Healey!  On a private Honda with the eye-catching #111, it wasn't the greatest of showings for The Gunner and he left with no points.
Other privateer Honda riders did better, however, with 28-year-old Swede Jorgen Nilsson on fire from the get-go on his #7 Wulf-sponsored CR500. Three times winner of 250 GP motos in the 1980s, and 3rd-placed finisher at the final round of 1992 behind Nicoll and Jobe, Nilsson was on his second year of CR500 racing and cleaned up in the first moto ahead of Ronny Weustenraed, the most mis-spelt name in Motocross. "Wursty-Sausage" finished ahead of another Belgian on a Kawasaki, 24-year-old Johan Boonen. Smith put in the best British moto of the day with 4th ahead of the black Scott Facemask-wearing Carlo Hulsen, a classic Dutch sand specialist who excelled in little else! Smets and Martens took 6th and 8th, either side of Thorpey, who was taking part in what would be his final British Grand Prix.  A blanket could have covered the three of them across the line, as captured in Jack's excellent shot below. Sadly, it wouldn't get better than that at Hawkstone for DT.
Slechten-sponsored Weustenraed made a better fist of the second-race start and showed the sort of pace that brought him a surprise moto win at the start of 1991, when no-one had a clue who he was! With Hulsen 2nd and Nilsson 3rd, the overall result looked to be between those three.
New Zealander Darryl King took a fine 4th ahead of Smith and Honda man Jo Martens (no relation to Jacky). Just behind them was Dirk Geukens.  Another moustachioed Belgian, Dirk had won the second of his two career GPs at the 1991 Hawkstone round. Twice a world number three, it wasn't looking too good for him on his KTM debut. But more was to come…
The Brits, apart from Smith, weren't having a good one. Whatley could only manage 11th, and DT fell whilst chasing Jem and ended up 15th. Brian Wheeler and Warren Edwards, both fairly local boys, wouldn't trouble the points scorers. James Marsh got into the points with 14th in both races two and three.
Smets had also had a quiet day, but he roared the Husaberg to the holeshot in the third moto ahead of Edwards and another local boy Daniel Smith! Austrian Karl Sulzer was also up there early, but Geukens was swiftly through to take a stunning race win ahead of Jacky Martens, who had a massive bandage across his face from a broken nose sustained in practise! Nilsson brought it home in 3rd again to ensure a massive first career overall Grand Prix victory!
Amazingly, Weustenraed had destroyed his Kawasaki with a big crash through the tunnel, but was still second overall with just the first two moto scores, as Hulsen could muster no better than 11th, just enough to deny Geukens an overall podium finish! Smith suffered a poor start and could only get 10th, 3 points off the overall podium but still top Brit in 5th overall.
The title, like in 1992, would go down to the final race and decided by a handful of points. Nilsson was the rider that just fell short, as Jacky Martens would take the first World Championship for a four-stroke rider since Jeff Smith in 1965. It was a royal battle all season, which will catalogue for you amongst all the action here at MX Vice!
Full Results:
| | | | | | | | |
| --- | --- | --- | --- | --- | --- | --- | --- |
| Pos. | Rider | Nat. | Bike | Race 1 | Race 2 | Race 3 | Points |
| 1 | Jorgen Nilsson | SWE | Honda | 1st | 3rd | 3rd | 50 |
| 2 | Ronny Wuestenraed | BEL | Kawasaki | 2nd | 1st | X | 37 |
| 3 | Carlo Hulsen | NED | Honda | 5th | 2nd | 11th | 33 |
| 4 | Dirk Geukens | BEL | KTM | 13th | 7th | 1st | 32 |
| 5 | Jared Smith | GBR | Kawasaki | 4th | 5th | 10th | 30 |
| 6 | Jacky Martens | BEL | Husqvarna | 8th | X | 2nd | 25 |
| 7 | Darryl King | NZ | Kawasaki | 9th | 4th | 12th | 24 |
| 8 | Soren Mortensen | DK | Kawasaki | 11th | 8th | 6th | 23 |
| 9 | Joel Smets | BEL | Husaberg | 6th | X | 5th | 21 |
| 10 | Jo Martens | BEL | Honda | 12th | 6th | 9th | 21 |
| 11 | Johan Boonen | BEL | Kawasaki | 3rd | 10th | X | 21 |
| 12 | Rudy van Leeuwen | NED | Honda | 10th | X | 4th | 19 |
| 13 | Marcus Hansson | SWE | Honda | X | 9th | 8th | 15 |
| 14 | Jeremy Whatley | GBR | KTM | X | 11th | 7th | 14 |
| 15 | David Thorpe | GBR | Honda | 7th | 15th | 13th | 13 |
| 16 | Hans Koenen | NED | Honda | X | 12th | X | 4 |
| 17 | James Marsh | GBR | Honda | 14th | 14th | X | 4 |
| 18 | Pekka Vehkonen | FIN | Honda | 15th | X | 14th | 3 |
| 19 | Gerard Delepine | BEL | Honda | X | 13th | X | 3 |
| 20 | Klaus Nielsen | DK | Kawasaki | X | X | 15th | 1 |
VMXdN Foxhill 2023 information and ticket details
VMXdN Foxhill release's 2023 information.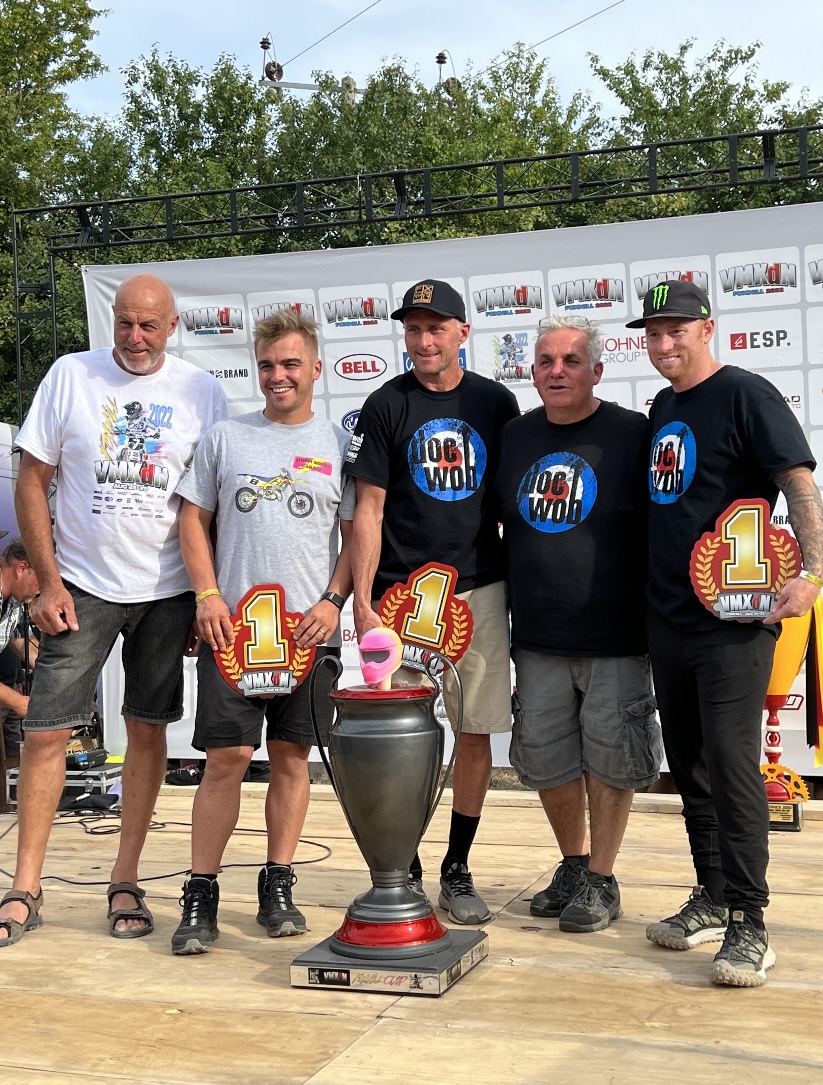 Great news for the British 90's enthusiasts as VMXdN Foxhill has released information about the 2023 event after the success of 2022. Thousands of fans turned up to watch the likes of Ryan Villopoto, Zach Osbourne, and Mike Brown and get a chance to meet legendary rider Ricky Johnson.
The promoters for the VMXdN Foxhill are proud to announce that the tickets are now available on the Eventbrite platform for the 2023 event. The event dates have been confirmed and will be held on the August Bank holiday, 24th -28th,  at the iconic Foxhill track near Swindon, UK.
The inaugural event in 2022 can only be described as a huge success and has immediately become the largest MX event on the calendar in the UK and the biggest Evo motocross event worldwide. The support for the race was staggering from riders, spectators, industry and media… and we fully expect it to be bigger and better in 2023.
Some of the world's biggest names from 90/00's MX have been on the phone, and teams from all over the globe are signing up. So keep your eyes peeled for names being released shortly over on VMXdN Foxhill social platforms.
The tickets on Eventbrite are now available using the link below from 6 pm on Friday, November 4th, 2022. We advise booking camping early as anyone who was there (or watched the event drone footage) will agree it was jam-packed. We have secured more land for day parking to ease the camping area.
https://www.eventbrite.co.uk/e/vmxdn-foxhill-2023-tickets-457038483407
We do have limited VIP camping spots available, which are available by emailing our event secretary direct at [email protected]
Keeping in line with the 2022 event, we open the gates at Midday on Thursday, August 24th, with the weekend camping and access pass allowing full access until Monday, August 28th.
On Thursday (August 24th), we will host the second Show'N'Shine bike exhibition and music with a live DJ in the beer tent.
Scrutineering and track walk will take place on Friday (August 25th), followed by live music in the beer tent.
Saturday (August 26th) will host practice and two blocks of racing, followed by more live music.
On Sunday (August 27th), we have two more blocks of racing, followed by the trophy presentation.
Those with weekend camping passes are also welcome to stay over on Sunday evening (August 28th). However, we need to clear the site of spectators by Midday on Monday, August 28th.
Entries for racing will be available in December, and we will announce the date next week.
Track Preview: Namur
Malin treats fans.
Namur has a special place in the hearts of most. Don't believe us? Just take a look at the interaction on Paul Malin's Instagram posts below. Malin, the commentator on MXGP-TV, visited Namur recently and treated fans to a lap of the circuit. All of his posts have been placed below, but don't forget to thank him for this memorable treat and tap the follow button.
Videos: Paul Malin | Lead Image: KTM Images/Ray Archer