Top 50 Riders Of The 1980s (By The Numbers): #41 Donny Schmit
Fiercely-determined Minnesotan sits just outside our Top 40 of the 1980s (By The Numbers)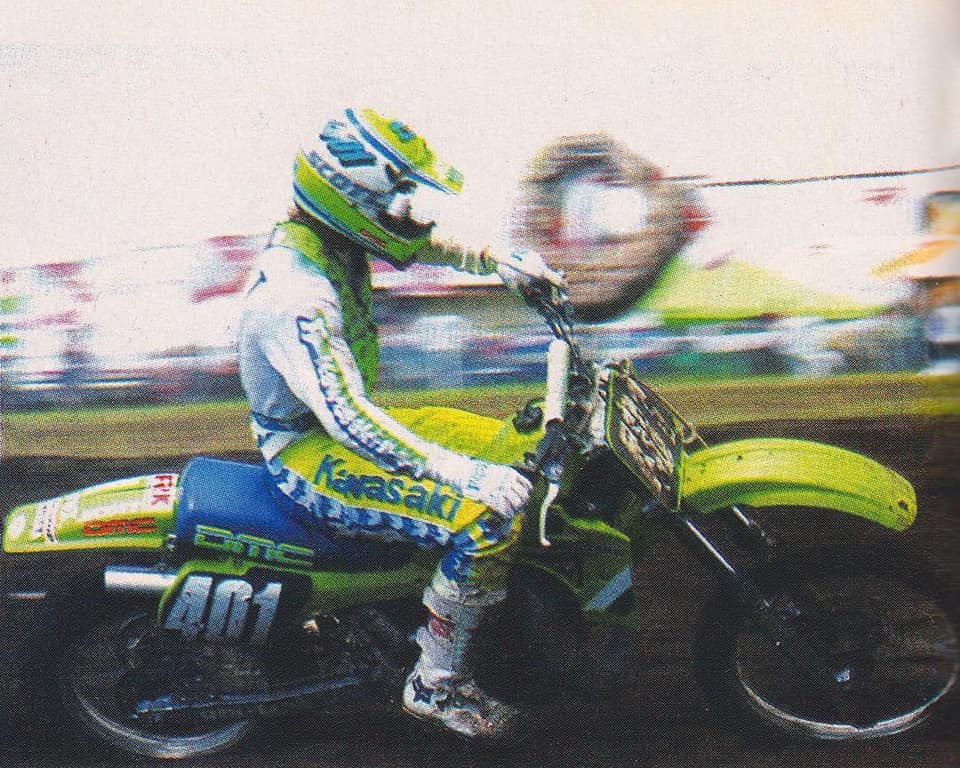 There are some sportsmen who simply will not be denied their place in history.  Donny Schmit, RIP, is one of those riders.  And it was a happy moment when compiling this list to see that he got in here off the back of the AMA section of his career. From 1990 onwards his numbers go absolutely through the roof, but his 1980s results were enough to see him at number 41 in our 1980s list.
---
Words: Ben Rumbold | Images: Various
---
So just to give you all a little bit of house-keeping right here… this is a 1980s list, and we will be running a Top 50 Riders of the 1990s (By The Numbers) series next year, so that's when we will go through Donny's 1990s story – it was radically different!  I know that with other riders – such as Robbie Herring – we have gone through their 1990s results, but that's when they really are not going to feature in our 1990s Top 50.
There is no doubt that Donny will be well up in that list, but that feature will be written closer to the time, so for now let's concentrate on the AMA exploits of the skinny blonde kid from Minnesota who fought the West Coast machine the whole way from 1986 to 1989 in the 125cc class.
CAREER SUMMARY:
Born: January 1967
Years Professionally Raced: 9 – 1986-1994 (1986-89 – 125cc AMA, 1990-91 125cc GPs, 1992-1994 250cc GPs)
Machines Raced: Kawasaki, Suzuki, Honda, Yamaha
AMA National Wins: 3      Podiums: 14     AMA National Moto Wins: 6     Top 3 Moto Finishes: 30
GP Wins: 15        GP Podiums: 27     GP Moto Wins: 34      GP Top 3 Moto Finishes: 59
Nations Selections: 0
Championship Medals:
2 x Gold – 1990 125cc World Champion, 1992 250cc World Champion.
1 x Silver – 1988 AMA 125cc Nationals.
1 x Bronze – 1993 250cc GPs.
Winner – 1986 AMA 125cc West Region Supercross Championship.
Donny picked up the Motocross bug from his elder brother Dave, getting an XR75 from his father so he could play around on the land around the family's lake cabin. "Dad would give me 20 bucks a week – 5 for food, 5 for gas, and 10 for whatever! He taught me to appreciate things". Ten years his senior, Dave would wrap a kidney belt three times around Donny because he was so skinny, and bombing around with the older kids certainly toughened up the younger Schmit.  He even endured the nickname "Peanut" and had to use a milk crate on the start line in his early races.
There was no denying his speed however, and in his teens he got picked up by Team Green for the major youth races of the time, which bought him a ticket to the professional ranks for 1986.
One tribute paid to Schmit not long after his untimely death in 1996 was from our own Kurt Nicoll, who in his book calls him "the most determined rider I've ever known to lead on the first lap."  And this is exactly what Donny did from the off, one day after his 19th birthday in the opening round of the 125cc "Pro-Am" West Region Supercross series.  This was the famous 1986 Anaheim event that went down in history, due to the 250cc Main Event being one of the best ever between Ricky Johnson and David Bailey.  Before that famous duel, Schmit had fought past early leader Dean Matson to put his Kawasaki in front of the 125cc race.  He had moved down from Minnesota in the north of the country to race the West Region series with support from Kawasaki.  In the opening round, Schmit was overhauled by another green bike, that of Tyson Vohland, but 2nd in his first indoor event was a very good start. Donny would go on to win the third round at San Diego and take a narrow points lead from Vohland. Then he got a little closer to home with the two-night double-header in Seattle, and took 2nd behind "Wild" Willie Surratt on night one. Then he won a fantastic battle with a rider called Carroll Richardson to claim the Sunday night win!
Although his initial forays into the AMA Nationals returned some patchy results, in the stadia Donny started to show the consistency that would become a hallmark. Two 4ths and a 3rd in the last three rounds were enough to withstand the late charge of Surratt to tie up the Western Region Supercross title.  The outdoors was a tougher nut to crack, although a fighting 3rd in the second moto at the Lake Sugartree National in Virginia showed that the potential was there.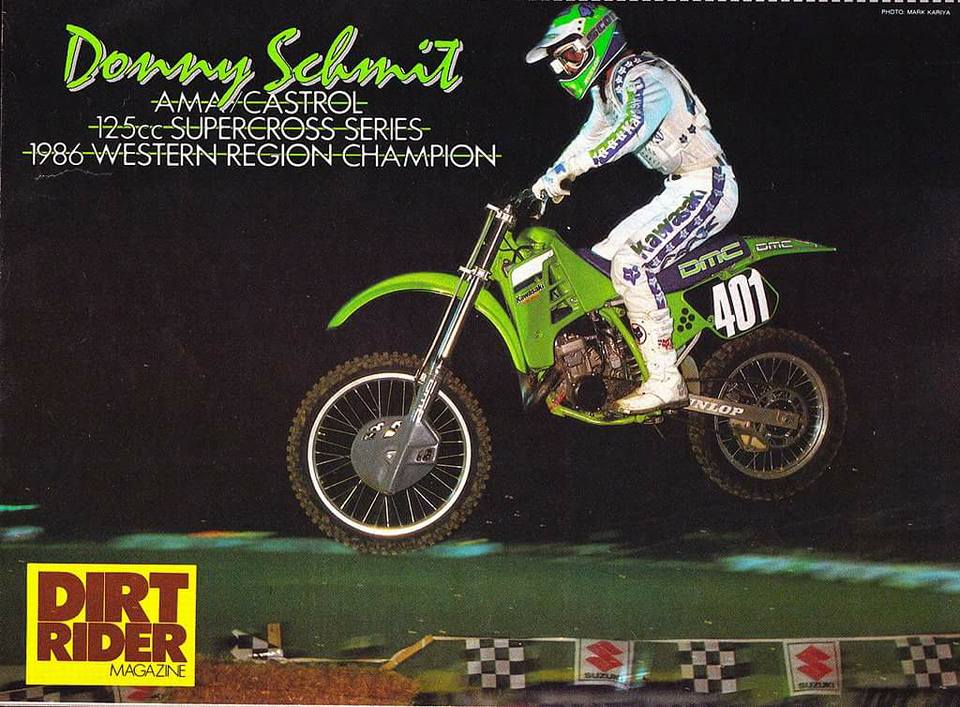 Donny was fanatical about training, and as wife Carrie says, "he never let himself have the luxury of anything that might make him a wimp in a race".  That included never turning the air conditioning on in the van after a day at the track! "Gotta get ready for those hot and humid summer races!" he would say as he kept his gear on, wound up the windows and turned the heating up!  Ever supportive to his cause, Carrie endured the heat to help her husband's belief that it would give him an advantage over his rivals.
Picked up for Suzuki in 1987 as the yellow brand aimed for sweeping both 125cc regions, Donny broke his collarbone just before the season and ruled himself out of the first three Supercross events. He returned with a solid 4th overall at the outdoor season opener in Florida, then a win at his first Supercross back – Pontiac again!  Sadly, he came up short over a double jump on the second night at Pontiac.  The resultant crash was a nasty one as he got ploughed into by Matson and several others, being pinned to the ground by another bike, and he had to admit that the title was gone.
The big crash knocked some confidence out of Schmit, but in his beloved Fox gear – they backed his efforts massively for the rest of his days in America – he got back to the top to take his fourth and final Supercross win in Tempe, Arizona.  Suzuki did ultimately sweep both 125cc series with Surratt and Ronnie Tichenor.  In the outdoor arena, Schmit was enjoying the results of his training methods and won his first National in 90+ degree heat at Anderson, South Carolina. Taking advantage of problems for reigning champ Micky Dymond, his 7-1 scoreline was enough to seal the deal ahead of Guy Cooper and George Holland.
Schmit had to wait until the end of the year to get up there again, however, as the factory Honda of Dymond romped to his second straight title. He did impress at the one-off 125cc USGP at Steel City, beating reigning World Champ Davy Strijbos to 5th in the second moto, once again in raging heat that made that year's champ John van den Berk pass out!
In the Nationals, Donny would usually have one good moto then issues in the other, but by round 11 at Troy, Ohio, he finally stitched two good races together.  With a 3rd and a 2nd he grabbed 2nd overall behind Honda-mounted Cooper.  Better was to come, and at his home-state round at Millville he grabbed the holeshot in race one and cleared off, winning by 16 seconds.  In race two his start was only matched by new champ Dymond, and as the pair tangled, Schmit's teammate Erik Kehoe snuck through.  The pair put a distance between themselves and the pack, and 2nd place was enough for Donny and his home crowd to celebrate his second overall win for the year, proving that his 7-1 at Anderson was no fluke!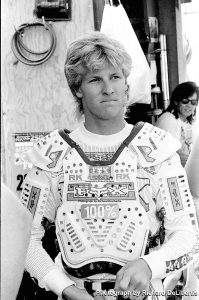 For the 1988 season Donny moved up to the 250cc class for Supercross, but with the Nationals being split through the year in the bigger classes (6 rounds for 250s, 6 for 500s), and no 500cc Suzuki available, he stayed on a 125 outdoors for their 12-round championship. He was a contender all year in the Nationals, 3rd at the opening round at Gatorback, and climbing the podium steps at 7 rounds, including another loudly-cheered win at Millville!
Once again driving his home fans wild, he survived an initial dogfight with Cooper, which ended with "Airtime" experiencing some serious "ground-time" from an over-the-bars crash through the whoops!  Schmit powered to another runaway win, 15 seconds clear by the finish.  The second moto was much tougher, however, as two crashes in the first five laps put him behind Cooper and Yamaha-mounted young guns Damon Bradshaw and Mike LaRocco.  With four laps to go, Schmit was still 5 seconds behind LaRocco, before the Indiana man hit a rock in a corner and went down! He remounted still in the lead, but Donny was on him.  He shot past and took a popular win, saying afterwards, "I'm thrashed! That had to be my best National moto ever. I had to work, but the fans were cheering me the whole way! It was great!"
That result, along with 3rd overall at the final round at Washougal, saw Schmit narrowly hold off Cooper for 2nd in the 1988 series. George Holland took the title with amazing consistency, finishing top three at every round bar one, to take Honda's 4th straight 125cc National title.
Sadly for Donny, his Supercross results didn't live up to his outdoor ones.  A best of 12th as further crashes knocked his confidence indoors put pressure on his place. It didn't help that in the absence of a 125 GP, Donny entered the 250cc USGP at Unadilla, battled with Peter Johansson and Soren Mortensen, and had a less than stellar day with 7-13 motos for 9th overall. He was eventually dropped by Suzuki despite being their best rider in any outdoor Nationals and being only 22 years old at the start of 1989!
His reaction was a far more determined one than our recently-featured Eddie Warren, who suffered the same fate with Kawasaki a year earlier, at the same age, but moved to Australia to earn a crust from racing there.  With no other offers, Donny and new wife Carrie instead bought a private Honda, a van, and focused on the outdoor Nationals with the word "REVENGE" emblazoned on his Fox race pants.
Against rising stars like LaRocco, Bradshaw, Larry Ward, Jeff Matiasevich, and factory Honda new kid Mike Kiedrowski, Team Schmit were immediately on the pace.  With a bit of help from Pro Circuit, their Honda was fast enough and Donny holeshot and hid to win race one of round two at Hangtown.  He grabbed 9 top three motos across the season and was 2nd overall at both Hangtown and Southwick. Despite driving everywhere himself across the vast continent, Donny was 4th in the championship behind the factory Honda duo Kiedrowski and Cooper, and 17-year-old Yamaha sensation Bradshaw. The highest-placed Suzuki was Erik Kehoe in 9th!
Despite being dropped from the yellow team, Schmit didn't turn his nose up when approached by Sylvain Geboers for his Team Bieffe factory squad in the 1990 World Championship, alongside his young protégé Stefan Everts.  And the rest is history!  Donny took two world titles, returned to win another National moto at Millville as a World Champion in 1990, and won more Grands Prix than any other American rider of all time.
His sudden death from Aplastic Anemia in early 1996 came just after he turned 29 years old. It was a massive shock to the Motocross world, and especially to his Minnesotan fans who mostly heard the news at the Minneapolis Supercross the night after it happened.  A silent tribute was paid and a great champion mourned.
We will cover Donny's European exploits in more depth when we publish the 1990s list next year. It is proof of his pedigree that he got into the Top 50 of the 1980s (By The Numbers) list off the back of his AMA career alone.
The Numbers
Donny's three wins came against stiff opposition in the 125 class at the end of the 1980s. Even a legend like Suzuki rider Johnny O'Mara, who was contracted to the 250 series before seeing out the rest of the season in the 125 class, couldn't get the better of the raging eighth-litre pack.  It was a hot-bed for young American talent and no doubt a production line for their ongoing run of megastars.
Donny raced for four seasons in that cauldron, a total of 48 events, although there were a few missed with injury in 1986.  Criminally he was always over-looked for a Nations place, even in his world title-winning years, and his two GP appearances in the 1980s didn't help his numbers. Either way 3 wins from 50 races is an easy calculation, so a 6 per cent win rate is high enough for 41st in our 1980s list, and a welcome addition considering what was ahead of him.
Schmit's 1980s Numbers:
GPs counted: 2 – 0 Wins
AMA Nationals: 48 – 3 Wins
Total: 50 Events, 3 Wins, Winning Percentage 6.0
Season By Season:
Year       Class                      Record                  Champ Position                Grand Prix Results
1986:     125cc AMA     11 rounds, 0 wins                      51st                       N/A
1987:     125cc AMA     12 rounds, 2 wins                        5th                       USGP 125cc – 10th Overall
1988:     125cc AMA     12 rounds, 1 win                         2nd                       USGP 250cc – 9th Overall
1989:     125cc AMA     13 rounds, 0 wins                        4th                       N/A
Our next rider… well I'm gonna wait for the backlash on this one! He certainly was a fan favourite, although he never had anything like the extreme dedication to training as Schmit did. He did win a world title, but the numbers that put him at #40 cannot be denied. Although I can guarantee that many British fans won't like it!
Top 50 Riders Of The 1980s (By The Numbers): #42 Eddie Warren
Rejected Kawasaki star makes a surprise appearance in our Top 50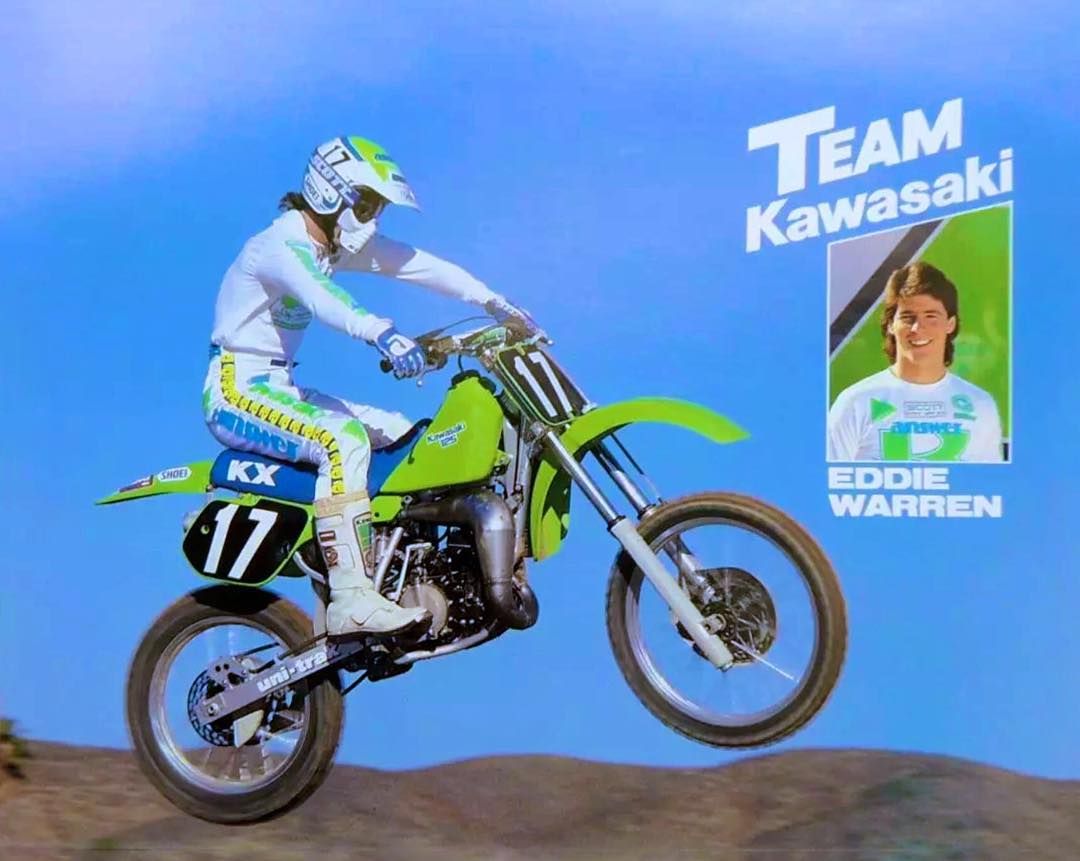 The USA, in Motocross as in all other sports, loves its megastars – the Michael Jordan, Tom Brady, Ricky Carmichael type of character – and in the 1980s it had a good number of those on dirt bikes. They helped lift American Motocross to a level that means it makes a study of the sport, like this list, pretty meaningless if you don't consider the AMA Champions as at least the equals of those who raced the Grands Prix.
As with the elitism of bodies like the NFL, NBA, etc, those sportsmen who are damned good, talented individuals who just don't quite get to the top very much, kind of get condemned to the trash heap a little bit. Such is the case with our #42 – Eddie Warren.
---
Words: Ben Rumbold | Featured Image: Richard DeLibertis
---
Now, let's be plain here. He's higher in this list than British heroes Rob Herring and Jeremy Whatley, and in comparison to many riders, Eddie's career was like a blink of an eye.  Based on opinion, especially outside of the USA, he probably would never have got in. When he did – "By the Numbers", let's not forget – I was a little nervous about this particular article.  Until I found out more about his story. Ladies and Gentlemen, here's what happens to a Ricky Carmichael-level schoolboy – or "Amateur" to use the relevant American parlance – when things don't quite go right for a season or so.
CAREER SUMMARY:
 Years Professionally Raced: 3 – 1985-1987 (All 125cc AMA)
Machines Raced: Kawasaki
AMA National Wins: 2      Podiums: 5     AMA National Moto Wins: 3     Top 3 Moto Finishes: 11
Grand Prix Moto Top 3 Finishes: 1
Nations Selections: 0
Championship Medals: None in Motocross. Best of 6th, 1985 125cc AMA National Championship. 1985 125cc East Supercross Champion
So who was Eddie Warren? Well according to those who watched keenly for the next big thing to come through the big American youth meetings such as Loretta Lynn's and Ponca City, he was quite simply one of the fastest teenagers to thrash a "Wun-twenny-fahve" around a race track.  Watching footage of him is a treat, like a slightly shorter David Bailey, smooth and up on the pegs whenever possible, and with a natural, effortless style.  One of those riders to whom going fast isn't hard work, so it's actually difficult to make them work hard to go faster still, or faster for longer.  Is natural talent a two-edged blade? Most certainly!
At 19 years old Eddie, son of a renowned Harley-Davidson mechanic who always made sure the bikes were perfectly prepared, tried his hand at the newly-conceived Regional 125cc Supercross "Pro-Am" series.  Naturally, the boy from Michigan rode the Eastern races, although it didn't look strictly controlled as to who rode what.  A 16-year-old tearaway by the name of Mike Healey finished 3rd in the West series, and 5th in the East! Eddie had never turned a wheel on a true Supercross track before the Atlanta opener, although the randomly-constructed circuits of the time were light-years away from the computer-designed layouts of today.  Nevertheless, his natural abilities shone through and he won the first three rounds, including the first-ever Championship 125cc Main at the iconic Daytona Speedway, then the mixed East-West event at Houston.
With the outdoor and indoor seasons overlapping back in those days, before that third Supercross win Eddie tasted National AMA Motocross competition for the first time. Despite a shaky debut in the 125 class, he powered to a fine 5th overall at Hangtown's second round, with his first top-3 moto in the opening race. He only had future champs Ron Lechien and George Holland in front of him!
The results were encouraging enough for the father & son team to tackle the whole 10-round Outdoor National Championship, and after sewing up the Eastern 125 Supercross title (future World Champ Bob Moore won the West), he scored an opening-moto 3rd again in the heat of Las Vegas. The results fluctuated for the #801 Kawasaki man, between 14th and 4th overall, but he kept scoring points and finished well with his first overall podium, a 3rd overall at Washougal. Ending the season 6th overall in the championship, a factory Team Green ride was secured for 1986!
For the first time, Eddie rode without his father on the spanners and it took time to get used to a factory setup.  He was also thrown straight into the deep end in the 250cc Supercross season, lining up alongside the likes of Ricky Johnson, David Bailey, and teammates Jeff Ward and Ron Lechien! He recorded a best of 9th indoors but 22nd in the series, probably disappointing to his Kawasaki bosses.
His main aim was the 125cc Outdoor Championship, and although there was a promising start with a 5th in the second moto of the opening round at Hangtown, it would take until early August for his promise to show through.  Having grown up in Michigan with the accompanying weather and conditions, circumstances played into Eddie's hands. The opening moto at the Broome-Tioga facility near New York was good with a 3rd place, due to a near holeshot and battles with Yamaha's Keith Bowen and factory Suzuki man George Holland.  As dark clouds and lightning storms closed in on the circuit, the second moto got underway and Holland looked to have it stitched up.  On the fourth lap it absolutely hammered down, and Holland slowed immediately to protect a slightly injured knee. Warren was on him and gone, pulling well clear even after dropping his goggles. It was a great turnaround for the 20-year-old.
The similarly-soft terrain of Millville saw Eddie on the podium again with 3rd overall from 5-2 motos. Then came the best day of his whole career at a new venue, the Roger DeCoster-designed Hollister Hills track in northern California.  On hard-packed slick West Coast dirt, Warren never expected to win there, but with a dominant first moto victory and a tape-to-tape, but closer, second moto, Eddie claimed his only ever AMA National maximum score and was on cloud nine! A 5-3 at the final round at Washougal meant that Eddie outscored everyone in the four events in August. 7th in points doesn't do justice to how fast he was at that point.  Five of the people he beat in that time are going to be featured in this list, with World or National Championships to nearly all of their names!
He continued his good run on the last day of August 1986, travelling south to Belo Horizonte in Brazil for the final round of the 125cc World Championship! Duking it out with the Vehkonen cousins, Pekka & Ismo, and the Benelli of Alberto Barozzi (I'm sure he never saw a Benelli again, before or since!), Eddie finished a credible 6th overall with 7-6 motos in a GP dominated by Micky Dymond.
He was expected to grow in 250cc Supercross in 1987, and certainly challenge for the 125cc national title.  Just to give it a context, the 125s raced at every AMA National event from 1985 onwards, a full 10- to 12-round championship, whilst the big boys split those rounds between 250cc & 500cc. Most riders did both to contend for two national titles of 5 or 6 rounds each. If you were a Suzuki rider, you might have done half of the 125cc series after the 250s were done, as you had no 500cc option by 1985! Most Suzuki factory guys, like Holland, Erik Kehoe and rising star Donny Schmit, just did all of outdoors on a 125. As proven though by first Lechien and then Dymond, the Honda was really the machine to be on!
So this is where Eddie Warren's story shifts a bit.  As you can see from the numbers, he would never win another AMA Event. For an unknown reason that would only come to light years later, the results just didn't come. Lower end of the top ten in both series, all through the year, there just wasn't the same spark there.  Team Green had plenty of kids knocking on the door, one by the name of Jeff Matiasevich, and it started to be obvious that Warren would not be re-hired alongside Wardy & Lechien.
The reason for this slump was only made public in a recent podcast, where Eddie explained that he was involved in a car crash with someone else driving, and as the vehicle was rolled it messed up his shoulder "big-time".  He didn't have it x-rayed, and bizarrely he never told anybody in his team or the media about it, but he was struggling for mobility in his shoulder for much of the early part of the year.  This, added to chronic arm-pump which plagued him his whole pro career, just left Eddie with an empty ammunition holster.
The arm pump he puts down to lack of confidence, nerves, and going from being a win-everything Amateur to suddenly swimming with the sharks in the pro ranks. It's an age-old problem that doesn't seem to have an easy answer.  Ultimately, you just have to become a shark yourself!
Eddie once again came good towards the end of the year. In June's penultimate Supercross, at East Rutherford, New Jersey, he scored a stunning 3rd place behind RJ & Lechien, and ended the season tied with Guy Cooper for 6th in the series! Back to the Nationals and it was more of the same, 12th & 11th, but then it was back to Broome-Tioga – so named because the track is in Broome County and the pits are in Tioga County! Here it was that Warren claimed his final overall AMA podium result, with 5-3 motos putting him 3rd behind Holland and double-champion Dymond.
A week before the last round of the Nationals, Eddie lined up for the 125cc USGP, the first one since 1981, at Steel City in Pennsylvania, and acquitted himself well. A crash ruled him out of the points in 17th for race one, but he held a strong 2nd for most of race two behind GP winner Kehoe, only to be passed by a late charge from rising superstar Jean-Michel Bayle. Even then, a top 3 in his last ever GP moto? Surely a move to Europe could have been an option?
4th overall at the final AMA round at Millville got him to 9th in the championship, but it was not enough to save Warren's Kawasaki ride.  Before he even turned 22, with zero offers on the table he considered calling it quits. After the Nationals however, he had done a few Australian races at the recommendation of his 125cc AMA rival Jeff Leisk. He got a call inviting him down under to race there, and he never lived in the USA ever again!
Warren's story from here is an extraordinary one. He carved out a decent living on the Australian National scene, winning domestic championships and falling in love with the country.  He met his wife out there, moved to Sydney, had two kids, and made the place his home. Hearing him speak today, there's a definite Aussie twang mixed-in with the Michigan! At the start of the 1990s, he raced the Osaka Supercross in Japan, against a bunch of top Americans, and finished an amazing 5th. This led to Kawasaki requesting his presence in Japan to compete in their domestic series.  The first year he commuted by plane between Australia and Japan, before Kawasaki helped him get an apartment and a van to stay there during the season.
In comparison to his paltry $15,000 salary from Kawasaki in 1986, he could make 25 grand on a good weekend in Japan, and although Eddie didn't make enough money to retire on for the rest of his life, it certainly set him up with a house and some savings when he finally called it a day.
He raced hard against his old buddy Ronnie Tichenor in the All-Japan series, and raced some seriously trick factory kit, his 1992 hand-made steel framed KX250 his personal favourite.  From then on many Japanese manufacturers began experimenting with ally frames, and the thing he got to ride was "a piece of junk" in comparison.  This was many years before the first of those frames made it into production!
Tragedy did befall Eddie when, after being chased out of his Japanese ride by, guess who, Matiasevich again (!), he rode out his career in Australia and settled down.  His wife passed away from an aneurism and he had to raise his two daughters alone for a while. He did re-marry and acquired four step-daughters, worked on railways and then the recycling industry.  He also helped Aussie Jay Wilson in recent years.  He did it the long way round, but Eddie Warren carved out a professional career in Motocross that set him up well for life afterwards.  Many riders both in or out of this list were not so fortunate.
The Numbers
There is no doubt that Eddie's place in this list is mainly due to the fact that he only rode for three seasons and won the minimum requirement of two events that this list was built on. His 35 counting events – 33 Nationals and two GPs – is the 4th lowest number on this list. Even so, given more of a chance he surely could have done more had he stayed in the AMA for '88 & '89, or even gone to Europe as some of his contemporaries did.  His place in history as the first ever Eastern Region 125cc Supercross Champion is also not to be sniffed at.
I grimaced slightly when his statistics put him into this list, and in terms of best championship finish he is the weakest one of all 50, but his story is an amazing one, reflecting what happened to a rider given very little chance to find his place amongst the elite but still finding a way to survive. I'm glad he's in here.
The rider we flip to next time had a different story to tell after he was left outside of the factory AMA line-ups, and he left his own mark on Motocross history…
1980s Numbers:
GPs counted: 2 – 0 Wins
AMA Nationals: 33 – 2 Wins
Total: 35 Events, 2 Wins, Winning Percentage 5.7
Season By Season:
Year       Class                      Record                  Champ Position                Grand Prix Results
1985:     125cc AMA     10 rounds, 0 wins                                6th                                         —
1986:     125cc AMA     11 rounds, 2 wins                                7th                         125cc – 6th Overall (Brazil)
1987:     125cc AMA     12 rounds, 0 wins                                9th                         125cc – 9th Overall (USA)
Top 50 Riders of the 1980s (By The Numbers): #43 Marc Velkeneers
MX Vice's 1980s series continues with a very under-rated Belgian flyer.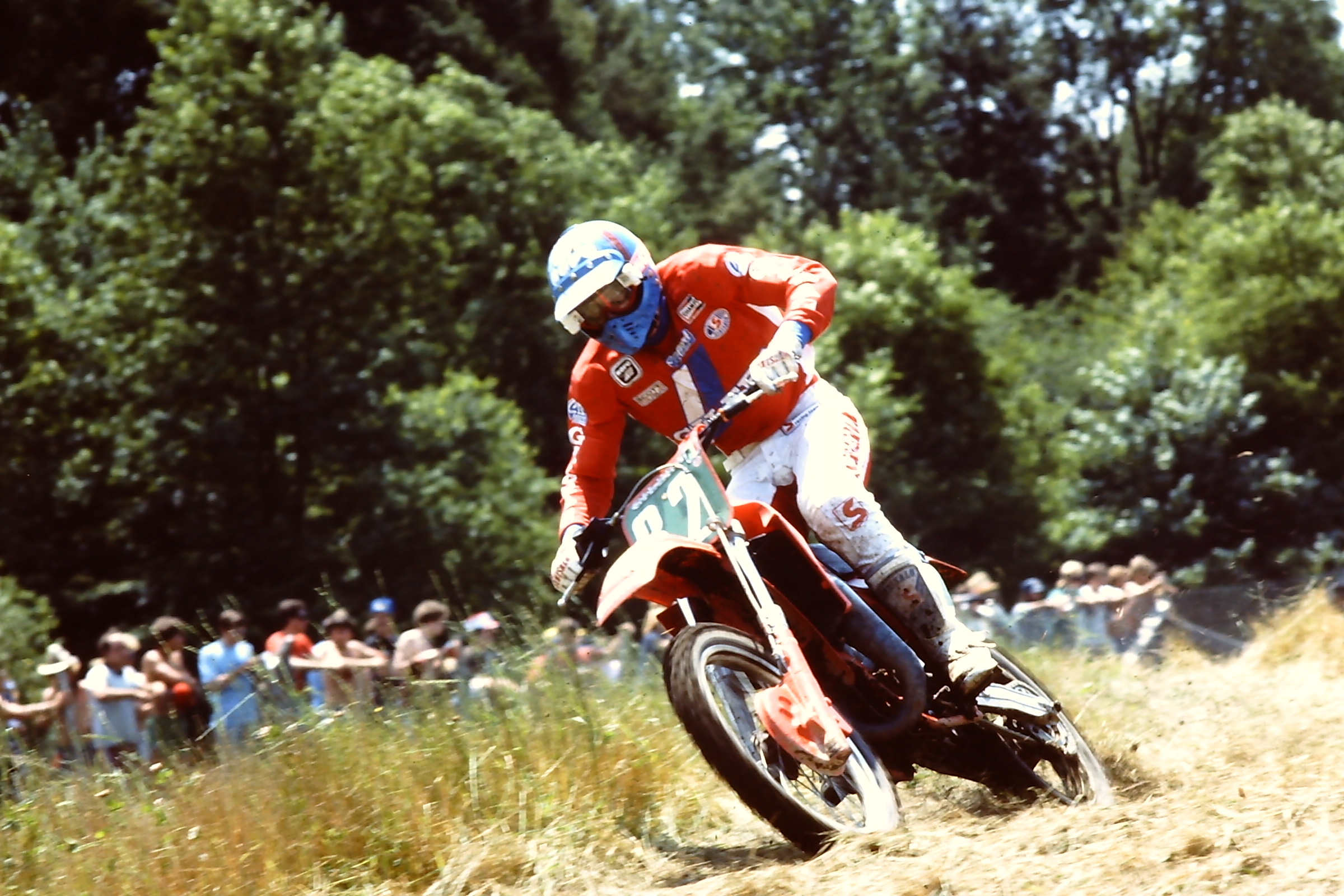 Although Team USA dominated the 1980s in the Nations events, there was one national anthem that played more than any other throughout the decade on the Grand Prix scene – that of Belgium. 119 GPs – over 30% of those held – were won by a total of 13 Belgians, and amongst the fastest of them in the 125cc class at the start of the decade was our #43 – Marc Velkeneers.
---
Words: Ben Rumbold | Images: Jack Burnicle
---
CAREER SUMMARY:
Born: August 1961
Years Professionally Raced: 1978-1991 (125cc GPs 1978-83, 250cc GPs 84-88, 500cc GPs 89-91)
Machines Raced: Yamaha, Gilera, Maico, Honda, Kawasaki
GP Wins: 6     GP Podiums: 20     GP Moto Wins: 16     GP Moto Podiums: 42
Nations Selections: 5 – Member of winning Coupe des Nations team 1983 and individual winner, 2nd-placed team Trophee des Nations 1981
Championship Medals: None – best championship finish 4th, 1980 & '81 125cc World Championship & 1984 250cc World Championship
Flemish-speaking Marc burst onto the scene in 1978, and at just 16 years old his GP debut was made at his home 125cc round, at a circuit called Lanklaar Dilsen, and immediately he showed his speed with 7th overall. Tall and eye-catchingly stylish on the bike, he won fans immediately. If you see photos from back then there is a scary facial similarity to Jeffrey Herlings – should papa Peter be worried?!  He even rode a 250 GP that year and won the first moto but when the title-chasing Russians got wind of his age – the limit was supposed to be 18 at the time – he got protested out of the points and the second race altogether!
Controversy
To prevent further issues Marc waited until 1980 to hit the big-time – and he was instantly on the pace against legendary countrymen Harry Everts and the coming Kid, Eric Geboers. Taking his first (credited) moto win in the first GP at Norg in the Netherlands, at the second round in Austria controversy hit again as he technically got the most points overall, although Harry Everts won both motos!  How? Well, the Suzuki of Everts was found to be underweight so his points for the second race were deducted, even though he was still credited as the GP winner!
Marc didn't have to wait long for redemption, however, as a week later he took his first overall win proper at his home GP at Hechtel with a 2-1 scorecard to Harry's 1-3. He had a clear lead in the championship after a further moto win in France another week on, then a consistent day in Yugoslavia, while others struggled, left him 17 points clear in the points chase.
Sadly, at West Germany's sixth round it all came to a halt, a broken ankle left him unable to ride, even though he tried to.  Marc missed the next three GPs, ultimately leaving him 4th in the series, tied on points with Japanese Yamaha teammate Tetsumi Mitsuyasu. Against the might of Suzuki, Marc was Yamaha's only GP winner in the 125s from 1980-82.
1981 saw Yamaha launch a three-pronged attack on world Motocross – there's a great video on YouTube if you search 1981 Yamaha Motocross, and enjoy dubbed-over team manager Heikki Mikkola! Velkeneers led the 125cc challenge and was instantly competitive again, with a 2nd career GP win at Valkenswaard. Marc wasn't a sand specialist as such, he was fast everywhere, but he was particularly good in the soft stuff! He won a further moto in Poland and mounted the overall podium 5 times, something he did every year from '81 to '83.  The title chase was close, the top four of Everts, Geboers, Velkeneers, and the Gilera-mounted Michele Rinaldi were all within 12 points of each other with two GPs to go!  Marc kept close after Everts did the double at Czecho, but in the final round at Mongay in Spain, he suffered a no-score day and was again denied the bronze medal, with Harry the champion once more. He made his Nations debut at Lommel in the famous Trophee event that saw Team USA's first ever win.  Teammate Andre Vromans dominated both motos but Velkeneers, Geboers, and Everts, all 125cc GP riders, couldn't back him up to deny the Americans their first shock win.
Denied
It was 1982 that saw Velkeneers make his best run at a world title.  Firing out of the blocks with 1-2 motos to win the Dutch opener at Venray, he then scored his only ever maximum at his grassy home GP at Angreau, and a third straight win with 3-2 motos in Austria.  He led the series by 34 points in the days when you could only get 30 for a maximum! Geboers and Rinaldi closed in, but moto wins in Yugoslavia and Czechoslovakia kept the Yamaha man in the hunt after 7 rounds of 12.  Tragically it was at the big Stekene International in Belgium that he suffered a badly broken wrist, and as he missed two GPs his good friend Eric powered away to take the title.  Despite a comeback moto win at the Coupe des Nations in September, he would part ways with Yamaha before 1983.
Marc had based himself in San Marino from 1982 onwards and in '83 he signed up with the Italian Gilera factory, who had lost their star man Rinaldi to Suzuki. "In the beginning the bike was not so good, certainly not in the sand" says Marc, "then we made another frame that was much better." He lost too many points at the start of the year, and despite winning 3 motos he couldn't get higher than 6th in the series, won again by Geboers.  On today's scoring methods he would have won the Finnish GP, but lost it on the tie-breaking overall time system to his replacement at Yamaha, American Jim Gibson.
He did share a magical weekend with his good buddy Geboers, however, as the pair clinched the Coupe des Nations for Belgium at Roggenburg alongside future IMBA Champion Jan Blancquert and Thierry Godfroid. They went 1-2 in race one with Eric in front, but Marc "knew I was going to beat Eric as I was technically better, but Eric was mentally better!". The individual win in race two, and for the overall, was his last on a 125.
250s with Gilera
Gilera had done relatively nothing in the 250cc class, but for 1984 Marc took on the challenge of the quarter-litre GPs with them and again leapt out of the blocks with 2nd at the first GP in France, splitting moto winners Jacky Vimond and Heinz Kinigadner. He won a moto in Yugoslavia and was well in the title hunt, when suddenly tragedy struck. "I lost my father and that was a heavy blow to me, he did everything with me, gave me a lot of confidence, and it took me a while to get over his loss." He soldiered on to get 3rd in one moto in Italy, and finish top European at that year's USGP at Unadilla, although amazingly the locals boxed out the top six places overall!
He returned to form with an emotional overall victory at the last round in Finland, amazingly Gilera's only ever 250cc GP win, and Marc's last one as well. For the third time he was 4th in the world. With his Italian license he could ride for Team Italy at the Trophee des Nations, and helped them to 3rd overall at the last ever running of the event, behind the USA and home heroes Sweden, but ahead of his native Belgium!
Marc was all set for another season on Gilera in 1985, and had turned down an offer from reigning champs KTM to stay loyal, but a new boss taking over Gilera in December decided to stop all involvement in Motocross, and Velkeneers was left with only one option, to take his #4 plate to the once-great but struggling Maico factory.  The bike was never competitive, and his best results came at his home round in Borgloon, with a 3rd in the first dry moto which our snapper Jack Burnicle calls "one of the greatest motos I ever saw!". 6th in the very muddy second one left him 4th overall that day. He battled on and consistency saw him to 9th in the series.
1986 saw him back on a Yamaha, and although the bike was good enough to take the title for Jacky Vimond, Marc began the year injured and only once, with a 2nd in the second moto of the Swiss GP, did he look like recovering his old speed. It was his last top 3 in a world championship race.
Private Honda and beating the Hurricane!
A switch to a private Honda for 1987, with his old pal Geboers returning to the class on the HRC machine, didn't see the return to form that the 25-year-old was looking for. A 6th overall was his best in his favoured Dutch sand, and he worked hard to grind out a top-ten championship finish. There was one final big day awaiting him, however. Belgian Team Manager Sylvain Geboers, also well-placed in Team HRC as brother Eric had won the 250 title, secured a factory HRC 125 for Marc to return to the eighth-litre class for the Motocross des Nations in the USA!  He joined The Kid and new 500cc World Champ Georges Jobe on the plane.
This was the infamous mud-fest at Unadilla, and Velkeneers lined up against Davy Strijbos, Jean-Michel Bayle, and American legend Bob Hannah on the hard-thrashed 125s! Marc was always a master in the mud, and went well when racing for his country, actually beating the Hurricane in the first moto on his way to a 3-3 score for 2nd in class overall! Jobe had taken the first moto win and Belgium were equal on points with the Yanks going into the final race, but a problem for Georges in that last moto cost the Belgians a shot at an upset team win!
Marc himself would move to Kawasaki for another 250cc campaign in 1988, scoring a best moto of 4th in Belgium again, before moving to the 500 class in 1989 and faring little better. In 1990, still in green, he was consistent enough to finish 15th in the standings.  As he turned 30 at the end of another fruitless season on Honda in 1991, Marc was "no longer motivated and always suffering setbacks, so decided to stop – too early!".  He still follows the sport and worked recently with the Gebben Van Venrooy MXGP team. Living in Belgium still with his wife Nadine, his trophy cabinet is well stocked and he'll be remembered as a real flyer in his day, who never quite had the good fortune to go all the way.
The Numbers
Marc Velkeneers raced for the entire decade, and against some amazing opposition.  Due to being from Belgium with their wealth of talent, he only got selected for 5 Nations events – and one of those was for Italy!  His 124 counting events is the 5th highest in the entire list, and the fact that he won one of those Nations events is a real help! 3 wins in one season, 6 GP wins in total, most of them against the dominant Suzuki machines in early 80s 125cc GPs – are all massive achievements in themselves. He was a huge talent who genuinely challenged for world titles against some of the best riders of the entire decade, and he was wonderfully open in answering my questions directly, so it's a real pleasure to have him in our list.
Next time we feature a possibly controversial inclusion on the list, who shone very brightly in a very short AMA career!
1980s Numbers:
GPs counted: 119 – 6 Wins
Nations Events: 5 – 1 Individual Win
Total: 124 Events, 7 Wins, Winning Percentage 5.6
Season By Season:
Year       Class                      Record                  Champ Pos.                Nations Individual Finish
1980:     125cc GPs    11 rounds, 1 win            4th                                —
1981:     125cc GPs    12 rounds, 1 win            4th                                18th Trophee dN
1982:     125cc GPs    12 rounds, 3 wins          5th                                24th Coupe dN
1983:     125cc GPs    12 rounds, 0 wins          6th                                1st Coupe dN
1984:     250cc GPs    12 rounds, 1 win            4th                               10th Trophee dN (For Italy)
1985:     250cc GPs    12 rounds, 0 wins          9th                               —
1986:     250cc GPs    12 rounds, 0 wins        12th                               —
1987:     250cc GPs    12 rounds, 0 wins        10th                               MXdN, 2nd 125cc Class
1988:     250cc GPs    12 rounds, 0 wins        19th                               —
1989:     500cc GPs    12 rounds, 0 wins        22nd                              —
Top 50 Riders of the 1980s – That Little Old Factory Called Cagiva
MX Vice casts an eye over some "molto bello" Italian machinery.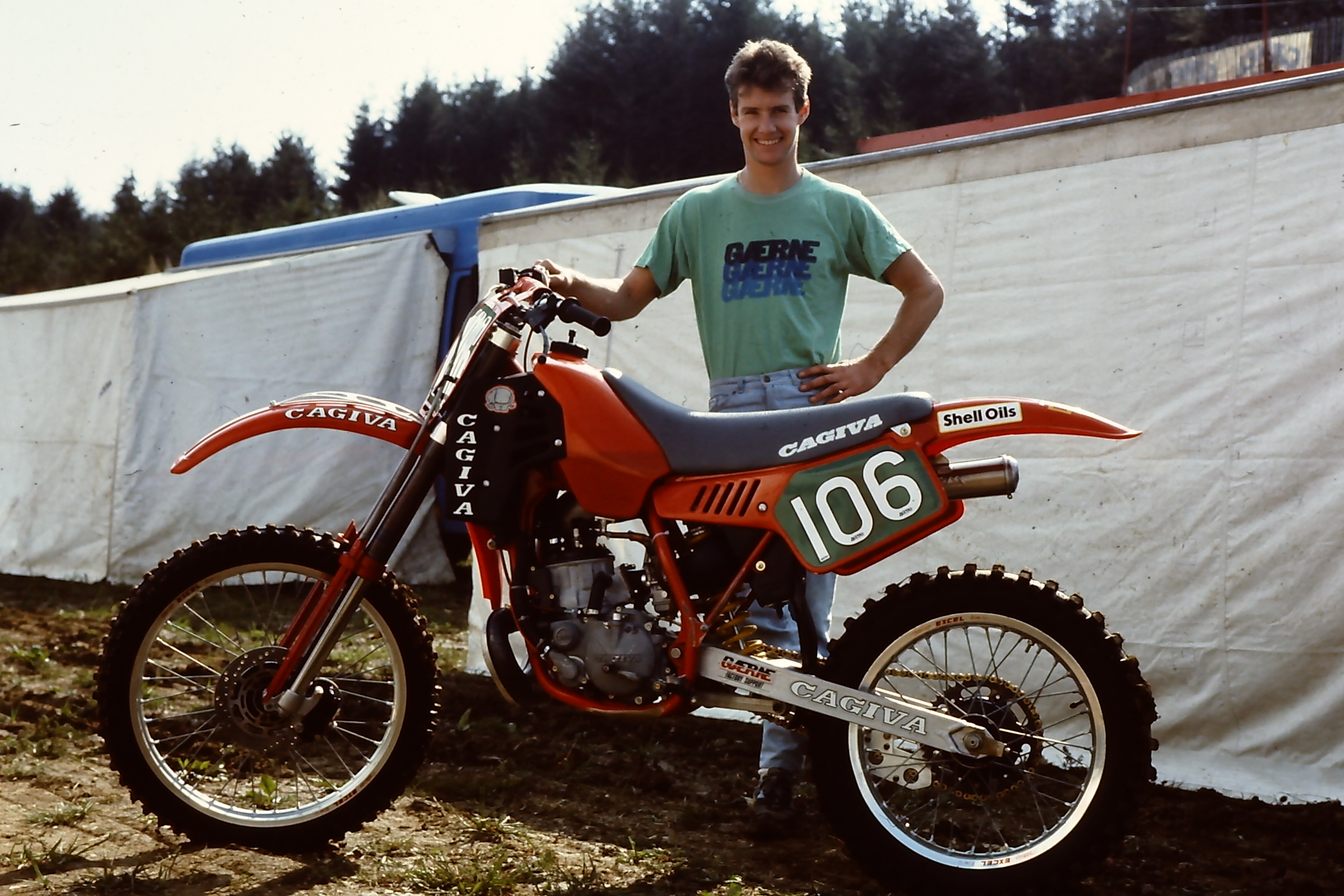 Their time in World Motocross was short-lived, but they made a lasting impression in getting to the very top. As part of our 1980s Top 50 series, MX Vice takes a quick look at those who won with Cagiva.
Words: Ben Rumbold | Images: Jack Burnicle
Quick Motocross pub quiz question for you: Which was the most successful non-Japanese factory in the 1980s, in terms of GP wins? No, it wasn't KTM!  Although they did win one more world title, it was the tiny Cagiva factory that won more GPs between 1980 & 1989. Founded in Varese, within the north Italian region of Lombardia, the company was brought into motorcycling by the Castiglioni brothers, sons of the founder Giovanni, in the late 1970s.  The name comes from Castiglioni Giovanni Varese, and they were ambitious enough to take on the big boys of both on- and off-road racing.
They originally made their name with smaller bikes, along with many other Italian brands who raided the 125cc class at that time. They were fast immediately – little-known Italian Renato Zocchi took 3rd overall behind World Champions Harry Everts and Akira Watanabe in only their second Grand Prix, the West German round of 1979. Mauro Miele repeated that feat on home ground of Montevarchi the following year. Ultimately, their rapid little red machines succeeded where Honda, Gilera, and even a concerted effort from Yamaha had failed, in toppling the undisputed Kings of the 125cc class – Suzuki.
The yellow bikes had won every single year since the class began in 1975, from Belgian Gaston Rahier to the first Italian World Champion ever, Michele Rinaldi.  But that last title was very nearly won by Corrado Maddii, our #50 rider, who was only denied championship glory by sheer rotten luck in 1984, despite winning the factory's first two GPs. The first was met with rapturous applause on (virtually) home ground at San Marino's Baldasserona circuit.
In 1985 they had fierce competition from the Honda of the incredibly fast Davy Strijbos, but after a controversial disqualification for the Dutchman it was fiery Finn Pekka Vehkonen who delivered Cagiva's first world title, finally breaking the Suzuki stranglehold!  Pekka, who would go on to become Roger DeCoster's brother-in-law, won three GPs, as did Maddii, who would finish 3rd in the standings.
They picked up Strijbos in a lucrative deal for 1986, and the Dutchman duly delivered with 4 GP wins and the title, assisted by Vehkonen who took a single win as defending champ, and our #49 rider Massimo Contini who took 3 for the year. Brit Jeremy Whatley won their first Motocross GP outside of the 125cc class with his success on the 250 at Sverepec in Czechoslovakia. That left Cagiva with 9 in total (when you include Whatley's Czecho win) across all classes, level with the mighty Honda! Only Yamaha won more with a dominant 250cc title for Jacky Vimond in 1986.
In Britain, Cagiva importer Mike Carter enlisted development help from former World Champ Neil Hudson, and gave a teenage Jamie Dobb his first GP experiences in the 125 class.  Mike Healey campaigned one in the AMA Nationals with limited success.
With Strijbos going on a tear and Vehkonen moving to the 250 class, it only got better in GPs – 10 in 1987 (Strijbos 5, Contini 1, Vehkonen 4 in the 250s) – and 11 in 1988 (Strijbos 7, Vehkonen 3, Van Doorn 1). This was after switching to a blue & silver liverie to avoid the colour clash with Honda – please take note, GASGAS! It was only the genius of double 125 & 250 Champions John Van Den Berk and Jean-Michel Bayle that kept the Cagiva concern from any more titles, and only Honda won more in those two seasons.
Suddenly though, after Dutch flyer Gert-Jan van Doorn took their last ever GP win in Sweden on the 28th of August 1988, the funding was cut. The little factory got more serious about road racing with their Ferrari-red 500cc machines ridden by Randy Mamola, to minimal success initially.  Having won 38 Motocross GPs, over double the amount of Kawasaki at the time, they acquired Husqvarna and ran with that brand in Motocross from 1991 onwards.
As a teenager, I loved them, and through the Nellie connection had a go on one at 14 years old, my first ever ride on a 125cc. Dad said I was like washing on a line!  I stayed on a KX100 a while longer, but never lost my love for these beautiful bikes that took on the might of Japan, and won!