Stage 8 Report Dakar 2012
COMA TAKES OVERALL LEAD IN STAGE 8 OF DAKAR 2012
What a difference a day makes. Stage 8 could very well be a turning point in the 2012 Dakar Rally after Cyril Despres, overall leader at the half way mark got bogged down in mud in the early part of the special, sacrificing around 12 minutes in his efforts to extract himself and handing the overall lead to KTM factory teammate Marc Coma.
It was Coma's twentieth Dakar Stage victory in his career and the fourth in the 2012 edition. Both he and Despres are vying for their fourth Dakar title.
Coma, as winner of Stage Seven opened the road in the morning and even made a small navigation error in the first kilometers. Then the cards were completely reshuffled at the 11-km mark when he managed to avoid a muddy river while Cyril Despres did not. He and Paulo Goncalves got firmly stuck in the hazard and it proved costly in both time and energy.
Despres said after the stage that he was waiting on an organizers' decision because after riders started to get bogged down in the mud they created a detour around it. He said it was not marked on the road book because it occurred after the reconnaissance car had competed the inspection two days ago. "I was the first to fall into the trap. There was no way I could have avoided it," he said.
Despres' troubles continued to deepen. He kept losing more time as the stage progressed. At the end of the special he was 17 minutes 20 seconds behind Coma and the leader board was completely reversed. Instead of the Frenchman's seven minutes 48 seconds overall lead before the start of Stage 8, he now finds himself trailing Coma in the overall standings by nine minutes 32. Despres now has tough remaining days ahead in the second half of the 2012 edition that finishes in Lima, Peru on January 15.
The eighth stage, the first after the one rest day at Copiapo in Chile included the longest timed special in the 2012 edition, taking riders 477 km. It was set between two liaison stretches that took them to 3,000 meters above sea level. Riders were on their bikes for a massive 722 km by the time they got to the finish at Antofagasta on the Chilean coast.
On what was a critical day for Despres, his support rider Rubin Faria of Portugal fared better. He took second place in today's stage coming in seven minutes behind Coma to claim second place. Coma's support rider Joan Pedrero was sixth trailing by 10 minutes 31. Both Faria and Pedrero have incurred penalties in earlier stages. Pedrero is now tenth overall and Faria is thirteenth.
KTM's Johnny Aubert, who rides for the company's Enduro Factory Team, had his best day yet in what is his first Dakar appearance. The French rider is on a series KTM 450 Rally Replica bike and was ninth today, finishing 13 minutes 50 behind Coma. This moves him into fourteenth place overall.
Coma said at the end of the ride that he had been lucky to avoid the mud that reversed the fortunes of his teammate. "It was a very long special," he said. "I was lucky not to lose too much time in the mud and then I saw I could open a gap, so I attacked really hard. This is my 20th special victory. That's a nice figure but it's not winning the special that count, it's winning the race. And I know there is still a long week of racing ahead." Coma had put himself in the lead at the day's first Way Point and gradually built on it throughout the day.
Stage Eight Results
1, Marc Coma, Spain, KTM 5 hours 03:52
2, Rubin Faria, Portugal, KTM at 7:00 minutes
3, Joan Barreda Bort, Spain, Husqvarna at 8:44
4, Stefan Svitko, Slovakia, KTM at 9:09
5, Helder Rodrigues, Portugal, Yamaha at 9:46
6, Joan Pedrero, Spain, KTM at 10:31
Other KTM
7, Jordi Viladoms, Spain, KTM at 12:35
9, Johnny Aubert, France KTM at 13:50
10, Alessandro Botturi, Italy at 15:36
11, Pal Anders Ullevalseter, Norway, KTM at 15:38
12, Gerrard Farres Guell, Spain, KTM at 15:53
14, Cyril Despres, France, KTM at 17:20
17: Felipe Zanol, Brazil, KTM at 28:56
30, Chris Birch, New Zealand, KTM at 44:28
Overall Results after Stage Eight
1, Marc Coma, Spain, KTM 23 hours 24 minutes 18 seconds
2, Cyril Despres, France, KTM at 9 minutes 32
3, Helder Rodrigues, Portugal, Yamaha at 51:37
4, David Casteu, France, Yamaha at 1:10:37
5, Jordi Viladoms, Spain, KTM at 1:12:27
Other KTM
6, Gerard Farres Guel, Spain, KTM at 1:16:05
7, Stefan Svitko, Slovakia, KTM at 1:18:40
9, Joan Pedrero, Spain, KTM 1:26:31 (15 minutes penalty)
11, Alessandro Botturi, Italy, KTM at 1:41:58
12, Pal Anders Ullevalseter, Norway at 1:45:53 (40 minutes penalty)
13, Rubin Faria, Portugal, KTM, 1:59:51 (40 minutes penalty)
15, Felipe Zanol, Brazil, KTM at 2:22:10 (40 minutes penalty)
16, Jacek Czachor, Poland, KTM at 2:44.52
17, Johnny Aubert, France, KTM at 2:54.11
39, Chris Birch, New Zealand, KTM at 5:55:48 (5 minutes penalty)
The MX Vice SMX Review Show Episode #22 – Lars Lindstrom
HRC Boss talks about their amazing 2023 season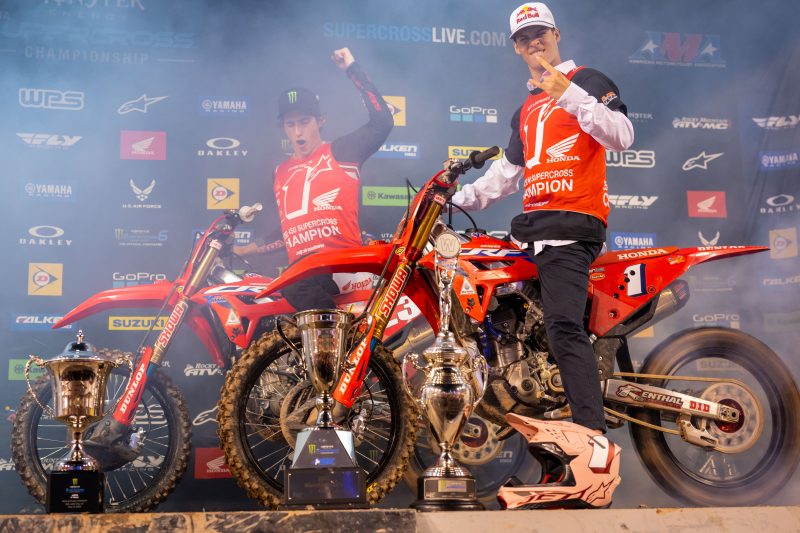 In 2023, MX Vice is running a regular SMX Review show, where we talk all things AMA, frequently with a star guest or pundit. This time Ben & Brad are joined by Honda HRC USA Team Manager Lars Lindstrom, talking about the red team's amazing 2023 season, his time as Chad Reed's mechanic, and his riders' plans for the Motocross of Nations!
---
Images: HRC Honda
---
Massive thanks to Lars for joining us and we wish you and your team all the best for the rest of the year!
This podcast was recorded prior to the Washougal National, so apologies for the delay and for the few sound issues.  None of these were caused by Lars or his systems. Enjoy the podcast!
Live Results – AMA Pro Motocross Round 6 – Southwick
Practice Times & Race Results from The Wick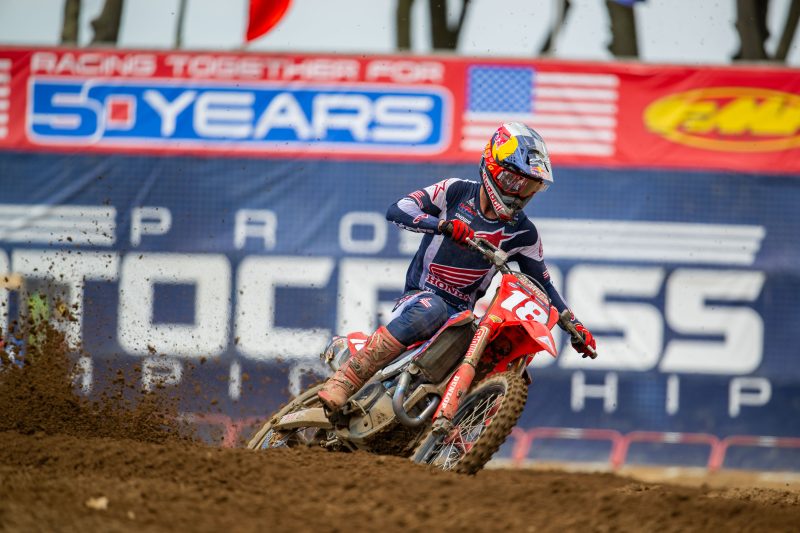 The action is underway at Southwick for round six of the AMA Pro Motocross series. Will Jett Lawrence dominate again, and how will Hunter fare after his issues at RedBud?
Featured Image: HRC Honda
This page will have all of the results from The Wick. The results are posted in an easy-to-view fashion, with the latest results at the very top of the page. If you do not immediately see the most recent results, hit the refresh button in the top-right corner and then the issue should be rectified.
450 Updated Championship Classification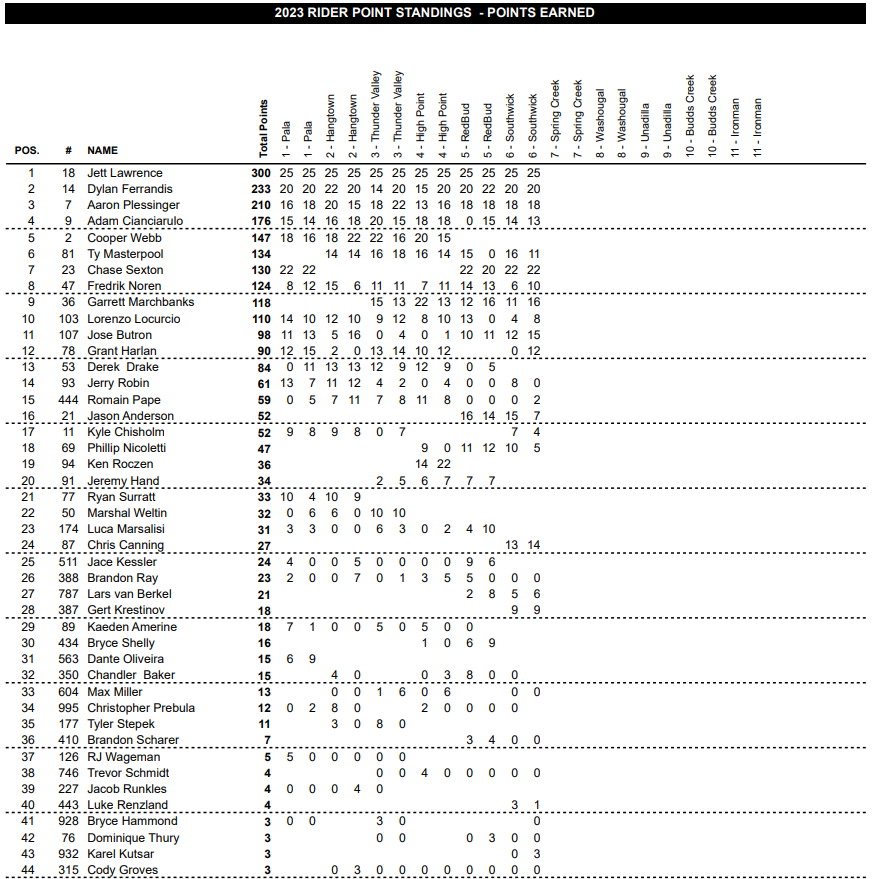 450 Overall Results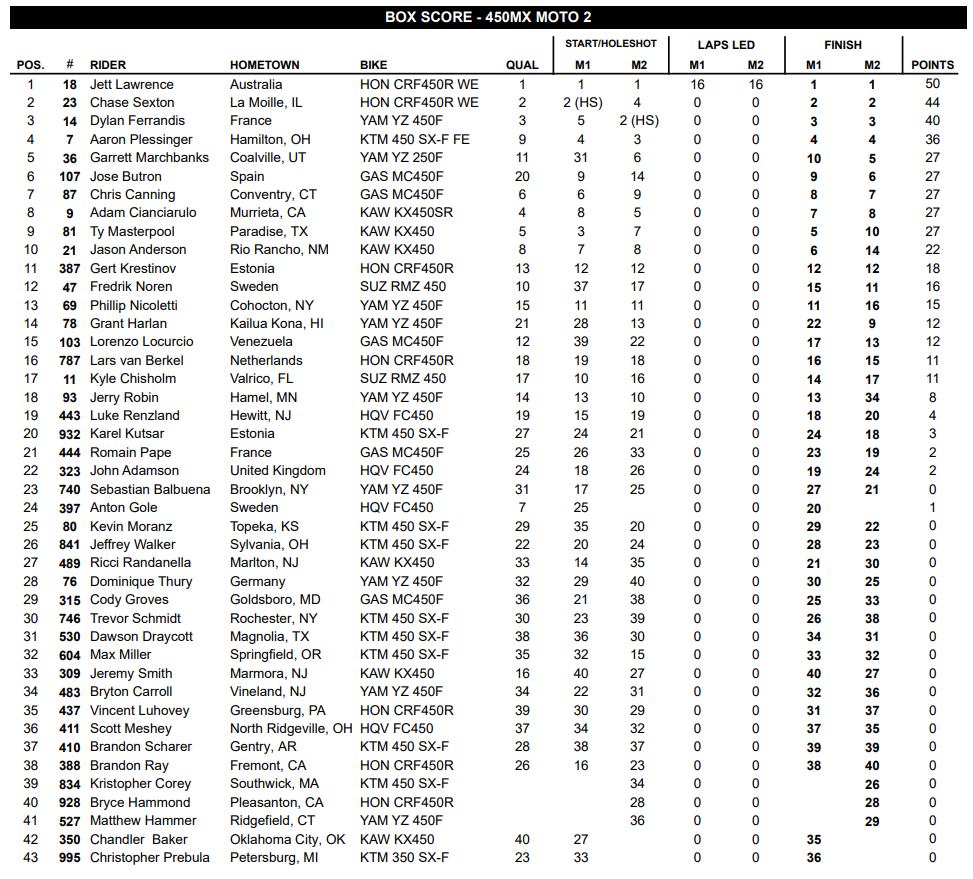 450 Moto Two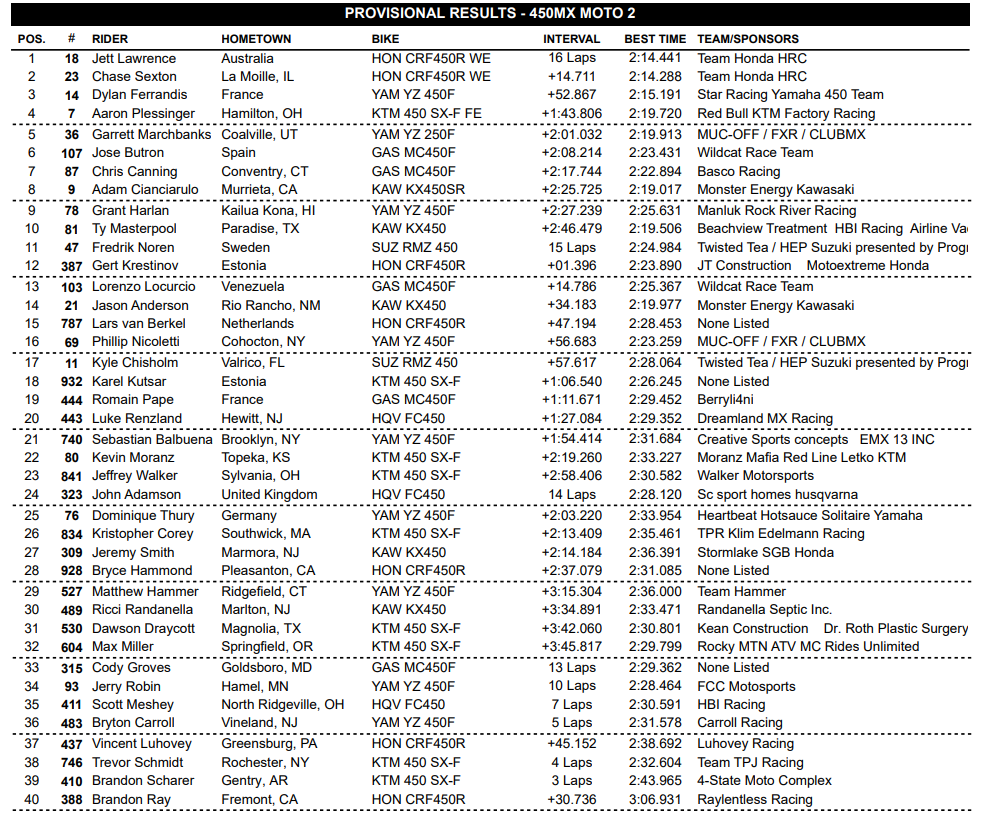 250 Updated Championship Classification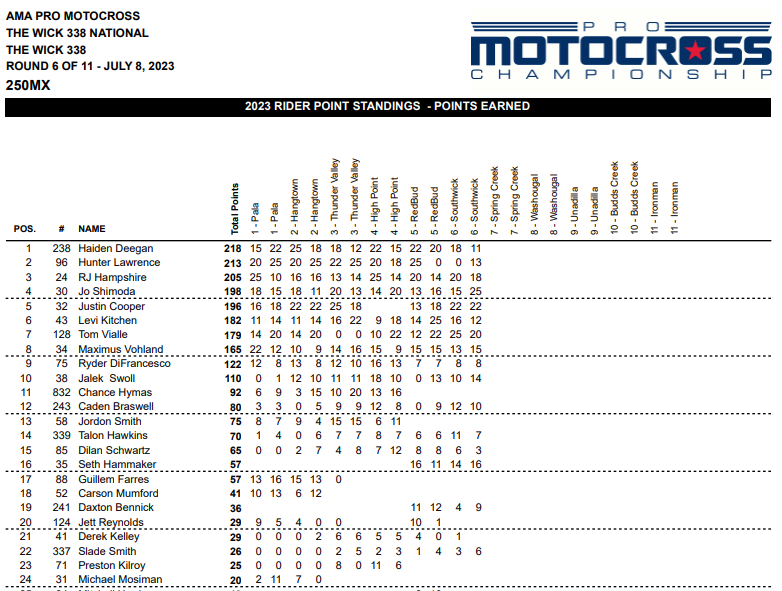 250 Overall Results
They said the sand might suit him! Tom Vialle takes his first overall win in the USA, and the 250 wildness continues through the pack as the red plate changes hands for the first time in either class this summer!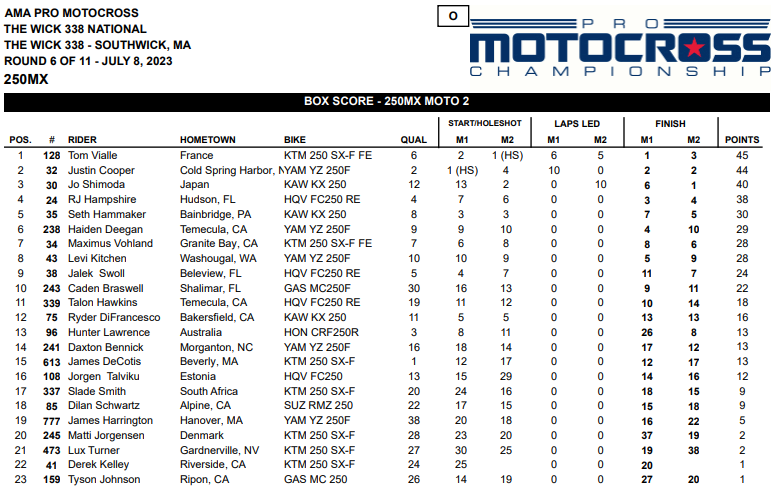 250 Moto 2

450 Moto 1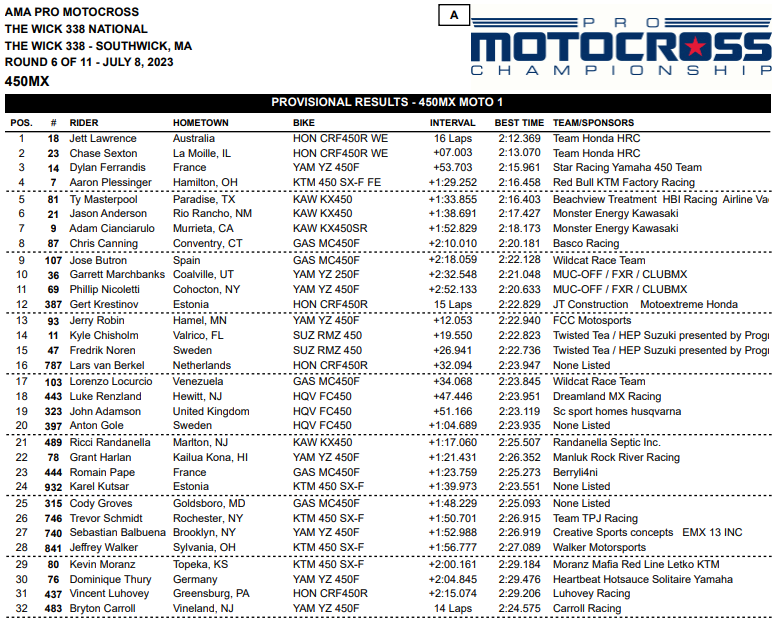 250 Moto 1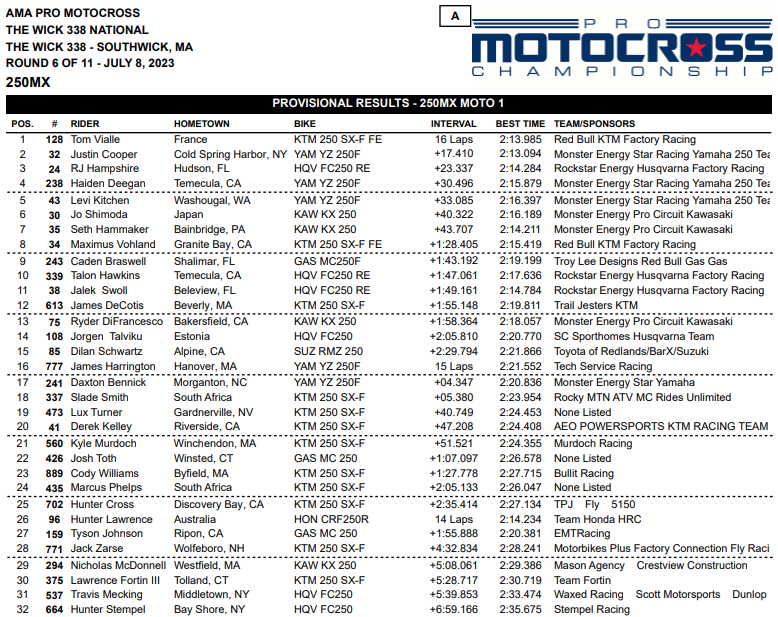 450 Consolation Race
Just for British fans, SC Sporthomes Husqvarna rider Charlie Putnam finished 19th in the Consolation Race after not making the cut in Qualifying.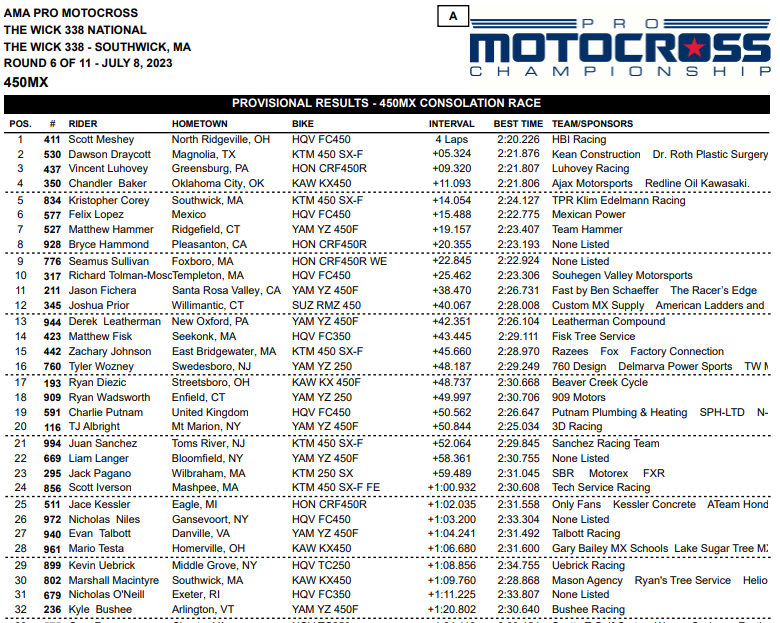 250 Combined Qualifying Times

450 Combined Qualifying Times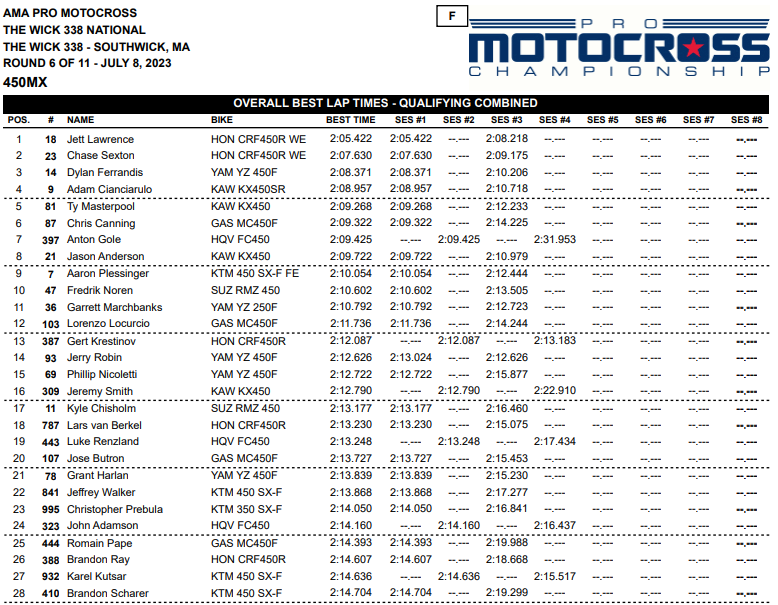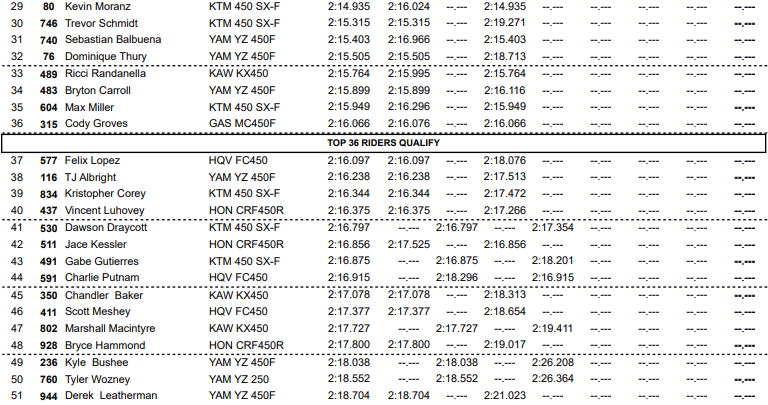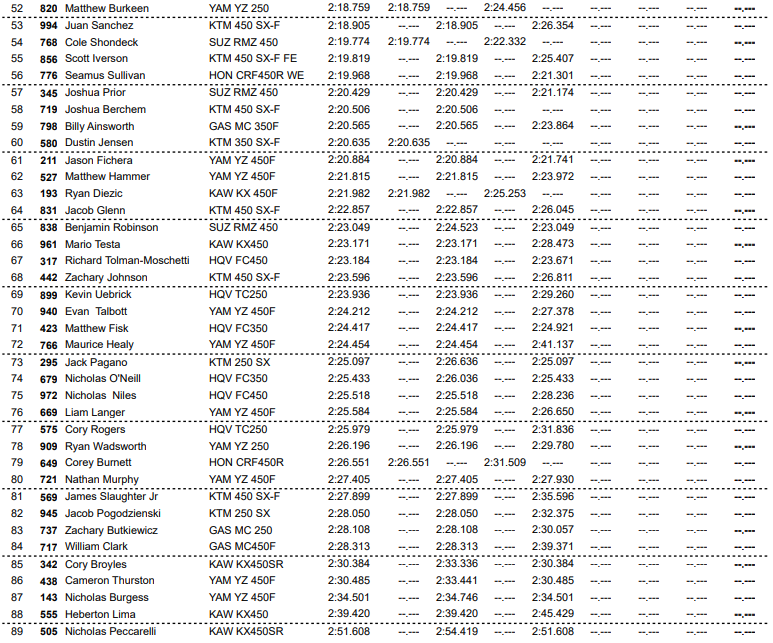 Michelin MX Nationals – Race Report, Rnd 2 – Monster Mountain
Full report from packed event in South Wales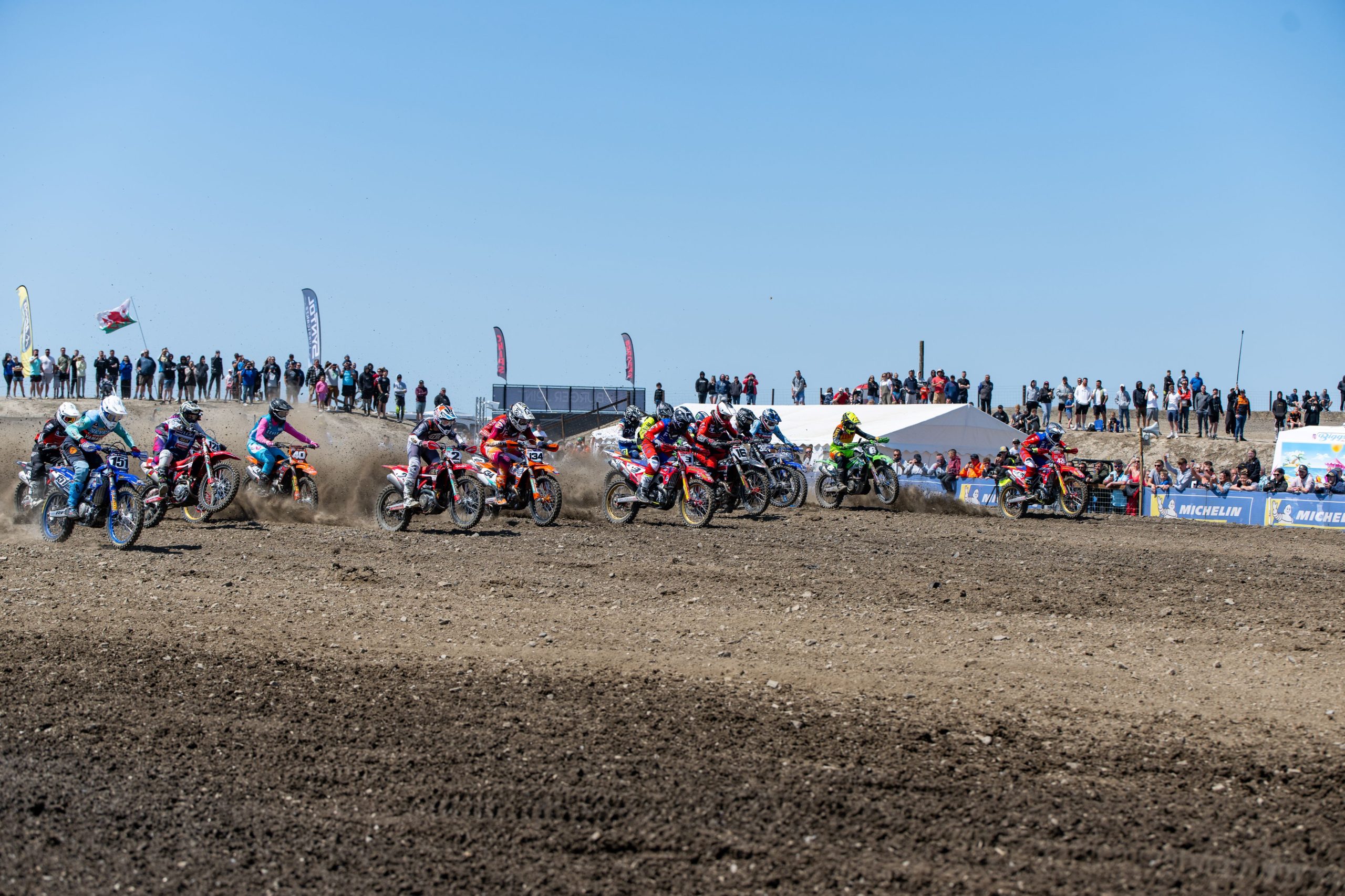 Last weekend the new Monster Mountain facility staged its first event, round two of the Michelin MX Nationals powered by Milwaukee, and what an action-packed weekend it was! With almost 300 hundred riders keen to get on the new track and a tremendous crowd for the MX Nationals, both enjoyed the two days of fast and hot motocross action.
Words: Dick Law for Michelin MX Nationals | Featured Image: Michelin MX Nationals
If you haven't seen the images and videos on social media, Monster Mountain is a USA- styled track set on top of a Welsh mountain. With months and months of hard, back-breaking work that involved moving hundreds of tons of earth with machines the size of a small house, the Monster Mountain track was born, and the scale of the project was mind-blowing. Once you have climbed up the mountain's side to the peak, you enter a landscape that could be easily mistaken for Pala or even the moon.
The Leatt Pro MX1s were mainly about three riders, the Crendon Fastrack Honda pairing of Conrad Mewse and Josh Gilbert and Cab Screens Crescent Yamaha rider Harri Kullas. The winner would come from one of these riders, who have dominated the home racing scene all year.
Kullas got the holeshot at the start of the first combined MX1 and MX2 pro race but was quickly passed a quarter of the way around the opening lap by Mewse and then his teammate Gilbert, who had gated third, slipped by Kullas before the end of the lap. While this happened, John Adamson (ASA United GasGas) got cross threaded in one of the deep ruts and dropped from fourth to tenth.
Adamson's teammate Ivo Monticelli, who was making a comeback from an injury he suffered at round one of the Revo series, took full advantage of his teammate Adamson's problems and took over his fourth place as Jason Meara (JM 10 Moto-cycle Racing Honda), Tom Grimshaw (Chambers Racing), Charlie Putnam (SC Sporthomes Husqvarna), Jamie Carpenter (Cab Screens Crescent Yamaha), and Dan Thornhill (Chambers Racing) all moved up a place at Adamson's expense.
The leading four riders of Mewse, Gilbert, Kullas, and Monticelli stayed in the same running order to the end of the race as Meara and Grimshaw fought over fifth place. The two riders changed position many times till, on lap eight, Meara suffered a mechanical failure, leaving Grimshaw to make fifth all his own.
Adamson was on a charge after his crash and fought back to sixth at the end of the race, while Putnam came off his machine, relegating himself back to thirtieth place.
The immense new track, with its long start straights and big jumps, and even an adverse camber turn, was always going to disadvantage the smaller Apico MX2 machines over the power of the Leatt MX1 machines, with Glen McCormick (Chambers Racing) being the first of the MX2s around turn one, followed by Jamie Wainwright (WPH/SBE/Redline KTM) and Carlton Husband (Phoenix EvenStrokes Kawasaki) as race favourite Charlie Cole (Blades Bikes Kawasaki) suffering a mechanical problem that saw him at the back of the pack with a lot of work to do.
Wainwright had passed McCormick to lead the MX2s by the end of the first lap as Husband slipped back three places. But, as the race continued, Husband upped his pace and repassed six other riders on his way to tenth in the race, but first MX2 home.
McCormick put on a last-lap charge and snatched a place from the hands of Wainwright as the pair finished eleventh and thirteenth on the track but second and third in the MX2s, as for the unlucky Cole. He regrouped and fought his way back from thirtieth to finish fifteenth in the race but fourth MX2 and the last person on the lead lap.
Kullas once again got the holeshot at the start of race two, and once again, Gilbert found a way past him by the end of the lap. Behind them, it was Grimshaw, Meara, Monticelli, Mewse and Carpenter.
Grimshaw took his time in the opening laps and slipped back to sixth. Mewse slid past Monticelli on the second lap to take over third place, with Meara relegated to fifth.
While Grimshaw and Carpenter fought over sixth place, the running order of Gilbert from Kullas, Mewse, Monticelli, and Meara stayed the same till the very last lap when Mewse used the backmarkers to snatch second place from Kullas, and with it second overall for the meeting. (MX Vice was witness to the incident that cost Kullas second place, where two MX2 riders fell in a rut that Harri had already committed to, leaving the Yamaha man to haul his bike out of the massively deep inside rut as Conrad tiptoed around the outside of them, probably laughing his head off!).
On the Apico MX2 side of race two, Cole had gated tenth but had Wainwright in his wheel tracks and McCormick two places further back as they battled for the MX2 lead amongst the bigger MX1 machines.
After changing the lead with Wainwright several times, Cole established himself eighth on the track but first of the MX2s. Wainwright finished in tenth place for the second MX2, with McCormick third. Unfortunately, Husband didn't get the start he wanted and didn't seem to get going as he finished sixth MX2, behind Joe Brooks and Charlie Heyman (Tru7 Honda).           
With three race wins and a second place, Ben Edwards won the RFX expert MX1s from race one winner and wildcard rider Josh Waterman. Jayden Ashwell (AJP Geartec Husqvarna) was third, with Jay McCrum missing a podium position.
Ashley Greedy (Darjen Contractors Gas Gas) won his first three races in the RFX MX2s, but while in the lead of his fourth and final race of the weekend, he was passed by Jimmy Margetson (AJP Geartec Husqvarna) on his way to second overall, with Mathew Bayliss (Darjen Contractors Gas Gas).
Wildcard rider Scott Elderfield won three out of his four races on his way to the Motoverde amateur MX1 overall, with race four winner Sean Wainwright (Fasteddy Racing Honda) second. Josh Greedy (Darjen Contractors Kawasaki) tied in third with Luke Mellows (Forty-Four Honda).
Wildcard riders took three out of the top four places in the Motoverde amateur MX2 class as Ben Clarke, with two wins and two third places, took the overall from race two winner Raife Broadley (723 Race Bikes Gas Gas) while the winner of the last race Wal Beaney was third, just five points behind the winner.
Tallon Aspden (LA Groundwork KTM), with three wins and a second place, won the Worx clubman MX1s from Darren Manning-Coe, who was second in all four of his races as Daniel Chapman, the winner of the last race of the weekend was third as Drew Lane just missed out on the podium by two points.
Sam Ongley (Fantic) won all four Spiral GFX clubman MX2 races from Matt Tolly and Charlie West.
In the youth Fly Futures MXY2s, Billy Askew (GTCi Revo Kawasaki) won all four races and remains unbeaten this year. Behind him, Domonic Newbury (426 Motorsport KTM) and Mackenzie Marshall (DK Offroad KTM) were separated by just three points as they finished the weekend in second and third overall.
Reece Jones (SJP Moto Husqvarna) was third in his first race of the weekend, but from then on won the other three for first overall in the Fly MXY125s. Jake Walker (Mr T Racing KTM), who didn't finish out of the top four all weekend, was second, with a race-three low score pushing Tyla Hooley (Fantic) down to third.
Josh Vail (SJP Moto Husqvarna), with two race wins, a second and a third place, took the overall win in the Syntol Big Wheel 85s with Jamie Keith (MBR X&P KTM), who didn't finish out of the top three all weekend, second and Charlie Richmond third.
With a couple of wins and two-second places, Joel Winstanley-Dawson (Techsource Racing KTM) won the Syntol small wheel 85s from race one winner Lucas Lee (Husqvarna) and Ollie Truman.
Top ten results
Leatt Pro MX1:
1 Josh Gilbert (Crendon Fastrack Honda) 22 + 25 = 47
2 Conrad Mewse (Crendon Fastrack Honda) 25 + 22 = 47
3 Harri Kullas (Cab Screens Crescent Yamaha) 20 + 20 = 40
4 Ivo Monticelli (ASA United Gas Gas) 18 + 18 = 36
5 Tom Grimshaw (Chambers Racing) 16 + 15 = 31
6 James Carpenter (Cab Screens Crescent Yamaha) 14 + 14 = 28
7 John Adamson (ASA United Gas Gas) 15 + 13 = 28
8 Dan Thornhill (Chambers Racing) 13 + 10 = 23
9 Callum Green (Tru7 Honda Academy Honda) 10 + 11 = 21
10 Stuart Edmonds (S Biggs Commercials Honda) 12 + 9 = 21
Apico Pro MX2:
1 Charlie Cole (Blades Bikes Kawasaki) 18 + 25 = 43
2 Jamie Wainwright (WPH/SBE/Redline KTM) 20 + 22 = 42
3 Glen McCormick (Chambers Racing) 22 + 20 = 42
4 Carlton Husband (Phoenix EvenStrokes Kawasaki) 25 + 15 = 40
5 Charlie Hayman (Tru7 Honda Academy Honda) 16 + 16 = 32
6 Joe Brooks (GRT Impact KTM) 13 + 18 = 31
7 Calum Mitchell (Lexa MX Husqvarna) 15 + 14 = 29
8 Bailey Johnston (Verde Shiloh KTM) 11 + 13 = 24
9 Ben Franklin (Chambers Husqvarna) 12 + 12 = 24
10 Lewis Hall (Fantic) 14 + 10 = 24
RFX Expert MX1:
1 Ben Edwards (KTM) 22 + 25 + 25 + 25 = 97
2 Josh Waterman (KTM) 25 + 22 + 22 + 20 = 89
3 Jayden Ashwell (AJP Geartec Husqvarna) 18 + 20 + 20 + 16 = 74
4 Jay McCrum (Honda) 15 + 15 + 15 + 18 = 63
5 Richard Bird (Allmoto Megabikes Yamaha) 16 + 16 + 16 + 14 = 62
6 Corrie Southwood (Langmead Kawasaki) 5 + 14 + 12 = 22 = 53
7 Ryan Thomson (Drysdale MC Gas Gas) 14 + 13 + 13 + 7 = 47
8 Josh Canton (Concept CCF KTM) 13 + 9 + 11 + 13 = 46
9 Josh Peters (Jim Aim KTM) 20 + 0 + 18 + 0 = 38
10 Aaron Patstone (Gas Gas) 9 + 8 + 10 + 10 = 37
RFX Expert MX2:
1 Ashley Greedy (Darjen Contractors Gas Gas) 25 + 25 + 25 + 22 = 97
2 Jimmy Margetson (Husqvarna) 15 + 20 + 15 + 25 = 75
3 Mathew Bayliss (Darjen Contractors Gas Gas) 20 + 22 + 14 + 13 = 69
4 Uldis Freibergs (Lexa MX Husqvarna) 16 + 15 + 16 + 20 = 67
5 Kieran Banks (Yamaha) 18 + 13 + 18 + 18 = 67
6 Henry Siddiqui (Husqvarna) 13 + 14 + 20 + 16 = 63
7 Josh Colman (Holeshot MX KTM) 22 + 16 + 22 + 0 = 60
8 Aaron Ongley (723 Racebikes Gas Gas) 10 + 12 + 9 + 14 = 45
9 Niall Cregan (CCM Motorcycles Husqvarna) 5 + 9 + 11 + 15 = 40
10 Callum Murfitt (Southside MMX KTM) 7 + 11 + 10 + 12 = 40
Motoverde amateur MX1:
1 Scott Elderfield (Kawasaki) 25 + 25 + 25 + 22 = 97
2 Sean Wainwright (Fasteddy Racing Honda) 20 + 18 + 20 + 25 = 83
3 Josh Greedy (Darjen Contractors Kawasaki) 22 + 20 + 18 + 20 = 80
4 Luke Mellows (Forty Four Honda) 18 + 22 + 22 + 18 = 80
5 Jamie Dixon (P&S Yamaha) 14 + 16 + 12 + 16 = 58
6 Joshua McCorkell (McCorkell Racing Husqvarna) 16 + 13 + 11 + 14 = 54
7 Ryan Osborn (Evotech KTM) 11 + 14 + 15 + 13 = 53
8 Callum Gordon (MX Revive Gas Gas) 12 + 15 + 13 + 10 = 50
9 Brad Thornhill (LMC Plant KTM) 9 + 12 + 14 + 12 = 47
10 Jacob Bowden (VMX Motocross Club KTM) 10 + 11 + 10 + 15 = 46
Motoverde amateur MX2:
1 Ben Clark (Gas Gas) 25 + 20 + 25 + 20 = 90
2 Raife Broadley (723 Race Bikes Gas Gas) 18 + 25 + 22 + 22 = 87
3 Wal Beaney (KTM) 22 + 18 + 20 + 25 = 85
4 Jayden Murphy (KTM) 16 + 22 + 16 + 18 = 72
5 Shaun Springer (Gas Gas) 20 + 16 + 18 + 16 = 70
6 Charlie Palmer (Apex Gas Gas) 14 + 15 + 13 + 15 = 57
7 Dan Brough (Rutzz Yamaha) 12 + 12 + 7 + 14 = 45
8 Alex Buchanan (Mace Tech Tuning KTM) 11 + 14 + 12 + 8 = 45
9 Jonathan Rodrick-Evans (KTM) 7 + 7 + 14 + 12 = 40
10 Leon Ongley (Fantic) 15 + 8 + 6 + 11 = 40
Worx Sports Insurance Clubman MX1:
1 Tallon Aspden (LA Groundwork KTM) 25 + 25 + 25 + 20 = 95
2 Darren Manning-Coe (Fabrican KTM) 22 + 22 + 22 + 22 = 88
3 Daniel Chapman (KTM) 15 + 18 + 18 + 25 = 76
4 Drew Lane (Lanes Construction Gas Gas) 20 + 20 + 16 + 18 = 74
5 Kalem Hicks (British Army MX Team Husqvarna) 16 + 16 + 15 + 15 = 62
6 Billy Saunders (WMS Commercials Honda) 18 + 0 + 20 + 16 = 54
7 Ryan Davis (KTM) 10 + 12 + 14 + 12 = 48
8 Ashley Senior (Honda) 11 + 14 + 9 + 13 = 47
9 Josh Young (KTM) 14 + 10 + 11 + 11 = 46
10 Josh Bailey (Chris Bailey Landscaping KTM) 6 + 7 + 10 + 14 = 37
Spiral Clubman MX2:
1 Sam Ongley (Fantic) 25 + 25 + 25 + 25 = 100
2 Matt Tolley (426 Motorsport KTM) 20 + 22 + 22 + 16 = 80
3 Charlie West (Tim Feeney KTM) 11 + 16 + 16 + 22 = 65
4 Bradley Johnstone (Moto Connection Kawasaki) 16 + 15 + 20 + 9 = 60
5 Chris Corthorn (Kawasaki) 10 + 20 + 9 + 20 = 59
6 George Boyce (Design Scaffolding KTM) 12 + 13 + 13 + 18 = 56
7 Matthew Pocock (MGP Steel Erection KTM) 0 + 18 + 18 + 15 = 51
8 Richy Roberts (Rutzz Racing Yamaha) 9 + 6 + 15 + 14 = 44
9 Max Flint (Planet Moto KTM) 14 + 9 + 15 + 14 = 44
10 Jordan Ambler (City Wide KTM) 18 + 12 + 0 + 11 = 44
Fly Racing MXY125:
1 Billy Askew (GTCi Revo Kawasaki) 25 + 25 + 25 + 25 = 100
2 Domonic Newbury (426 Motorsport KTM) 20 + 15 + 20 + 20 = 75
3 Mckenzie Marshall (DK Offroad KTM) 22 + 10 + 22 + 18 = 72
4 George Hopkins (HJA Motorcycles Gas Gas) 18 + 14 + 16 + 14 = 62
5 Jak Taylor (Lexa MX Husqvarna) 9 + 20 + 10 + 22 = 61
6 Fin Wilson (Husqvarna) 16 + 16 + 14 + 15 = 61
7 Bayliss Utting (Trell Contractors Honda) 14 + 22 + 18 + 4 = 58
8 Liam Bennett (Apico GMR Husqvarna) 4 + 18 + 15 + 16 = 53
9 Kayde Rayns (Scott Motorsport Yamaha) 15 + 13 + 12 + 12 = 52
10 Kyron Carron (LC Construction KTM) 12 + 8 + 11 + 13 = 44
Fly Racing MXY125:
1 Reece Jones (SJP Moto KTM) 20 + 25 + 25 + 25 = 95
2 Jake Walker (Mr T Racing KTM) 18 + 20 + 22 + 22 = 82
3 Tyla Hooley (Fantic) 22 + 22 + 10 + 20 = 74
4 Freddie Gardiner (Matt Gardiner MX KTM) 25 + 11 + 12 + 18 = 66
5 Wesley McGavin (KTM) 13 + 18 + 18 + 16 = 65
6 Harrison Greenough (Simpson KTM) 14 + 16 + 16 + 12 = 58
7 Chester Hyde (Matt Pope MC Gas Gas) 15 + 15 + 13 + 13 = 56
8 Shane Jones (KTM) 16 + 14 + 14 + 10 = 54
9 Ollie Bubb (3 Flo Yamaha) 11 + 13 + 15 + 14 = 53
10 Jack Meara (Honda) 0 + 12 + 20 + 15 = 47
Syntol Big Wheel 85:
1 Josh Vail (SJP Moto KTM) 25 + 22 + 20 + 25 = 92
2 Jamie Keith (MBR X&P KTM) 20 + 25 + 22 + 22 = 89
3 Charlie Richmond (KTM) 22 + 20 + 25 + 20 = 87
4 Lewis Spratt (KTM) 16 + 18 + 15 + 16 = 65
5 Alfie Geddes-Green (Matt Pope MC Gas Gas) 18 + 8 + 18 + 18 = 62
6 Harry Lee (GRT Impact KTM) 14 + 16 + 13 + 15 = 58
7 Blake Ward-Clarke (GRT Impact KTM) 13 + 14 + 16 + 14 = 57
8 Reegan Rogers (Husqvarna) 8 + 13 + 10 + 13 = 44
9 Finlay Pickering (Mr T's Racing KTM) 12 + 5 + 14 + 11 = 42
10 Maison Jones (Paul Green Tyres KTM) 9 + 11 + 9 + 12 = 41
Syntol Small Wheel 85:
1 Joel Winstanley-Dawson (Techsource Racing KTM) 22 + 22 + 25 + 25 = 94
2 Lucas Lee (Husqvarna) 25 + 15 + 22 + 22 = 84
3 Ollie Truman (KTM) 16 + 20 + 18 + 18 = 72
4 Archie Butterfield (KTM) 18 + 16 + 20 + 16 = 70
5 Charlie Ward (KTM) 15 + 14 + 16 + 15 = 60
6 Author Moore (3 Flo Yamaha) 20 + 18 + 0 + 0 = 58
7 Tyler Cooper (KTM) 0 + 0 + 15 + 13 = 28
8 Chad Prince (SC Sporthomes Husqvarna) 0 + 13 + 0 + 14 = 27
9 Olly Waters (Matt Gardner MX KTM) 0 + 25 + 0 + 0 = 25