Analysis: Josh Hill underlines his immense speed in AUSX finale
Hill electric at final round.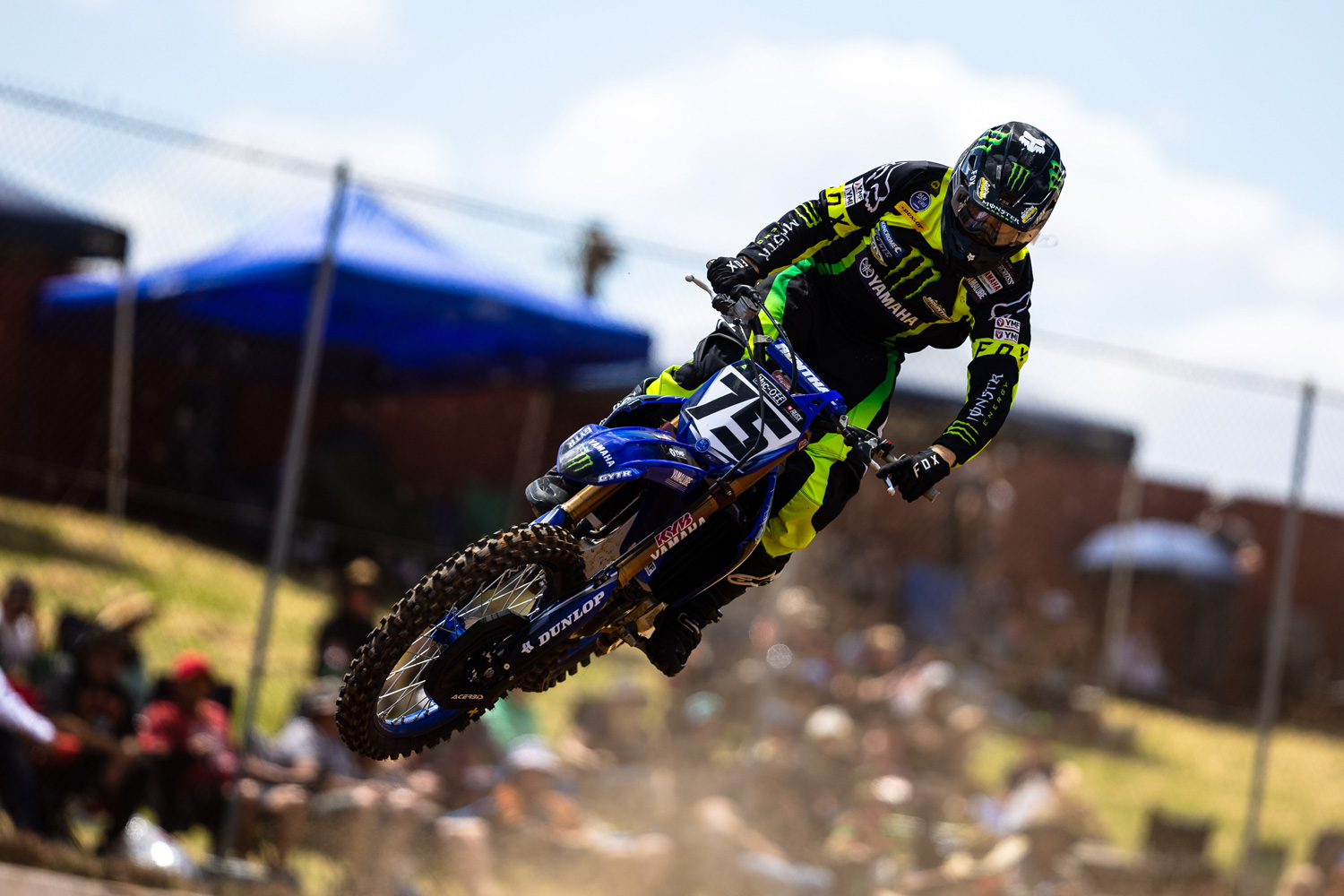 Although a first turn crash scuppered his quest for victory at the finale of the Australian Supercross Championship, there was no denying Josh Hill's electric speed at Wagga Wagga.
---
Words: Edward Stratmann | Lead Image: Yamaha Australia
---
Relishing the challenging track that featured some huge jumps and testing rhythm sections, Hill adapted superbly to the conditions that suited the gifted rider brilliantly.
Immediately comfortable and hitting everything with aplomb, the CDR Yamaha Monster Energy pilot kicked off his day in fine fashion by claiming victory in his heat race.
Despite getting off to a dreadful start that saw him buried deep in the pack, Hill immediately began to impose himself on proceedings to carry his earlier form into race one.
Progressing to sixth half way through the first lap, he was a man on a mission to get to the front as soon as possible, not wanting the likes of Matt Moss and Justin Brayton to get away.
Making short work of quality operators in Aaron Tanti, Dylan Wills and then Kyle Webster with an emphatic move in the whoops, this propelled Hill into third by the end of the opening lap. An incredible feat considering his unsatisfactory start.
Possessing the pace to match it with the dynamic duo ahead, Hill slotted in behind Brayton and wasted little time getting to his rear wheel. Thrilling the crowd by persistently popping the monstrous quad, attacking the track with vigour and by being creative with his lines, the ultra stylish #75 was putting on a real show.
Brimming with confidence, looking so assured in the conditions and gradually closing in, he eventually bridged the gap to under a second to the red plate holder on lap seven.
Clearly holding the speed advantage near the end of the lap, where he'd stick the quad, scrub the hip jump and then blitz the whoops, this combination eventually bore fruit when he got by Brayton on the penultimate lap – just before the Honda star got a flat.
While he attempted to hunt down Moss on the last lap, he was ultimately forced to settle for second, in a moto where he banked the third quickest lap time and was one of only four men to record a 1.02 or lower.
Hoping to enjoy a far better jump out of the gate in the second race, disappointingly this wasn't to be for Hill, for he got squeezed and went down at the first turn.
Rapidly remounting and desperate to make up for lost time, the experienced veteran then embarked on a truly remarkable charge from last to the podium.
Carving his way through the field with precision and breathtaking speed, it took less than two laps for him to hit the top 10 and three until he was in eighth.
Laying down the hammer with gusto and hitting his markers, there was no stopping him, as he scorched into fifth by the midway point. Unquestionably the fastest man on track and absolutely flying, next on his list was Wills, who he duly got by with three to go.
Continuing his surge in the dying stages, he then made it past Brayton, who offered little resistance and let him by as he was coasting to the title, to finish an outstanding third. Indeed, this third was a fitting reward for his relentless charge, which also saw him secure a deserved third overall to give Yamaha a lockout of the podium.
By the numbers, the fact he produced the fastest lap in the second race and was the only man to put in a 1.01 in the moto underlined his scintillating effort.
Following his accomplished ride at Wagga Wagga to bag his second overall podium of his AUSX crusade, this ensured he claimed an admirable fifth in the final standings despite missing the first round, in a campaign where he impressively filled-in for the injured Luke Clout.
Ending his year on a high and serving as a terrific preparation for his assault on AMA Supercross in 2023, where he'll be joining forces with his brother under the Team Tedder awning, he'll be hoping to carry his positive momentum from racing in Oz over to the highly anticipated Anaheim 1 come January 7.
List: Australia's Motocross of Nations History
Check it out.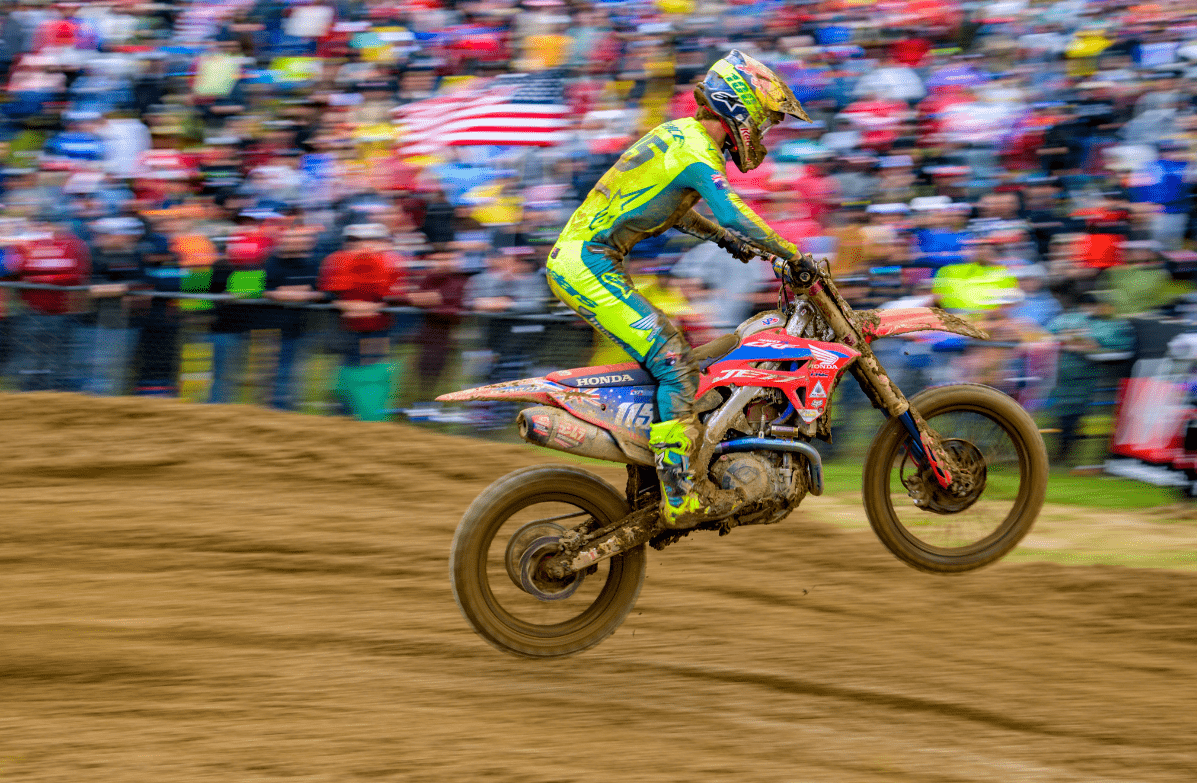 With the highly anticipated 2023 Motocross of Nations at Ernee fast approaching and Australia looming as one of the favourites, MX Vice has partnered with Australian motocross enthusiast Paul Gogarty to compile a list of all the Aussie teams that have been sent to the prestigious event over the years. Special thanks to Paul for putting in an incredible amount of work in compiling all this data (you can follow him on Instagram @muppett1).
Lead Image: Motosport
1984 – Did Not Qualify
Stephen Gall, Trevor Williams, David Armstong, Vaughan Style.
Vantaa, Finland.
Winner USA


1985 – changed to 3 riders per team – was previously 4.
1985 – 20th place
Glen Bell 125 Yamaha 6 nc 12
Jeff Leisk 250 Honda nc nc nc
Trevor Williams 500 Kawasaki 8 11 8
Gaildorf, Germany
Winner USA
https://racerxonline.com/2015/09/08/22-day-countdown-with-team-usa-1985

1986 – 7th place
Bell 125 Yamaha 7 6
Craig Dack 250 Honda 8 2
David Armstrong 500 honda 11 8
Maggiora, Italy.
Winner USA
https://transmoto.com.au/motocross-of-nations-1986-2016/
1987 – 16th place
David Armstrong 125 kawasaki 11 11
Bell 250 Yamaha nc nc
Dack 500 Honda 9 nc
Unadilla USA,
Winner USA

1988 – 4th place
Bell 125 Honda 6 8
Dack 250 Yamaha 11 7
Leisk 500 Honda 2 2
Villars sous Ecot, France.
Winner USA

1989 – 7th place
Bell 125 Honda 9 nc
Dack 250 Yamaha 6 7
Leisk 500 Honda 3 4
Gaildorf, Germany.
Winner USA

1990 – 7th
Bell 125 Honda 13 10
Dack 250 Yamaha 7 7
Leisk 500 Honda 6 1
Vimmerby, Sweden.
Winner USA

1991 – 10th
Dale Britton 125 Yamaha 11 9
Craig Dack 250 Yamaha 7 nc
Glen Bell 500 Honda 9 10
Valkenswaard, Netherlands.
Winner USA
1992 – 6th
Kim Ashkenazi 125 Honda 10 9
Dale Britton 250 Yamaha 8 6
Jason Marshall 500 Kawasaki 6 7
Manjimup, Australia.
Winner USA

1993 – 13th
Kim Ashkenazi 125 Suzuki 16 nc
Lee Hogan 250 Yamaha 12 17
Glen Bell 500 Honda 12 15
Schwanenstadt, Austria.
Winner USA
1994 – 17th
Steven Andrew 125 Kawasaki 17 17
Kim Ashkenazi 250 Yamaha 8 19
Lee Hogan 500 Honda 19 9
Roggenburg, Switzerland.
Winner Great Britain

1995 – 14th
Michael Cook 125 Yamaha 16 14
Kim Ashkenazi 250 Yamaha 9 11
Craig Anderson 500 KTM 13 11
Sverepec, Slovakia.
Winner Belgium

1996 – 19th
Michael Cook 125 Honda 22 29
Craig Anderson 250 KTM 18 20
Kim Ashkenazi 500 Honda nc nc
Jerez, Spain.
Winner USA

1997 – 11th
Troy Carroll 125 Honda 32 27
Andrew McFarlane 250 Suzuki 18 19
Cameron Taylor Open Suzuki 20 20
Nismes, Belgium.
Winner Belgium

1998 – 16th
Michael Byrne 125 25 nc
Craig Anderson 250 12 nc
Lee Hogan open 18 nc
Foxhills, UK.
Winner Belgium

1999 – 8th
Troy Dorron 125 Honda 31 22
Andrew McFarlane 250 Yamaha 4 7
Michael Byrne Open Honda 8 21
Indaiatuba, Brazil.
Winner Italy

2000 – 7th
Andrew McFarlane 250 Kawasaki 26 20
Michael Byrne 125 Honda 36 21
Chad Reed Open Yamaha 7 25
St. Jean d'Angely, France.
Winner USA

2001 – 6th
Michael Byrne 125 Honda 39 np
Chad Reed 250 Kawasaki 1 16
Andrew McFarlane Open Yamaha 9 8
Namur, Belgium.
Winner France


2002 – still confirming
Bellpuig, Spain.
Winner Italy
2003 – 14th
Andrew Mcfarlane 250 Kawasaki 3
Paul Grant 450 Honda 21
Paul Broomfield 450 Yamaha 11
Zolder, Belgium.
Winner Belgium 5 points

2004 – 13th
Lee Ellis Honda MX1 28 27
Paul Broomfield MX2 35 32
Shane Boyd KTM Open 13 18
Lierop, Netherlands.
Winner Belgium 17 points

2005 – 16th
Danny Ham Suzuki MX1 33 32
Andrew McFarlane MX2 Yamaha 17 14
Lee Ellis Ktm Open 30 28
Ernee, France.
Winner USA 16 points

2006 – 11th
Daniel Reardon Kawasaki MX1 21 18
Brett Metcalfe Yamaha MX2 20 25
Cheyenne Boyd Yamaha open 24 19
Matterley Basin, UK.
Winner USA 15 points

2007 – 20th
Chad Reed Yamaha MX1 2 35
Andrew McFarlane Suzuki MX2 DNF
Michael Byrne Suzuki Open 30 12
Budds Creek USA.
Winner USA 8 points


2008 – 6th
Chad Reed Suzuki MX1 12 8
Brett Metcalfe Kawasaki MX2 17 10
Michael Byrne Suzuki Open 8 36
Donington Park UK.
Winner USA 26 points

2009 – 7th
Chad Reed Suzuki MX1 2 9
Brett Metcalfe Honda MX2 17 9
Michael Byrne Suzuki Open 38 36
Franciacorta, Italy .
Winner USA 22 points

2010 – 6th
Brett Metcalfe Honda MX1 3 5
Dean Ferris Honda MX2 18 27
Jay Marmont Yamaha Open 18 10
Lakewood USA.
Winner USA 23 points

2011 – 3rd
Chad Reed honda MX1 1 7
Matt Moss ktm MX2 19 0
Brett Metcalfe Suzuki Open 7 10
St. Jean d'Angely, France.
Winner USA 26 points

2012 – 10th
Lawson Bopping Yamaha MX1 21 19
Luke Styke Yamaha MX2 26 20
Todd Waters Suzuki open 8.15
Lommel, Belgium.
Winner Germany 25 points
2013 – 4th
Brett Metcalfe Kawasaki 10 8
Dean Ferris Yamaha 4 5
Todd Waters KTM 20 13
Teutschenthal, Germany.
Winner Belgium 27 points

2014 – 14th
Chad Reed Kaw MXGP 14 38
Luke Clout Yamaha MX2 22 21
Matt Moss Suzuki open 15 36
Kegums, Latvia.
Winner France 17 points

2015 – 7th
Todd Waters Husq MXGP 13 12
Luke Clout Yamaha MX2 33 13
Dean Ferris Husqvarna Open 19 20
Ernee, France.
Winner France 14 points

2016 – 8th
Todd Waters Suzuki 7 14
Mitch Evans Yamaha 36 37
Dean Ferris Yamaha 5 15
Maggoria, Italy.
Winner France 29 points

2017 – 6th
Dean Ferris Yamaha 11 23
Hunter Lawrence Suzuki 4 8
Kirk Gibbs KTM 5 19
Matterley Basin, UK.
Winner France 20 points

2018 – 4th
Kirk Gibbs KTM 12 31
Hunter Lawrence Honda 7 2
Mitch Evans KTM 12 10
RedBud USA.
Winner France 32 points
2019 – 15th
Dean Ferris KTM 15 30
Kyle Webster Honda 23 13
Regan Duffy KTM 11 33
Assen, Netherlands.
Winner Netherlands 18 points
2020 – cancelled due to Covid
2021 – No riders sent to Italy due to Covid situation.
Mantova, Italy. 2022
Winner Italy 37 points
2022 – 3rd
Mitch Evans 5 28
Hunter Lawrence 8 10
Jett Lawrence 1 2
RedBud USA.
Winner USA 16 points
2023 Fox Australian Supercross Championship Round 1 Entry Lists and Track Map
Check it out.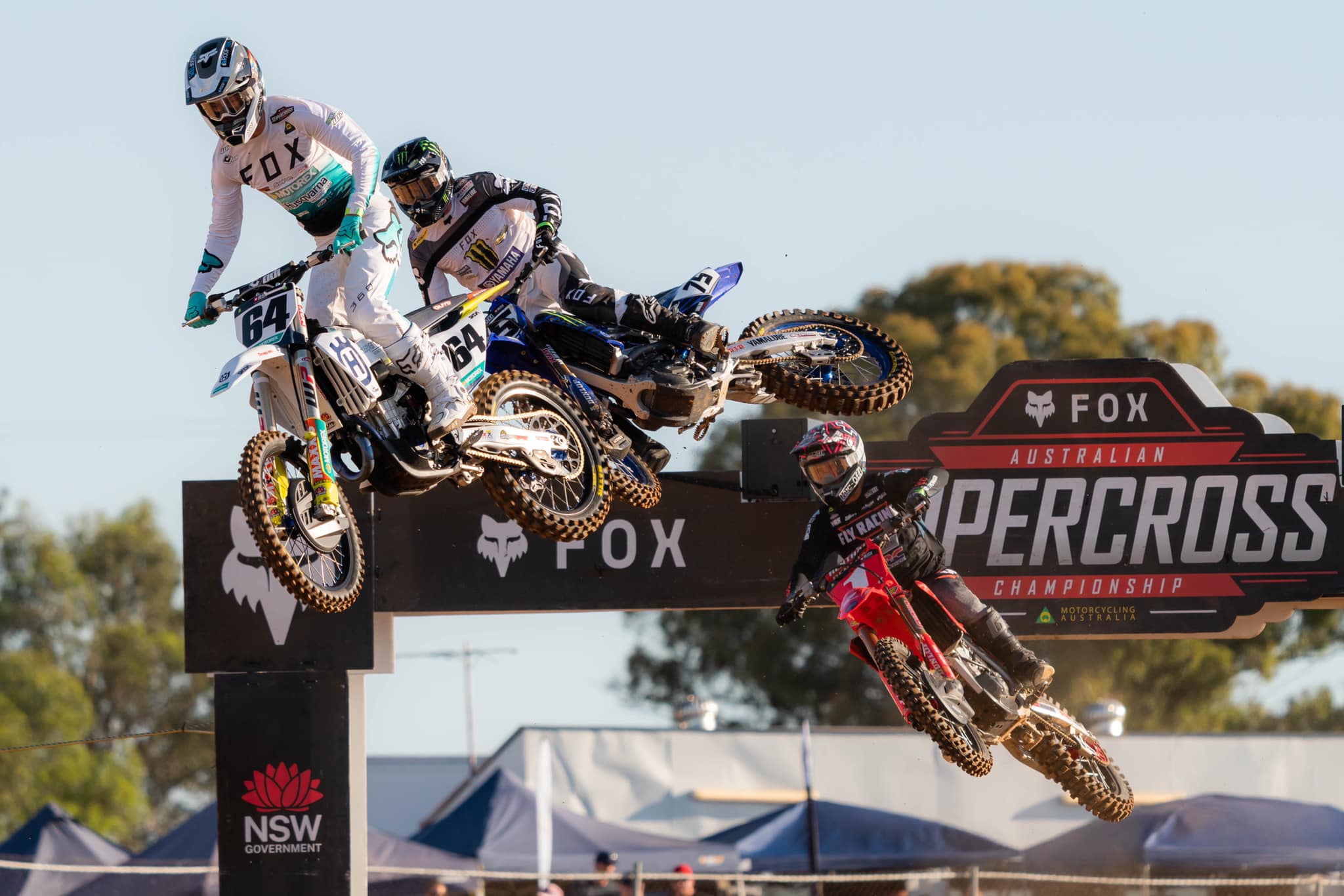 Check out the entry lists and track map for round one of the 2023 Fox Australian Supercross Championship in Adelaide.
SX1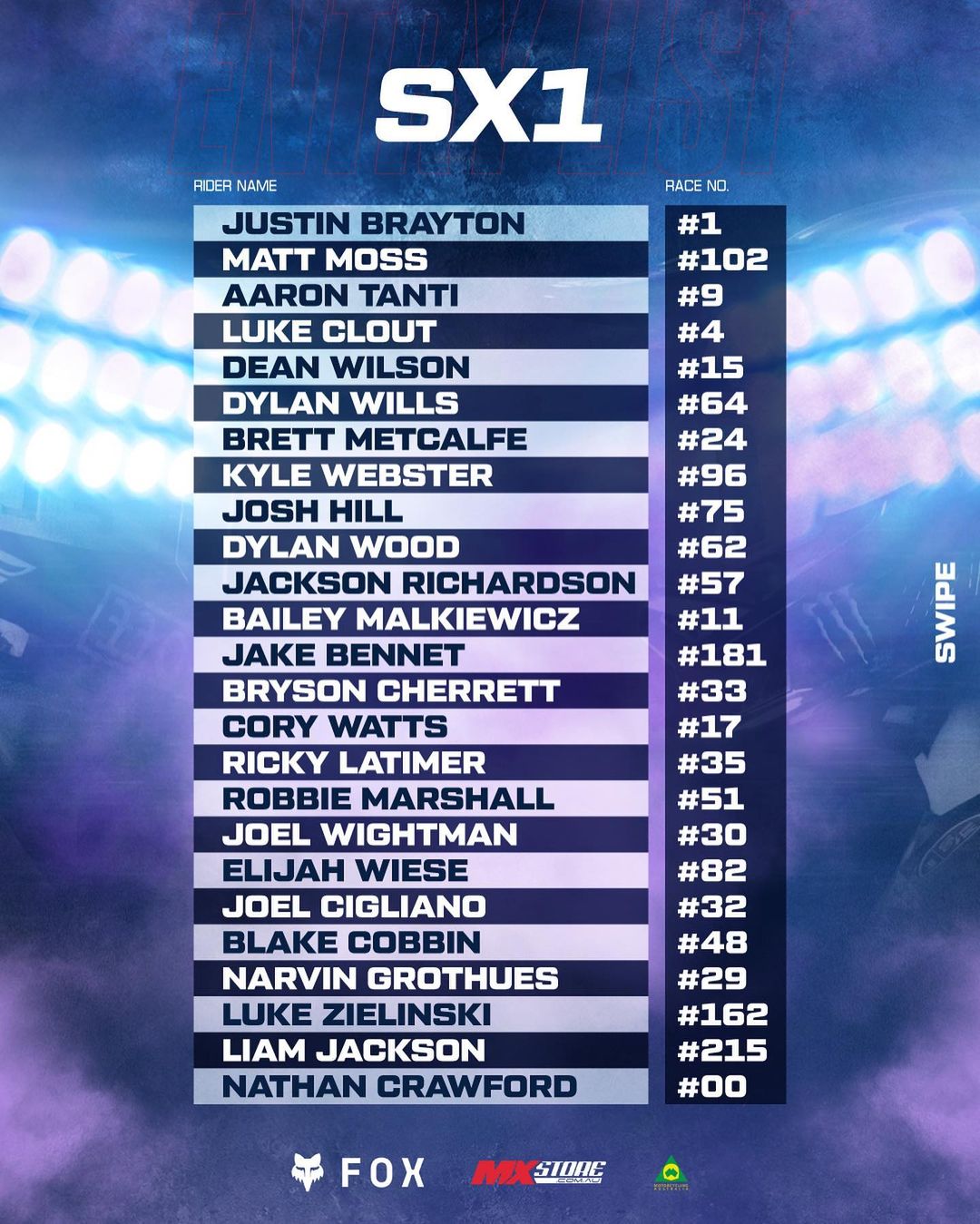 SX2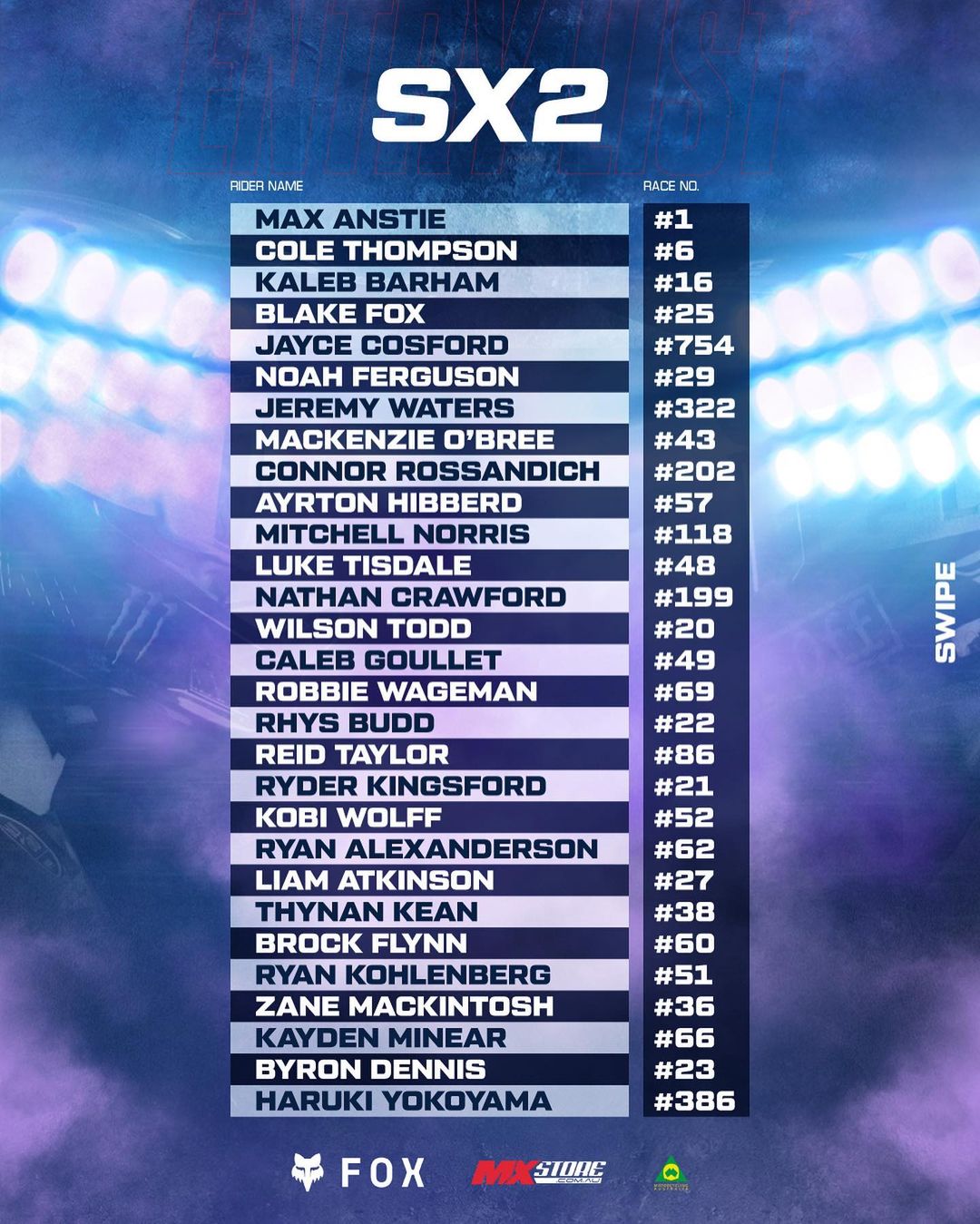 SX3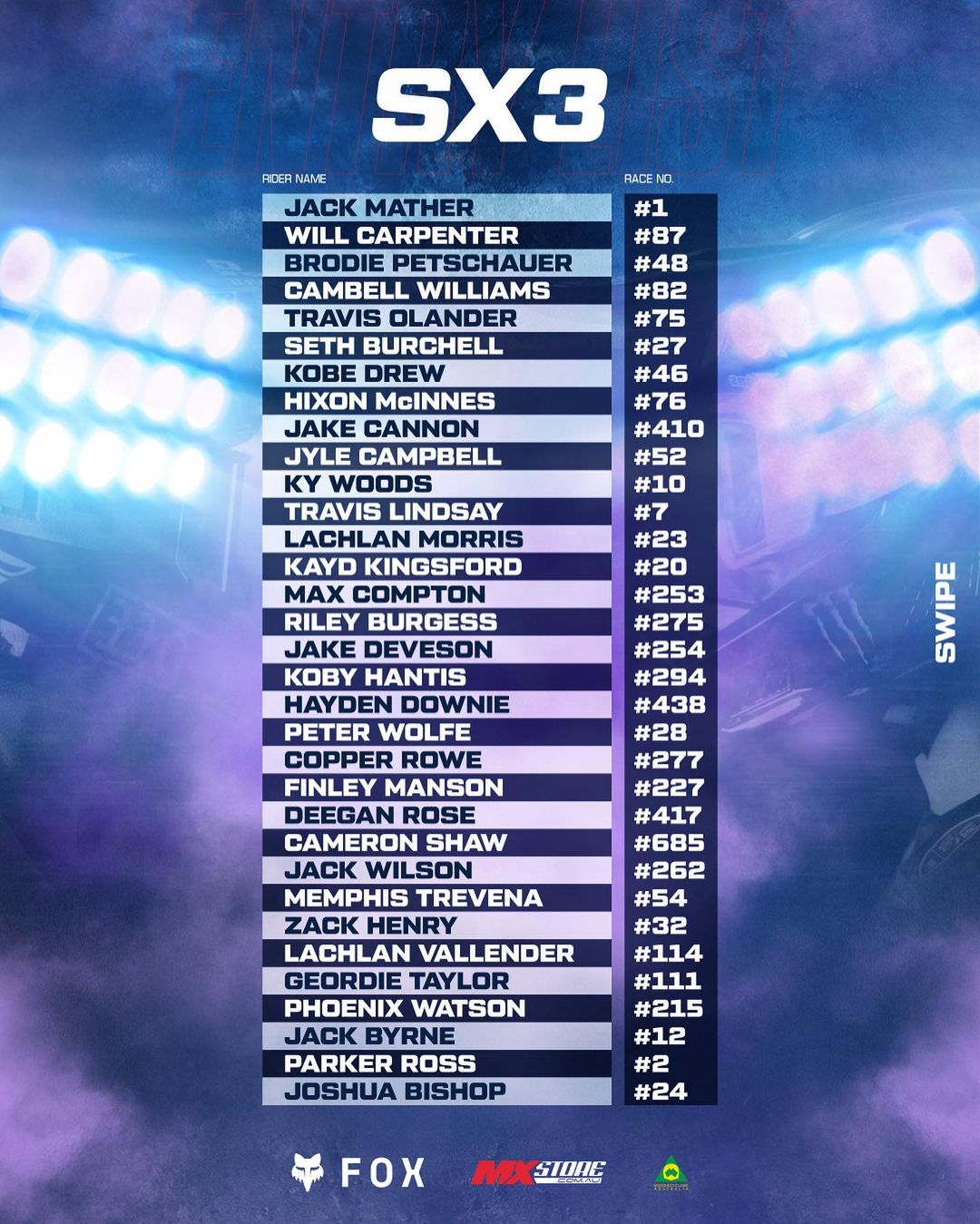 85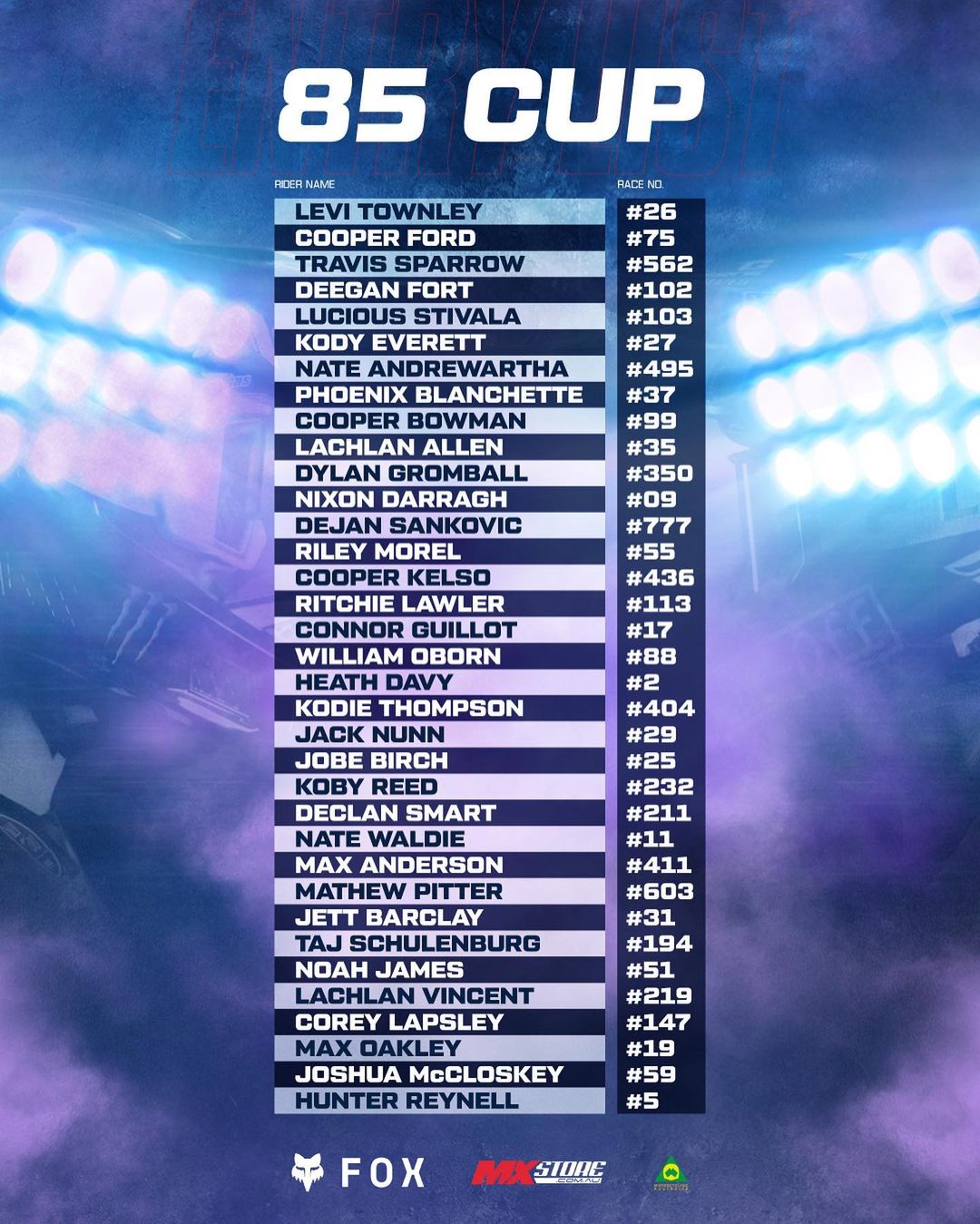 TRACK MAP
Lead Image: Australian Supercross
Love what we do? Please read this article as we try to raise £30,000.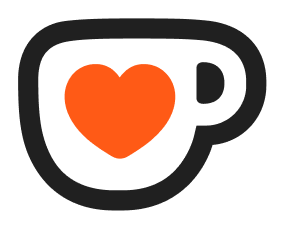 Support MX Vice on Ko-fi
Between The Races Podcast: Kaleb Barham
Aussie ace shares his thoughts.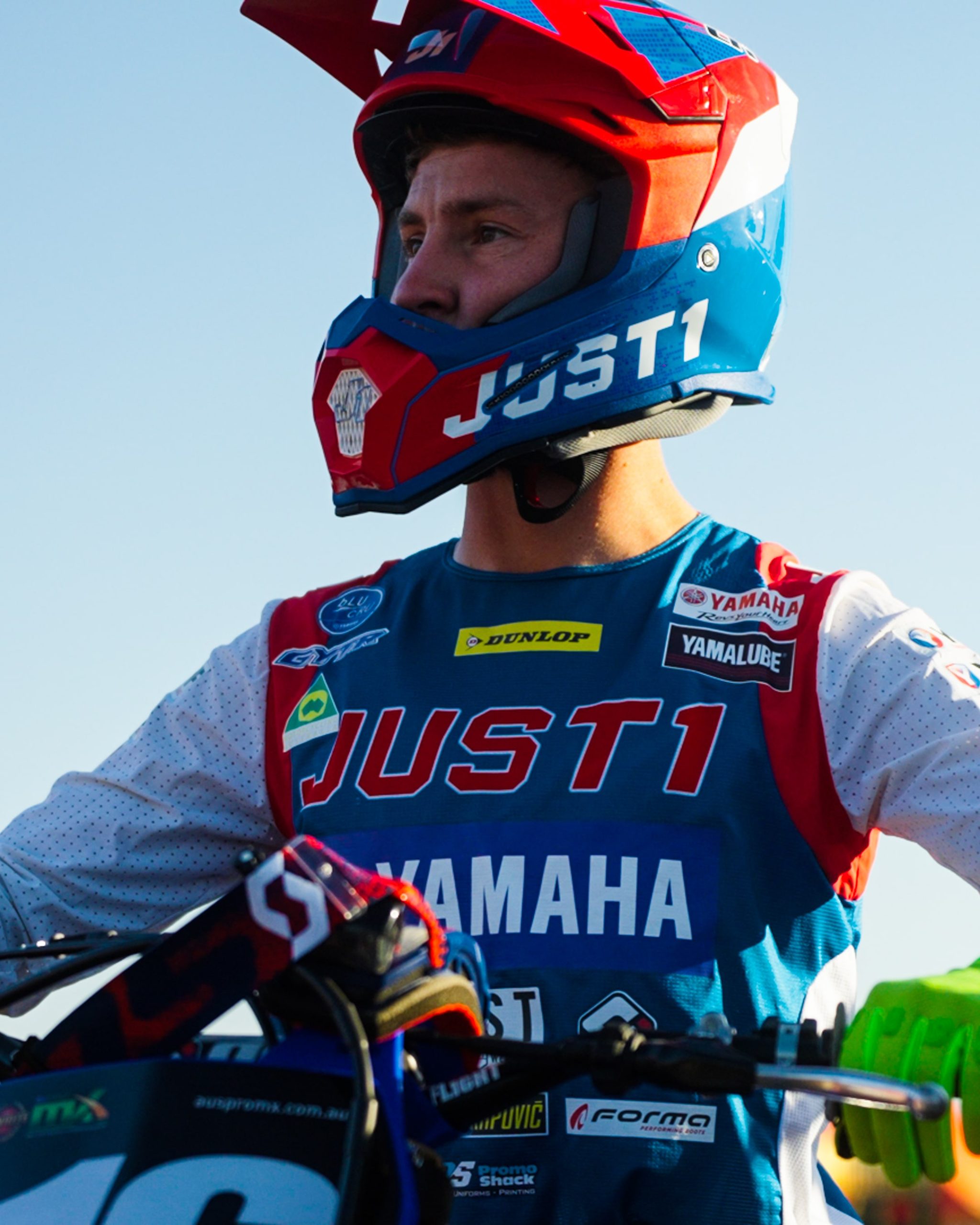 In the latest Between The Races podcast, Aussie hotshot Kaleb Barham talks about his busy year so far, earning a factory ride, the struggles of being a privateer, his excellent training program with Nathan Crawford's 00 Elite Rider Training and Fighting Fit Physio, his journey to the top, his future aims, the state of play in Australian motocross and much more.
The Between The Races podcast is always available to listen to on Spotify, iTunes, SoundCloud, Stitcher and Google Play. Thanks to Fly Racing, Monster Energy, Fox Racing, Parts Europe, Scott, Bell Helmets, Acerbis, AS3 Performance, Kawasaki UK, KTM UK, O'Neal and Even Strokes for supporting the show. If you would like to become a part of the show, don't hesitate to get in touch.
Lead Image: Michael Williams (@postmoto_ on Instagram)
Love what we do? Please read this article as we try to raise £30,000.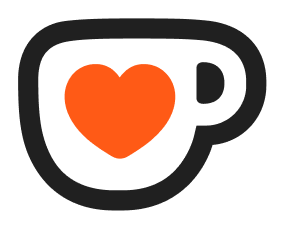 Support MX Vice on Ko-fi