An AMCA Report: Long Lane
An AMCA recap from the final round.
What an exciting season it has been for those contesting the AMCA Championship! A few new faces in the paddock rose to the occasion over the last six months, whilst other established stars continued to keep fans across the nation on the edge of their seats.
MX Vice have been present catching all of the paddock gossip, plus twists and turns of this series, Heading into the last round, held at Long Lane, you could feel the tension in the air as the riders travelled down to the line for the last time. That is hardly surprising, of course. There was a championship on the line!
The MX2 class were the first to tackle the familiar track. Marsh MX rider Luke Burton led the way with one hundred and fifteen points, in front of LDR's Lewis King and Jack Gardner. Gardner was only one hundred and forty-four points behind Burton. It was all to play for in the first moto! Burton did not get a great start and then had to push his way through the first race pretty much from the get go. '14' made his 2018 MX2 championship win look more than easy and was shortly followed by Henry Williams, Jack Gardner, Clinton Barr, Bradley Tranter and Lewis King. Those riders rounded out the top six in moto one. Burton, Williams and Barr were then the top three overall at the end of the day.
"Awesome day of racing with my friends and family, who made it out to support me," Luke Burton said. "I had three bad starts, which made me have to work very hard, but I wanted to end the season how I started it.  I can't thank all the sponsors enough who helped me to go racing every weekend and what an awesome championship it's been by the AMCA and all the clubs involved. Thank you!"
 Moving onto the MX1 class, all eyes were on Josh Waterman entering the day as most were intrigued to see if he could grab that double win! Winning the MX1 IMBA class the weekend before, with what was a sensational performance, Waterman just had to play it safe and bring it home. Gary Gibson took a storming race-one win and made it look easy, but Waterman had to just find nine points in the second race to be crowned the champ. There were impressive rides from Sean Wainwright and Luke Bull, who were battling it out in moto two on what was a pretty rough circuit. Gibson took a well-deserved overall victory with three wins, then Waterman and Mellows followed him in second and third overall.
"In race one I had a bad start and pulled through to second. I was struggling with arm pump quite badly and had nothing for Gary, he was shifting," Waterman said. "Race two I had a poor start but I just rode a steady race as I needed to finish the race to win the championship, so I finished in seventh, and won the championship! What a relief! Double champ! Race three I just wanted to go out with a bang. I gated behind Gary and we both pushed on, but he was on fire so I had to settle for second. Ended up second overall on the day."
Gary Gibson, the overall winner, was also elated. "The day started off not so good in qualifying, with the track running the opposite way, so I struggled with lines and had a few adjustments to make for the race, but sixth was good enough for a decent gate pick," he told MX Vice exclusively. "In race one the gate dropped so soon I was not ready and ended up outside the top ten in the first turn. I picked up on some nice lines and quickly made my way to first in a few laps and got myself a nice gap. Race two got the holeshot put down a few good laps and found myself twenty-five seconds in front, so controlled it from there. Race three again got the holeshot and repeated race two, pulling a nice gap and controlling the race from the front. Got to give it up to my team and my Dad for getting my bike so good that it really made the difference to win so convincingly. Nice way to end the season with three wins and moving up to third in the overall standings. Roll on 2019!"
Moving onto the two-stroke championship, Richard Cannings yet again looking super comfortable on his M&S Breaking Dirt Shifter Yamaha and took all three race wins and defended his championship title. "The final round went to plan really," Cannings later said to MX Vice. "Our focus was to win the championship more than the overall at the event, but it went our way taking the overall win and the championship title!"
A special mention must go to the youngest rider in the two-stroke field, Ben Watkins, who has put some pretty impressive times and results in this season. "It's been quite a hard season for me," Watkins explained. "I broke my hand halfway through, so I didn't get to do many of the rounds. So I did Boraston and that was about all I did for the AMCA, because obviously my hand, but I recovered from that and then I have started to come back into doing the events again. I have come to Long Lane today. I have done well. I had a tenth in qualifying, then a eighth in the first race and a tenth in the second race. It has been going well so far."
Right, moving onto the Vet's championship! Simon Lane has been the dominant rider all season, but has had a few challenges from Sean Smith and Gary Jones. It has been impressive to see how much experience those in this class possess in order to cope with the ever-changing track conditions. Lane took all three wins on the day, this secured him another AMCA Championship title.
"First off I just want to thank AMCA for fantastic series, as each season it is getting better," Lane told MX Vice exclusively. "For me to win this was just as good, if not better than, as winning MX1 in 2005. It's been quite tense running a team and racing this year and the last two seasons I've tried to win this. There's a lot behind the scenes I had to do to achieve this, Also with the split from JSR and now forming our own team, along with James (LRT), it's been a busy time.
"I've now been racing for thirty-five years consecutively now, from BSMA to GPs and IMBA to AMCA, but I still have the same drive to win. It's like a curse I've been given! Most people I have raced with retired twenty years ago. It's so sweet to compete with younger generation and show them the way from time to time, so looking forward to 2019 as James and I will be both in the vets and I know that's going to be one hell of a battle. Running a new team, I've got to thank everyone who's been involved with me over the years as this is one hell of trip."
Showing some of the adults up at Long Lane was the youth class, consisting 85cc and CRF150 riders. It has been a great championship to watch this year with the future of the sport showing some fantastic race craft. Joseph Brooks, Matt Tolley and Charlie Palmer were the top three overall in that class at the weekend. That meant that Joseph Brooks had enough points to take the championship win!
We had a quick chat with Hugo Litchfield, who finished seventh overall on the day. "I haven't been to a AMCA meeting for a bit," he said. "It was nice to get a fifth in the first race followed by an eighth and another eighth in the third, so I was pretty happy. The tracks pretty bumpy and rough, A bit slippy in some places. A big thanks to my Dad for helping me, plus the Broken MX team and Moto 101."
Words: Sophie Mcginn | Lead Image: AMCA Events
Has British Motocross turned a corner?
Read now.

British Motocross is a subject I'm very passionate about. It's the sole reason MX Vice was created back in 2011. At that time there were a few magazines out there, but not many websites. One defining moment for me was seeing Gordon Crockard sit exhausted in a small setup in Denver at the 2010 Motocross of Nations. Ireland had done their usual B final shenanigans, where Crockard finished second to Martin Davalos, Martin Barr third and Stuart Edmonds fifth in a very hot Denver. It took a colossal effort by them, but most notably by Crockard, who was a little older than the young guns of Barr and Edmonds on the team. Watching from afar I could see that Gordon didn't leave anything on the track on Sunday September 26th, he was spent.
---
Words: James Burfield | Lead Image: Supplied
---
I'd never spoken to Gordon before but I felt I needed to go over and speak to him because the amount of respect I had for him that weekend and the Irish team was on another level. The MXDN has a way of bringing out the passion from the fans just as much as the riders and I was totally wrapped up in it as a fan. The best I could offer was 'that was an amazing effort' that probably didn't mean much at the time (Crockard finished 15th overall in MX Open). He smiled, was super polite and talked to me for five minutes before getting changed.
The next day we were in a shopping mall in Denver, I just bought a coffee for myself, my wife and godson, and lo and behold Gordon was sitting down in the mall. He looked up and said "hey how are you?" So I sat down with Gordon, my godson and we spoke about the previous day, what it took for him to achieve what he did that weekend in the heat and altitude of Denver.
When I got back the next few weeks I scoured the internet and magazines and the little that was covered I felt didn't give the team and Gordon justice. I had been going to the MXDN since 2006 and tried to get to as many GPs as possible from 2006 to 2010, and after buying a bike back in 2005, my bug was firmly back.
Although I have regressed about why I'm passionate about British Motocross I feel like I need to add some context to how I got there. I approached DBR back in 2010 about MX Vice being a possible motocross website to Sean Lawless, as DBR then didn't do much online. As you would have figured I was turned down, for good reason. I was just a fan, although I had masses of digital knowledge, it didn't mean anything to the motocross world back then. Whenever I picked up my monthly copies of MotoMag and DBR the stories were tailored around the stars of the sport. I wanted to hear about the journeymen, the riders that work in the week and the epic stories about making it to the line against the best in Britain.
At that time in the UK, Ashley Wilde, Jake Millward, Alan Keet, Adam Sterry, Luke Norris, Lewis Tombs, Josh Waterman, Ross Rutherford, Matthew Moffat, Ross Hill, Rob Davidson, Jordan Divall and Ross Keyworth were among some of the riders that wouldn't get any coverage. No one was telling their stories or interviewing them. That's when I knew MX Vice was needed.
For those that have been on this journey with MX Vice you will know the ins and outs of my love affair with British Motocross. So much has happened in those twelve years. I have seen two ACU chairmen come and go, helped form a championship called the MX Nationals, ran two race teams and spent hundreds of thousands on this sport I love. What I have realised in those twelve years is you have to have tough skin, because if you are going to have an opinion that is not shared by people who have a financial interest, then they will go to whatever level they need to go to to protect that interest. So when I started to ask questions that everyone wanted to know the answers to, you were tarnished with being disruptive and toxic.
The UK is a small community of the same people and if you fuck around in their playground you find out, as pressure is applied to business not to work with you. I have been on this constant journey with British motocross, going round in circles.
The opportunity to go to MXGP in 2015 was a breath of fresh air for MX Vice and myself. We felt welcomed and they appreciated the impact we made online and through our social channels, even when our opinion differed we didn't get alienated, or advertising pulled from us due to pressure.
Weirdly they welcomed the challenge to be better, in fact they were open to hearing if we saw any opportunities to help them improve. This freaked us out for a while and part of us thought, "what's the catch?" Going to MXGP felt like we moved from primary school to university and skipped secondary with the way people accepted and worked with us. That credit goes down to David Luongo who came in with new ideas and Samanta Gelli who understood our potential from day one.
When you look back to 2008 to 2014 and see the amount of GP riders that were regulars in the British Championship, maybe we were spoiled? Maybe it skewed our vision, but it just wasn't just us, GP riders and fans were interested in the British scene. What has happened since that time is that the Dutch, German, French, Italian and Spanish championships have evolved, their federations have invested and been very successful with their programs.
Again this has not helped with the perception when looking at British Motocross. Since 2014 I feel there has been glimpses of effort, but in comparison we have become complacent. When you are complacent then other people will see an opportunity, just like MX Vice did with MotoMag and DBR in 2011. Those two juggernauts at the time possibly looked and laughed at the thought of someone like MX Vice passing them.
I want those days back when you were excited to see riders like Arnaud Tonus, Zach Osborne and Christophe Pourcel in MX2 and Matiss Karro, Kevin Strijbos, Shaun Simpson, Stephen Sword, Marc de Reuver in MX1 and you would travel the length of the UK on a Sunday not to miss a round.
Yes we have had COVID, Brexit and now we are in a recession, it's a difficult time for everyone. The British championship is doing its best given the resources they have along with the MX Nationals. Tracks are charging in the region of £15,000 – £20,000, and gone are the days of volunteer marshalls. The cost to run a national event is around £30,000 to £40,000 per round. Add in to this the industry is spending less on events and marketing to promote their products, services and business, and you can recognise the struggle.
Both championships are run under the ACU, who are the leading federation in the UK, and that won't possibly change in our lifetime. So as much as people want to moan about what they are not doing, then remember they are not going anywhere either. As the federation for both championships, they are always going to be the target for those people who feel disenfranchised with how the sport is going and it doesn't help when people perceive other countries are progressing and new organisations like Nora92 are investing back into the sport with an incredible youth program and reduced licence and riding fees.
I believe that the ACU have recognised that things need to change and have understood that the licence fee subscribers are the life force behind their business. The appointment of Tim Lightfoot as chair of the ACU has been a positive one, someone who seems to truly understand that a united British motocross is beneficial to the ACU.
There are some great people within UK motocross who all believe that they know what it needs and when they are not listened to they then decide to adopt the mantra of I'll just go and do it myself. Tim Lightfoot has the biggest job in motocross right now, and everything to play for.
With the right foresight and understanding what is required from key stakeholders that are jaded he could unite the British motocross scene, skyrocket ACU licences and drive the industry forward. A lot of pressure for one person, but if he can unite the rest of the ACU behind him, then things will change. So a glimmer of hope has happened for the ACU and the national championship, but there will be many who would have heard this all before.
But the hook that got me engaged with British motocross once more was when I heard of the possibility of a new Championship being started for 2024, but with two rounds being run in Europe. As an outsider looking in I would one hundred percent be that guy to say, "Jesus yet another championship" – just what the UK needs. That would have been the general sentiment towards someone starting another championship in the UK. So I needed to know more to understand if this would be a success or not.
Clinton Putnam is the guy who is looking to challenge British motocross to be better, to set a new bar in the hope it will shake it up and take it forward. Clinton was behind the very successful GT Cup and came onboard the MX National series supporting with tracks, infrastructure and vehicles. The same guy who has been behind the explosion of quality new motocross tracks in the UK over the past two years, something that the UK is in dire need of. I spoke to Clinton initially to understand more about the series and what his approach to media would be and see if I could help in any way. His vision is to offer a championship that feels like a GP when you arrive, an emphasis on the pros, along with world class tracks for them to ride on.
A few months ago this was made even more impressive by the fact that Clinton would be running with or without support from the industry, luckily for Clinton there are people, businesses and brands that also share and welcome that vision.
For the past eighteen months I have stayed out of the UK scene thanks to having COVID for five months, which kicked my ass, and then focussing on MXGP to fulfil our contracts. With Arenacross offering £140,000, NPC £98,700, MX Nationals and the British Championship there is finally some good money for pros to earn in 2024 when the economy is struggling! So is this the wind of change that we needed?
Since the new Nora Pro Championship (NPC) was announced it seems to have lifted the industry, federations have upped their game, other championships have got a second wind and the purse strings are a little looser from brands and manufacturers. Who knows where British motocross will be by the end of 2024?
We could be looking back five years from now saying where we would be without Clinton Putnam starting the NPC, and it being a driving force for not only the UK and six rounds in the UK and six rounds in Europe.
One thing is for sure, British motocross is a lot like the political landscape. There is a lot of talk about requiring people to work together, but it will always be difficult when egos and money get in the way of progress. Hawkstone International and VMXDN Foxhills have shown that if the product is what people want then they will support it, the challenge is to offer that level six times a year, not just the once.
Strap in because we have a lot to look forward to over the next thirty six months.
Love what we do? Please read this article as we try to raise £30,000.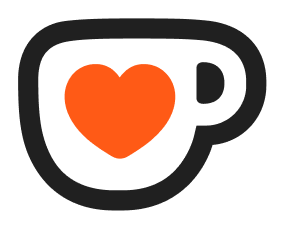 Support MX Vice on Ko-fi
BREAKING NEWS: Nora Pro Championship dates released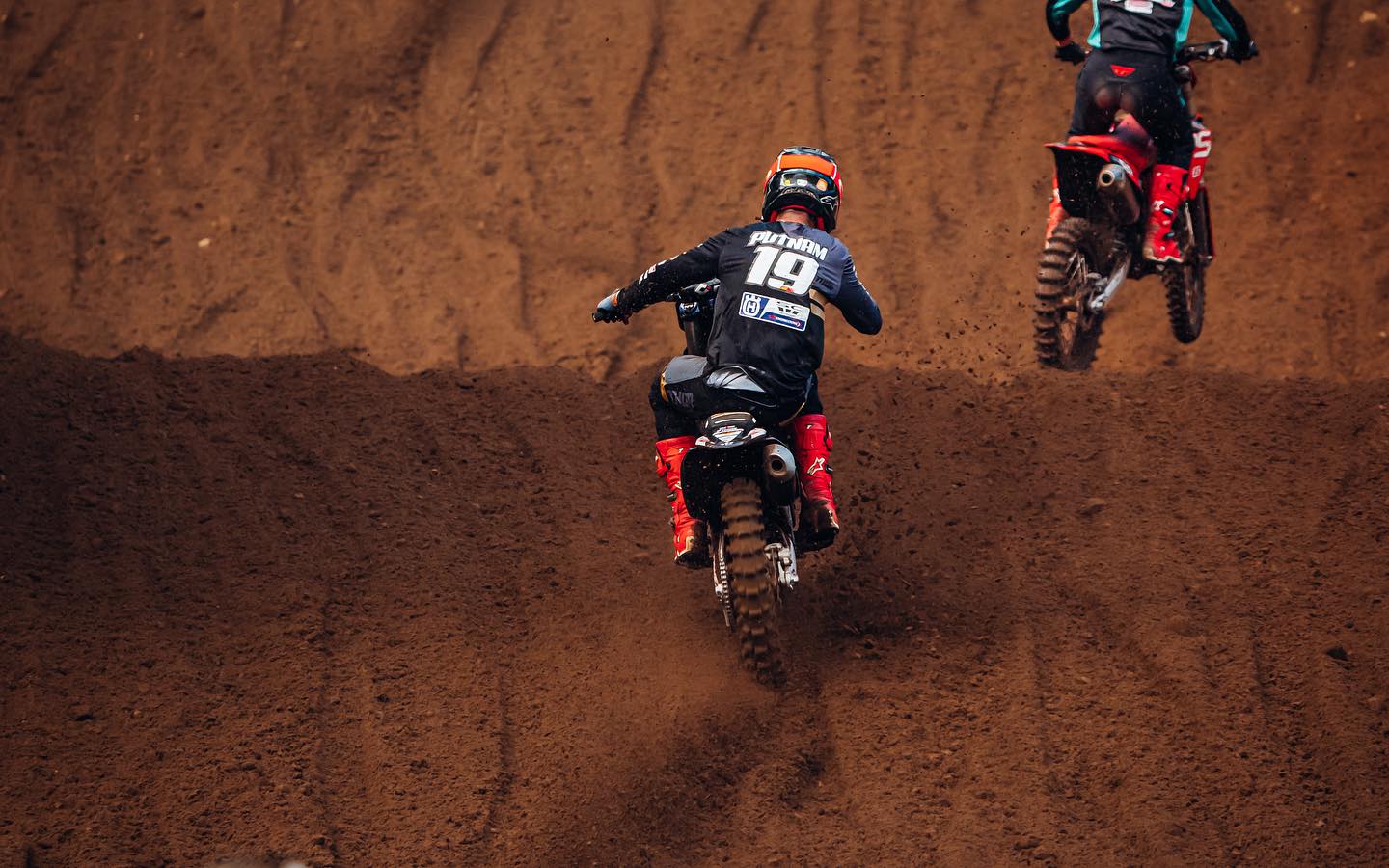 Just in. The dates have been selected for the new Nora Pro Championship for 2024. Whilst there are no surprises that there were going to be clashing it still allows riders to race on a Saturday and a Sunday if they want to ride two championships. The good news we hear is the prize fund is substantial and if facts are correct the biggest prize fund in European Motocross. More information will be released this week. PR Below.
We are pleased to announce the dates agreed for the 2024 championship. As you can imagine this was extremely difficult and we had to take some time to deliberate because we didn't want to clash with the Bridgestone Championship as this will act as the feeder series to the Pro Championship, the Dirtstore British Championship, the Nora British Cup, and some European EMX races. Whilst taking all these into account it didn't leave many dates available, and unfortunately, there will be clashes with other series including the Fastest 40. However, with the Fastest 40 running their Pro group on a Saturday and the Nora Pro Championship on Sunday only, we hope this helps.
The dates will be as follows:
24th March 2024 – UK
21st April 2024 – UK
12th May 2024 – Europe
28th July 2024 – UK
25th August – Europe
8th September – UK
Tracks will be released over the next two weeks as contracts are completed. The UK tracks have been agreed and as mentioned in a previous release there will be a brand new UK motocross track that no one has used, a great step in the right direction when so many tracks are being closed.
A huge thank you for the support and feedback that we have received already and we are taking that into account. We believe in open communication so we will explain every decision openly to offer clarity.
We are working very hard behind the scenes and are implementing everything to make this championship one of the most professional in Europe. Our only goal is to raise the bar of British motocross.
New website, title sponsor, tracks, European races, partners, features, teams and riders will be released over the coming weeks.
@jhmxofficial
The All-New Kawasaki KX450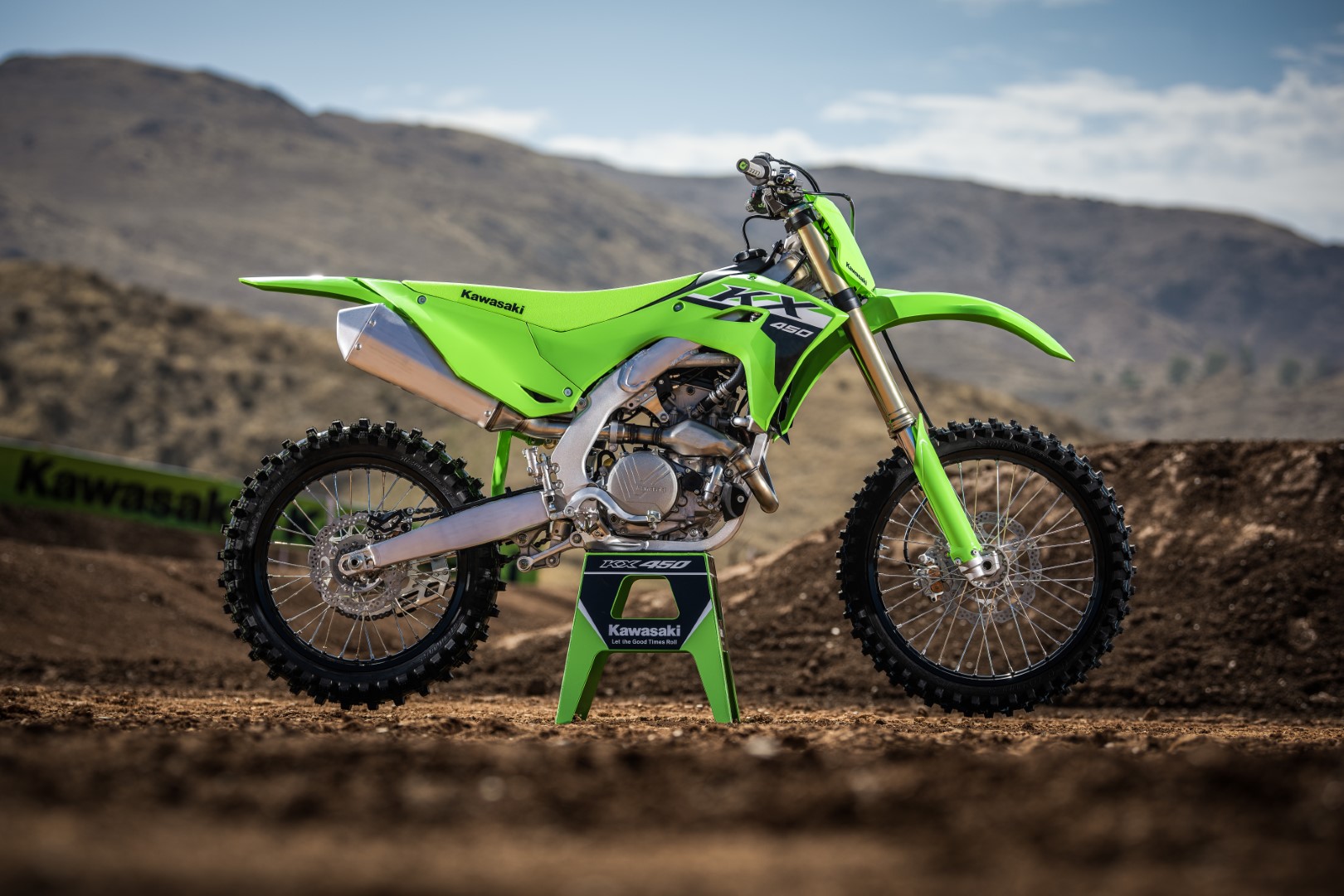 The KX legacy has created a long line of champions and Kawasaki's drive to produce more has never faltered.
This year Kawasaki celebrate 50 years of Dirt Domination with the KX brand, so it's no surprise to see a characteristically "full gas" approach to the 2024 MX season, with the much-anticipated announcement of the 2024 models.
Leading the 450 cm3 class charge is the awesome KX450 enjoying its first full-model change in five years, innovatively introducing features never seen before on a KX machine.
The all-new flagship race machine, the KX450 off road motorcycle, offers next level engineering and power to dominate the track. The 2024 KX450 benefits from a new frame and bodywork plus increased engine performance thanks to a symmetrically aligned intake and exhaust. Handling performance has also improved, with greater front-end feel contributing to improved cornering performance to complement the KX450's acclaimed light, nimble handling and legendary straight-line ability. Aggressive new green bodywork offers improved ergonomics due to a slim, and smoother rider interface while upgrades for the coming season include premium Brembo brake components and ODI Lock-on grips.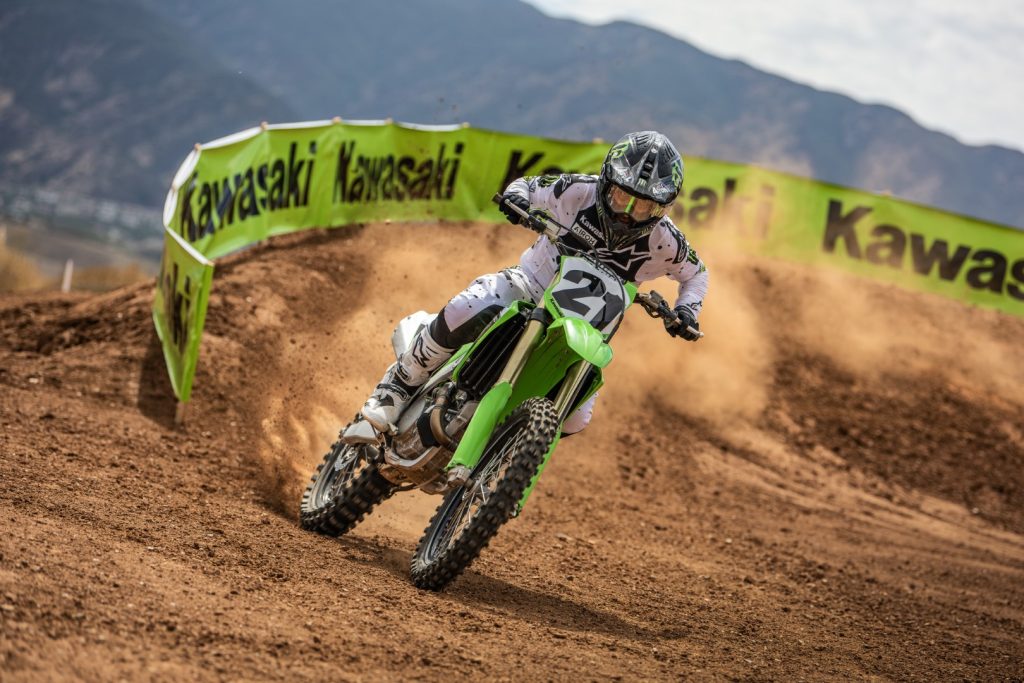 In terms of tech highlights, the 2024 KX450 features for the very first time Power Modes and Kawasaki Traction Control, both easily selectable from switches at the left handlebar. Riders can quickly select from two levels (Weak, Strong) of traction control to suit conditions and preference. Riders may also elect to turn the system off. Using the Mode (M) button on the left handlebar, it is also possible to switch between two engine maps (Normal, Mild response) provided in the ECU.
Additionally, smartphone connectivity allows riders to connect with their machine to adjust engine mapping directly from their smartphones using the application "RIDEOLOGY THE APP KX" to adjust engine maps including fuel and ignition timing while maintenance logs are also available.
Adding new features, plus carefully selected electronic rider aids, has taken the KX450 to the next level and Kawasaki hopes that 2024 season riders will accelerate ahead of the chasing pack towards well deserved podium results.
With innovative and evolving features over the decades, we've learned what it takes to win and stay on top and the KX450 embodies this legacy to the fullest. The new 2023 model is available from December 2023, contact your local dealer today or visit kawasaki.co.uk to find out more.