Two brand new UK Championships for Honda CRF250R riders
Details here.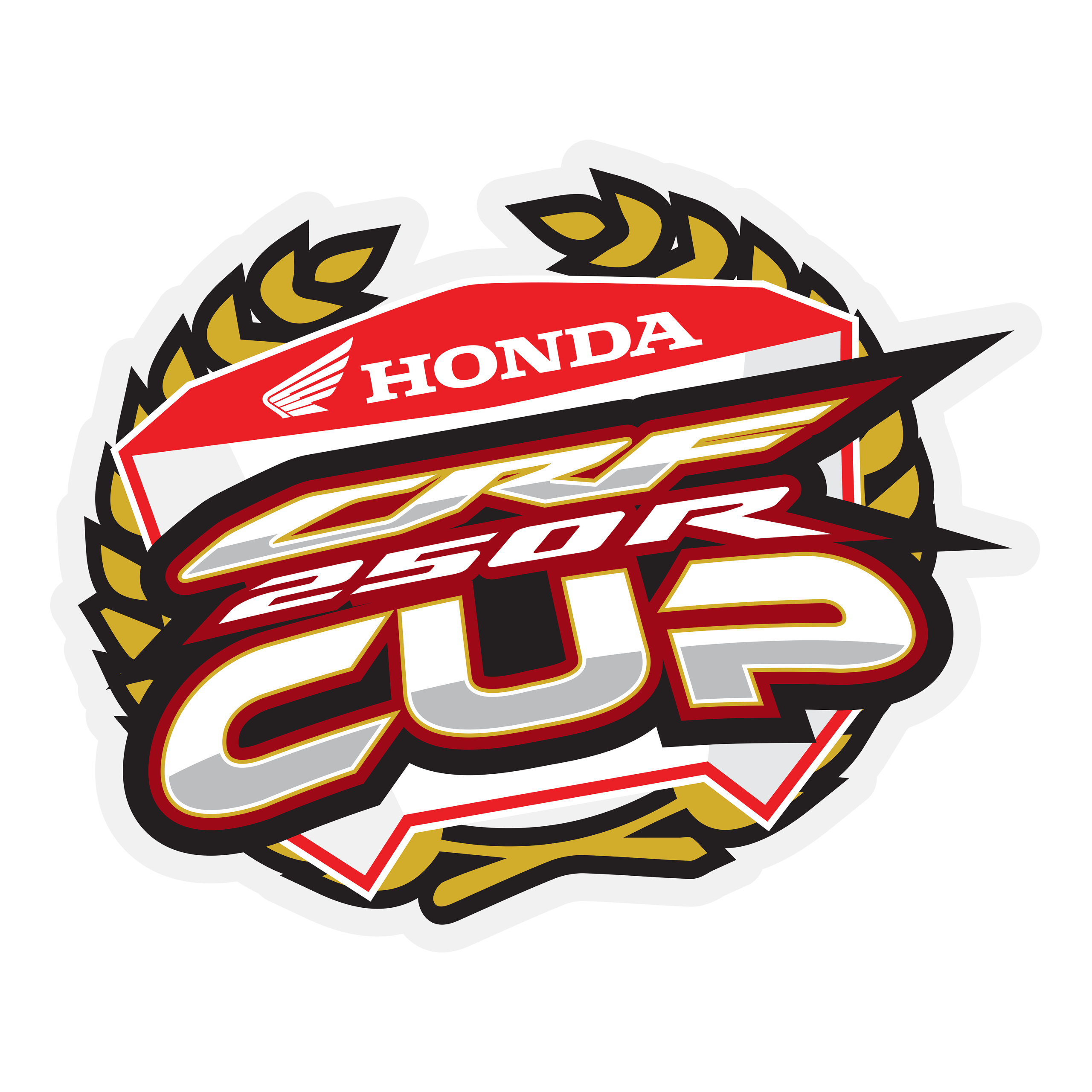 There are to be two new championships exclusively for riders of Honda CRF250R machines in Britain next year, with four brand new bikes up for grabs to lucky winners at the end of the season.
---
Words: Press Release | Lead Image: Honda UK
---
Fuelled by the success of the one-make Honda CRF150R Cup for youth riders which ran as part of the European championship, the new UK-only CRF250R Cup championships will be for adult riders in the amateur and clubmen ranks.
One series will run as part of the new-look events to be run by the MX Nationals series (now named the Fastest 40 British Motocross Championship) which will have race day Sundays dedicated to clubmen riders. There will be three Honda CRF250R Cup motos per event.
And the other series will be organised separately by the AMCA as part of its UK championships. Competitors can choose which series they want to contest. All they need is an eligible Honda CRF250R, from the 2021 model year onwards, that was originally supplied by a UK dealer.
At the end of the year, the winners of both series will get a brand new Honda CRF250R. And each series will also award another CRF250R to a rider who is judged by a panel of experts to show not only talent but determination, effort, sportsmanship, social media coverage and other great qualities over the season. These two Power of Dreams Awards will go to real unsung heroes of the paddock.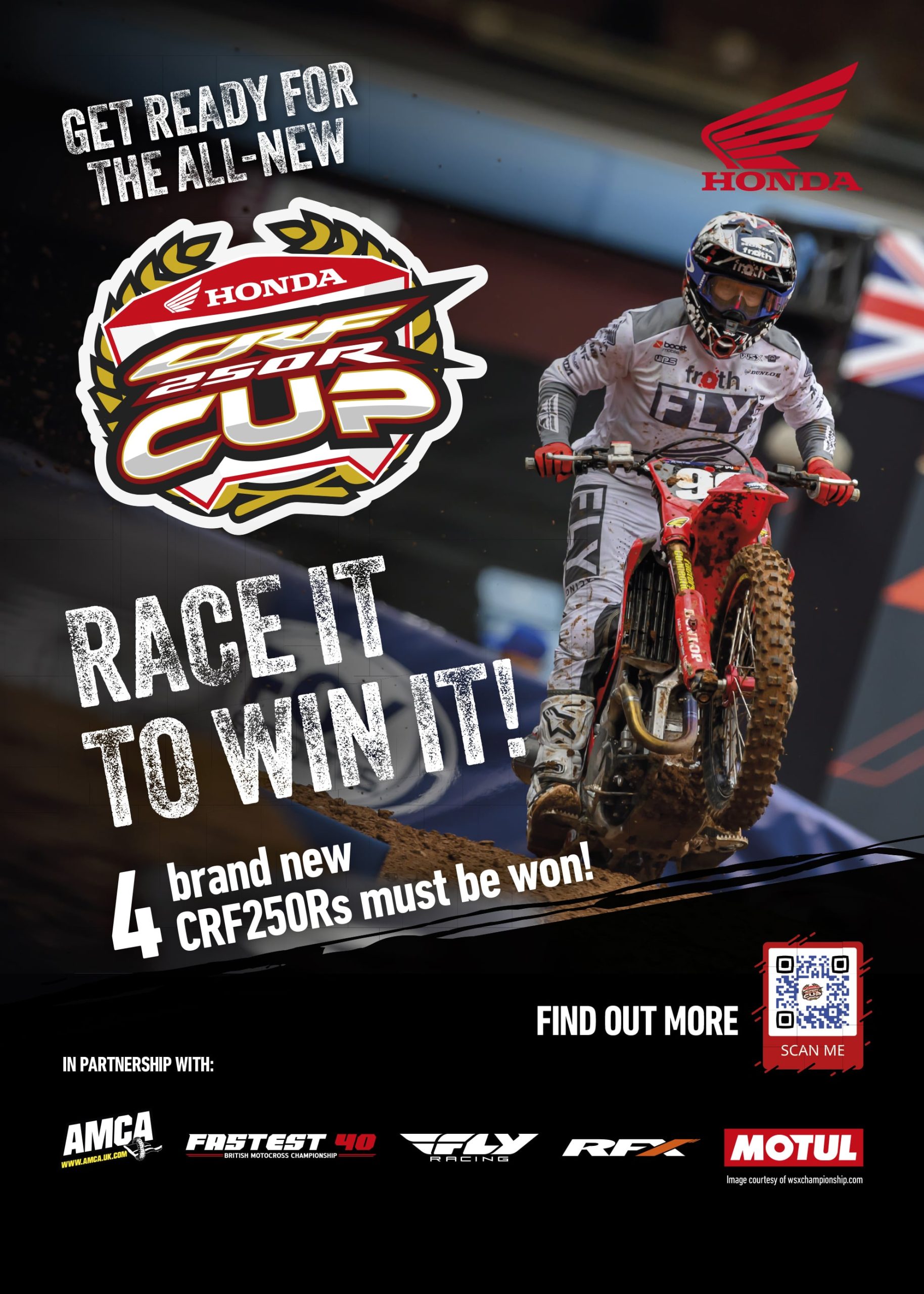 As the incredible Honda CRF250R is such a popular machine in the amateur ranks, riders wishing to contest the AMCA Honda CRF250R Cup championship will need to qualify via their regular AMCA regional race events.
As well as scoring in their usual race classes, AMCA Honda CRF250R riders will also be scored separately and points awarded. Then the best five or six CRF250R riders per region will be invited to contest the eight-round AMCA championship in the one-make Honda CRF250R Cup class. 
At every round, a special-edition red Fly Helmet is awarded to the rider who demonstrates exceptional effort, which they will wear until the end of the season.
Although any rider of a UK-supplied Honda CRF250R from 2021 onwards can race in the series, buyers of new models from official UK Honda dealers will get a free Race Pack including a set of Honda CRF-branded Fly racing kit, a holeshot device and a care package from Motul Oils.
This Fly riding kit also means any buyer of a new CRF250R will automatically be invited to a Fly Off-Road training day with free tuition from current British MX1 champion Conrad Mewse and triple world 500 champ Dave Thorpe.
There will also be pre-season live webinars run by Thorpe who will give hints and tips on everything from fitness and nutrition to race techniques and the mindset of how to win.
Thorpe said: "This is great news for British motocross as riders of the Honda CRF250R can compete in prestigious championships on their own bike and be in with a chance of winning a brand new machine. We know the bike is incredible, and now with the added support and exposure of these classes, plus guidance and coaching from riders like Conrad Mewse, this is a unique opportunity for UK Honda riders to get ahead. 
"Honda is investing into grass roots racing and this is just the start of what will be a five-year plan that ultimately could see a talented racer join my team in the British championships. I'm very happy and proud to be involved with this great new initiative."
Honda UK Off Road Sales Manager Graham Foster-Vigors said: "Honda UK has set up this initiative to give Honda riders the chance to progress under the wing of a manufacturer, whether they are stepping up from junior ranks, or looking for extra competitive quality racing within existing national championships.
"And in the next phase, the ultimate goal will be to nurture future British talent, to qualify for an introduction into our professional race team. It's great to keep our team partners involved as this exciting project will see us encourage grass roots participation, with some amazing prizes on offer."
Factory Honda Australia confirm Noah Ferguson capture
See here.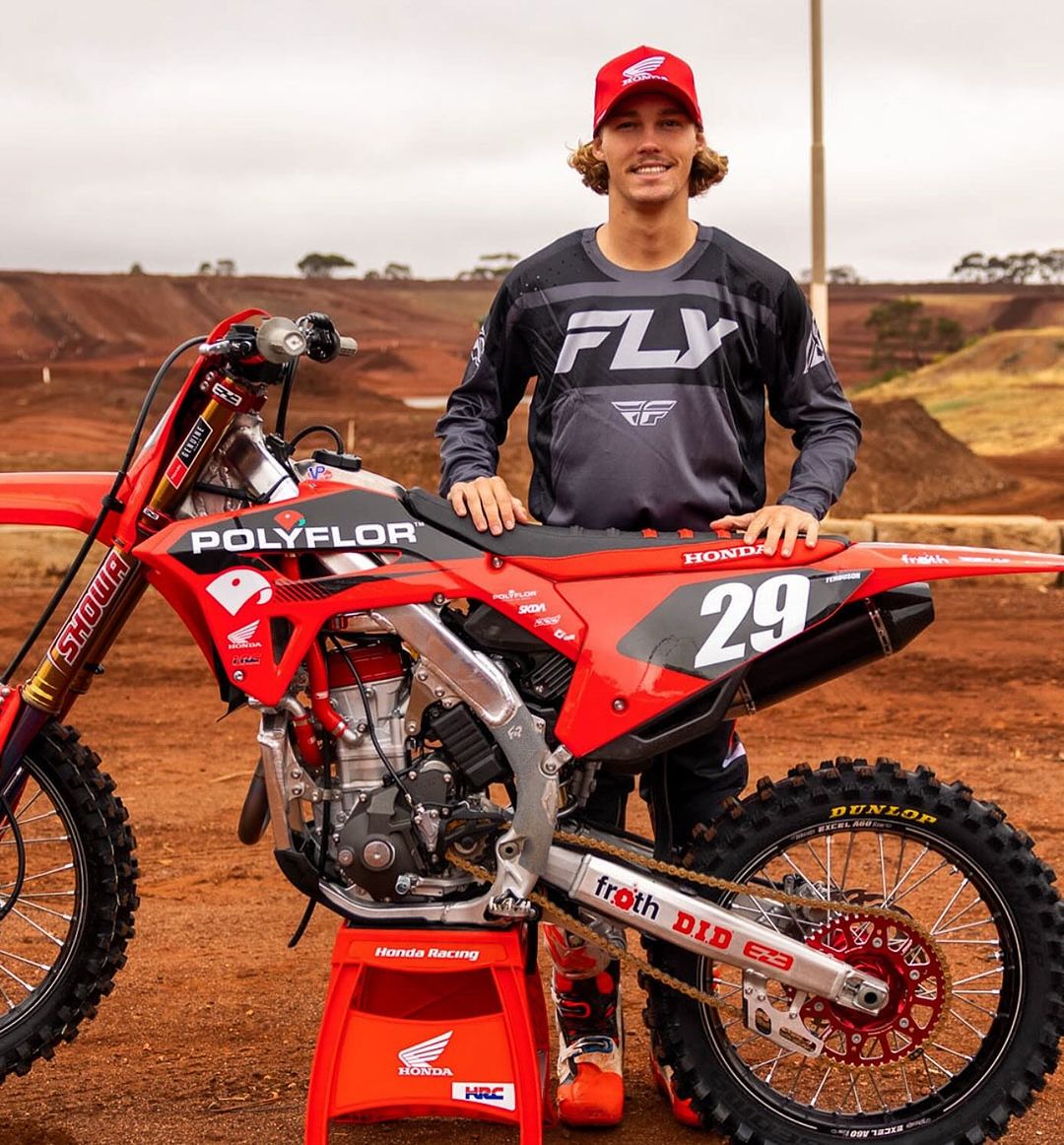 The Factory Honda Racing team in Australia have confirmed the signing of exciting talent Noah Ferguson, who makes the switch from GasGas for the 2024 season after a strong 2023 that was littered with upside.
"Factory Honda is delighted to welcome Noah Ferguson, a strong championship contender, to compete in both the MX2 and SX2 championships. Noah will join Brodie Connolly in the MX2 class, and we anticipate announcing one more rider shortly to complete the team for the MX2 and SX2 championship campaigns," the team stated.
MORE: Between The Races Podcast: Noah Ferguson
"Super excited to announce that I will be working with Honda Australia for the 2024 season! Looking forward to what's to come," Ferguson said.
Eager to continue on his upward trajectory next year in his quest to secure titles, it'll be fascinating to see how he fares.
Lead Image: Noah Ferguson / Honda Australia
Love what we do? Please read this article as we try to raise £30,000.
Dylan Wills To Race Dortmund Supercross for KTM Sarholz
Read here.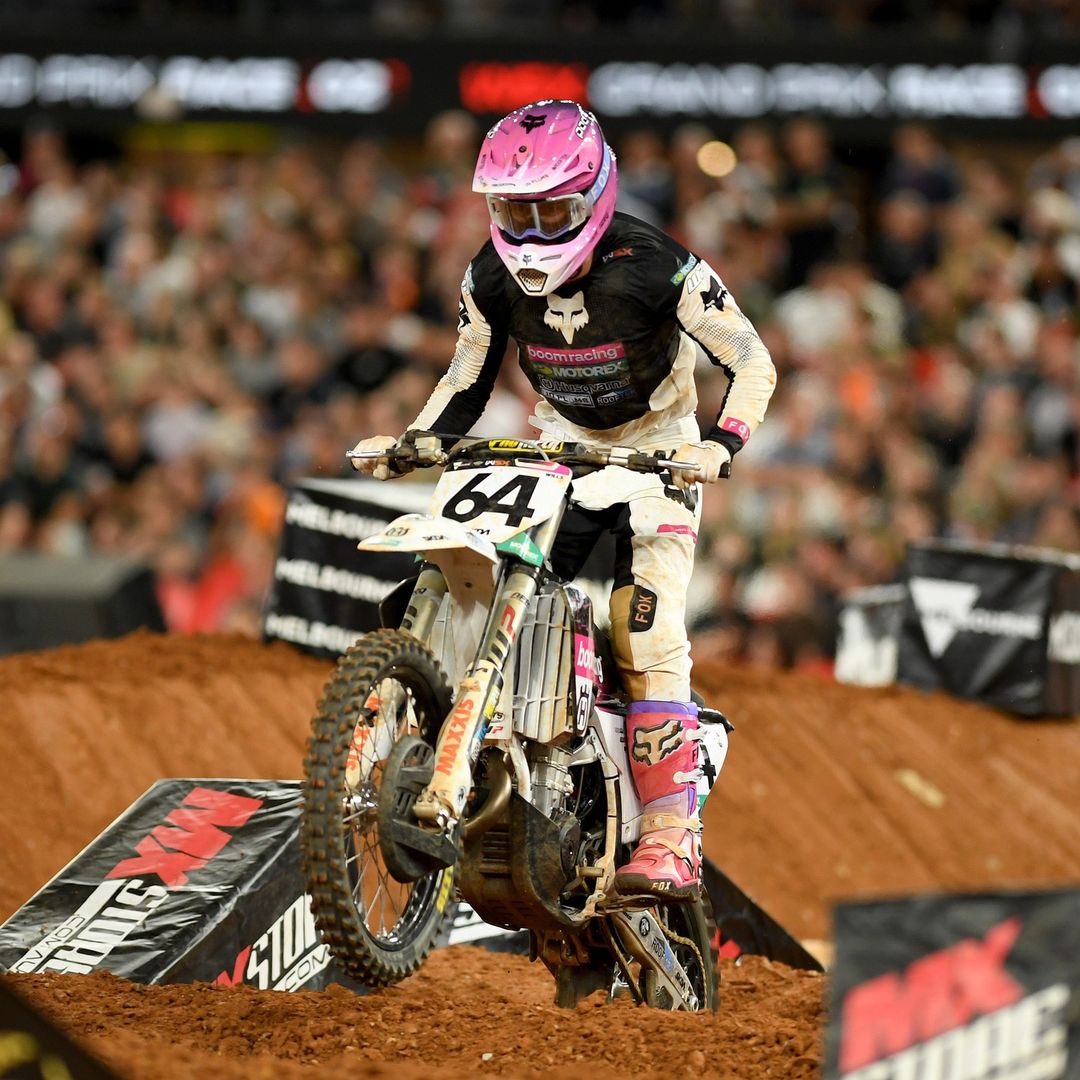 Having enjoyed a strong 2023 Australian Supercross Championship and made a memorable wildcard appearance at the WSX finale, Aussie ace Dylan Wills has announced he'll be racing the Dortmund Supercross under the KTM Sarholz awning. Check out his post below.
Lead Image: Australian Supercross
Love what we do? Please read this article as we try to raise £30,000.
JK Racing Yamaha signs Isak Gifting for the 2024 MXGP season
See here.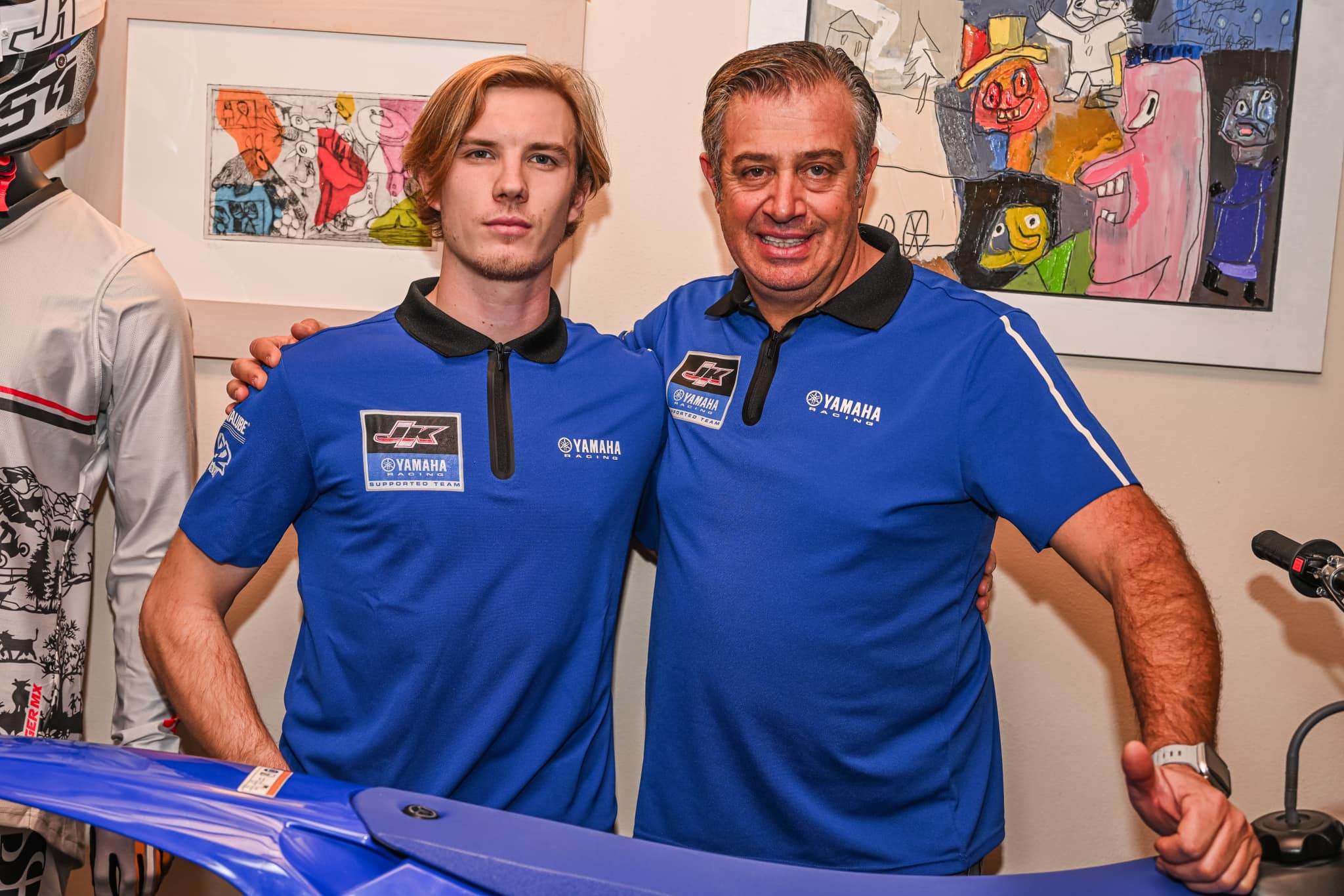 JK Racing Yamaha will head into the 2024 season with a full line-up to compete in the MXGP World Championship as well as the EMX125 class with a combination of experienced riders and promising newcomers.
---
Words: Press Release | Lead Image: JK Racing
---
Isak Gifting will lead the way as he'll compete the whole FIM Motocross World Championship making his debut in MXGP class, alongside Gifting will be Anton Nagy with YZ bLU cRU Masterclass winner Giorgio Orlando and Manuel Iacopi.
JK Racing Yamaha, managed by Riccardo and Giuliano Boschi, is committed to success for the 2024 season.
Love what we do? Please read this article as we try to raise £30,000.