Pro Circuit Kawasaki Announces 2024 Line Up
Levi Kitchen and Maximus Vohland join Pro Circuit Kawasaki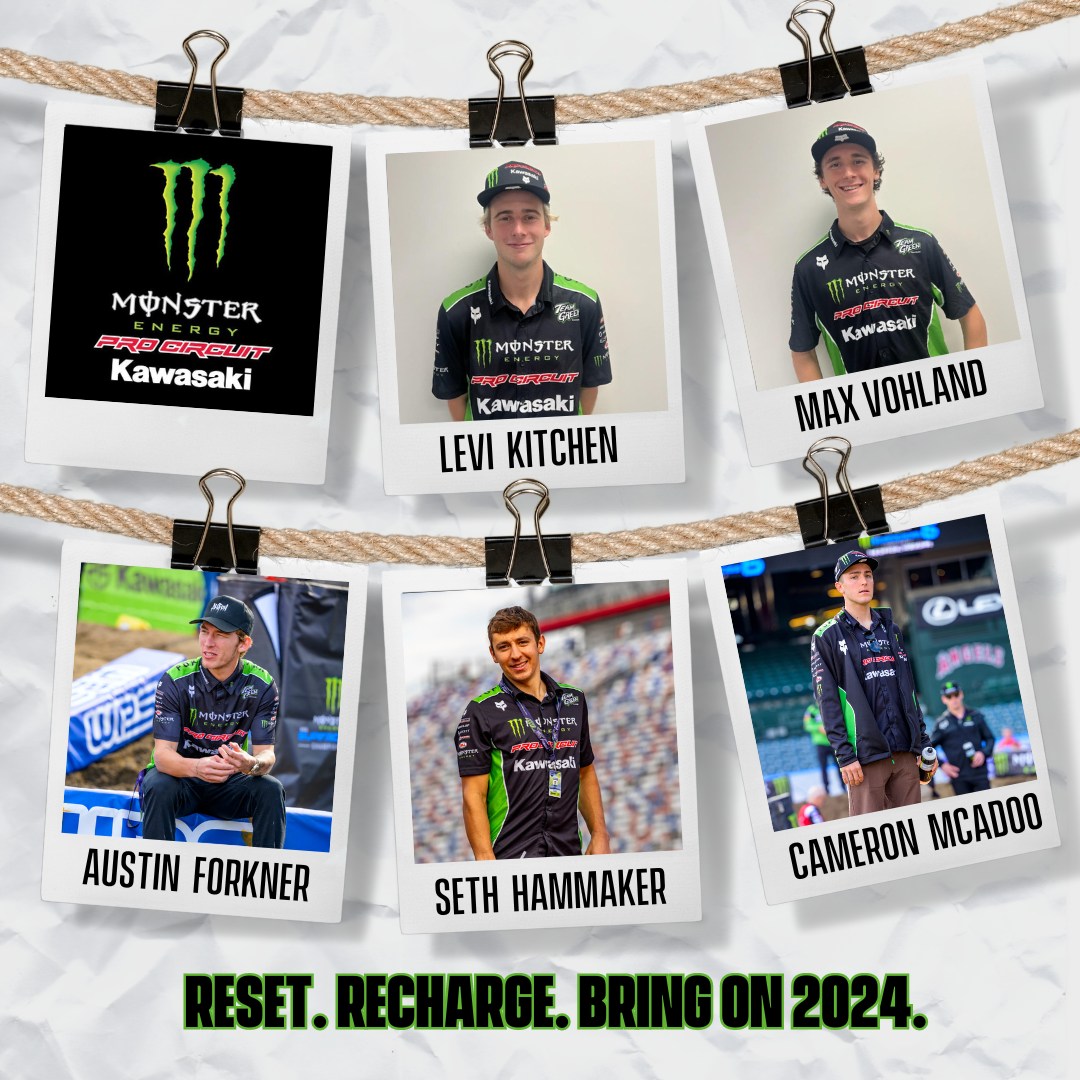 Monster Energy Kawasaki will continue with its two title favorites in the 450 class aboard the all-new 2024 KX 450. Adam Cianciarulo will compete for his fifth year alongside 2018 Monster Energy Supercross Champion and 2022 Supercross runner-up Jason Anderson. In the 250 Class, Monster Energy/Pro Circuit/Kawasaki is set to lineup with established race winners, Austin Forkner, Cameron McAdoo, and Seth Hammaker, while also welcoming the championship contenders Levi Kitchen and Maximus Vohland.
Cianciarulo will line up with Monster Energy Kawasaki in 2024 to continue his notable 19-year partnership with Kawasaki as he enters his fifth year of 450 Class racing. The No. 9 graduated through the Kawasaki Team Green program on his way to the 2019 AMA Pro Motocross 250 Championship, 2020 Pro Motocross Rookie of the Year, and 21 combined professional SMX wins. After completing the entire 2023 season injury-free, Cianciarulo is set to capitalize on a full off-season of preparation riding the new 2024 KX 450 with the team to be in prime form for his 2024 Championship efforts.
Anderson and his KX 450SR proved to be a strong duo throughout the 2023 Monster Energy Supercross Championship, earning seven Top-5 finishes. After injury at Round 15 of Supercross, Anderson carried his success into the Pro Motocross Championship, where he claimed four Top-5 finishes and two overall podiums. Looking forward to the Monster Energy Supercross Championship, Pro Motocross Championship and SuperMotocross World Championship in 2024, Anderson aims to continue his fight for premier class supremacy.
Supported by an astonishing 31 years of professional racing success, the Monster Energy/Pro Circuit/Kawasaki race team will contest the 2024 SuperMotocross World Championship with a new lineup. The team who has achieved an unmatched 294 combined SMX wins, and 31 total championships, Monster Energy/Pro Circuit/Kawasaki, is gearing up for more victories with Forkner, McAdoo, Hammaker, Kitchen and Vohland.
Entering his ninth year with Monster Energy/Pro Circuit/Kawasaki, Forkner's impressive 13 victories position him as a top contender for the championship in 2024. This seasoned 250 Class rider is primed to clinch his inaugural professional championship.
McAdoo earned his 17th Monster Energy Supercross podium in 2023 before an injury after Round 5 sidelined him the remainder of the 2023 season. The Iowa native aims to return stronger than ever and build upon his success with a full championship campaign in the year ahead.
As Hammaker lines up for his fourth year in the professional circuit, his supercross Main Event win and his five podium finishes attest to his readiness to contend for the championship throughout the season.
New to the team, Kitchen and Vohland look to infuse their skill, determination and passion into the Monster Energy/Pro Circuit/Kawasaki lineup for the 2024 season. These rising stars in the motocross realm are determined to achieve even more remarkable results in the upcoming year. A combined track record that includes Kitchen's outstanding eight podium finishes and a main event victory, alongside Vohland's impressive 10 Top-5 finishes, positions them as premier contenders in the class.
Monster Energy Kawasaki and Monster Energy/Pro Circuit/Kawasaki will host a full roster of proven Team Green contenders for the 2023 AMA SuperMotocross World Championship. Both Ryder Difrancesco and Jett Reynolds depart the team after being longtime Team Green riders.
Alberto Forato signs up for Standing Construct Honda MXGP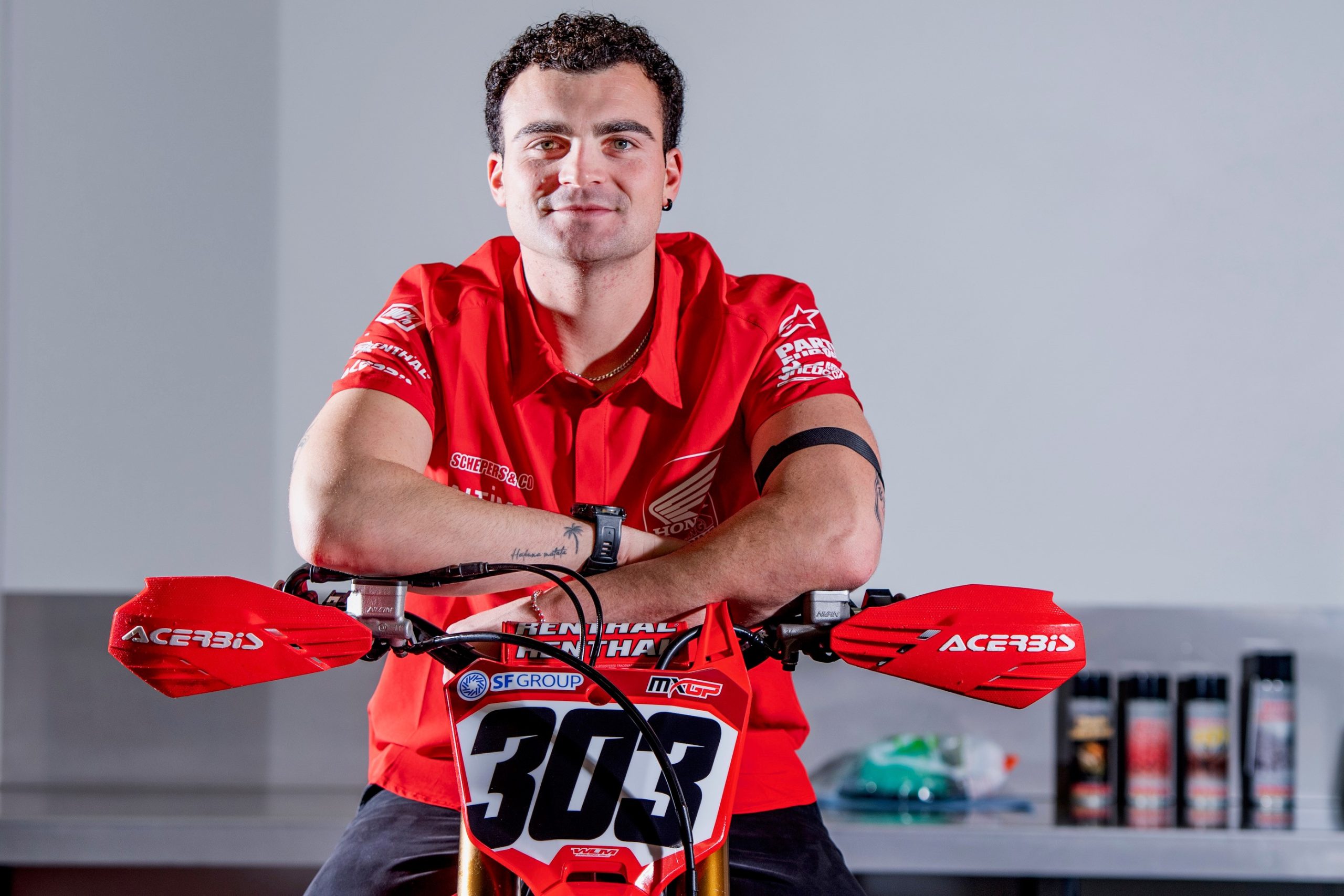 Although it's been speculated for a while, it's always great to get the official PR! One of the rider's favourite teams to work under, Standing Construct Honda have secured the young and talented Alberto Forato for 2024. Along with Pauls Jonass the team will surely be not just one of the professional in the paddock but fun and friendly! A great match.
Standing Construct Honda MXGP is delighted to announce the signing of Italian sensation Alberto Forato for the upcoming 2024 MXGP season. The 23-year-old talent is set to campaign a Honda CRF450R alongside Pauls Jonass in the highly anticipated 2024 FIM Motocross World Championship.
Forato first made waves on the world stage in 2013 in the European Championship EMX150 class, where he competed on a Honda CRF150 and finished as the championship runner-up. Since then, his remarkable talent has propelled him through the ranks.
Starting his 450 career in 2021, "Alby" has demonstrated consistent improvement each year. After finishing 18th overall in his first full season in MXGP, he has progressed impressively, and finished 11th in 2022.
Continuing his upward trajectory, the charismatic #303 achieved four top-five race finishes in 2023, which includes a thrilling third-place finish in Race 1 at his home Grand Prix in Maggiora.
He was also one of only six riders to win a Qualifying Race and ended his 2023 campaign ranked seventh in the world.
Alberto Forato:
"I'm happy to be back with the Honda family and to join the Standing Construct Honda MXGP team. It's so important to have a solid team behind you and a strong bike, so I'm really looking forward to the new challenge and seeing what we can do in 2024."
Tim Mathys:
"We are pleased to welcome Alberto Forato to the team for the 2024 MXGP season. We've been watching him in MXGP over the past two years, and his progress has been nothing short of impressive. He will be a great addition to our team, and we look forward to seeing what he, together with Pauls Jonass, can achieve!"
£100,000 Reasons to race British Motocross with Nora Pro Championship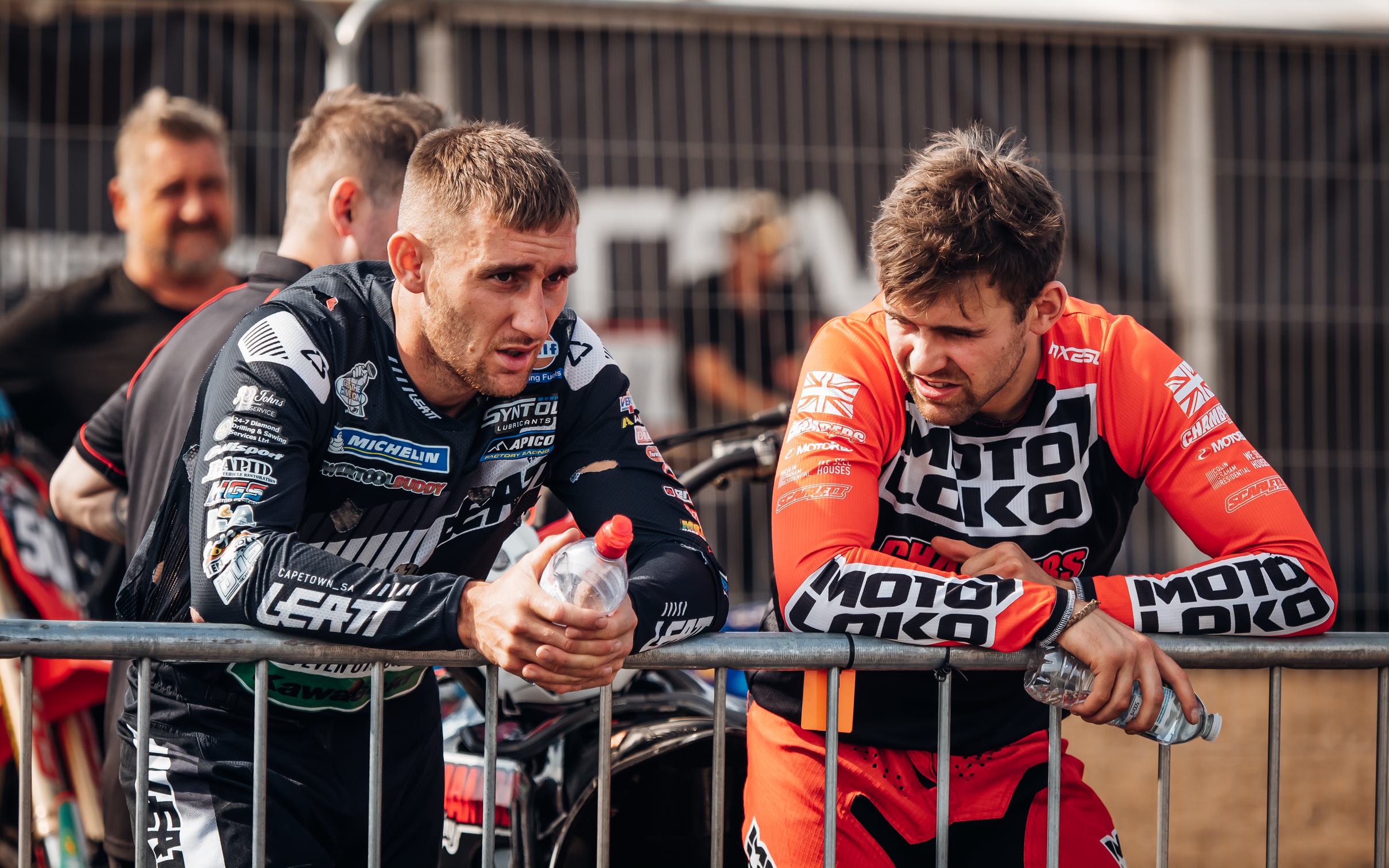 Following the first few press releases, we are pleased to announce the upcoming payouts and prize money for the new series. We believe that the riders who risk everything to compete in what is arguably the World's most exciting sport, deserve to earn as much as possible.
We are pleased to announce that the Nora Pro Championship will have a £94,500 payout over the six rounds for the riders and a further £4,200 in payouts for teams, giving the overall Championship a purse of £98,700.
Prize money for riders will be paid out per race, with two MX2 races, two MX1 races and one Superpole. Plenty of opportunities for riders to get rewarded.
| | | |
| --- | --- | --- |
| Position | Prize Money Per Race (5 races) | Team Overall on the day |
| 1st | £500 | £400 |
| 2nd | £400 | £200 |
| 3rd | £320 | £100 |
| 4th | £260 | |
| 5th | £220 | |
| 6th | £200 | |
| 7th | £180 | |
| 8th | £160 | |
| 9th | £140 | |
| 10th | £120 | |
| 11th | £110 | |
| 12th | £100 | |
| 13th | £90 | |
| 14th | £80 | |
| 15th | £70 | |
| 16th | £60 | |
| 17th | £50 | |
| 18th | £40 | |
| 19th | £30 | |
| 20th | £20 | |
The prize fund per event is £15,750 for riders and £700 for teams.
The total Prize fund for the six-round series will be an incredible £98,700 paid out to riders and teams in 2024.
The prize fund and the format we have chosen will make the event one of the most exciting series in the UK next year and attract some good riders from Europe to battle it out with the British riders. The racing should be fantastic to watch with riders receiving good financial rewards that will make the live streaming exciting for those at home watching these fun action-packed 20-minute plus 2-lap races.
News on title sponsor, tracks, teams, riders, entries and partners will be released as a priority.
The interest in the series so far from teams, riders and the industry has been staggering. For media and sponsorship please direct all contact to James Burfield – [email protected]
BREAKING NEWS: Nora Pro Championship dates released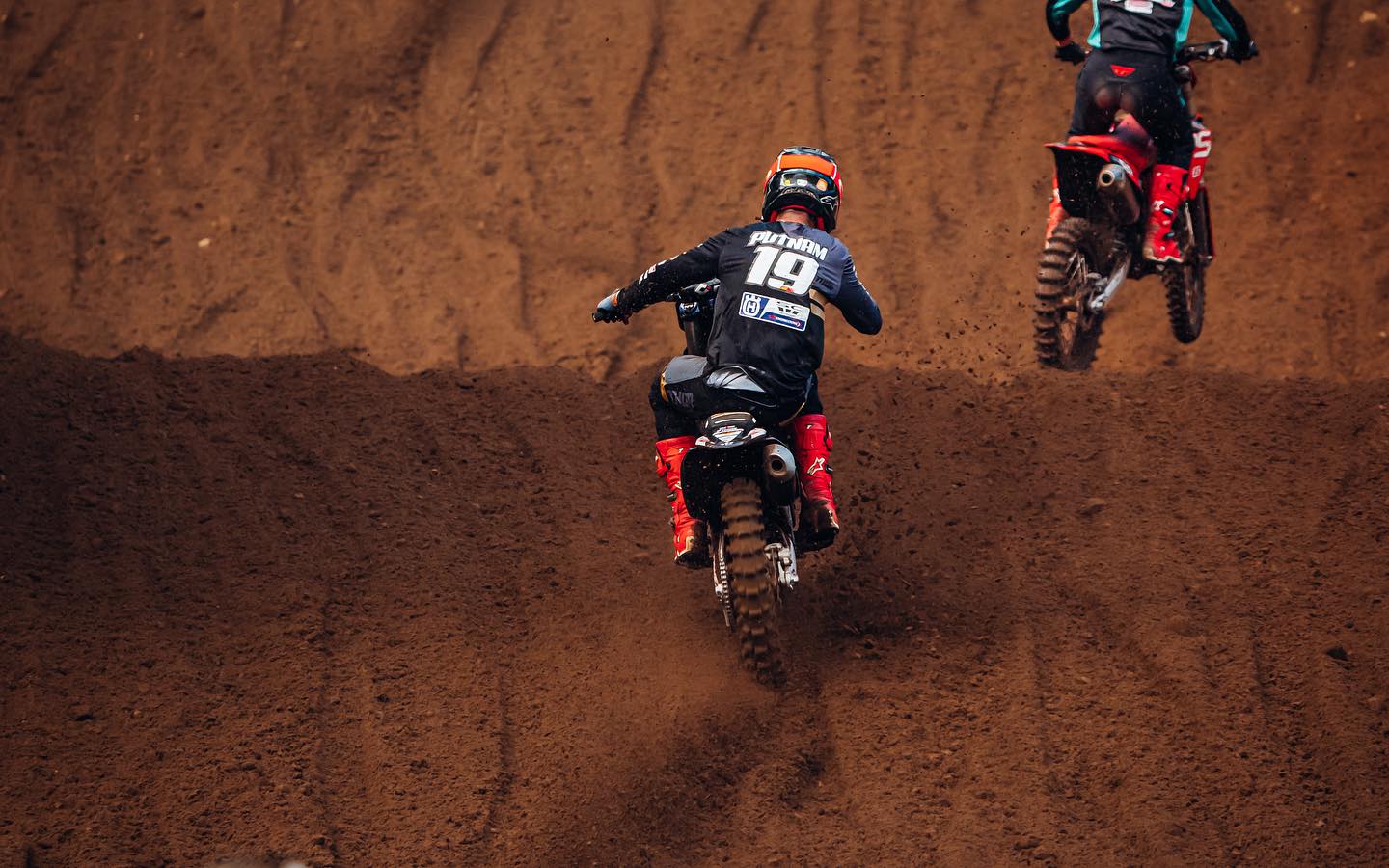 Just in. The dates have been selected for the new Nora Pro Championship for 2024. Whilst there are no surprises that there were going to be clashing it still allows riders to race on a Saturday and a Sunday if they want to ride two championships. The good news we hear is the prize fund is substantial and if facts are correct the biggest prize fund in European Motocross. More information will be released this week. PR Below.
We are pleased to announce the dates agreed for the 2024 championship. As you can imagine this was extremely difficult and we had to take some time to deliberate because we didn't want to clash with the Bridgestone Championship as this will act as the feeder series to the Pro Championship, the Dirtstore British Championship, the Nora British Cup, and some European EMX races. Whilst taking all these into account it didn't leave many dates available, and unfortunately, there will be clashes with other series including the Fastest 40. However, with the Fastest 40 running their Pro group on a Saturday and the Nora Pro Championship on Sunday only, we hope this helps.
The dates will be as follows:
24th March 2024 – UK
21st April 2024 – UK
12th May 2024 – Europe
28th July 2024 – UK
25th August – Europe
8th September – UK
Tracks will be released over the next two weeks as contracts are completed. The UK tracks have been agreed and as mentioned in a previous release there will be a brand new UK motocross track that no one has used, a great step in the right direction when so many tracks are being closed.
A huge thank you for the support and feedback that we have received already and we are taking that into account. We believe in open communication so we will explain every decision openly to offer clarity.
We are working very hard behind the scenes and are implementing everything to make this championship one of the most professional in Europe. Our only goal is to raise the bar of British motocross.
New website, title sponsor, tracks, European races, partners, features, teams and riders will be released over the coming weeks.
@jhmxofficial