NEWS: Scottish MX Champs Opening Round Report
Full report from round one of the new-look Scottish Championship.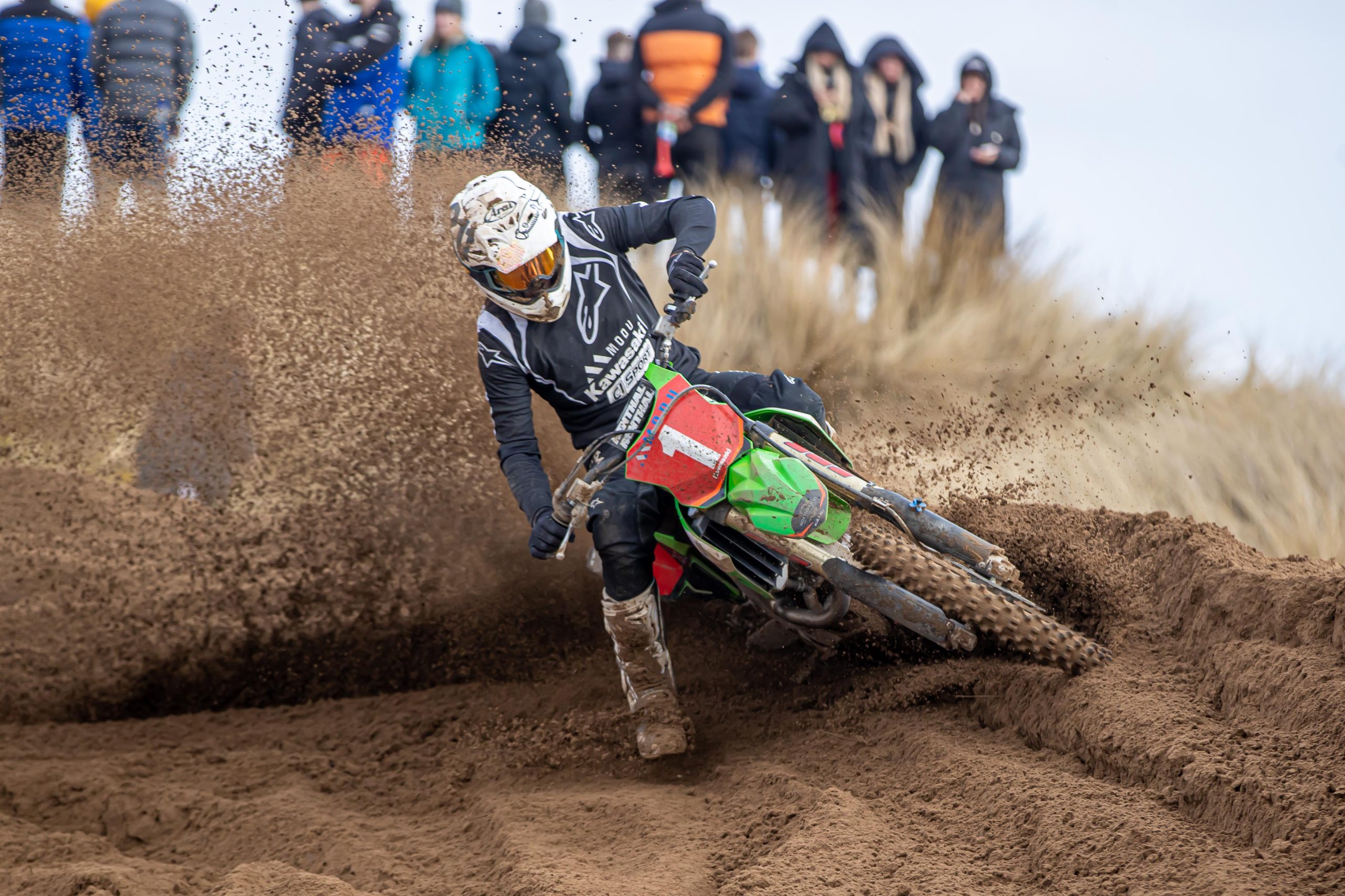 The nice people at the Scottish Motocross Championship sent us this fine report of what looked like a cracking opening round at Tain near Inverness at the weekend.
Words: Press Release | Images: Raymond Thomson / madmaxmedia
A new season and a new championship for Scotland. With ScotMX taking a step back, Johnny Douglas Hamilton took the baton from Stuart Flockhart and with the support of the existing ScotMX crew, he's kept the momentum built up by Stuart over the past few years. No stranger to motocross, Johnny has built some of the best tracks for racing all over the country. Building on Stuarts success, JDH has used his extensive contacts in the Motocross industry and drafted in a good number of new sponsors as well as maintaining the loyal supporters of the series. There had been a buzz around the tracks and it quickly spread to the four corners of the UK and some of the best riders in the country have signed up to race and commit to doing the championship. The crowds were met with an impressive set up in Tain as the trackside barriers and start line back drops resembled that of a British or even GP track.
Saturday 3rd March
It's all about the youth on Saturday. There's always thrill and spills and the deep sand of Tain would keep the parents on their toes. No shortage of exciting racing, it was a great way to open the championship.
Auto's
Shirlaws – KTM Aberdeen have come on board to sponsor the youngsters. The wee ones looked box fresh with their new kit and there was a buzz around the paddock as the Auto's got underway. With Jack Martin moving on as 2022 Champion, it was all to play for. Aiden Anton set the pace in qualifying but bike issues on the line in race two would end his day. Jack Quinn failed to set a time in qualifying but stormed to three race wins. Ashton Bain's consistency would reward him with second as Ellis Easton just did enough to grab the final podium.
65's
FXR have committed to support the junior race and the popular brand certainly brightened up the paddock. It was no surprise that the diminutive Lyall Rutherford qualified fastest but he had a challenging first race with bike problems. This allowed Alex Fraser to win the first race but a poor second race meant he would finish overall second behind Rutherford as he powered quite comfortably to three wins in the remaining three races. Cole McAuley did enough to stay ahead of Vinnie Anderson as their dad's cheered them on trackside. Both dads had their chance to shine on Sunday.
85's SW/BW
CiSport are part of the championship this year supporting some of the best racing in the championship. The 85's always provide bar to bar racing and Tain was a tough test for the riders.
SW
Robbie Scott grabbed the fastest lap in qualifying just ahead of Malachi Allan but after sharing race wins between them, they finished on equal points. Allan got the overall as he won the last race, but it will be a hard fought season as the pair promise to battle it out all the way. Ricky Barrack proved his journeys south racing has brought him on as he finished third only one point ahead of Alfie Stott who gained some great experience last month racing in the Arenacross.
BW
Hayden Statt showed his speed and class as he disappeared from the pack in every race. His speed was incredible and would have put him up front in most classes! The fast starting Jaden Anderson proved he can grab the AMD Holeshots and he ran comfortably in second ahead of Jaxon Haswell.
Rookies 125/250
The Youth Rookies class provides a great platform for the young riders to prepare themselves for the bigger classes. With Shirlaws Motorcycles onboard, they'll enjoy some rewards for their hard work. Ryan Waggott and Jack Fletcher provided some great racing for the crowd. Swapping race wins, Ryan enjoyed three of them and as the riders came together on one corner, Jack was robbed of sharing the spoils. However, as both riders were riding different classes, they would run out winners in their respective class.
Waggott finished well ahead of Ryan McKinney but the mixed class was fraught at times as the 250 four strokes mixed it with the two strokes. Louis Perrin-Brown bagged the final podium spot. In the 250 class, Troy Flockhart enjoyed the class win in race one, but he couldn't match Fletchers speed to take the overall. Three solid seconds was good enough as he nursed a hamstring injury. Ryan Lowes rode well to secure third as he changed from two stroke this year.
Adult Support / 2 Stroke Open
After race one, the Two Stroke race sponsored by Slavin Plant Hire & Construction Ltd joined the Adult Support and the mixed class gave a lot of riders the chance to bed themselves in for Sunday. Dylan Carnegie ran out winner in the Two stroke class and in the Adult Support, Carlton Husband, no stranger to Tain, proved he would be the man to beat in MX2.
Sunday 4th March
Vets 40,50 and 60
Niall McAuley dominated the O40's class as his smooth riding style made sure he had no drama's in the deep sand as he finished every race 25 seconds ahead of his fellow vets. Jamie Black more famous for his suspension these days showed he can still mix it but couldn't quite beat multiple winning vet Barry Gray who showed he's still the fastest scot. In the O50's, holeshot expert Gordon 'Montana' Morrison was limited to 1 holeshot for the day as Barry Gray took the cash but he did take the overall ahead of Morton Hannah. The Scottish Twinshock riders did battle it out and stayed ahead of Alasdair McGowan who had a sold day. The stalwart of the vet class, Ian Wilson secured the O60 overall and he got tore into the new season.
Adult C
Logan Adsley was 10s ahead of the rest in Qualifying and it was no surprise he turned that into the overall in the C class. He was pushed in race 2 William Anderson who finished right behind him and in race 3, he was beaten by Daniel McDonald and Anderson. They would both finish second and third respectively as Adsley used his Arenacross experience to get himself ready for the season.
Adult B
With a number of riders choosing to drop down from MX1 and MX2 into the B class for 2023, it promised to be a tightly fought class. Jamie Clark out qualified the pack and the fast starting Irishman did his best to run top three in every race but a DNF in race three meant the long journey home with nothing to show for it. Another Arenacross rider John Kirk showed he meant business by winning all three races and dominating the class. Scott Paterson return to racing was profitable as he comfortably ran behind Kirk. Jake Hall improved in every race to round out the podium. Special mention to Elaine Maceachern finishing top 5 behind Logan Ferguson as she looked impressive in her first race of the season, setting herself up well for racing the Women's British Championship.
MX1 / MX2 Combined Race
With a massive prize fund, it was no surprise that the MX1 and MX2 classes were packed. Billy MacKenzie was sporting the red plate #1 on his new Kawasaki and was up for defending his title.
MX2 Safe Access Highland Ltd
In the MX2 class, Carlton Husband ran away with the overall. He looked smooth riding on the Saturday on the Adult support and continued that into Sunday. He pushed hard in all three races mixing it with the MX1 riders all day. His Phoenix Even Strokes Kawasaki teammate Sam Atkinson would finish second overall narrowly ahead of Brad Anderson as he enjoyed being on the podium on his new two stroke. He's just getting it dialled in and promises to come back stronger for the next round. Daniel Hutchinson also placed well ahead of Ryan Thomson who was delighted to get back to racing after a tough 2 years and multiple wrist surgeries.
MX1 Carnegie Fuels
Shaun Simpson looked to be in a determined mood as he took no prisoners in qualifying. He was over 1.5 seconds ahead of his nearest rival Brad Todd. It was current Scottish MX Champion Billy MacKenzie that blasted out the gate first in race 1 but he only held that place for a lap as Simpson powered through to take the win. In race 2, it looked like no one could beat Simpson, but he crashed out whilst in the lead and ended his day. This left ASA GasGas rider John Adamson and Gabriel SS24's Tristan Purdon to battle it out and after clashing in race 2, it was Adamson who got up first to take that win but it cost him a radiator. He was able to finish that race and change it out before race 3. Another rider who would miss out was Jay Hague. He took a heavy tumble in race 1 as his bike lay on the track for a short while with steam pouring out of it. Ben Edwards looked fresh and the Carnegie Fuels rider certainly got his season off to a great start by being fast and consistent. His podium place was well deserved but he couldn't live with Adamson and Purdon and they were in a battle for that coveted overall. John Adamson came out on top after an intense race and his determination was there to see. Brad Todd must have felt robbed as his clutch disintegrated in race 2 and resulted in him finishing behind MacKenzie. After a poor race 1, Billy got his mojo back to finish 4th overall and keep his sights on back to back championships. Ross Rutherford and Tony Craig showed there's still riders outside the top 5 that will challenge to the bitter end so it's shaping up to be a hard fought championship.
With Dyce Carriers, Site Sealants, AMD on board along with all the new sponsors including ACTIPH Water, Scottish Motocross has never been better placed to show the rest of the UK how it's done. They say money talk but so does results and there's a good number of riders wanting to prove a point.
The next round of The Scottish Championship will be at Rhynie (nr Aberdeen) 29th / 30th April
Raymond Thomson / madmaxmedia

The MX Vice SMX Review Show Episode #23 – John Adamson
Ben & Brad are joined by John Adamson to talk through all things AMA after his recent races there!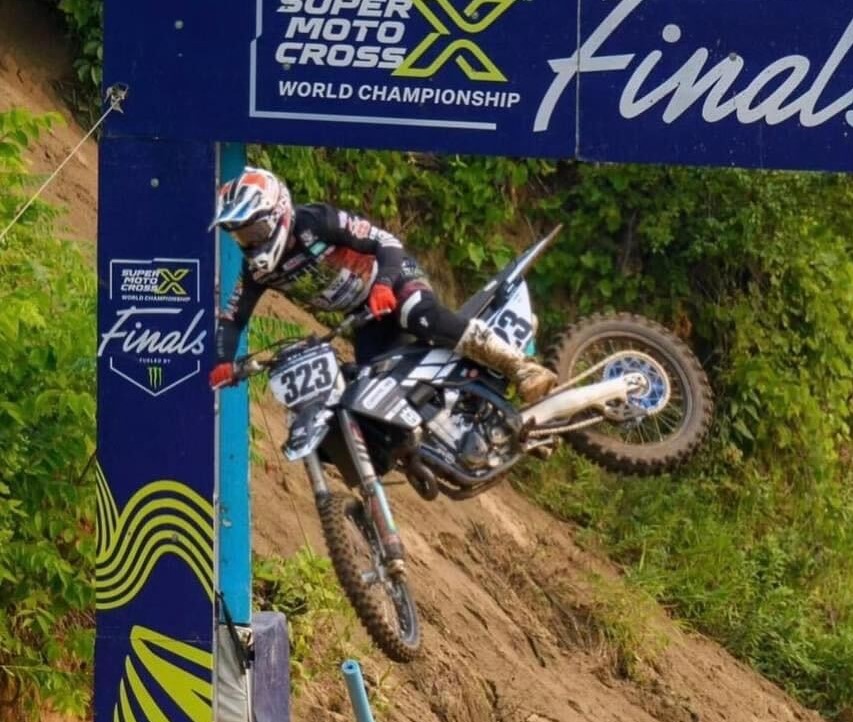 In 2023, MX Vice is running a regular SMX Review show, where we talk all things AMA, frequently with a star guest or pundit. This time Ben & Brad are joined by ASA United GASGAS' Scottish racer John Adamson, who has just come back from racing the Southwick and Millville AMA Nationals with SC Sporthomes Husqvarna, and will go back for Unadilla, Budds Creek, and Ironman! Listen to John's hilarious take on the AMA tracks being smaller than you think, hucking a triple-triple uphill, and thanking Baby Jesus for the race! We also review the Washougal round of the AMA Nationals.
Many thanks to John for joining us and all the best for the rest of the season!
Phoenix Even Strokes Kawasaki move quickly to secure 2024
Charlie Cole signs for Phoenix Even Strokes Kawasaki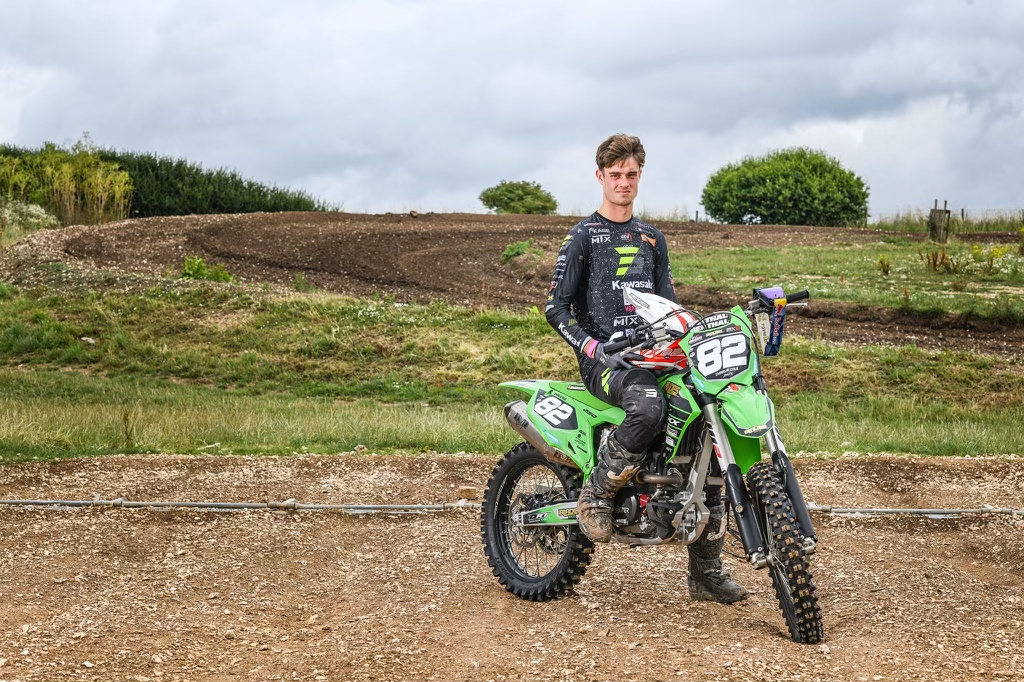 With one more round of the Revo British Championship and three more Michelin MX Nationals to run, Phoenix Even Strokes Kawasaki owner has moved quickly to secure the services of two riders for 2024. 2023 has seen some riders excel in MX2 and have caught the eye of many in the paddock. With this in mind, Barry moved to secure the riders for 2024 to fend off the interest gathering on both. The 2023 KX250F has been an unbelievable machine, with the team working on their engines in-house this year, adding a Suter Clutch, HGS pipe to take the stock factory to a race win in the Michelin MX Nationals and threatening podiums at the Revo British Championship. With minor enhancements added to the 2024 Kawasaki, the team have chosen wisely who can push for a championship in MX2.
Carlton Husband, at the age of thirty, has had his best-ever results on an MX2 bike this year, with moto wins and currently sitting in second position and only two points off the leader in the Michelin MX Nationals and sitting in fifth place in the British Championship. Carlton has been on the team for five years and has built a great relationship with Barry Moore, the team owner and Chief Mechanic Chris Talbot. His one hundred per cent effort and unwavering attitude have seen Carlton create a massive following in the north and fans to this year's races. Carlton has twice come from last to top three in two races this year, and that never die spirit has captivated fans.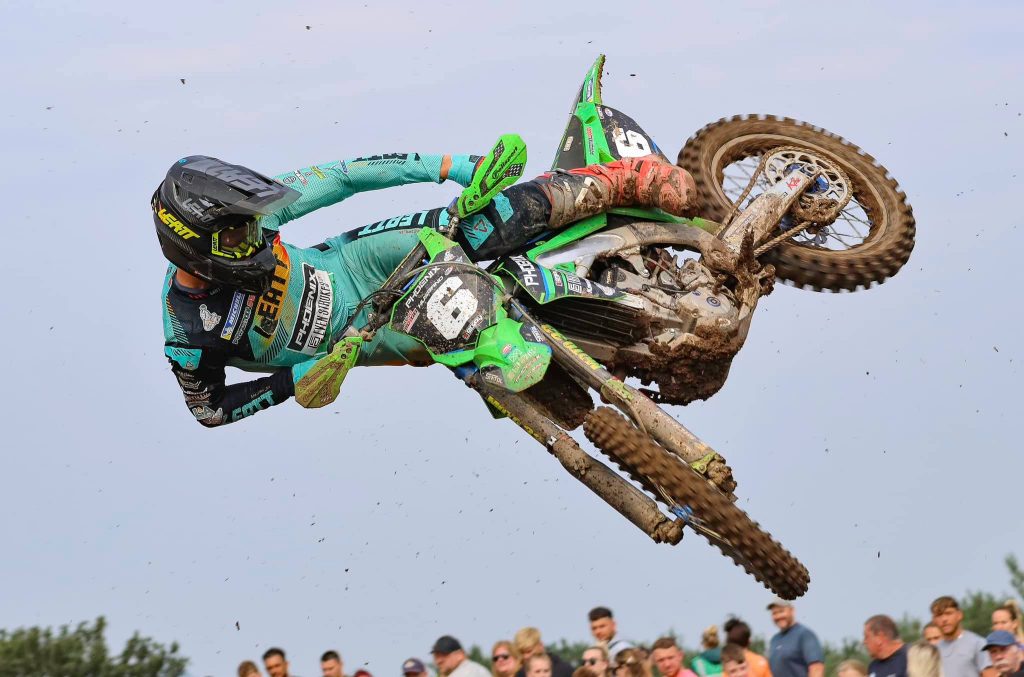 Joining Carlton in 2024 is young privateer starlet Charlie Cole who has had a huge impact this year, not only on the British scene but internationally, as he made his MX2 World Championship debut with Steve Dixon's team, put together by Kawasaki UK. Charlie has been battling it out this year with his future teammate Carlton Husband and secured an overall win in the Michelin MX Nationals Pro MX2 and a second overall in the Revo British Championships. Twenty-three-year-old Charlie will have the full support of Kawasaki, Michelin, and Syntol under a team awning next year, so it will be exciting to see what he can achieve whilst not being distracted with getting bikes ready.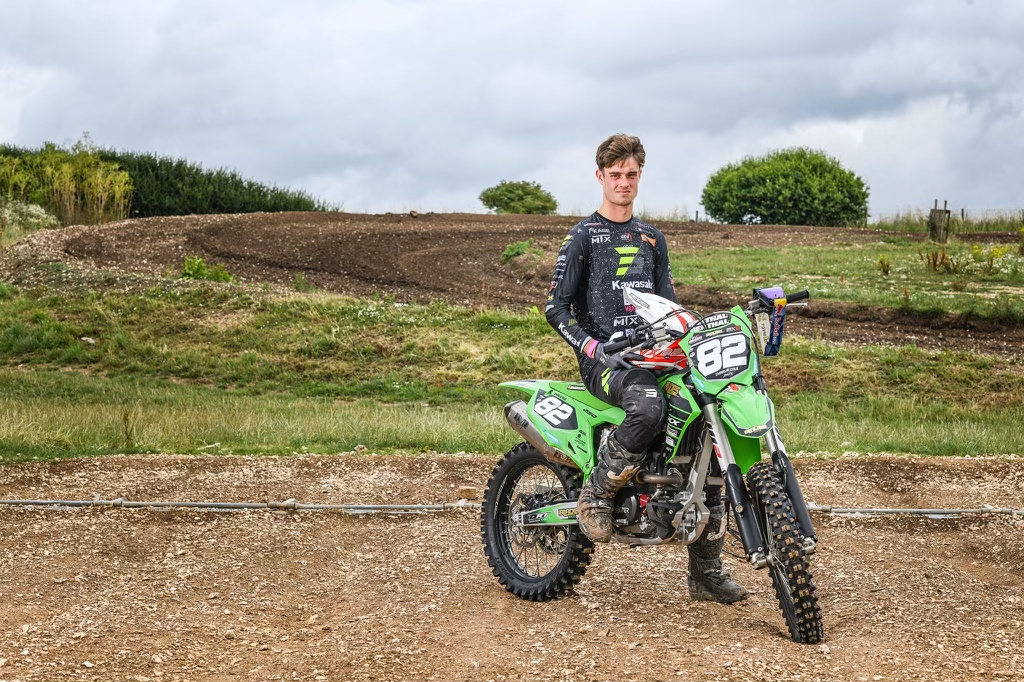 Pic by Greg Moss
Carlton Husband
Scottish Motocross Championship Round 2 – Conrad Mewse joins the fray!
Full rundown from a stacked field at Drumclog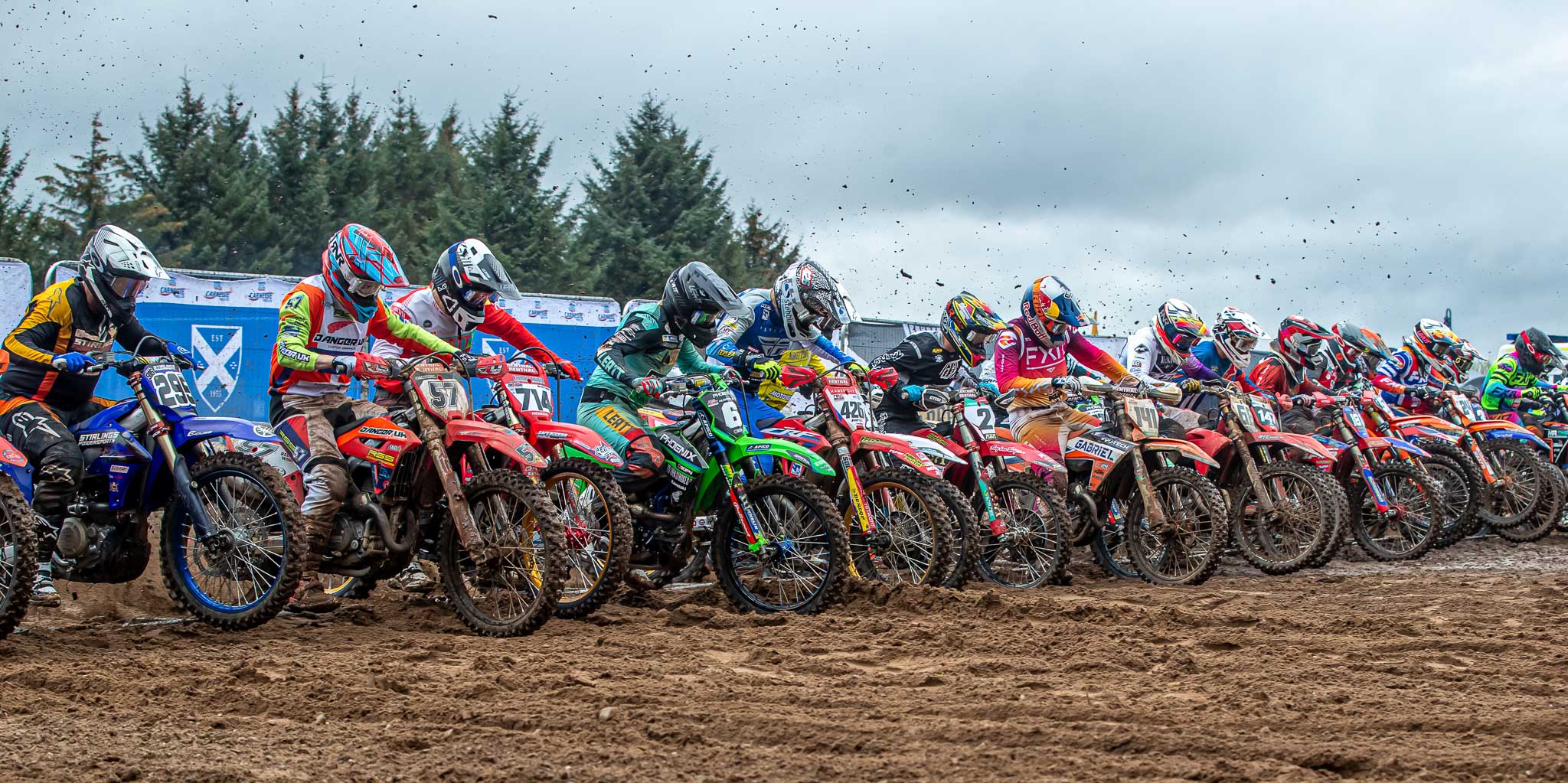 The Scottish Motocross Championship held its second round at the weekend of April the 29th & 30th at Drumclog Motocross Track near Glasgow, attracting a brilliant entry and moving the series from strength to strength.
Words & Images: Mad Max Media
With the season underway, Johnny Douglas Hamilton and his team took the lessons from the opening round at Tain and built on that. If there wasn't already enough to do, a change of track with two weeks to go was a big ask but of course, the challenge was accepted and the meeting went down a storm, literally! The Ayrshire weather tried its best to put a dampener on the proceedings but when there are championships to fight for and the biggest prize money in the country, there is no stopping the hard-core racers or the fans who turned out in considerable numbers to cheer on their heroes. Stuart Hogg and Tommi McMillan-Grant who run the Drumclog track have worked extremely hard to get it back to a going concern and JDH put in some hard graft to take it to the next level. The series has lit up motocross in Scotland and attracted some top names in British Motocross to make the journey North and do battle. As ever, the Irish riders continue their support and made the journey across the water in numbers.
Saturday 29th April
Auto's
Shirlaws – KTM Aberdeen continue their support of the youngster's class and there were good numbers on the line. The track was tailored to suit the riders and parents who supervise the racing and it gave the Auto's a fantastic opportunity to race the big track. Considering the conditions, the riders battled through and made some exciting racing for the crowd. Although Aiden Anton looked like he meant business in qualifying by being 3s faster than Jack Quinn, It was Quinn that would run out overall winner as the pair shared race wins. Erik Miller had a spirited ride as he was the best of the rest and rounded off the podium places.
65's
FXR are the sponsors for this thrilling class and the young lads never disappoint. Irish rider Ethan Gawley showed off his sand track riding skills by winning the first two races, but he didn't score towards the championship. This meant that Lyall Rutherford was rewarded with top points for the class. Rutherford pushed Gawley hard and the pair were untouchable. Alex Fraser finished behind Rutherford with a solid second and Harris Curran, who has made great progress this year took the final podium place.
85's SW/BW
CI Sport have sponsored the most hard fought series of the championship. With a large number of entries, the classes have been split for 2023.
SW
Robbie Scott set his sights on Malachi Allan but couldn't match his time in qualifying. It was a dominating performance from Allan as he showed he was untouchable in all three races. He won easily by over 20+ seconds in each race. Scott would have a lone ride in second as Alfie Lawrie did his utmost to hold off the charging pack even with goggle issues in every race.
BW
Lewis Spratt had a great ride at Drumclog. He increased his overall winning times from 30s in the first race to nearly a minute in the last race. The rest of the pack served up some great racing with Jaden Anderson showing he could keep his cool under pressure and take a much deserved runner up spot. "Team Hutch" rider Joshua Hutchinson grabbed the top three by pushing Jaden all the way and celebrated with a second place in the final race. It was a solid podium for him and showed "Team Hutch" certainly have strength in depth.
Rookies 125/250
Never a dull moment when the Youth / Rookies are on track and the racing was the highlight of the day. With two mixed classes in the one race (250/125) it was dramatic at times watching them battle for supremacy in each class. Lennox Dickinson looked in control in all three races as he staved off the threat from Jack Fletcher, slightly increasing his win each time. Fletcher had his work cut out to keep Ryan Waggott behind him in each race even though they were racing different classes. You could see there was still the drive to beat each other. The 250F class saw Dickinson and Fletcher joined on the podium by Ryan Lowes who had pushed hard all day and relished the Drumclog dirt. In the 125 class, Ryan Waggott won easily ahead of Louis Perrin-Brown and Ryan McKinney.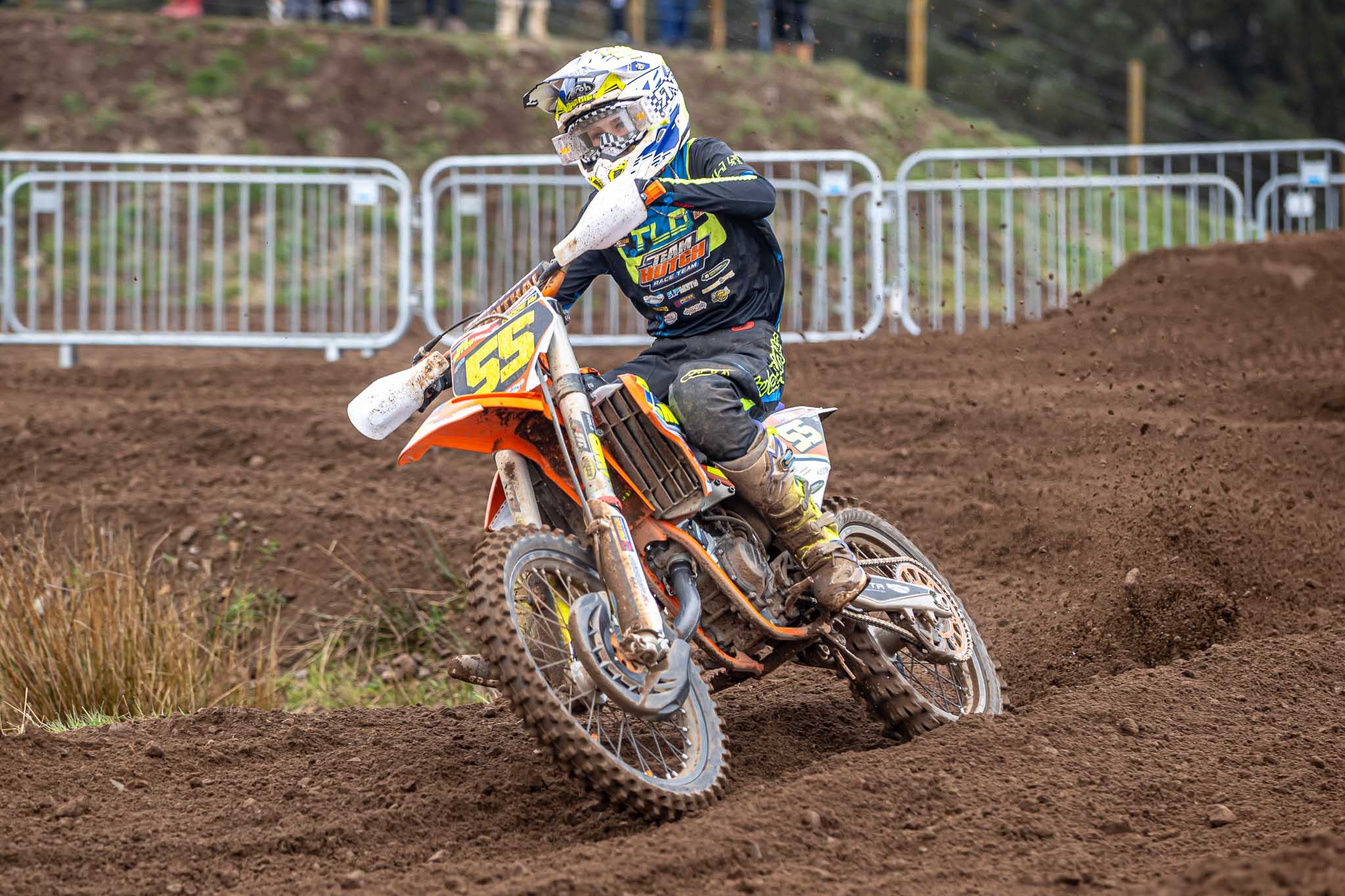 2 Stroke Open
Another exciting group that has a spilt class, Veteran rider Lewis Farrow still has plenty of fire in his belly as he would win the 150 class. Claire Winthrop continues to ride motocross in the ski offseason as she utilises her downhill skiing endurance to race. Jonathon Young enjoyed a podium place for his efforts with a last minute entry.
The 2 Stroke Open was won easily by another Hutchinson. This time it was Daniel, the very fast rider checked out in each race by over a minute. Pulling big whips for fun, he looked like he was loving the track. Kyle Peel was virtually unchallenged in second with Toby Lightbown a distant third.
Adult Support
Rounding out the racing on day one, there was some hard fought racing through out the field. Up front, Tristan Purdon and Billy MacKenzie battled it out in the first two races with the multiple MX1/MX2 South African Champion coming out on top. Billy Mac would sit out the third race as Purdon dominated. The support race gave some of the MX1 and MX2 riders the chance to bed themselves in for the Sunday and Richard McKeown showed his class coming behind MacKenzie in two races. Josh McCorkell also had a couple of great results and Jack Bradbury was rewarded for his efforts with a second place in the last race. Steven Rennie also looked good coming back after an injury last season.
Sunday 30th April
Vets Over 40s, 50s, and 60s
One of the biggest classes of the day, the popular Vets race served up some great close racing. In the O40's, Mikey Graham was pipped at the post in the first race by Niall McAuley as the Geordie missed the last lap flag and thought he still had another lap to stay ahead of the fast Irishman. McAuley showed he was the one to beat with all three race wins. Jamie Black did his best to overcome Graham but a creditable second and third in two races was not enough as Graham was just too good.
The O50's had a familiar feel to it as hole-shot specialist Gordon 'Montana' Morrison kept Morton Hannah off the top spot. Brian Fraser coasted to a comfortable third place using his experience racing down south to fend off the rest of the pack.
Ian Wilson fought hard against his peers in the younger classes to show there's still plenty left in the old tank as the O60 rider has plans to retain his World Vet Championship later this year in California.
Adult C
Logan Adsley would have his work cut out to retain the red plate from Tain. Alex Mowat looked determined to upset the form with a third and second but after a tough first race, Adsley looked comfortable as the day progressed. Daniel McDonald grabbed a third in race three and it was enough to secure the final podium spot.
Adult B
The stacked class was wide open and up for grabs. It was Scott Paterson that would end up on top. Matty Fry's first race win would be the highlight of his day as Paterson breezed the other two. Fry would do enough to stay ahead of Jake Hall as the frantic racing ramped up the excitement for the crowd.
MX1 / MX2 Combined Race
Another packed line up for the Scottish Motocross Championship. The allure of racing this great event had tempted one of the best riders in the UK. Conrad Mewse returned to Scotland for the first time since he raced Arenacross in Aberdeen earlier in the year. He told me he was spoiled in Aberdeen with the massive indoor event and the pits being on carpet. No such luxury in Ayrshire but the "dreich" weather did not put him off.
MX2 Safe Access Highland Ltd
Carlton Husband would enjoy another big pay day in Scotland. His two race wins would be enough to keep Brad Anderson at bay. Brad admitted he was not fully prepped at Tain, but he was not there just to make up the numbers. He pushed Husband all the way. Lewis Hall made a welcome return to Scotland with his new Fantic. What a rip from his two-stroke bike as he looked refreshed after a lay off from racing. Daniel Hutchinson's impressive riding on the Saturday was almost matched on Sunday as he secured an overall fourth. James Barker looked possessed at times ragging his bike round the track but it was great to see Kyle McNicol back on track as he continues his recovery from his serious accident. He never looked out of shape and the speed is coming back.
MX1 Carnegie Fuels
John Adamson set the pace in qualifying, but Conrad Mewse had other ideas. Mewse used the qualifying session to suss out the track and it did not take him long to get to grips with it. Adamson would push Mewse hard all day and was ready to capitalise on any mistakes, but Mewse looked effortless riding round the track. The third race would test Conrad to the max. He suffered a front tyre puncture on lap 2. Adamson caught him up and passed him easily as the English rider showed expert control managing to ride the track with such a huge disadvantage. Talking with him after the race, he tried to keep the front wheel in the air as much as possible and not lose the tyre off the rim. This was enough for the overall but not enough to wipe the cheeky grin from Adamson's face as the pair fist bumped each other after the finish line. Triston Purdon had used his Adult Support races' practice to good effect. After swapping results with Shaun Simpson in races 1 and 2, Simpson had a minor off in race three which ultimately cost him the final podium place. Shaun dropped 14 places but rode hard to recover and secure the overall fourth. Most of the riders would resume the battles they had in Tain. MacKenzie, Edwards, Rutherford and Tony Craig would all have their moments. Craig ran in third in the last race before fading and Jay Hague finally completed three races after suffering at Tain. His overall fifth place showed he's on the right road. Brad Todd had to jump on his spare bike to salvage any kind of form with a fourth place in the last race. The busy crowd were treated to two days of thrilling racing. From Auto's to MX1, the riders gave their all in some challenging conditions.
The Drumclog track was not impacted by the weather and even after some real hard fought races, it still looked in fantastic condition. The Scottish Championship sponsorship banners, from Dyce Carriers, Site Sealants, Safe Access Highland, Shirlaws Aberdeen, FXR, CTi, ACTiPH and AMD made for a very impressive sight.
The race series continues to grow and will move on to the deep sand of Doune Motocross June 3rd (Youth) and 10th (Adult).