Day One: MXGP of Latvia
A Saturday report from Latvia.
Everywhere you turn at the Grand Prix of Latvia, people want to talk about Jeffrey Herlings. Herlings, the current series leader, was already a talking point after decimating the field in free practice, but his ride in the qualifying heat somehow surpassed that. Fifty seconds was his advantage at the end of the twenty-minute moto.
Jeffrey Herlings took the holeshot, which has become a fairly normal thing, and dropped the field. It was incredible. There is simply no other way to explain just how brilliant he was. Heck, he was five seconds faster than anyone else on the first lap! It was not a fluke either, because he maintained that pace for the entire race.  What makes that remarkable is that he was not pushing at all. Clement Desalle, on the other hand, faced a race-long battle for second place and simply could not let off the gas. Had he relaxed, he would have dropped outside of the top five immediately.
"It was a walk in the park today, but that does not mean a thing for tomorrow. It is a gnarly track, a lot of things can happen, and also with the first turn. We saw that in both motos that there was a serious pile up." Herlings said. "In the first practice I nailed a good lap, three seconds, second practice I was almost two seconds up front. The qualifying race I led from start to finish. I feel like I am at one with the bike on this track and the confidence is growing. I did not even push; I just rode my own thing. It really paid off. We had a big gap, over fifty seconds at the finish line. We are really confident from today and looking strong for tomorrow."
To further illustrate how remarkable this performance was, peruse the lap times in the table below. It covers the first portion of the MXGP heat and highlights the times that the top three riders recorded.
| | | | |
| --- | --- | --- | --- |
| | Jeffrey Herlings | Clement Desalle | Romain Febvre |
| Lap 1 | 1:51.031 | 1:56.310 | 1:56.138 |
| Lap 2 | 1:51.889 | 1:56.721 | 1:56.183 |
| Lap 3 | 1:53.789 | 1:57.351 | 1:58.399 |
| Lap 4 | 1:54.536 | 1:56.272 | 1:55.402 |
| Lap 5 | 1:54.221 | 1:56.641 | 1:57.884 |
| Lap 6 | 1:53.827 | 1:56.755 | 1:56.045 |
When was the last time that an MXGP/MX1 rider won a qualifying heat by more than fifty seconds? The current qualifying format was introduced ten years ago and one hundred and fifty-six events have been run since then. However, no premier-class rider has ever managed to build a gap as big as this in the twenty-minute heat. History has been made today. Ryan Villopoto won the qualifying heat at the MXGP of Thailand three years ago by thirty-three seconds, which was previously the biggest advantage that a rider has had in a premier-class qualifier. What can Jeffrey Herlings do when the races are ten minutes longer tomorrow?
Well, a lot of that will depend on how Antonio Cairoli fares out the gate. Cairoli got pinched off heading into the first turn and fell, but then charged forwards to steal third on the final lap! It was an impressive ride that got overshadowed by the dominant showing that Jeffrey Herlings recorded, which is obviously understandable. Will Cairoli be able to run the same pace as Herlings if they start together? The lap times indicate that it is unrealistic to expect that from the reigning champion, but he will be able to stop the gap from getting as big as it did today.
Antonio Cairoli had already charged up to nineteenth by the end of lap one, which was an impressive feat in itself, but was still stuck in seventh with two laps to go. How did he manage to move from that position to third by the chequered flag? The table offers a look at how his lap times compared to Jeremy Van Horebeek and Romain Febvre, who reached the chequered flag in fourth and fifth.
| | | | |
| --- | --- | --- | --- |
| | Antonio Cairoli | Romain Febvre | Jeremy Van Horebeek |
| Lap 8 | 1:56.412 | 1:57.436 | 1:56.274 |
| Lap 9 | 1:55.023 | 1:56.182 | 1:57.010 |
| Lap 10 | 1:55.876 | 1:57.123 | 1:56.861 |
| Lap 11 | 1:57.560 | 2:00.785 | 1:56.952 |
| Lap 12 | 1:57.465 | 2:00.358 | 1:59.189 |
| Lap 13 | 1:56.177 | 1:59.346 | 2:00.559 |
The first-turn crash that claimed Antonio Cairoli also caught Gautier Paulin, Evgeny Bobryshev, Julien Lieber, Arminas Jasikonis and Jose Butron out. Take that into consideration when looking at the results that those five riders recorded. The fact that only one of those riders broke into the top ten also shows just how impressive Cairoli was as he sliced through the field that consists of thirty-two other riders. Kevin Strjibos is also quite far down the order, one may have noticed, but he was had a separate crash towards the end of the race. Ironically, it was in turn one.
The MX2 riders also encountered issues in turn one; Pauls Jonass, Calvin Vlaanderen, Thomas Kjer Olsen and Jed Beaton all found themselves with a considerable amount of work to do beneath the beating sun. Jonass got away ahead of all of those riders, not that the results reflect that, so a lot of question marks are hovering above the reigning champion. Rather than speculate, here is what he had to say in the press conference this evening.
"Yeah, it is always nice to race at home but for sure it is a little bit extra pressure," Jonass said in a rather short and sweet statement. "I have already raced here for four years and every time on Saturday I have struggled. This year was again the same. I crashed on the start and the first laps I rode okay, but then I got tight and a little arm pump. I just did not ride my best race. I was just struggling and fighting with the track."
It is most intriguing that Pauls Jonass mentioned that he typically struggles during qualifying at this Grand Prix, as the results from the last three years do not necessarily support that. In fact, he has been third in qualifying twice (2015 and 2017) and second once (2016). There is no doubt that he would have loved to grab one of those finishes today! Going to the start line in twelfth tomorrow will not give him the best gate pick, of course, but it will help him avoid the melee on the inside. Things would look much bleaker if the first turn was as tight as it has been in the past, so it is possible to put a positive spin on the situation.
It will take a lot to beat Jorge Prado though, who topped the charts in every single session today. The way that he broke free from the field at the beginning of the qualifying race was similar to what Jeffrey Herlings did in the premier class. "Yeah, it was a good qualifying race," Jorge Prado said in a post-race statement. "I took the holeshot, so that made it more easy than if I had a bad start. I rode pretty good and pretty smooth the whole time. I was pretty happy about that. Last year I was fourth and fifth and lost the podium on the last lap. This year my fitness is way better and I will not be losing positions on the last lap for sure."
Ben Watson deserves props for the way that he charged from sixth to second, which is almost expected of him nowadays, and Hunter Lawrence was also impressive in his return from injury. Practice was not exactly perfect for him, but he turned it around in a race situation and that is what counts. A final note from the MX2 class is that Conrad Mewse did not lie, this event does look like it will be a turning point in his season! Although Mewse just missed out on a position inside of the top three today, there is no doubt that he will hover around the top five again tomorrow and potentially acquire a career-best result.
However, it is important to remember that the races will look rather different tomorrow. Some stars were missing from the front of the pack each time, simply because of the ruckus in turn one. Add Pauls Jonass, Thomas Kjer Olsen, Calvin Vlaanderen and Jed Beaton to that battle in the MX2 class and it suddenly becomes difficult to select three podium finishers. Parity like that is exactly what is needed though, so bring on race day at the Grand Prix of Latvia.
Words: Lewis Phillips | Lead Image: KTM Images/Ray Archer
Between The Races Podcast: Jason Thomas – MXoN, MXGP and SMX Special
Listen now.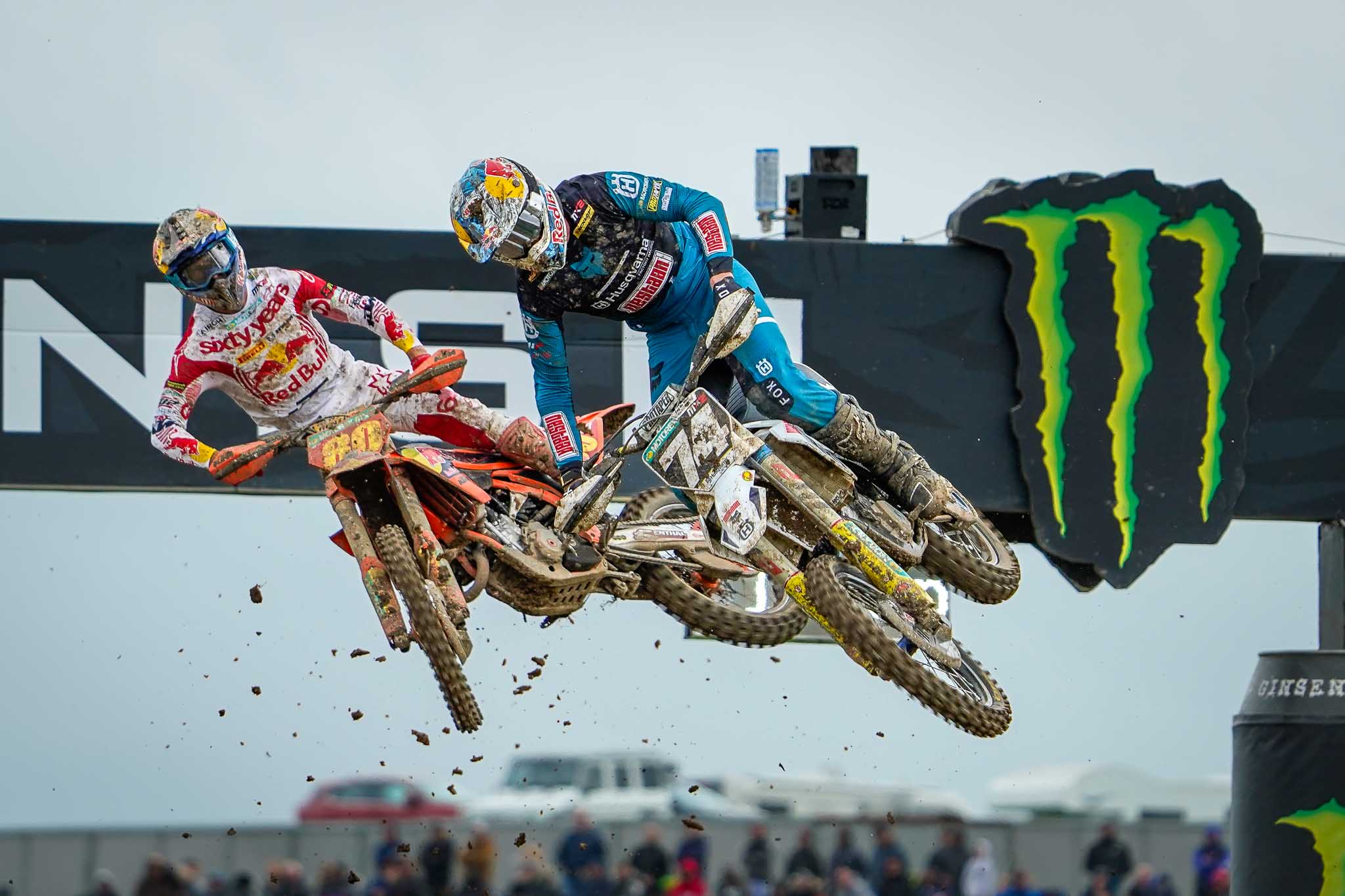 The Between The Races podcast returns with Jason Thomas, James Burfield and Ed Stratmann, as they talk all things MXoN, MXGP and SMX.
The Between The Races podcast is always available to listen to on Spotify, iTunes, SoundCloud, Stitcher and Google Play. Thanks to Fly Racing, Monster Energy, Fox Racing, Parts Europe, Scott, Bell Helmets, Acerbis, AS3 Performance, Kawasaki UK, KTM UK, O'Neal and Even Strokes for supporting the show. If you would like to become a part of the show, don't hesitate to get in touch.
Lead Image: Lorenzo Resta
Love what we do? Please read this article as we try to raise £30,000.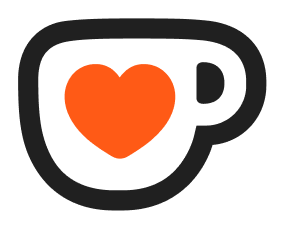 Support MX Vice on Ko-fi
Results: Italian Championship – Malpensa
See here.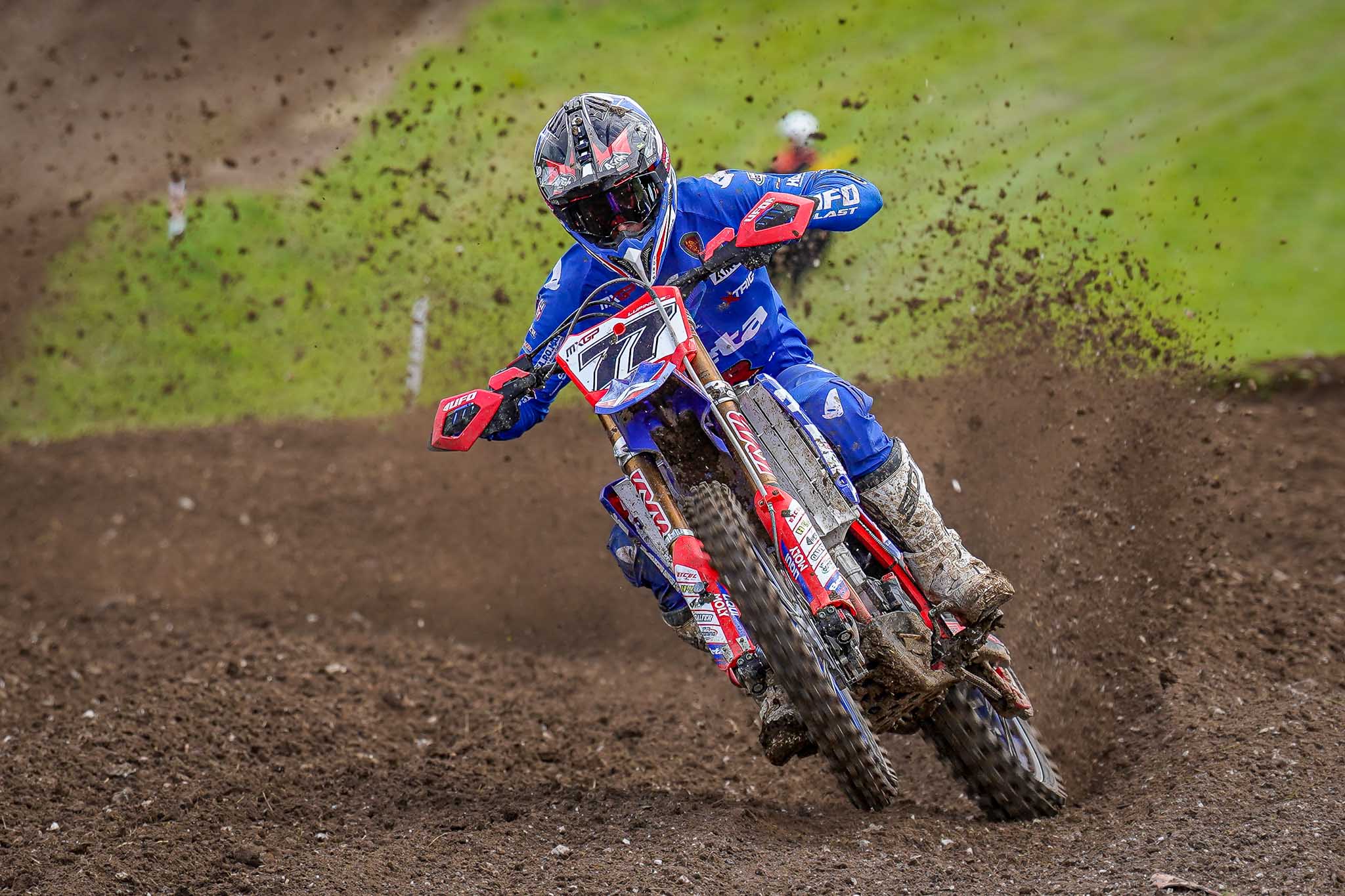 Find all the results from the Italian Championship at Malpensa below.
This page will have all of the results. The results are posted in an easy-to-view fashion, with the latest results at the very top of the page. If you do not immediately see the most recent results, hit the refresh button in the top-right corner and then the issue should be rectified.
MX1 Title Standings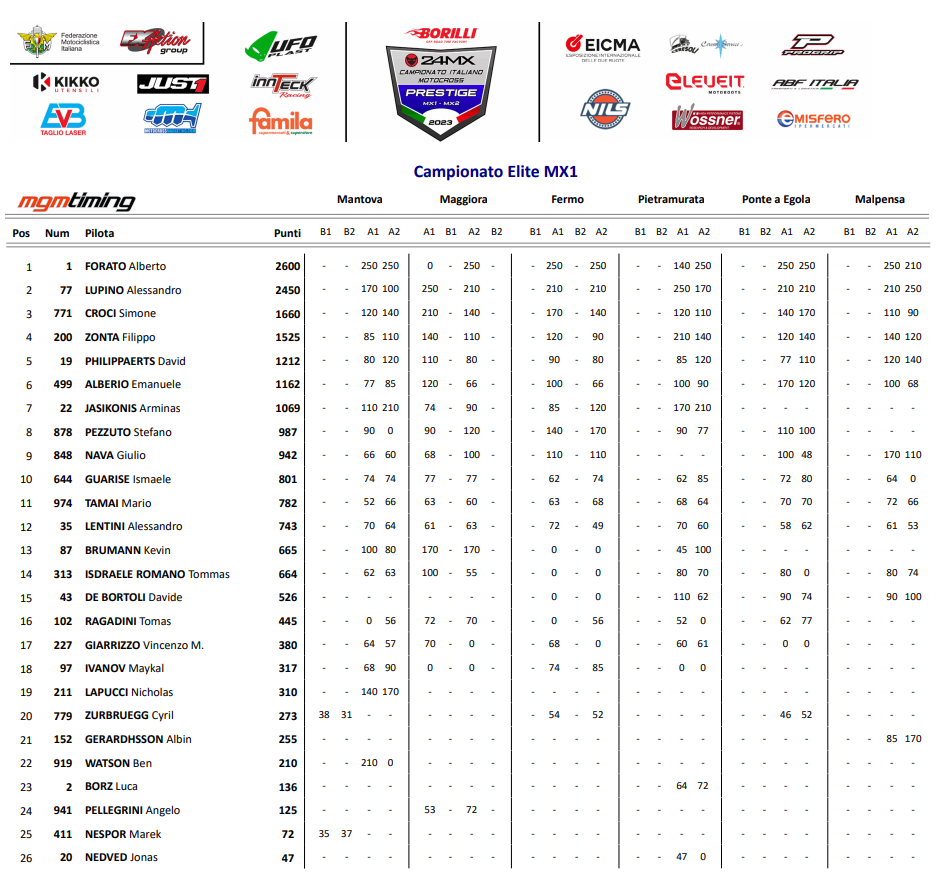 MX1 Overall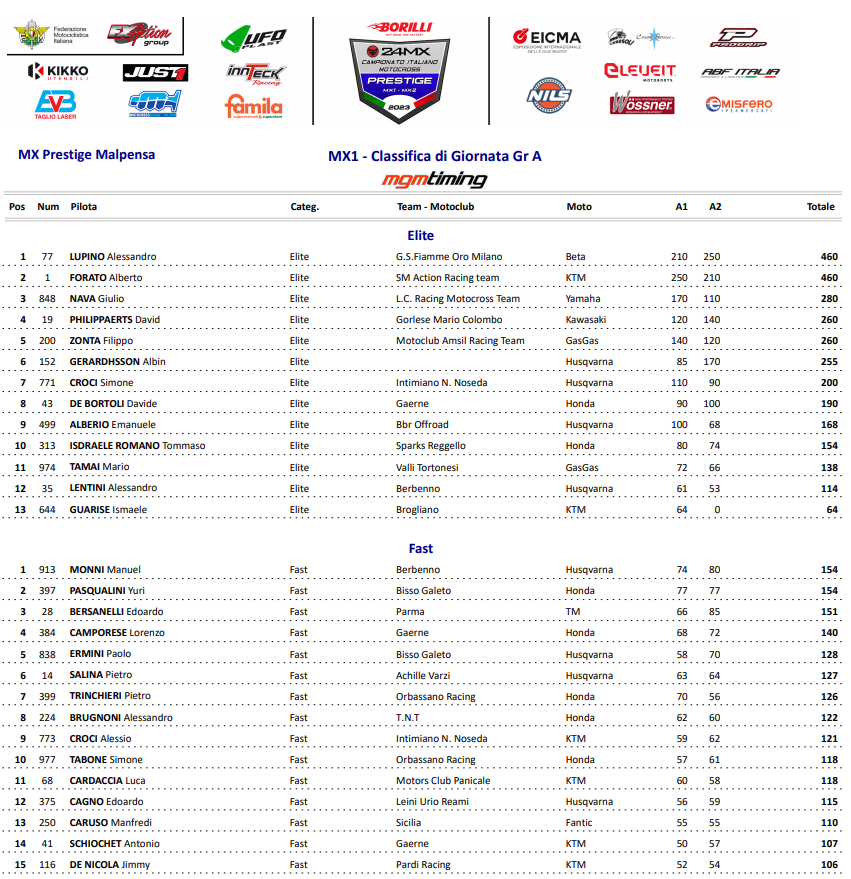 MX2 Title Standings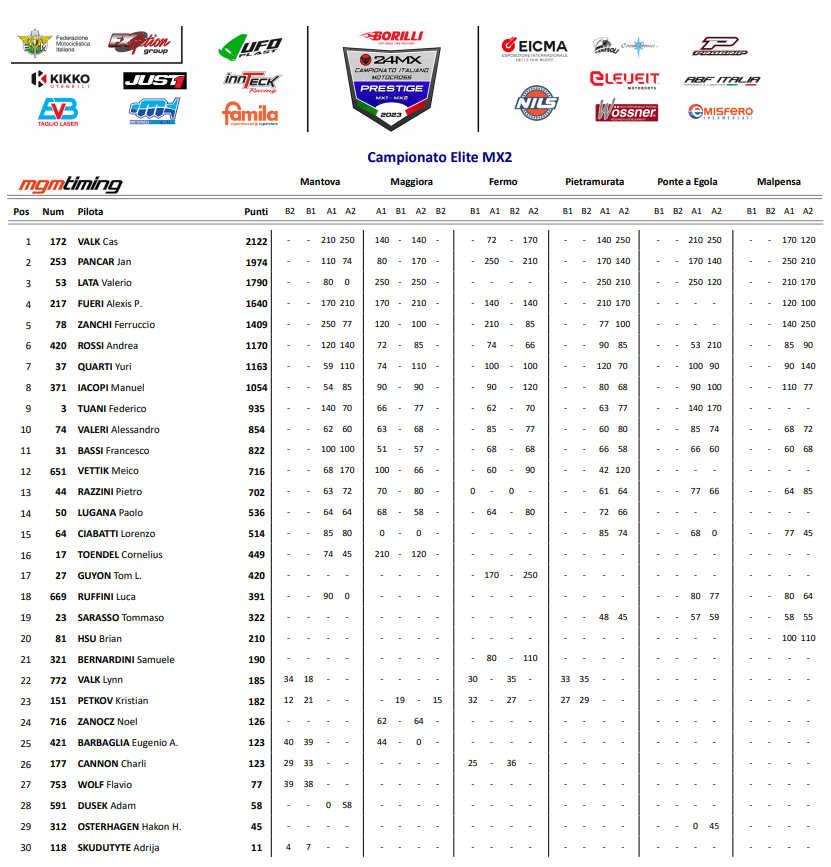 MX2 Overall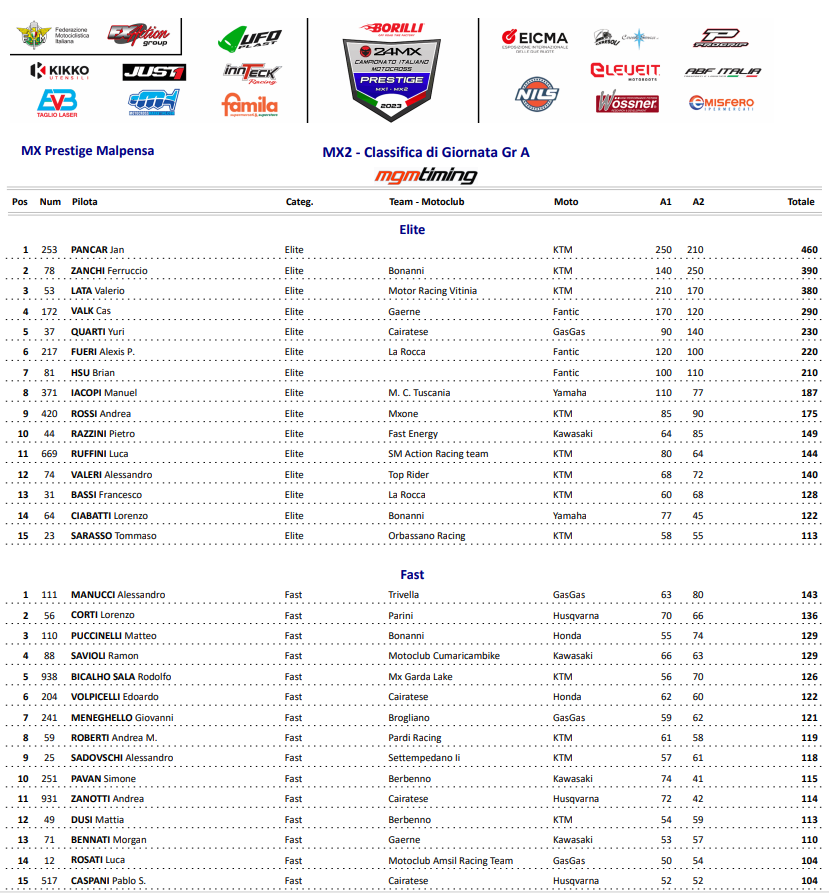 Lead Image: Lorenzo Resta
Love what we do? Please read this article as we try to raise £30,000.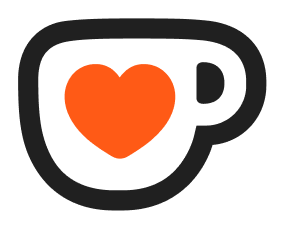 Support MX Vice on Ko-fi
Results: ADAC MX Masters – Dreetz
Details here.
Find all the results from Round 8 of the ADAC MX Masters at Dreetz.
This page will have all of the results. The results are posted in an easy-to-view fashion, with the latest results at the very top of the page. If you do not immediately see the most recent results, hit the refresh button in the top-right corner and then the issue should be rectified.
ADAC MX Masters
Title Standings
Overall
Race 3
Race 2
Race 1
ADAC MX Youngster Cup
Title Standings
Overall
Race 3
Race 2
Race 1
Lead Image: ADAC