Chatter Box: Jason Anderson
Jason Anderson on his latest triumph.
Jason Anderson took on quite the challenge when he signed up to race in Australia and then Paris a week later. It was all worth it in the end, however, as he picked two overall victories and added the 'King of Paris' title to his impressive list of accomplishments. Anderson discussed that in this exclusive MX Vice interview from the event and cleared up what was going on with him during the various practice sessions, among other things.
MX Vice: You won in Australia a week ago and now you are here, on the other side of the world, and you won again. I guess that is what you came here to do, so happy days.
Jason Anderson: Yeah, it has been a world tour. We have been making it happen at all of the races and was able to get the win in Australia and get the win here. It is good times and close racing. It has been crazy.
Can you compare the two events at all? Anything you liked about Australia compared to here or vice versa? 
They all have the three-moto format deal going on, but I will say here I think we did a lot more racing in one day and we had to do it two days in a row. Australia was pretty good, but it was only one day. Here you get worn out doing the two-day deal, but it was good. Both of them… The tracks were awesome. Very similar to what we race on. Maybe a little bit tighter in Australia and maybe a little bit bigger here, so you get the best of both worlds. Kind of helps us prepare for our season.
I know a few guys in the past here have complained that there is too much track time. Did you feel like it was getting to that point a little bit? 
I didn't get too tired, but I was just on the verge of getting worn out that last moto. I could see how, if you are not prepared for it, it could be a tall order, but I have been in so many different time zones I think I'm more jet lagged than anything.  
You won a lot of the races and that all went well, but practice was… Not a nightmare, but it did not go as well as the races. Talk about that process and what you figured out before the night show each time.
The first practice on the first day, I was losing my mind. I was going off the wrong jump. I thought the finish was off the other one, so that was bad. This morning I didn't really care too much. I just did two laps, two fast laps, and just made sure I got into the Superpole deal. Then Superpole I got third, but there was no doubting Justin Hill and [Dylan] Ferrandis' speed. Those guys were going to be fast, but when it came to the races I was ready to go.
Was there any point through practice that you started to freak out a little bit or did you kind of know in the back of your mind that you had the situation under control?
Practice never stresses me out. If I'm like fourth, fifth, tenth or whatever, I'm good. I was nineteenth though. I felt like I was going pretty fast and I didn't know what was happening, but I was going off the wrong jump. That's my mistake.
A lot of the guys were doing the same stuff out there. Was there anywhere that you felt you were making a difference? I thought the end of the whoops was kind of your spot, but then you got [Justin] Brayton at the end of this rhythm section each time. I guess that was good for you? 
Yeah. I feel like I had pretty good speed everywhere, but as far as the rhythm section and the whoops… There was really no other spot to make speed to pass. I feel like just maintaining your momentum around the whole track is key. I feel like I was able to do that. When I needed a spurt of speed I feel like that little rhythm section and the whoops were really good for me.
Did you have any sketchy moments with backmarkers? Something that made you kind of sit up and go, "Wait, this isn't my main thing. I need to be safe here." 
No, not too bad. Towards the end I didn't need to pass a lot of them, so I kind of just took my time with them and just kept it going.
Finally, is there anything you learned from this race that's a bit of a breakthrough for you with testing for next year or anything? 
Yeah. I actually feel like my bike's pretty good. I came into here and there were a couple of sets of forks that I was undecided about and, the ones I'm on right now, they feel really good on the hard-pack. We are going to try them on the softer dirt when we get to Florida and then we'll see how they work there.  
This has been good for you then. Obviously you are tired, have done a lot of travelling and racing, but you have actually learned something from it. It's been worth it.
Yeah, for sure, and the racing. You can learn a lot from racing and I think you just get better. Your race craft, your speed and how to manage a race. It's just good to race all these different events, whether they are different schedules or whatever.
Interview: Lewis Phillips | Lead Image: @Crunch724
Results: French SX Tour – Lyon
See here.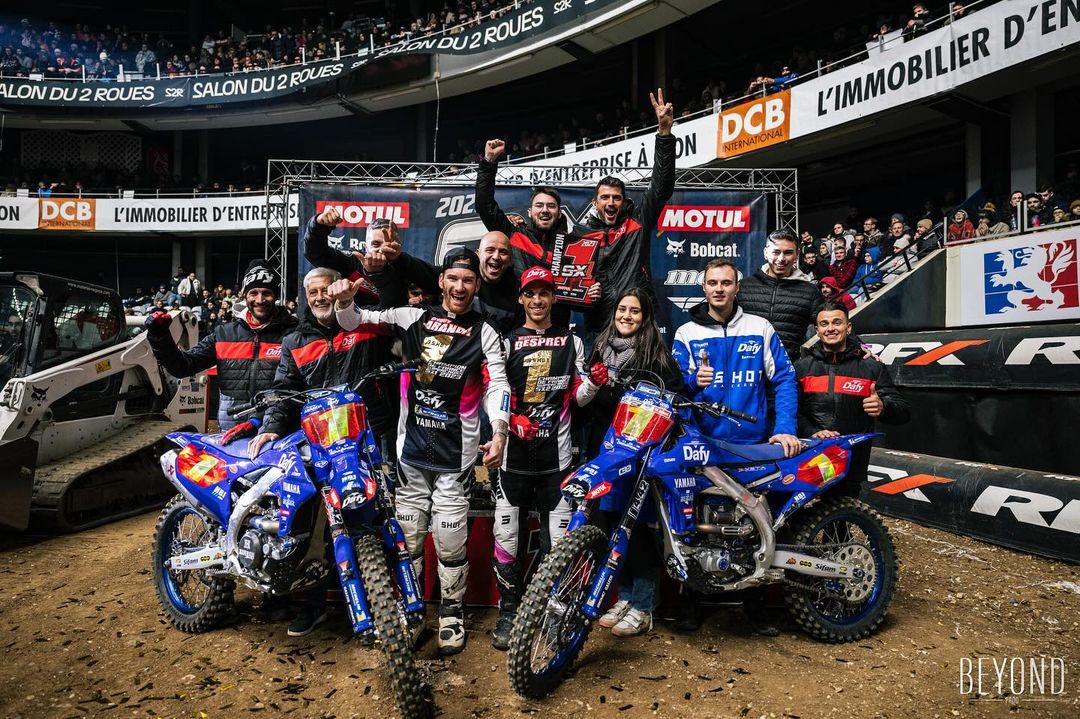 Find all the results from the French SX Tour at Lyon below.
SX1 Title Standings

SX1

SX2 Title Standings

SX2

Lead Image: Beyond Production
Love what we do? Please read this article as we try to raise £30,000.
The MX Vice SMX Show Episode #32 – Paris SX Review and WSX Preview
Listen now.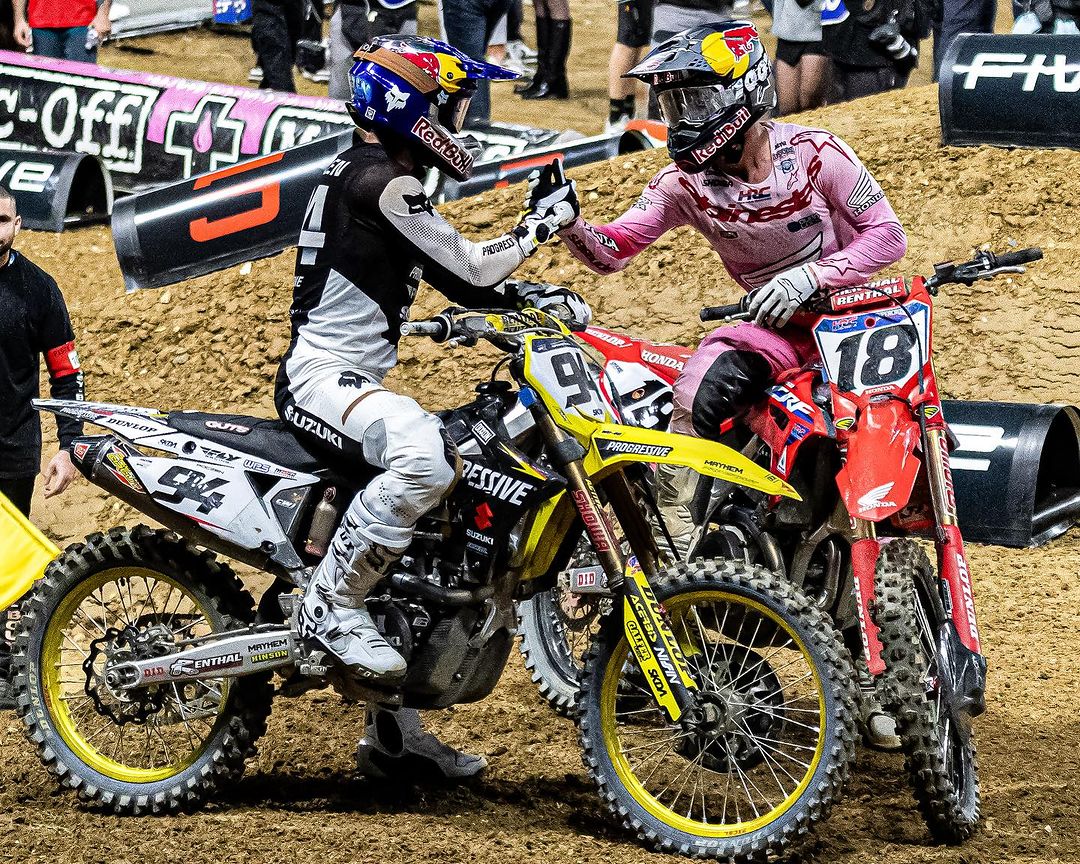 The MX Vice SMX Show returns with Brad Wheeler and Ed Stratmann, as they review Paris Supercross, plus chat about WSX, Prado potentially racing AMA Supercross and more.
The MX Vice SMX Show podcast is always available to listen to on Spotify, iTunes, SoundCloud, Stitcher and Google Play. Thanks to Fly Racing, Monster Energy, Fox Racing, Parts Europe, Scott, Bell Helmets, Acerbis, AS3 Performance, Kawasaki UK, KTM UK, O'Neal and Even Strokes for supporting the show. If you would like to become a part of the show, don't hesitate to get in touch.
Lead Image: Dimi DG (@dimi_dg70 on Instagram)
Love what we do? Please read this article as we try to raise £30,000.
Results: Paris Supercross 2023
See here.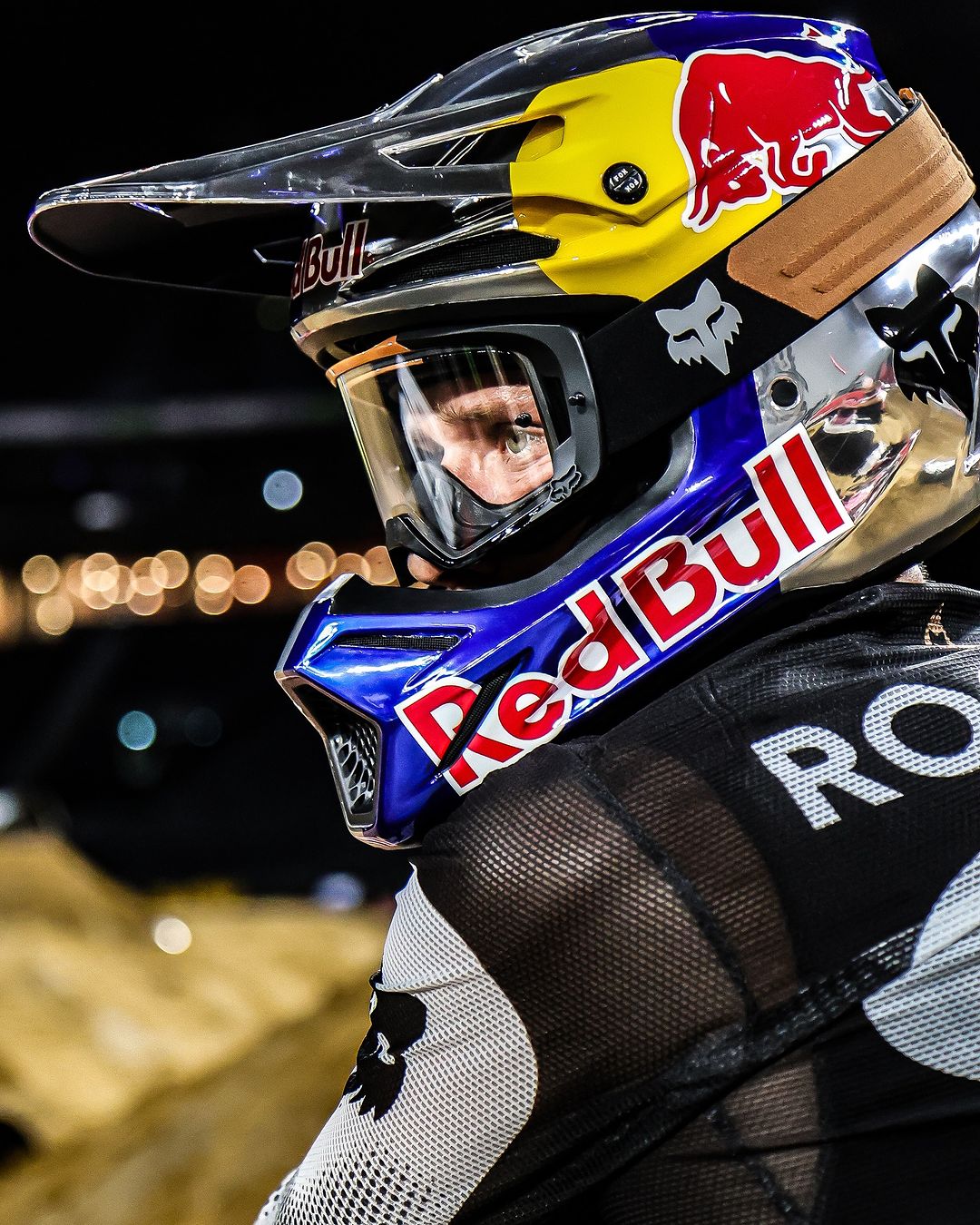 The annual Paris Supercross is underway at the La Defense Arena. This edition of the event promises to be full of excitement as usual with the likes of Ken Roczen, Cooper Webb, Jett Lawrence, Hunter Lawrence, Tom Vialle, Jo Shimoda and Justin Brayton headlining the show. Dimi DG (@dimi_dg70 on Instagram)
Results will be added to this page throughout the weekend. Check back regularly for the latest from the SX1 and SX2 classes.
Sunday
SX1
SX1 Overall

SX1 Race 3

SX1 Race 2

SX1 Race 1

SX2
SX2 Overall

SX2 Race 3

SX2 Race 2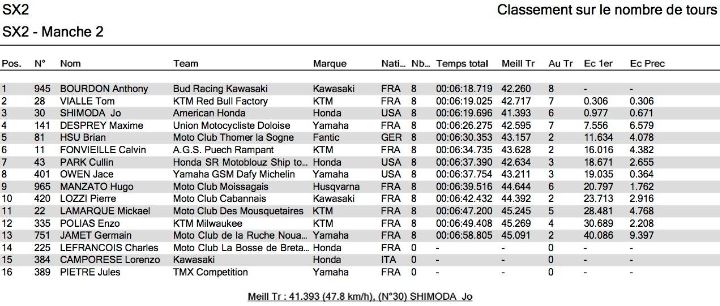 SX2 Race 1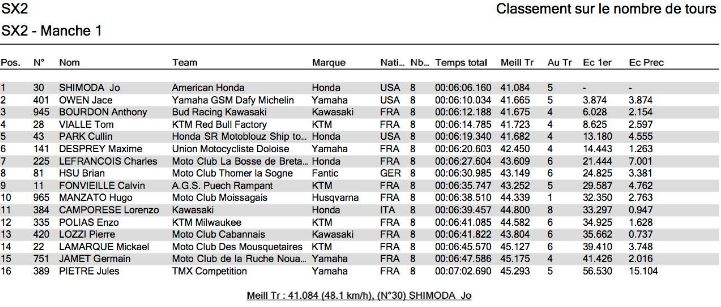 Saturday
SX1
SX1 Saturday Overall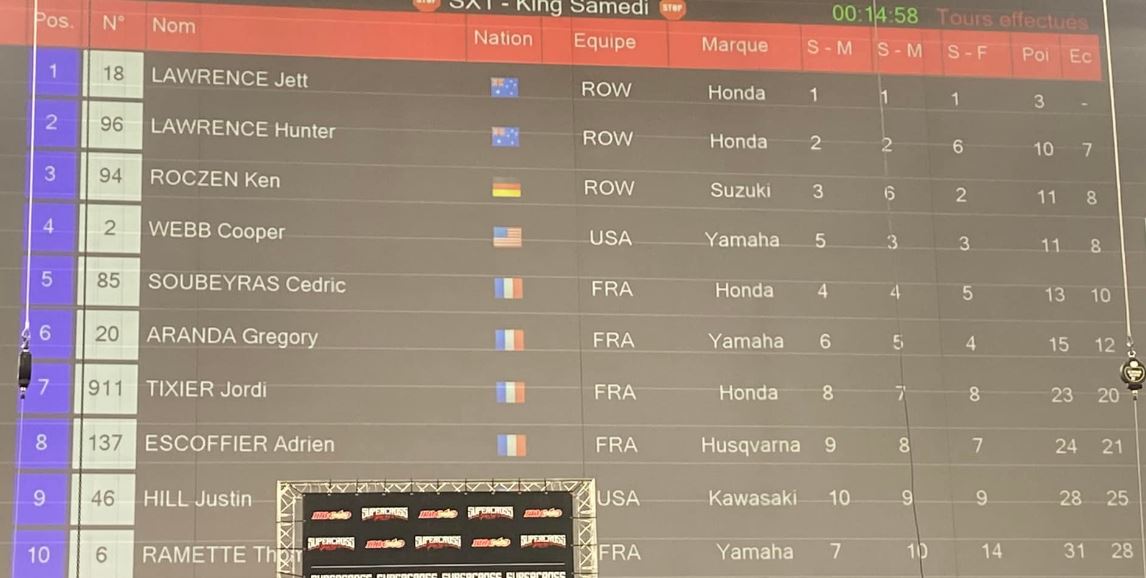 SX1 Race 3

SX1 Race 2

SX1 Race 1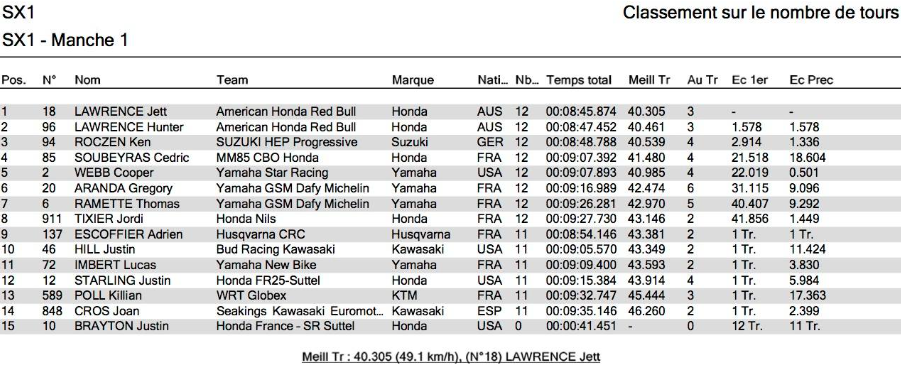 SX2
SX2 Saturday Overall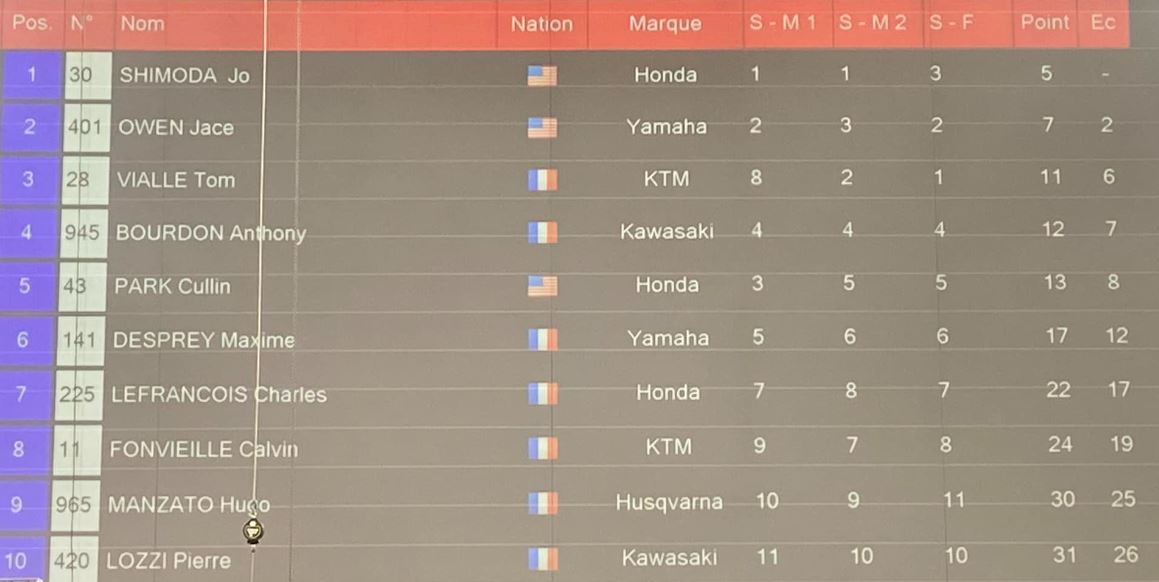 SX2 Race 3

SX2 Race 2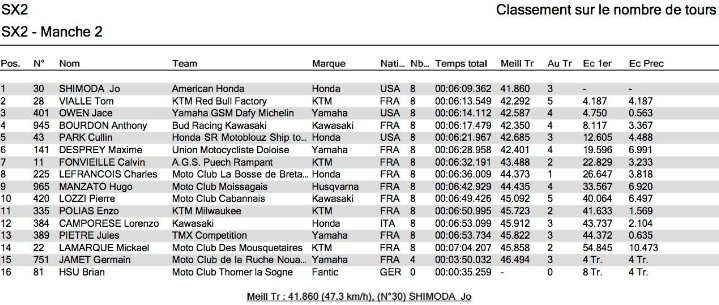 SX2 Race 1
Love what we do? Please read this article as we try to raise £30,000.