Chase Sexton cleared of injuries after Minneapolis crash, onto Arlington.
February 22 (08:43)
Chase Sexton has released a lengthy statement about what happened in Minneapolis, the concussion protocol and where he is at now. The concussion protocol is obviously a serious matter. However, taking everything into consideration, it seems extremely unlikely that anything is going to stop him from missing the eighth stop of 2022 Monster Energy Supercross this weekend. Honda HRC will strive to get him back on top and build on Ken Roczen's recent progress.
---
Words: Lewis Phillips | Lead Image: Align Media
---
"Hey guys, as most of you know I had a crash with a little over a lap left in the main event this weekend. It was obviously not ideal – I felt good all day. I was good in practice and good in the heat race, but just a small mistake with a little over a lap left put me on the ground. It was unfortunate. I have just got to move on, like I said I was feeling really good on the bike. I have still got that confidence in me, so I am excited to keep progressing. I had a little bit of a hard time getting back up on my feet and the doctors put me on concussion protocol, which I am following now. I had a meeting with a neurologist today and he is letting me ease back into training. Hopefully by this weekend I'll be 100%. I did a little bike ride today, which was good, and to get back to training was nice. I am just looking forward to getting back to the races. Hopefully we can go out there this weekend, put on a good show, get back to where we were this weekend and finish it off."
February 21 (20:18)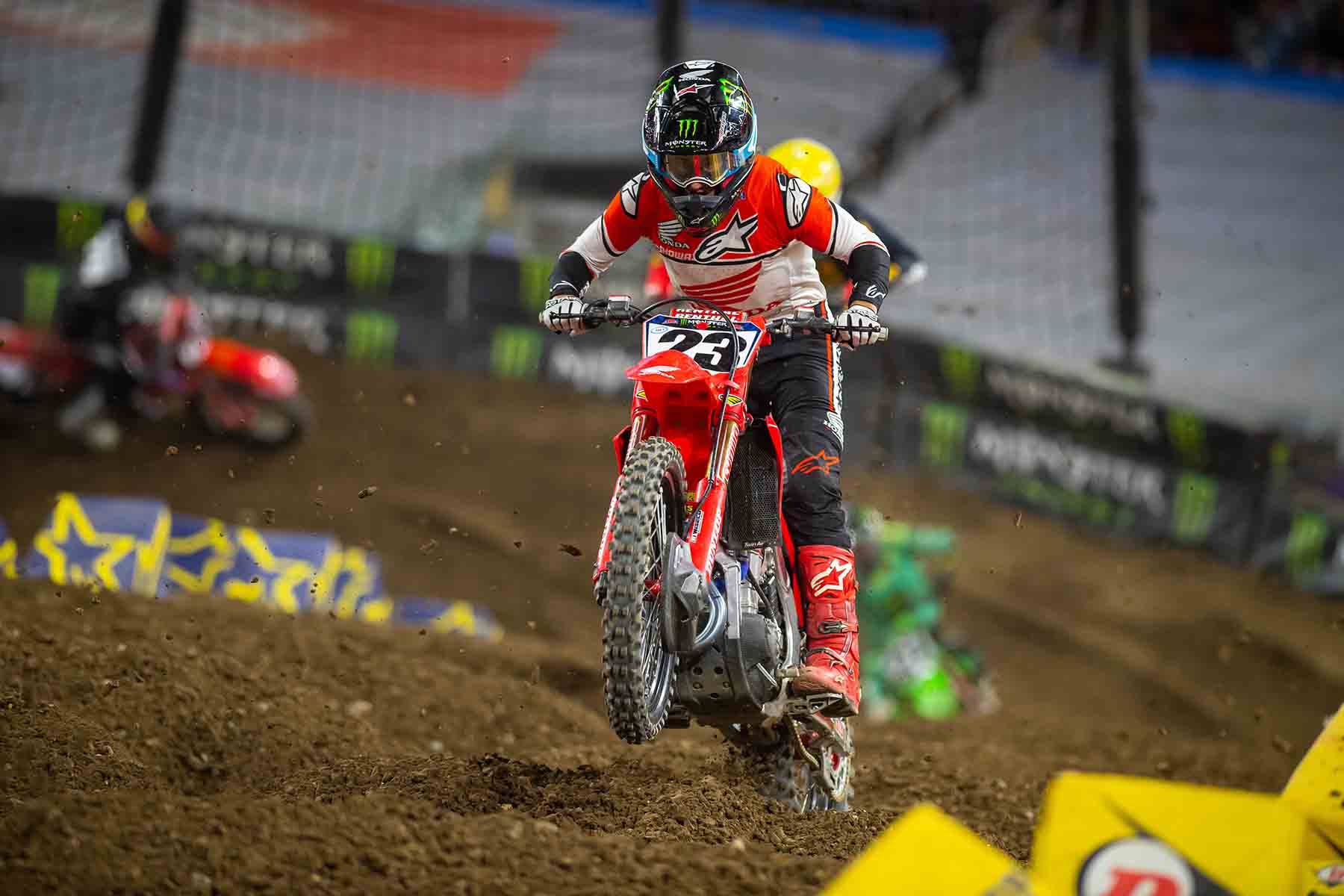 Chase Sexton was arguably the biggest story to emerge from round seven of 2022 Monster Energy Supercross, Minneapolis, as he rode a flawless race until a crash with just two laps to go, Sexton stumbled back across to his CRF450R after receiving medical attention. However, he was unable to join the race and limped back to the pits. Although he was credited with sixteenth, which gave him seven championship points, the night was a significant blow to his title hopes. The good news is that Honda HRC have confirmed that he did not sustain any injuries.
"The Illinois native struggled to get up, and he was escorted off the track to be evaluated at the Alpinestars Medical Unit. Although banged up, Sexton felt relatively well when he left the venue, but officials will have him undergo concussion protocol this week."
Had Sexton won the 450SX main, which he almost certainly would have had he not crashed, then he would be within eight points of the championship lead now. Instead he faces a deficit of 28 points heading into the eighth round in Arlington, Texas, on Saturday, which will be another Triple Crown race. There do not appear to be any concerns about whether he will be able to compete, despite the fact that he has to do the concussion protocol. Sexton himself has stated that he is fine aside from some bruising to his face.
It has been a successful season for Sexton, who has flourished in his sophomore season aboard the CRF450R. Taking his first main event victory in San Diego last month, he has proven himself to be a consistent contender for podium finishes and the championship. The crown may be out of touch now, seeing as he lost so many points inside of U.S. Bank Stadium, but there is almost no doubt that he will add more race wins to his tally before the season is done.