Monster Energy Supercross returns to Atlanta, provisional entry lists available.
2022 Monster Energy Supercross returns to Atlanta, Georgia, for round fourteen of the campaign this weekend. The Atlanta Motor Speedway that made its debut on the schedule last year – it was chucked in at the deep end with a triple header – will host the poignant event on Saturday, April 16. The 250SX Showdown will dominate the headlines and paddock chatter at the race, as Christian Craig and Jett Lawrence will face off for the first time this year. It is quite tricky to decipher who is the stronger star, but the answer will lie in Saturday's 250SX main event.
---
Words: Lewis Phillips | Lead Image: Align Media
---
To further add to the intrigue, Lawrence could clinch the 250SX East title this weekend. Cameron McAdoo is not going to compete, so is no longer a threat for the championship crown, which means that '18' must gain 11 points on RJ Hampshire to clinch with two rounds to spare. It is certainly going to be possible with the additional depth. If Lawrence wins, he simply needs Hampshire to finish outside of the top five. Who could get between the duo? View the provisional 250SX entry list below, as well as the 450SX sheet.
| | |
| --- | --- |
| 1 | Cooper Webb |
| 3 | Eli Tomac |
| 10 | Justin Brayton |
| 11 | Kyle Chisholm |
| 19 | Justin Bogle |
| 21 | Jason Anderson |
| 23 | Chase Sexton |
| 25 | Marvin Musquin |
| 26 | Alex Martin |
| 27 | Malcolm Stewart |
| 41 | Brandon Hartranft |
| 51 | Justin Barcia |
| 55 | Justin Rodbell |
| 57 | Kevin Moranz |
| 61 | Fredrik Noren |
| 63 | Jeremy Hand |
| 67 | Logan Karnow |
| 72 | John Short |
| 73 | Benny Bloss |
| 78 | Cade Clason |
| 84 | Scott Meshey |
| 87 | Alex Ray |
| 89 | Lane Shaw |
| 91 | Brandon Schrarer |
| 95 | Justin Starling |
| 112 | Xylian Ramella |
| 129 | Henry Miller |
| 200 | Ryan Breece |
| 204 | Kyle Greeson |
| 208 | Logan Leitzel |
| 214 | Joe Clayton |
| 281 | Cory Carsten |
| 282 | Theodore Pauli |
| 289 | Robert Hailey |
| 376 | Thomas Welch |
| 412 | Jared Lesher |
| 447 | Deven Raper |
| 501 | Scotty Wennerstrom |
| 504 | Gerhard Matamoros |
| 512 | Austin Cozadd |
| 551 | Guillaume St-Cyr |
| 581 | Kyle Bitterman |
| 597 | Mason Kerr |
| 637 | Bobby Piazza |
| 672 | Brandon Pederson |
| 711 | Tristan Lane |
| 722 | Adam Enticknap |
| 824 | Carter Stephenson |
| 848 | Joan Cros |
| 976 | Joshua Greco |
| 995 | Christopher Prebula |
| 996 | Preston Taylor |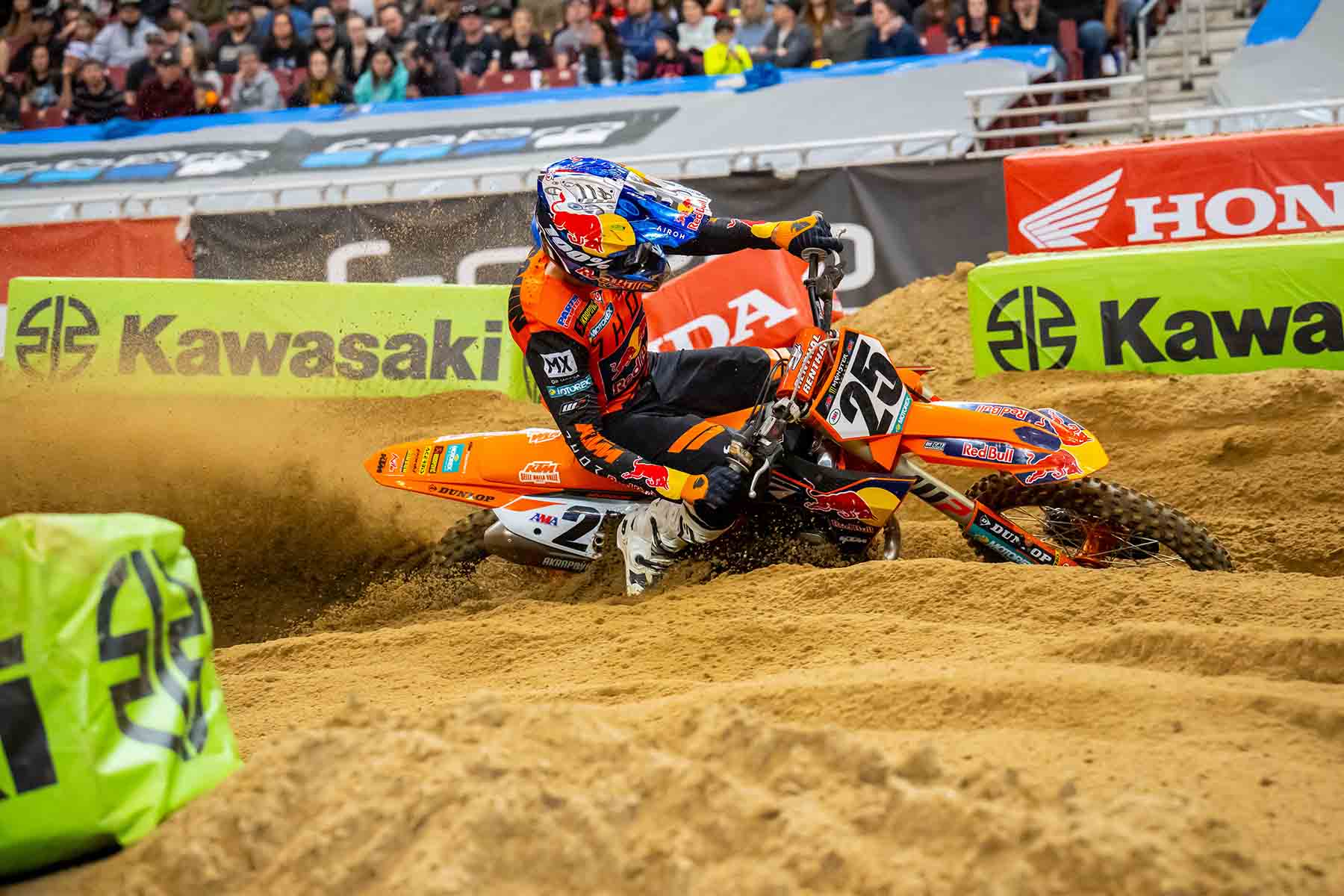 | | |
| --- | --- |
| 18 | Jett Lawrence |
| 24 | RJ Hampshire |
| 28 | Christian Craig |
| 29 | Michael Mosiman |
| 30 | Jo Shimoda |
| 31 | Jalek Swoll |
| 33 | Austin Forkner |
| 35 | Garrett Marchbanks |
| 36 | Max Vohland |
| 38 | Joshua Varize |
| 39 | Jarrett Frye |
| 40 | Dilan Schwartz |
| 43 | Carson Mumford |
| 44 | Pierce Brown |
| 48 | Cameron McAdoo |
| 49 | Nate Thrasher |
| 50 | Stilez Robertson |
| 52 | Kyle Peters |
| 54 | Mitchell Oldenburg |
| 62 | Vince Friese |
| 64 | Mitchell Harrison |
| 66 | Chris Blose |
| 69 | Robbie Wageman |
| 70 | Ramyller Alves |
| 74 | Derek Kelley |
| 75 | Luke Neese |
| 80 | Enzo Lopes |
| 81 | Jace Owen |
| 90 | Jordon Smith |
| 96 | Hunter Lawrence |
| 98 | Dominique Thury |
| 119 | Logan Boye |
| 138 | David Pulley |
| 140 | Cullin Park |
| 162 | Maxwell Sanford |
| 167 | Jesse Flock |
| 174 | Luca Marsalisi |
| 192 | Jack Chambers |
| 194 | Lance Kobusch |
| 216 | Devin Harriman |
| 243 | Hardy Munoz |
| 285 | Marshal Weltin |
| 296 | Ryder Floyd |
| 330 | AJ Catanzaro |
| 331 | Derek Drake |
| 388 | Brandon Ray |
| 432 | Kaeden Amerine |
| 460 | Michael Hicks |
| 467 | Isaiah Goodman |
| 508 | Hunter Yoder |
| 517 | Ty Freehill |
| 519 | Joshua Cartwright |
| 529 | Kobe Heffner |
| 604 | Max Miller |
| 715 | Phil Nicoletti |
| 726 | Gared Steinke |
| 822 | Riley Ripper |
| 910 | Carson Brown |
| 914 | Geran Stapleton |