Monster Energy Supercross heads to Arlington, provisional entry lists released.
The 2022 Monster Energy Supercross series will continue with round eight of seventeen this weekend; Arlington, Texas, will play host to the travelling circus. The second Triple Crown race of the season will be run this weekend too, so there is plenty to look out for as riders roll into AT&T Stadium. The Triple Crown is not overly kind to those privateers who do not have a shot at making the main event – only the top twenty-two riders in each class will get to take part in the night show. Despite the tougher race schedule, there are forty-six riders entered in 450SX and sixty in 250SX. Read on for some additional notes heading into the weekend.
---
Words: Lewis Phillips | Lead Image: Align Media
---
Max Anstie is missing from the entry list below, as he is currently recovering from the two broken ribs that he sustained in Minneapolis. Anstie is also dealing with some internal injuries and expects to be out for around a month, as he revealed earlier in the week.
Chase Sexton must undergo the concussion protocol before getting cleared to race inside of AT&T Stadium, but does not expect that to be a problem.

Sexton resumed training on Monday

, after that crash in Minneapolis, and had no trouble.
Although Max Vohland is still on the 250SX East entry list, he does not expect to be able to race on Saturday night. Vohland has a nasty haematoma on his shoulder, following a crash in Minneapolis, and is unsure when he will be strong enough to race again.
| | |
| --- | --- |
| 1 | Cooper Webb |
| 3 | Eli Tomac |
| 7 | Aaron Plessinger |
| 10 | Justin Brayton |
| 11 | Kyle Chisholm |
| 12 | Shane McElrath |
| 14 | Dylan Ferrandis |
| 15 | Dean Wilson |
| 19 | Justin Bogle |
| 21 | Jason Anderson |
| 23 | Chase Sexton |
| 25 | Marvin Musquin |
| 26 | Alex Martin |
| 27 | Malcolm Stewart |
| 41 | Brandon Hartranft |
| 51 | Justin Barcia |
| 55 | Justin Rodbell |
| 57 | Kevin Moranz |
| 61 | Fredrik Noren |
| 62 | Vince Friese |
| 67 | Logan Karnow |
| 69 | Robbie Wageman |
| 78 | Cade Clason |
| 84 | Scott Meshey |
| 87 | Alex Ray |
| 94 | Ken Roczen |
| 95 | Justin Starling |
| 99 | RJ Wageman |
| 118 | Cheyenne Harmon |
| 121 | Chris Howell |
| 138 | David Pulley |
| 200 | Ryan Breece |
| 204 | Kyle Greeson |
| 281 | Cory Carsten |
| 282 | Theodore Pauli |
| 447 | Deven Raper |
| 501 | Scotty Wennerstrom |
| 512 | Austin Cozadd |
| 538 | Addison Emory |
| 597 | Mason Kerr |
| 711 | Tristan Lane |
| 722 | Adam Enticknap |
| 848 | Joan Cros |
| 976 | Joshua Greco |
| 995 | Christopher Prebula |
| 996 | Preston Taylor |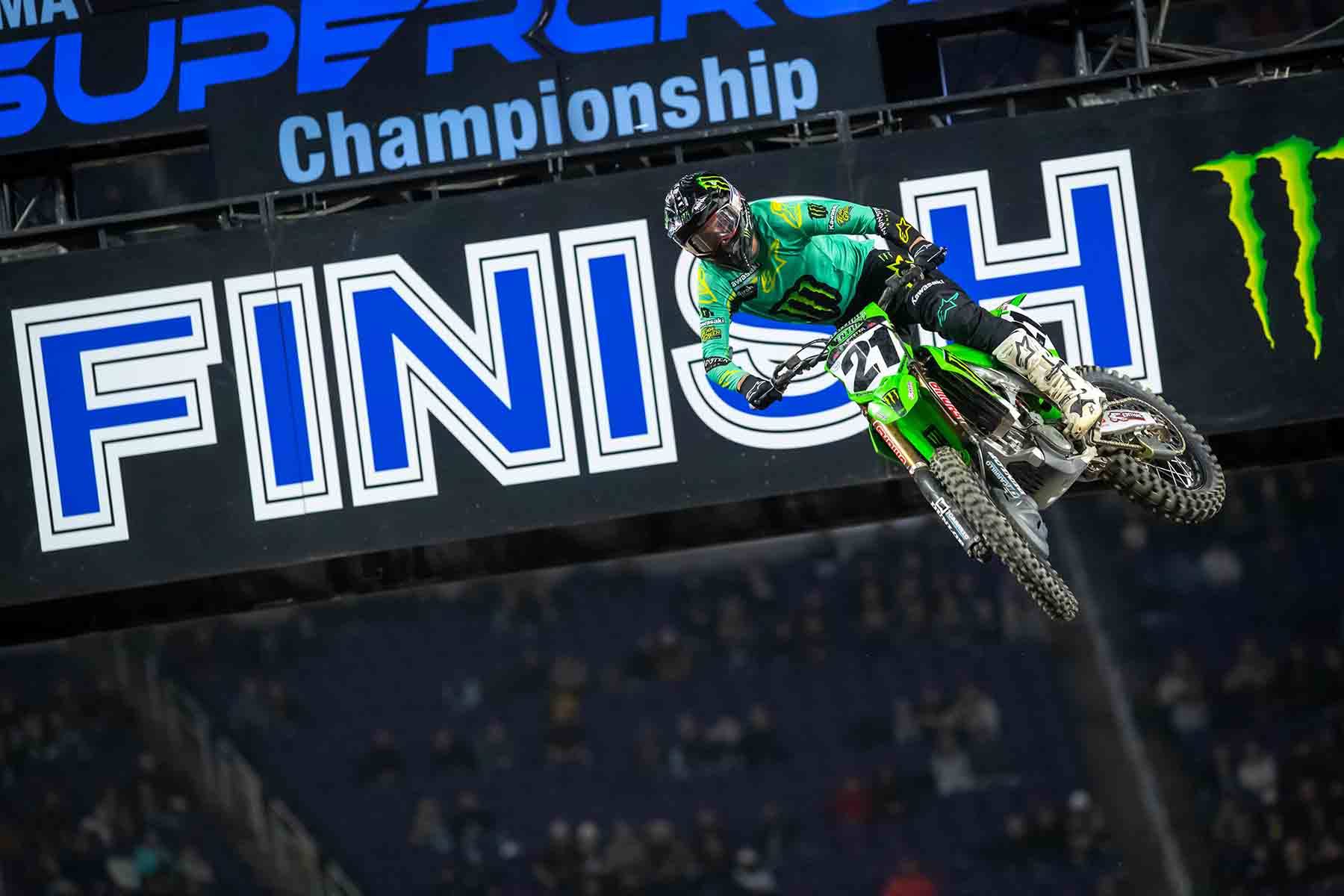 | | |
| --- | --- |
| 6 | Jeremy Martin |
| 18 | Jett Lawrence |
| 24 | RJ Hampshire |
| 33 | Austin Forkner |
| 36 | Max Vohland |
| 37 | Coty Schock |
| 38 | Joshua Varize |
| 39 | Jarrett Frye |
| 44 | Pierce Brown |
| 48 | Cameron McAdoo |
| 50 | Stilez Robertson |
| 52 | Kyle Peters |
| 54 | Mitchell Oldenburg |
| 56 | Josh Osby |
| 59 | Levi Kitchen |
| 63 | Jeremy Hand |
| 68 | Preston Kilroy |
| 70 | Ramyller Alves |
| 72 | John Short |
| 75 | Luke Neese |
| 76 | Devin Simonson |
| 80 | Enzo Lopes |
| 81 | Jace Owen |
| 85 | Hunter Sayles |
| 89 | Lane Shaw |
| 90 | Jordon Smith |
| 92 | Jace Kessler |
| 116 | TJ Albright |
| 119 | Logan Boye |
| 129 | Henry Miller |
| 140 | Cullin Park |
| 146 | Brandon Marley |
| 174 | Luca Marsalisi |
| 191 | Curren Thurman |
| 194 | Lance Kobusch |
| 214 | Joe Clayton |
| 243 | Hardy Munoz |
| 247 | Brock Papi |
| 285 | Marshal Weltin |
| 296 | Ryder Floyd |
| 313 | Kyle Swanson |
| 330 | AJ Catanzaro |
| 331 | Derek Drake |
| 412 | Jared Lesher |
| 428 | Chad Stonier |
| 431 | Caio Lopes |
| 437 | Vincent Luhovey |
| 446 | Blaine Silveira |
| 484 | Tanner Ward |
| 500 | Julien Benek |
| 508 | Hunter Yoder |
| 517 | Ty Freehill |
| 519 | Joshua Cartwright |
| 551 | Guillaume St-Cyr |
| 581 | Kyle Bitterman |
| 604 | Max Miller |
| 672 | Brandon Pederson |
| 682 | Izaih Clark |
| 715 | Phil Nicoletti |
| 874 | Zack Williams |