With Ruben Fernandez locked in as Tim Gajser's teammate at Team HRC for next year in MXGP, it'll be fascinating seeing how he fares, especially given the plight of some of his colleagues over recent years.
---
Words: Edward Stratmann | Lead Image: Ray Archer
---
Having shown that he has the speed to mix it with the frontrunners aboard his 114 Motorsports steed last year during his debut campaign in the premier class, the key thing for Fernandez will be limiting the crashes and mistakes.
While the Spaniard's penchant for committing untimely mistakes reared its head on many occasions to begin 2022, his podium at Kegums, which was his first in MXGP, was the catalyst for an upturn in fortunes. "As a child I didn't even dream of reaching as high as I did this weekend. It's amazing," he said after this milestone achievement.
"This is good to get it out of the way and to be honest, I'm super happy. I always thought I could make it happen and I felt I had the speed for it, I just found it difficult to put it all together in one weekend. After many bad weekends in a row, I needed to know where I was going wrong and how to work on it and finally put it all together and stay calm and that's what made it possible to be on the podium."
From here, the ultra competitive and talented hotshot then went on to record five top seven finishes from the next six rounds, including another podium in Indonesia, as his adaptation to MXGP was going smoothly. Unfortunately, however, this spell of consistency didn't last, for he suffered a nasty gash to his arm that required surgery at Loket.
Forced out of Lommel as a result of this ailment, the Galician returned for the MXGP of Sweden after three weeks off the bike, where he endured a tough weekend on his way to bravely battling the pain to finish 16th overall.
While his end to the campaign was hindered by his troublesome injury, encouragement could still be found from his 12-9 for 11th overall in France and his fourth in the qualification race in the season finale in Turkiye.
"We did not finish the season as I would have liked. I finally finished P8 overall in the championship in my rookie MXGP season, with many failures in the first races and an injury at the end of the championship. Although it could have been better, I think I have to be happy after all. Next season we will go for more," he reflected.
The ferociously driven Fernandez then quickly turned his attention to the Motocross of Nations at RedBud, as he linked up with Jorge Prado and Guillem Farres to form a strong Team Spain. Holding his own on the big stage with the eyes of the motocross world watching, the 23-year-old went 5-8 to secure fourth overall in the Open class behind only Jett Lawrence, Chase Sexton and Dylan Ferrandis, on a day where Spain finished sixth overall.
Improving immensely last crusade as he adjusted to the tremendous mental and physical demands of MXGP, it was a shame that his results didn't always match his speed courtesy of some frustrating missteps.
Eager to tackle the challenge of stepping up alongside five-time World Champion, Tim Gajser, who he'll be able to learn plenty from, at Team HRC on a bike he's familiar with in 2023, seeing how he handles the pressure and weight of expectation will be compelling.
Upon looking back over recent years, it certainly hasn't always been plain sailing for the second rider at HRC alongside Gajser in MXGP,  which is a fate Fernandez will be keen to avoid when he saddles up alongside the Slovenian.
To start with Evgeny Bobryshev, who was somewhat harshly ousted from the high profile team back in 2017 following seven years of service under the HRC awning, this illustrated how fickle the sport can be.
Although he closed an injury interrupted 2017 series 11th in the standings, the Russian demonstrated he had the speed to warrant earning another contract by virtue of him bagging two overall podiums.
Seeing as the man who impressively claimed third in MXGP in 2015, plus finished in the top 10 in the championship five times during his period with HRC, had been such an integral component testing and developing their bikes over the years, this made the decision to dismiss him even more perplexing. But with news emerging regarding a hefty sponsorship deal for the following year, the decision to drop Bobryshev reportedly wasn't solely based on his on-track efforts.
"First of all it is a shame that our paths are dividing with Honda. I have travelled many times to Japan and always been so welcome there. It was a good time and I'm thankful to all the team and the people at HRC that have always supported me. I cannot have any complaints. It is just a shame it has happened and so late," he lamented to OTOR.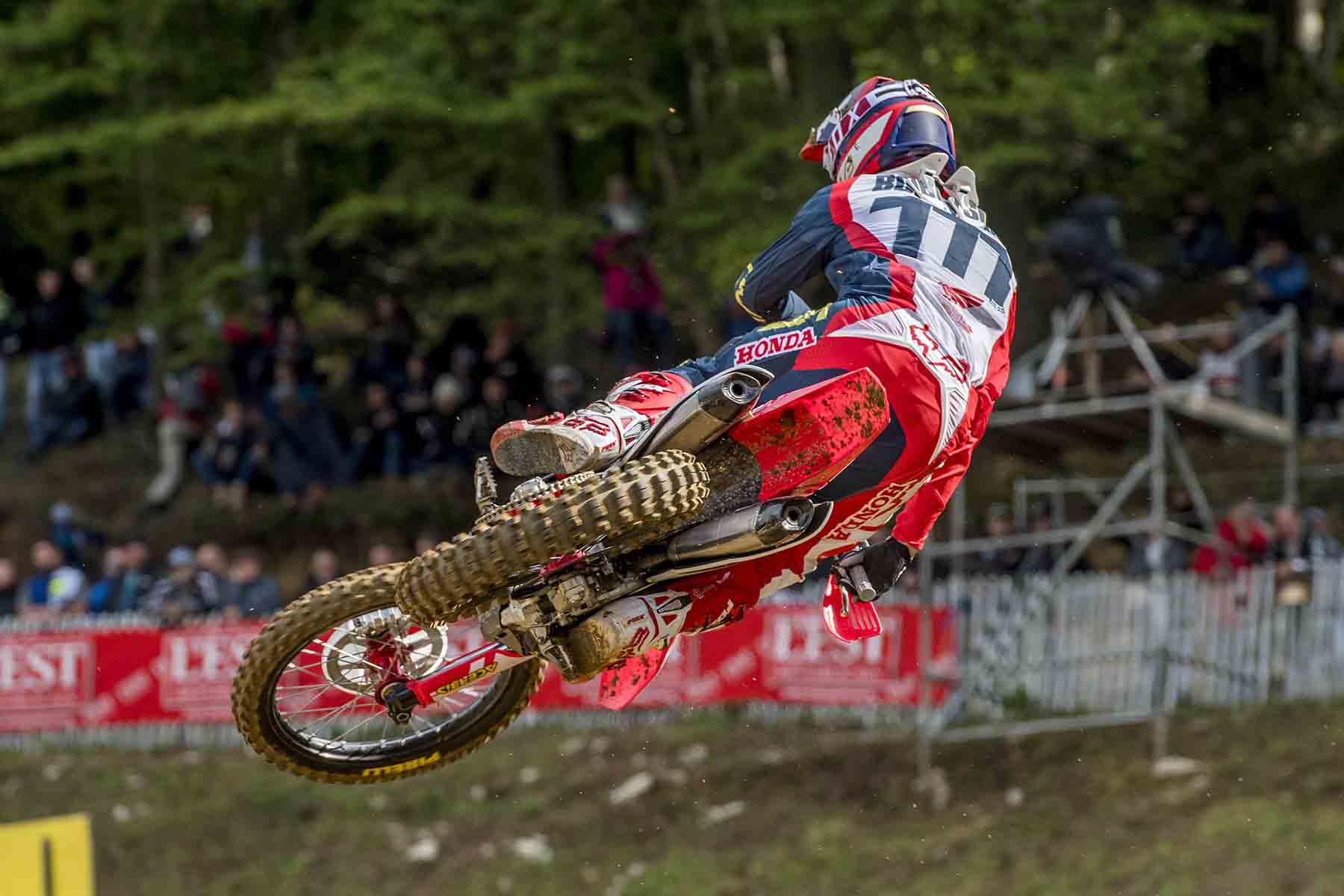 Fresh from notching eighth in MX2, Brian Bogers was drafted in to replace Bobryshev for 2018, and things didn't certainly didn't go to plan for him. Starting off his dream move in horrific fashion by breaking his foot while testing ahead of the new campaign, the Dutchman remained on the sidelines for the majority of his rookie season, only managing to feature in two rounds that year, as Aussie Todd Waters was drafted in as a fill-in with limited success.
"Last year it was a disaster. I missed almost the whole season. Only the last two rounds I could do. I feel that I missed a lot of hours on the bike. What you build up in eight or ten months, with three surgeries, you throw it all away. I needed to start all over again," Bogers told MX Vice.
Wanting to prove his worth in 2019, it was another challenging year for Bogers. Unable to get his starts dialled, having issues setting up the bike and under pressure to perform to get a new deal, Bogers felt like he was constantly trying to catch his tail in his quest to make up for lost time.
To his credit, however, he stuck at it even if he didn't achieve the desired results, in a season where he could only muster two top 10 overalls from the 17 rounds he contested. Upside could be extracted from his second in the final moto at a muddy Mantova, though.
Come season's end, Bogers was shown the door too, with Aussie youngster Mitch Evans brought in for 2020 to serve as Gajser's latest partner in crime. 
Swapping a 114 Motorsports 250 for an HRC 450 following a promising debut MX2 series that featured many highlights such as his podium in Argentina, Honda, who'd been previously impressed with his showings on the bigger bike in the Australian series and at the MXON in 2018, boldly placed their faith in the then 20-year-old.
Immediately vindicating his bosses and underlining his skills, Evans turned heads by winning a pre-season race at Mantova. He importantly carried this momentum into the opening round of MXGP, where he marked his debut by going 3-7 for fifth overall despite battling a chest infection.
Appearing to be on a districtly upward trajectory, sadly things hit a snag in Valkenswaard, where he was landed on during the first lap of moto one. Scans subsequently revealed he'd require surgery on his shoulder, meaning a reset was needed as he ventured home to be operated on.
With the series having to be put on hold due to the COVID outbreak, this vitally gave him extra time to recover before returning to the fray in Latvia. Although he wasn't at 100 percent heading into what was a triple header at Kegums, much positivity could be drawn from how he steadily made steps in the right direction, which culminated in him securing 10th overall in the third race.
Further headway was made by the gifted youngster in the coming weeks, for he rattled off five top five overalls from the next six rounds, with his fourth placed moto finishes in Emilia Romagna and Mantova particularly catching the eye.
Disaster would then strike as the MXGP circus headed to Spain to devastatingly scupper his purple patch. Looking destined to keep making waves in the paddock, Evans qualified third and was running near the front in moto one before landing awkwardly off a jump.
The result was a shattering broken wrist that would ultimately haunt him well into the future, with complications surrounding this ailment consequently forcing him to not only sit out the rest of 2020 but also miss the entire 2021 season. A sickening blow indeed considering the tremendous progress he was enjoying.
Finally able to get back on the gate for the 2022 term, the opening round at Matterley Basin served as a huge milestone for him following his arduous recovery, as he got through the weekend unscathed.
"It's been a really tough 15 months for me, not being able to race and not being able to ride for such a long time. It's been hard, both physically and mentally to try and stay positive and to keep the motivation high to come back to what is an extremely high level of motocross in the MXGP class now," Evans recalled.
"I'm really thankful to have had the support of Team HRC throughout this period and I'm really looking forward to paying that back by putting in the results on the track."
Adamant it would take him 10 rounds to get back inside the top 10 while his arm regained strength and he built up his fitness, his prediction was ostensibly on the money.
Having some ups and downs during the first half of the campaign, where some crashes, poor starts and the sweltering weather held him back from rewarding himself for his quality riding on many occasions, round 11 in Germany was when he found his feet.
Grabbing seventh overall at Teutschenthal, this acted as the catalyst for an uptick in results for him, as he backed this up with two more top tens in Indonesia and at Loket.
Although Lommel was a weekend to forget due to his nasty crash while running third in the qualifying race that meant he smartly opted to retire despite initially having a crack in moto one, he wouldn't have to wait long to get back into his groove.
Next up was Sweden, and while he didn't achieve his goal of getting on the podium, he produced a sensational ride to win the qualifying race before going 10-4 in the races, with the latter result being his best moto finish yet of the season.
Even though he finished the campaign without getting on the podium, it wasn't through a lack of speed, but more down to the fact small errors meant everything never fell into place on race day. "I got 10th in the championship, which is not too bad, as I didn't know what to expect coming back from my wrist injury," he insisted to Lewis Phillips in his Fly Racing post race podcast from Turkiye.
"I was barely doing 30 minute motos before the season started. Really once I got the injection in my wrist after round one that's when my wrist really started to improve and I feel like that's when my proper training started. So all the training that I did during the winter was nothing. I felt like I was playing catch up all year.
"From then on it was just about building throughout the year. It was good, although I feel like I didn't quite reach my goal of battling for wins and podiums. But at least we got a qualifying race win. I'd grade my season as a B+."
Following the theme of having his time at Honda massively impacted by injuries like his predecessors, HRC unflinchingly wielded the axe on Evans and handed the second seat to Fernandez for 2023, which opened the door for the Aussie to join the Antti Pyrhönen run factory Kawasaki Racing Team.
With the second slot at HRC alongside reigning World Champion Gajser proving a challenging one to truly excel in, Fernandez certainly has big boots to fill, as he aims to succeed where others have recently struggled.
Considering what a deep field there's set to be in MXGP in 2023, replicating the output of Bobryshev, who's unquestionably performed best among Gajser's former 450 teammates, will be easier said than done.
The talent's undeniably there that Fernandez can one day do so, but the key determining factor will be whether or not he can complete the entire season without incident.
Only time will tell if he, in fact, can. But either way,  it'll be intriguing to see if he can break the curse of the second saddle at HRC that has afflicted many outstanding pilots over the last six years.