2023 Fox Australian Supercross Championship dates confirmed
See now.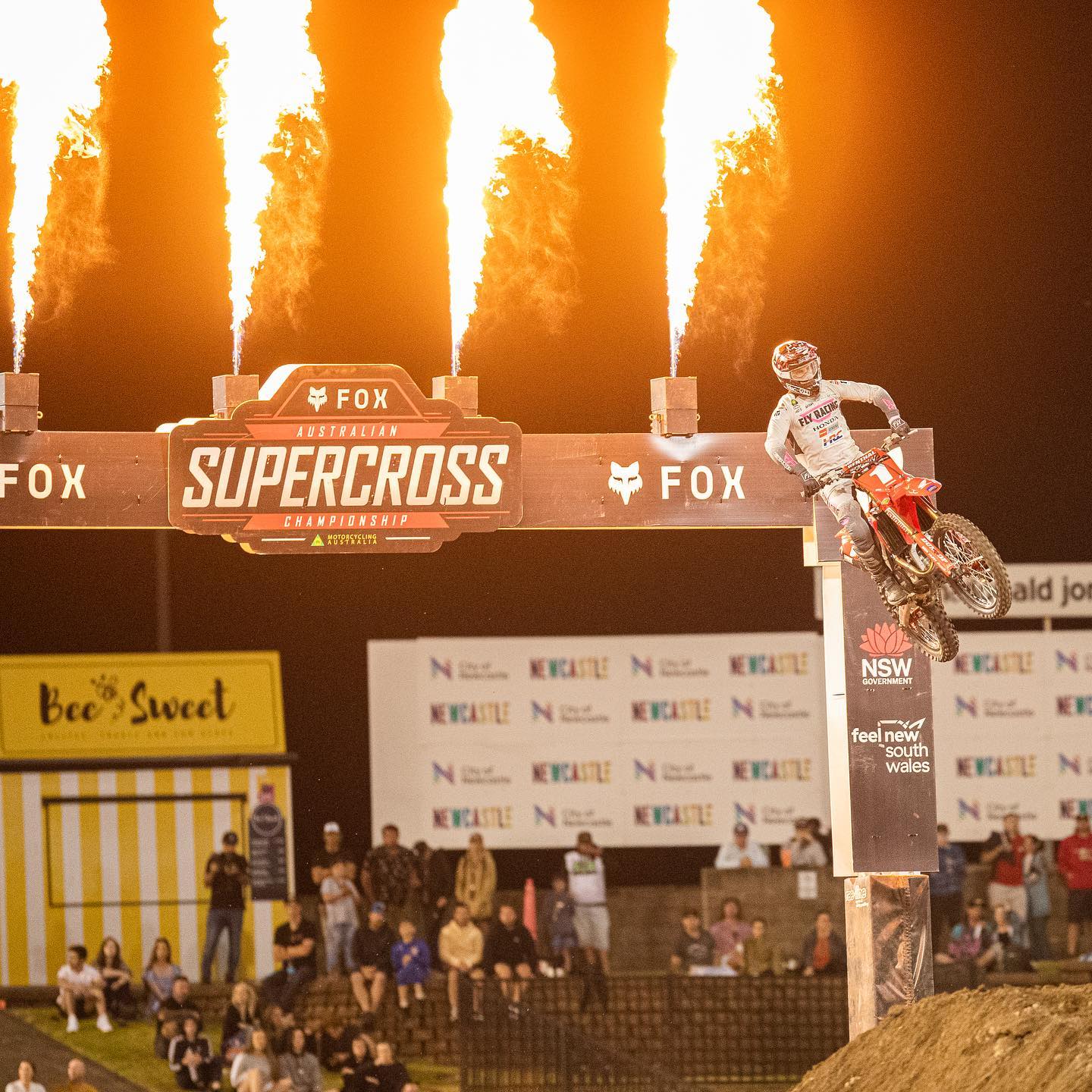 Newcastle, Melbourne, and Adelaide will host a 3-round series of the FOX Australian Supercross Championship in 2023.

Re-introduction of 85cc Category.

FOX Racing returns as naming rights partner of the championship

AUSX alignment to 3-year-strategy to support the growth and sustainability of Supercross in Australia.
---
Words: Press Release | Lead Image: Honda Racing Australia
---
The FOX Australian Supercross Championship is back with the 2023 series details announced today featuring three rounds in Newcastle, Melbourne and Adelaide.
The series will open on November 11 with a return to Newcastle for the unique Triple Crown event at McDonald Jones Stadium, followed by a feature round at Melbourne's FIM World Supercross Championship event at Marvel Stadium on November 24, with the finale to take place at the iconic Adelaide Showgrounds on December 2 to draw the series to a close.
Promoters and commercial rights holders of the Australian Supercross Championship, AME Group, are thrilled to announce industry giant, FOX Racing will also return as naming rights partner in 2023, demonstrating their ongoing commitment to the sport.
Kevin Williams has joined forces with the AME team, as Director of Motorsport, to establish a clear vision for the 2023 series, the future of the FOX Australian Supercross Championship and its role in growing participation in dirt bike riding.  
"Following industry feedback and considering cost of travel right now – we believe three rounds makes sense for 2023, with the view to move to four rounds in 2024 and then five in 2025," said Williams.
"Most importantly for this year, we wanted to prioritise quality over quantity when it comes to rounds & racing and create a stable footing for sustainable growth moving forward."
As well as confirming the return of the support class SX3 Cup (125cc/250cc 4-stroke), Williams also revealed the re-introduction of 85cc racing, with a revised 85cc class for 12 to 14-year-olds.
With past Supercross Champions like Chad Reed, Craig Anderson plus Jay & Ryan Marmont all starting their Supercross careers on 80cc in Australia, AME Group's Mick Sinclair noted how this class has been reborn from the desire to aid young riders and deliver more future Australian Supercross champions.
"We are excited and proud to see the return of the 85cc Racing category to the 2023 Australian Supercross Championship," said Sinclair.
"This pivotal decision highlights our commitment to nurturing young talent and shaping the future of Supercross in Australia. We recognize the immense significance of providing a platform for aspiring 12- to 14-year-old riders to harness and enhance their skills, as well as showcase their ability on the big stage.
"The reintroduction of 85cc racing will hopefully ignite a sense of excitement, empower the next generation to chase their dreams and inspire countless others to start their Supercross journey.
"We'll have more very exciting news to share about this category in the coming week that we can't wait to share with both riders and fans."
Another change from 2022 will see AME Group become the sole promoter controlling the Australian Supercross Championship series spanning rider/teams, event operations and production through to media, marketing, broadcast and commercial for all events, which will be paramount in delivering a consistent baseline for the events.   
Kelly Bailey, Managing Director of AME Group, confirming a three-year strategy has been developed around supporting the sport and series to deliver incremental and sustainable growth for supercross in Australia.
"AME is committed to building a community around Supercross and broadening its appeal in Australia," said Bailey.  
"After delivering a successful Newcastle event in 2022 with over 17,500 fans packing out McDonald Jones stadium, we took away learnings, industry and fan feedback and now can't wait to see this come to life across all AUSX events to make them bigger and better moving forward."
Motorcycling Australia's CEO, Peter Doyle said he was thrilled to see the event return to Newcastle, Adelaide and Melbourne and is expecting more big crowds in support of the series.
"Last year we saw the FOX Australian Supercross Championship return in style giving supercross fans around Australia the high-octane injection they'd been all craving," said Doyle.
"Importantly the quality of events and racing was first-class, large crowds in attendance and more local riders' names up in lights.
"The direction of the championship via AME's strategy and guidance is helping revitalise the sport and we can't wait to see what 2023 brings for the series and beyond."
More announcements regarding racing formats, revised prize money structure and television broadcast are to follow.
2023 FOX Australian Supercross Championship Calendar:
Round 1: McDonald Jones Stadium, Newcastle, NSW – November 11

Round 2: Marvel Stadium, Melbourne, Victoria – November 24 

Round 3: Adelaide Showground, South Australia – December 2
Love what we do? Please read this article as we try to raise £30,000.
Between The Races Podcast: Mick Sinclair
Honest and engaging chat.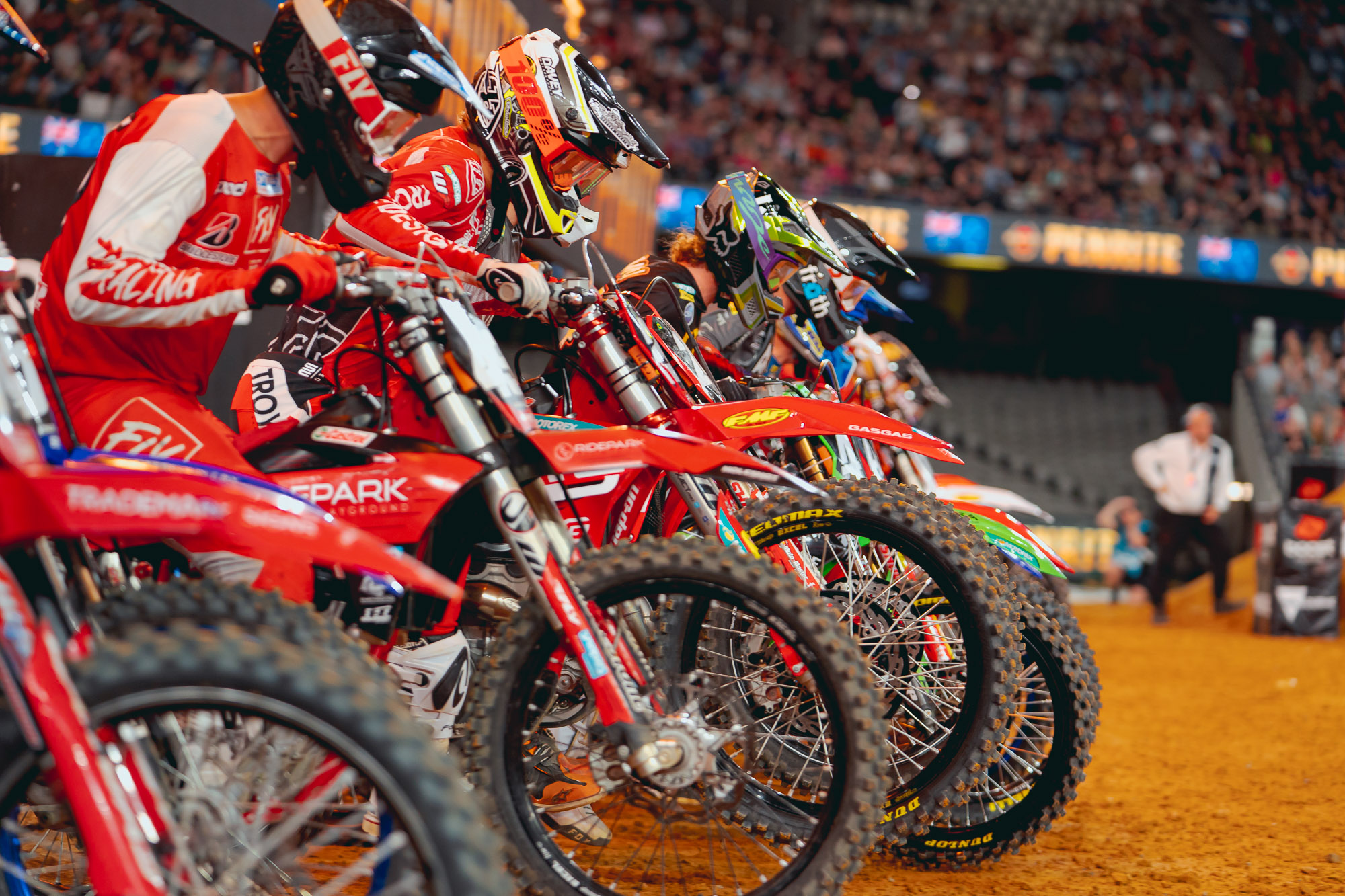 In the latest Between The Races podcast, Mick Sinclair, who's one of the key driving forces behind the upcoming Australian Supercross Championships, talks to MX Vice Editor Ed Stratmann about the 2023 series, the exciting new initiatives being introduced such as the Privateer Support Program, the CR22 85cc Cup and the TV package, the Lawrence brothers, his journey in the sport, the state of play in Aussie moto, WSX, Adam Bailey and much more.
The Between The Races podcast is always available to listen to on Spotify, iTunes, SoundCloud, Stitcher and Google Play. Thanks to Fly Racing, Monster Energy, Fox Racing, Parts Europe, Scott, Bell Helmets, Acerbis, AS3 Performance, Kawasaki UK, KTM UK, O'Neal and Even Strokes for supporting the show. If you would like to become a part of the show, don't hesitate to get in touch.
Lead Image: Australian Supercross
Love what we do? Please read this article as we try to raise £30,000.
List: Australia's Motocross of Nations History
Check it out.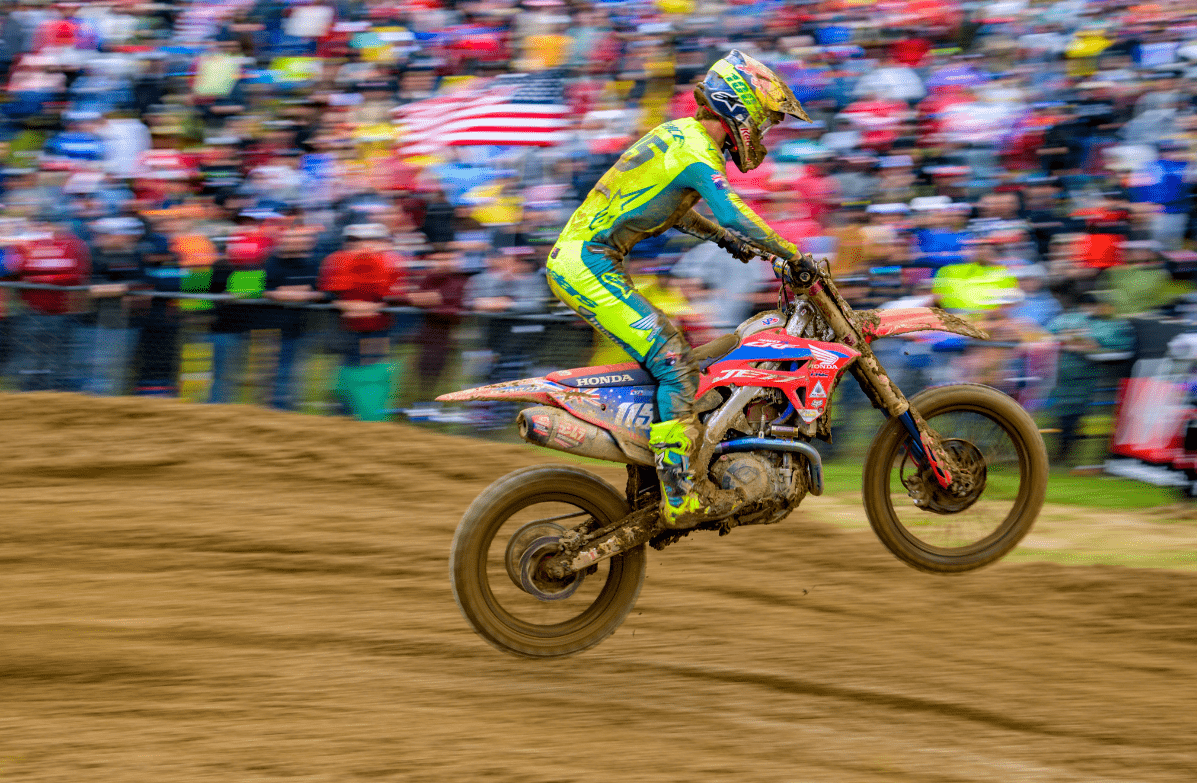 With the highly anticipated 2023 Motocross of Nations at Ernee fast approaching and Australia looming as one of the favourites, MX Vice has partnered with Australian motocross enthusiast Paul Gogarty to compile a list of all the Aussie teams that have been sent to the prestigious event over the years. Special thanks to Paul for putting in an incredible amount of work in compiling all this data (you can follow him on Instagram @muppett1).
Lead Image: Motosport
1984 – Did Not Qualify
Stephen Gall, Trevor Williams, David Armstong, Vaughan Style.
Vantaa, Finland.
Winner USA


1985 – changed to 3 riders per team – was previously 4.
1985 – 20th place
Glen Bell 125 Yamaha 6 nc 12
Jeff Leisk 250 Honda nc nc nc
Trevor Williams 500 Kawasaki 8 11 8
Gaildorf, Germany
Winner USA
https://racerxonline.com/2015/09/08/22-day-countdown-with-team-usa-1985

1986 – 7th place
Bell 125 Yamaha 7 6
Craig Dack 250 Honda 8 2
David Armstrong 500 honda 11 8
Maggiora, Italy.
Winner USA
https://transmoto.com.au/motocross-of-nations-1986-2016/
1987 – 16th place
David Armstrong 125 kawasaki 11 11
Bell 250 Yamaha nc nc
Dack 500 Honda 9 nc
Unadilla USA,
Winner USA

1988 – 4th place
Bell 125 Honda 6 8
Dack 250 Yamaha 11 7
Leisk 500 Honda 2 2
Villars sous Ecot, France.
Winner USA

1989 – 7th place
Bell 125 Honda 9 nc
Dack 250 Yamaha 6 7
Leisk 500 Honda 3 4
Gaildorf, Germany.
Winner USA

1990 – 7th
Bell 125 Honda 13 10
Dack 250 Yamaha 7 7
Leisk 500 Honda 6 1
Vimmerby, Sweden.
Winner USA

1991 – 10th
Dale Britton 125 Yamaha 11 9
Craig Dack 250 Yamaha 7 nc
Glen Bell 500 Honda 9 10
Valkenswaard, Netherlands.
Winner USA
1992 – 6th
Kim Ashkenazi 125 Honda 10 9
Dale Britton 250 Yamaha 8 6
Jason Marshall 500 Kawasaki 6 7
Manjimup, Australia.
Winner USA

1993 – 13th
Kim Ashkenazi 125 Suzuki 16 nc
Lee Hogan 250 Yamaha 12 17
Glen Bell 500 Honda 12 15
Schwanenstadt, Austria.
Winner USA
1994 – 17th
Steven Andrew 125 Kawasaki 17 17
Kim Ashkenazi 250 Yamaha 8 19
Lee Hogan 500 Honda 19 9
Roggenburg, Switzerland.
Winner Great Britain

1995 – 14th
Michael Cook 125 Yamaha 16 14
Kim Ashkenazi 250 Yamaha 9 11
Craig Anderson 500 KTM 13 11
Sverepec, Slovakia.
Winner Belgium

1996 – 19th
Michael Cook 125 Honda 22 29
Craig Anderson 250 KTM 18 20
Kim Ashkenazi 500 Honda nc nc
Jerez, Spain.
Winner USA

1997 – 11th
Troy Carroll 125 Honda 32 27
Andrew McFarlane 250 Suzuki 18 19
Cameron Taylor Open Suzuki 20 20
Nismes, Belgium.
Winner Belgium

1998 – 16th
Michael Byrne 125 25 nc
Craig Anderson 250 12 nc
Lee Hogan open 18 nc
Foxhills, UK.
Winner Belgium

1999 – 8th
Troy Dorron 125 Honda 31 22
Andrew McFarlane 250 Yamaha 4 7
Michael Byrne Open Honda 8 21
Indaiatuba, Brazil.
Winner Italy

2000 – 7th
Andrew McFarlane 250 Kawasaki 26 20
Michael Byrne 125 Honda 36 21
Chad Reed Open Yamaha 7 25
St. Jean d'Angely, France.
Winner USA

2001 – 6th
Michael Byrne 125 Honda 39 np
Chad Reed 250 Kawasaki 1 16
Andrew McFarlane Open Yamaha 9 8
Namur, Belgium.
Winner France


2002 – still confirming
Bellpuig, Spain.
Winner Italy
2003 – 14th
Andrew Mcfarlane 250 Kawasaki 3
Paul Grant 450 Honda 21
Paul Broomfield 450 Yamaha 11
Zolder, Belgium.
Winner Belgium 5 points

2004 – 13th
Lee Ellis Honda MX1 28 27
Paul Broomfield MX2 35 32
Shane Boyd KTM Open 13 18
Lierop, Netherlands.
Winner Belgium 17 points

2005 – 16th
Danny Ham Suzuki MX1 33 32
Andrew McFarlane MX2 Yamaha 17 14
Lee Ellis Ktm Open 30 28
Ernee, France.
Winner USA 16 points

2006 – 11th
Daniel Reardon Kawasaki MX1 21 18
Brett Metcalfe Yamaha MX2 20 25
Cheyenne Boyd Yamaha open 24 19
Matterley Basin, UK.
Winner USA 15 points

2007 – 20th
Chad Reed Yamaha MX1 2 35
Andrew McFarlane Suzuki MX2 DNF
Michael Byrne Suzuki Open 30 12
Budds Creek USA.
Winner USA 8 points


2008 – 6th
Chad Reed Suzuki MX1 12 8
Brett Metcalfe Kawasaki MX2 17 10
Michael Byrne Suzuki Open 8 36
Donington Park UK.
Winner USA 26 points

2009 – 7th
Chad Reed Suzuki MX1 2 9
Brett Metcalfe Honda MX2 17 9
Michael Byrne Suzuki Open 38 36
Franciacorta, Italy .
Winner USA 22 points

2010 – 6th
Brett Metcalfe Honda MX1 3 5
Dean Ferris Honda MX2 18 27
Jay Marmont Yamaha Open 18 10
Lakewood USA.
Winner USA 23 points

2011 – 3rd
Chad Reed honda MX1 1 7
Matt Moss ktm MX2 19 0
Brett Metcalfe Suzuki Open 7 10
St. Jean d'Angely, France.
Winner USA 26 points

2012 – 10th
Lawson Bopping Yamaha MX1 21 19
Luke Styke Yamaha MX2 26 20
Todd Waters Suzuki open 8.15
Lommel, Belgium.
Winner Germany 25 points
2013 – 4th
Brett Metcalfe Kawasaki 10 8
Dean Ferris Yamaha 4 5
Todd Waters KTM 20 13
Teutschenthal, Germany.
Winner Belgium 27 points

2014 – 14th
Chad Reed Kaw MXGP 14 38
Luke Clout Yamaha MX2 22 21
Matt Moss Suzuki open 15 36
Kegums, Latvia.
Winner France 17 points

2015 – 7th
Todd Waters Husq MXGP 13 12
Luke Clout Yamaha MX2 33 13
Dean Ferris Husqvarna Open 19 20
Ernee, France.
Winner France 14 points

2016 – 8th
Todd Waters Suzuki 7 14
Mitch Evans Yamaha 36 37
Dean Ferris Yamaha 5 15
Maggoria, Italy.
Winner France 29 points

2017 – 6th
Dean Ferris Yamaha 11 23
Hunter Lawrence Suzuki 4 8
Kirk Gibbs KTM 5 19
Matterley Basin, UK.
Winner France 20 points

2018 – 4th
Kirk Gibbs KTM 12 31
Hunter Lawrence Honda 7 2
Mitch Evans KTM 12 10
RedBud USA.
Winner France 32 points
2019 – 15th
Dean Ferris KTM 15 30
Kyle Webster Honda 23 13
Regan Duffy KTM 11 33
Assen, Netherlands.
Winner Netherlands 18 points
2020 – cancelled due to Covid
2021 – No riders sent to Italy due to Covid situation.
Mantova, Italy. 2022
Winner Italy 37 points
2022 – 3rd
Mitch Evans 5 28
Hunter Lawrence 8 10
Jett Lawrence 1 2
RedBud USA.
Winner USA 16 points
2023 Fox Australian Supercross Championship Round 1 Entry Lists and Track Map
Check it out.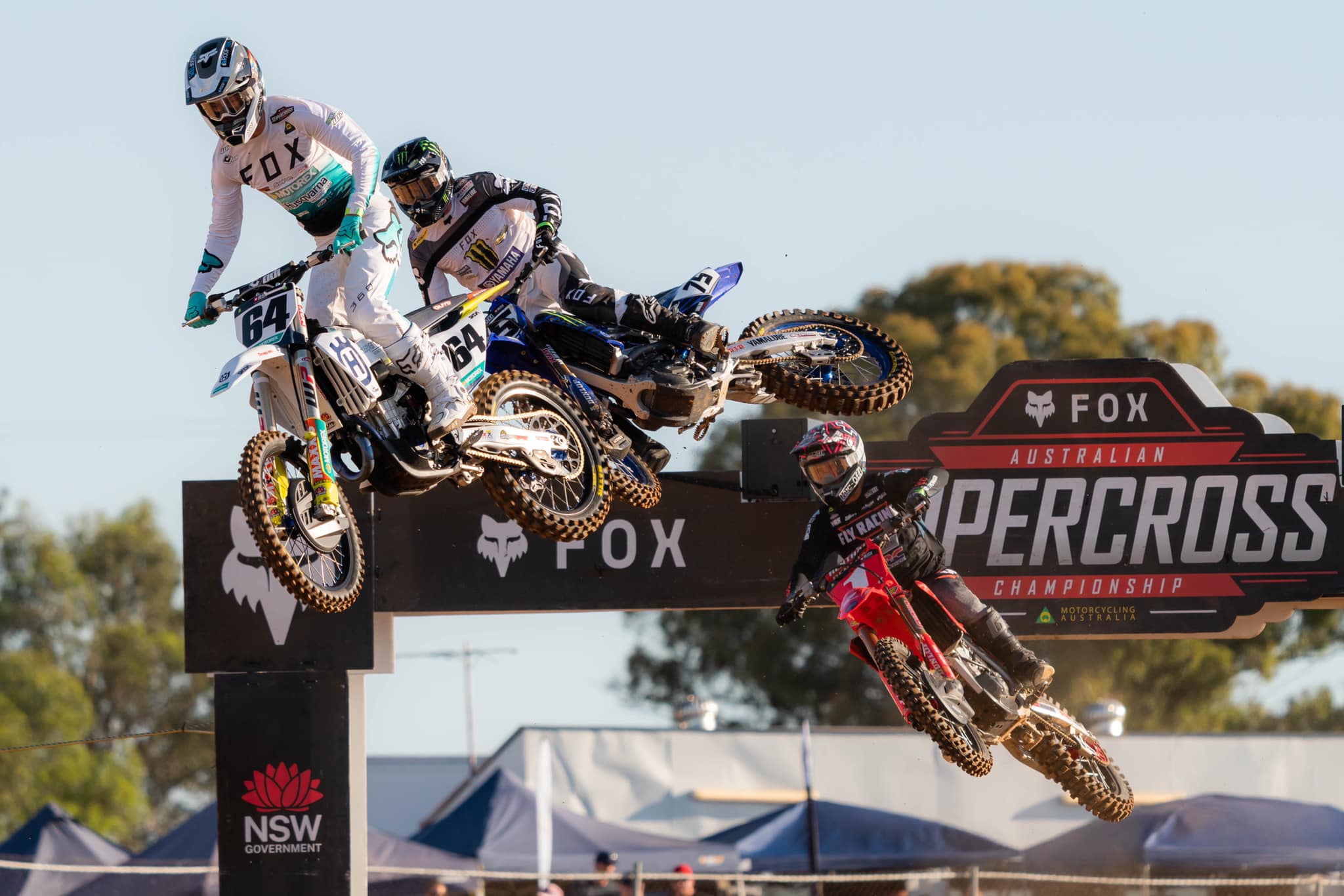 Check out the entry lists and track map for round one of the 2023 Fox Australian Supercross Championship in Adelaide.
SX1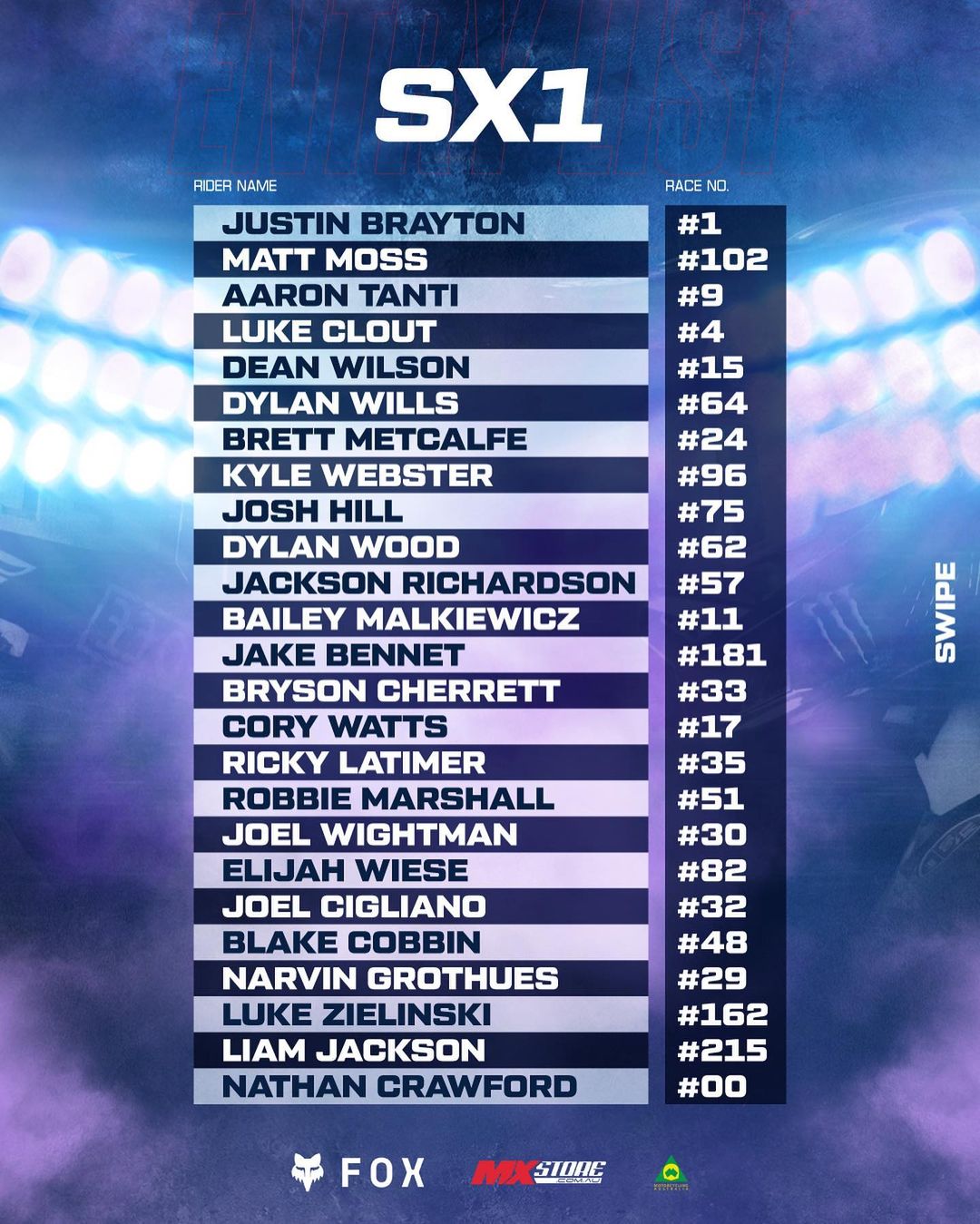 SX2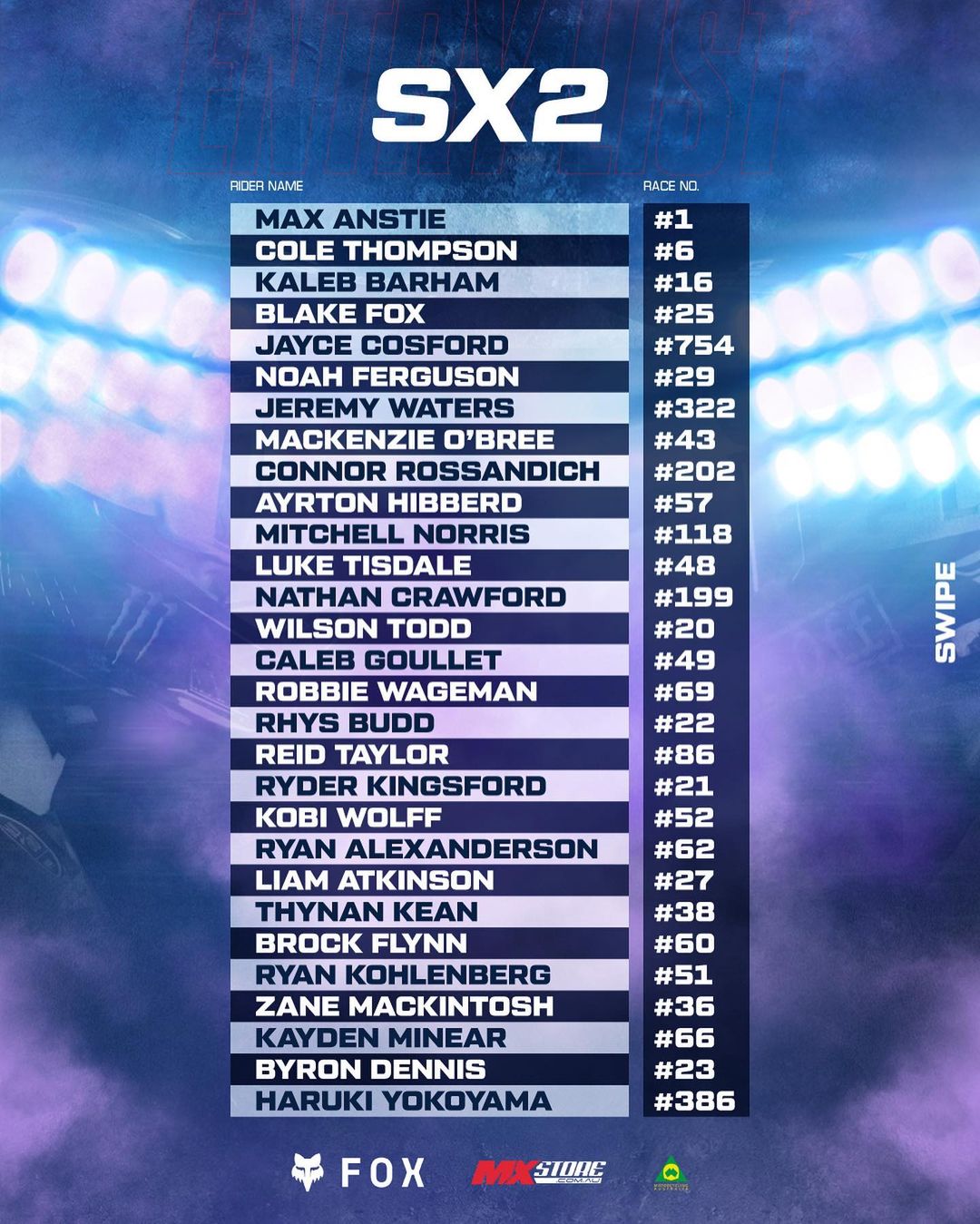 SX3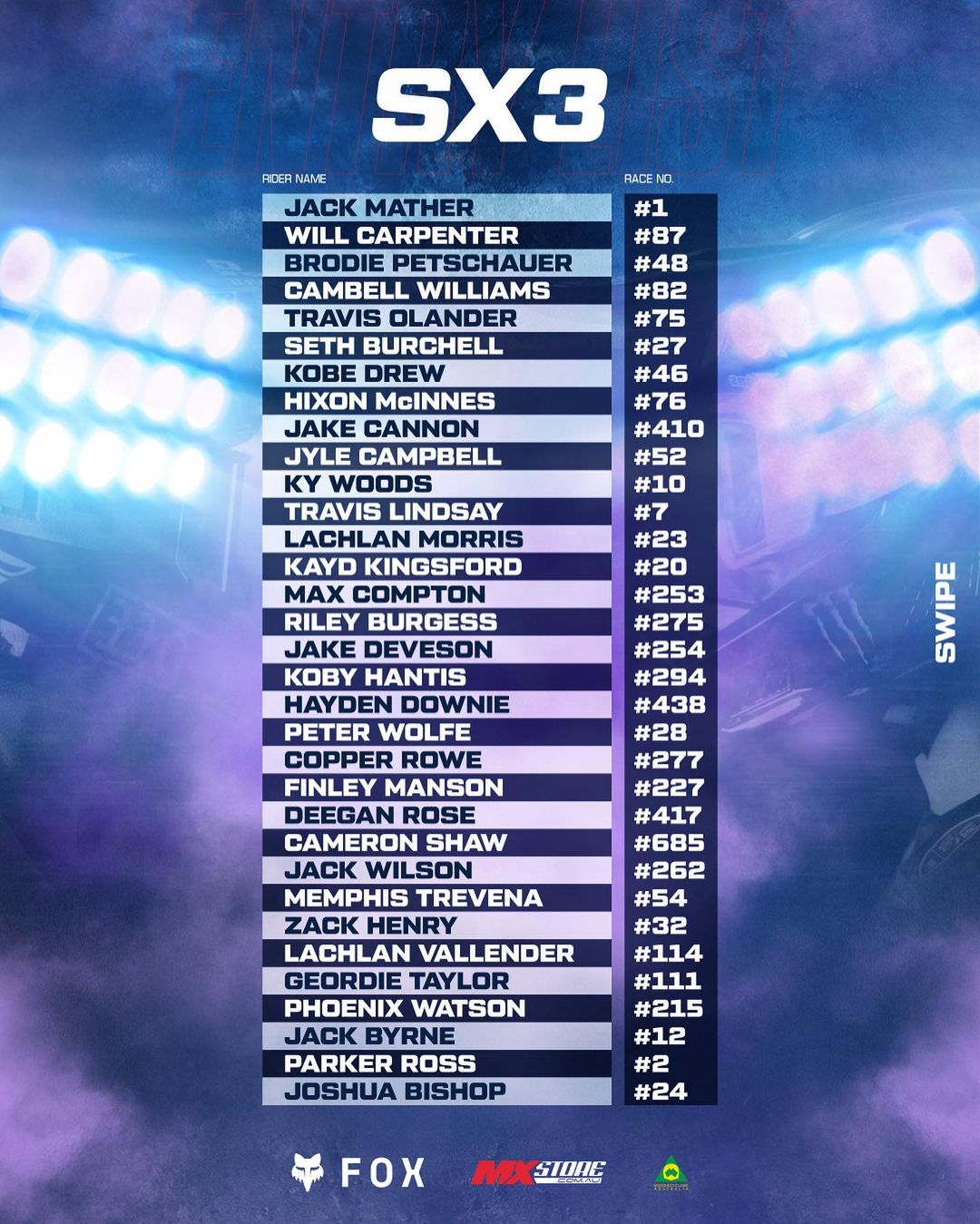 85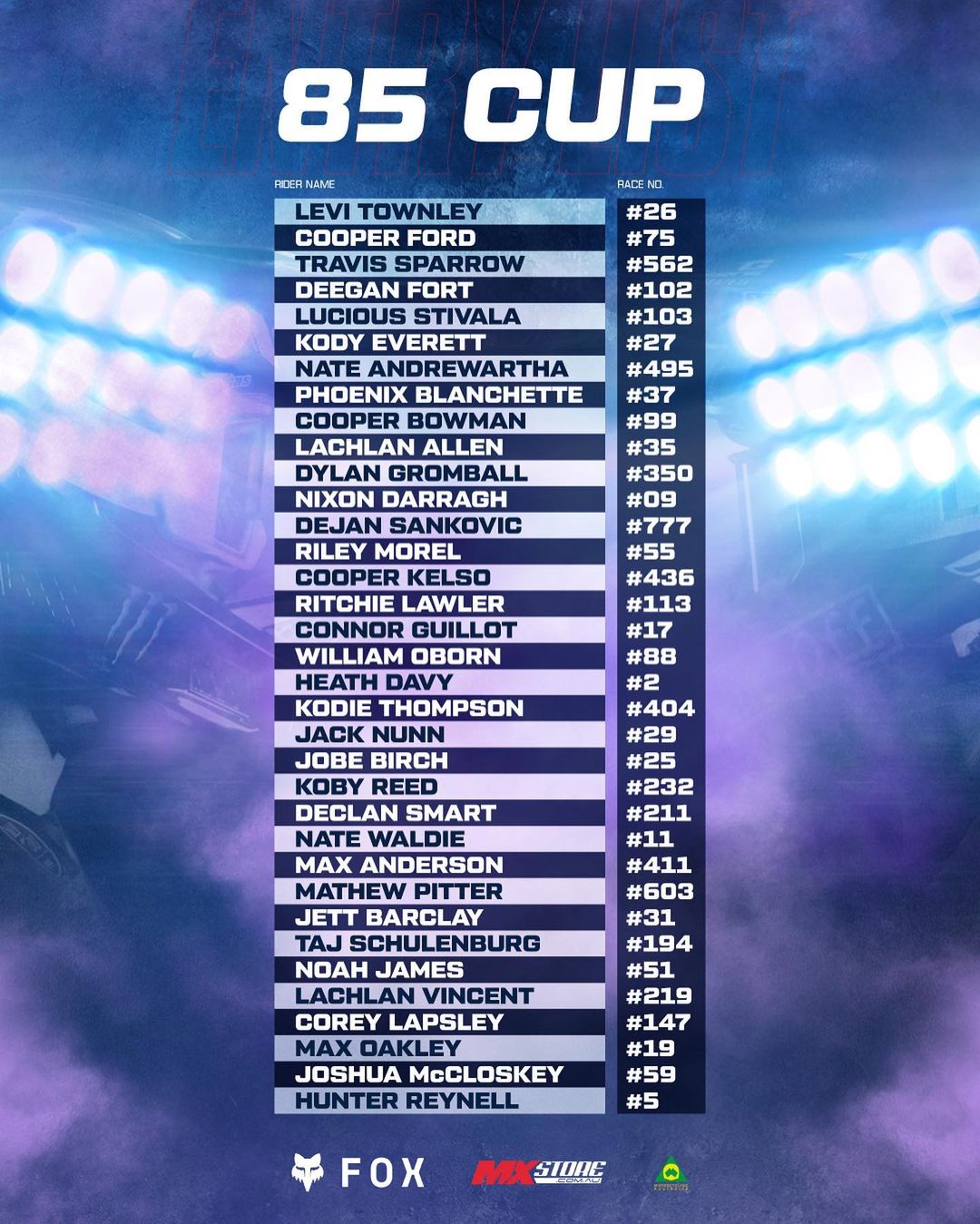 TRACK MAP
Lead Image: Australian Supercross
Love what we do? Please read this article as we try to raise £30,000.